Spring Tabbouleh Recipe
A springtime twist on a traditional tabbouleh recipe featuring peas, asparagus, chives and farm-fresh hard-boiled eggs.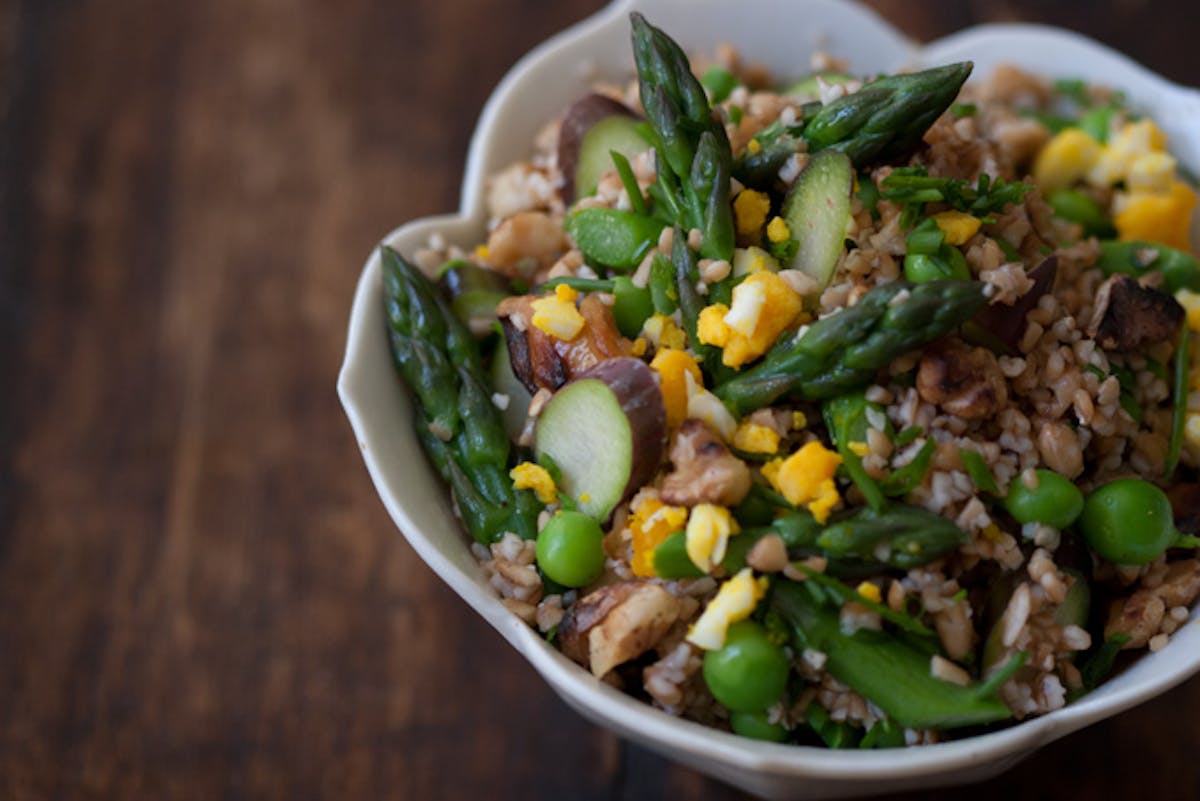 I'll start with a confession. I avoid parsley. It's not that I hate it, or won't eat it - nothing quite that dramatic. I just don't love it in the same way I love chives or basil, rosemary or thyme. Many of you are familiar with tabbouleh, the Middle Eastern grain-based salad. It features parsley prominently alongside tomatoes, lemon juice and mint. As I dropped bags overflowing with peas, asparagus, and farm-fresh eggs onto my kitchen counter after a Sunday morning trip to the Marin market, I thought a spring-inspired take on tabbouleh would make a nice meal. Chives would stand in for the parsley, and the asparagus and peas would edge out the tomatoes.
For those of you who haven't cooked with bulgur (cracked wheat) before, you're missing out. I know many are deterred by grains in part because they are perceived as having exhausting cooking times. Not so with bulgur. Bulgur based salads (and other preparations) can be fantastically delicious and quick to make. In this case the bulgur cooks in a flash while you are prepping the other ingredients.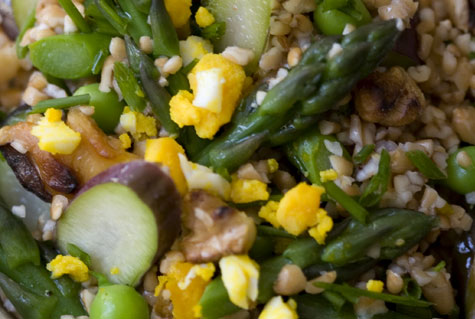 There are so many ways you can build on a simple bulgur salad like this. For starters you might cook the bulgur in liquid other than water. I can imagine a thinned-out tomato juice, flavorful broth, or some sort of white wine spiked base would be fun to play around with. And feel free to experiment with other seasonal ingredients.
Spring Tabbouleh Recipe
Bulgur comes in different sizes - look for fine or medium bulgur for this recipe. Larger coarse bulgur takes longer to soften up, and you might need to boil it. As you can see in the photo - I stumbled on a single bunch of stunning purple asparagus and used a bit of it alongside the more readily available green asparagus. The interesting thing about the purple asparagus is that it tasted sweeter and was more tender in its raw form than much of the green asparagus I've tasted. The purple asparagus will also lose its vibrant purple flair when cooked so keep that in mind if you ever encounter it. I sliced it extra thin and used it raw here.
1 cup fine bulgur
1 bunch of asparagus, cut into 1/2-inch segments
1 cup peas, freshly shelled or frozen

1 garlic clove, crushed to a paste with 2 big pinches of salt
1 lemon, juice only
1/3 cup extra-virgin olive oil

1 bunch chives, finely chopped
1 cup walnuts, toasted and chopped
2 hard-boiled eggs, chopped*
Fill a medium sauce pan with water and bring to a boil. You are going to use some of this water over the bulgur (to cook it), and the rest to blanch (quick-boil) the peas and asparagus.
Put the bulgur in a medium bowl, add boiling water to the surface of the grains and let it stand for about 15 minutes, just until tender. Drain and press out any remaining water and toss with a couple pinches of salt. Set aside.
Return the saucepan to the heat and bring the remainder of the water back up to a boil. Salt the water and cook the asparagus and peas for just about 20 seconds, just long enough for them to brighten up and lose a bit of their bite. Drain, run under colder water to stop the cooking, and add to the bulger.
For the dressing, whisk the garlic, lemon juice, and olive oil together and season with more salt if needed.
To the bulgur, asparagus, and peas add 1/2 the chives and 1/2 the walnuts. Toss with a big splash of the dressing. Taste and add more dressing if needed. Adjust the seasoning as well at this point. Garnish with the remaining chives, walnuts, and chopped egg and serve.
Serves 4 - 6.

*For great hard-boiled eggs place the eggs in a pot and cover with cold water by a 1/2-inch or so. Bring to a gentle boil over medium heat. Now turn off the heat, cover, and let sit for exactly seven minutes. Have a big bowl of ice water ready. When the eggs are done cooking place them in the ice bath for three minutes or so - long enough to stop the cooking. Crack the shells, peel and enjoy.