Strawberry Panzanella Recipe
A stunning, delicious sweet strawberry panzanella recipe. Bread cubes are tossed with a sweet brown sugar glaze, strawberries are mashed into a dressing, and it is all served family style.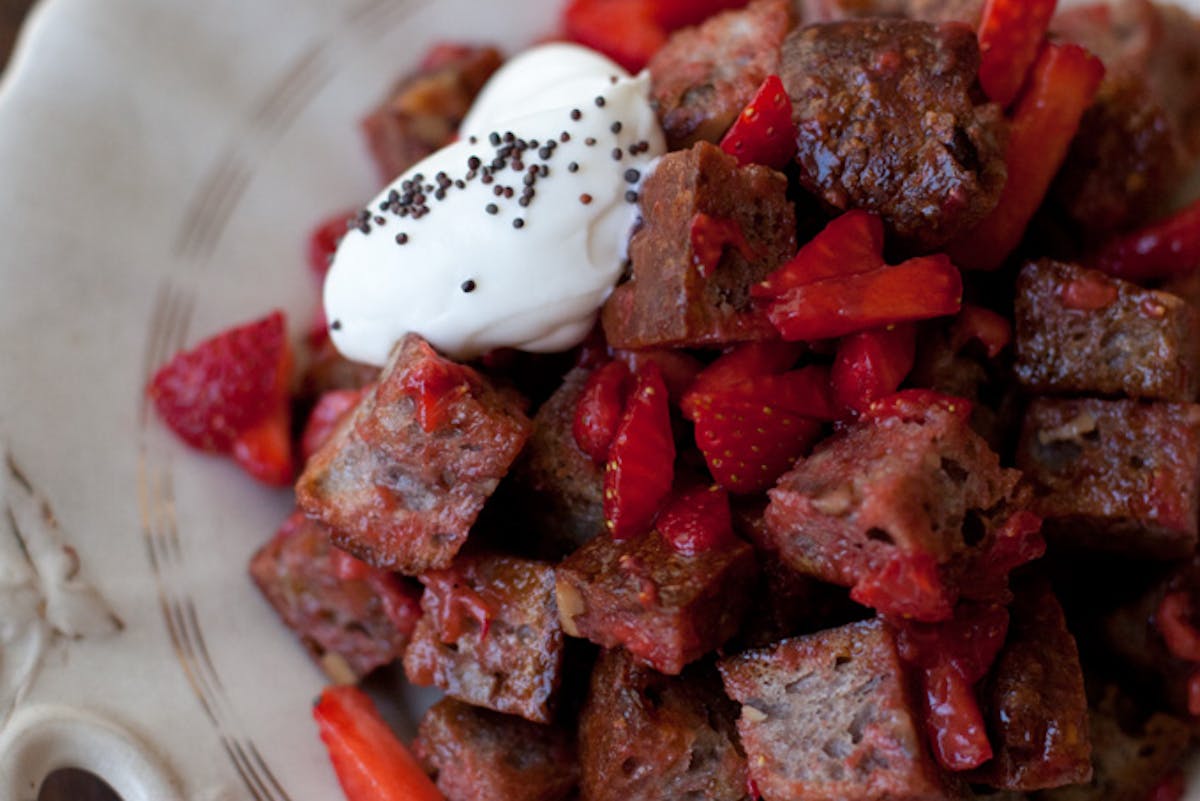 This strawberry panzanella recipe was inspired by a childhood of picky eating. Extremely picky eating. My sister Heather was the fruit eater of the family. I, on the other hand, threw away every apple placed in my lunch bag from the time I was in kindergarten all the way through sixth grade - five days a week. Not a fact I'm proud of. The one fruit I did like was the strawberry, but only if my mom allowed me to dunk the perfect berry in plain yogurt, and then in a bowl of brown sugar. I wish I was kidding. With all the delicious strawberries turning up at the market right now, I decided to remix these favorite childhood flavors into a sweet strawberry panzanella. I tossed the bread cubes with a sweet brown sugar glaze, mashed the better part of a basket of strawberries into a dressing, and then served it up with a dollop of slightly tangy yogurt - simple and delicious.
Before I get too far ahead of myself, there are some rules to know when you enter panzanella country. As you can imagine, success starts with your choice of bread. Not all bread lends itself to a stellar panzanella. Choose wisely or all your efforts will be for naught. I encourage you to seek out bread that is the opposite of, say, Wonder Bread. Seek out a loaf that is dense, crusty, hearty, dark, and country-style. If the gods are smiling on you, you'll find a loaf that is all of these things, and is nut-studded as well. The bread needs to be dried out - let it sit out for a day, maybe two. This way it that will retain its structure (and not go to mush) in the midst of all that sweet berry juice - a key to a good panzanella whether you are talking strawberry or a more typical summer version. To further deter the mush (and to add another layer of flavor), I used a buttery, brown sugar glaze on the bread cubes before they went in the oven - it becomes a sugar crust.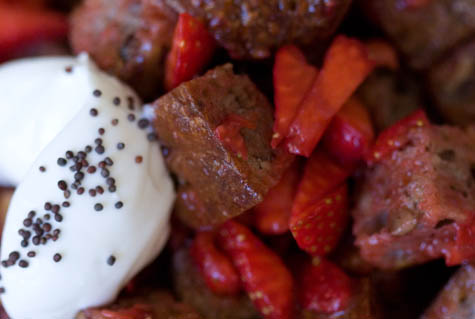 I'm going to remix this recipe a hundred different ways throughout the remainder of the year using different fruits, berries, nuts, and the like. It's totally hassle free, pretty on the plate, and unbelievably flavorful. Perfect as a brunch component, or as a not-to-sweet dessert served family-style. Hope you like it as much as I do.
Strawberry Panzanella Recipe
When shopping for strawberries I prefer ones that are on the smaller side, fragrant, and a deep red in color. The bread you see in the above photo is a loaf of Acme Bread's walnut levain. I suspect their whole wheat seeded loaf would be perfect as well. Use a serrated bread knife to cut the bread into cubes. To veganize the recipe toss the bread cubes with olive oil / brown sugar (but don't heat it) before baking, and skip the yogurt.
1/4 cup unsalted butter
1/4 cup + 2 tablespoons natural cane sugar OR brown sugar*
couple pinches of fine grain salt
1 pound loaf of hearty, substantial day-old bread, cut into 1-inch cubes
1+ pint basket of ripe strawberries, trimmed and cut into matchsticks
a 7 or 8 ounce container of plain (Greek) yogurt
poppy seeds for garnish
Preheat oven to 350F degrees. In a large pot melt the butter. Stir in the sugar and salt. Stir until the sugar dissolves and remove from the heat. Add bread cubes and toss, coating the bread cubes. Toss for a minute or so to get decent coverage. Pour the bread out onto a baking sheet and arrange them in a single layer. Toast for about 15 minutes or until bread is well toasted, tossing every 5 minutes to make sure all bread surface areas get golden and crunchy.
In the meantime, place half the chopped strawberries in a small bowl and mash them with the remaining 2 tablespoons of brown sugar. I found a potato masher works well for this. Keep mashing until berries are super juicy and appetizingly chunky - this is your dressing.
When the bread cubes are done toasting (and have had a few minutes to cool and crisp up), toss them in a big bowl with the mashed berries. Add the remaining chopped strawberries and toss a bit more. Give the yogurt a good stir, and serve on the side garnished with poppy seeds (feel free to sweeten it a bit to your liking).
Serves 6 or so.
*I use one of my favorite raw brown sugars in this recipe to get the best brown sugar flavor (alternately, seek out a great muscavado sugar), but for those of you who want to swap in honey or agave nectar - I suspect it would be equally tasty.