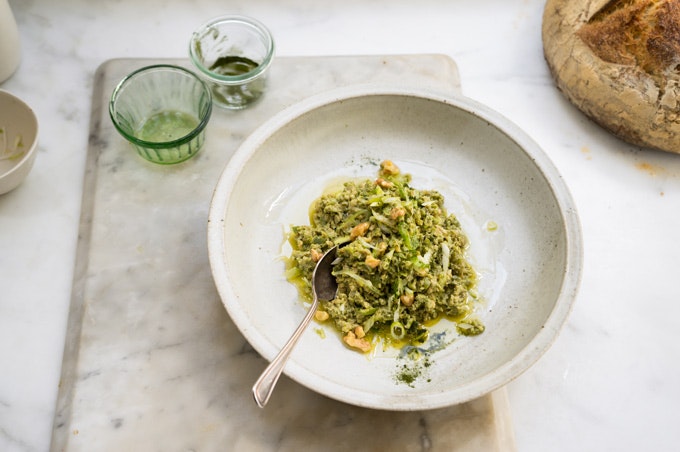 Superfood Tapenade Recipe
I cook a lot of simple meals. The type of meals California cooks occasionally get mocked for. You know the equation - a great ingredient sautéed with local olive oil and seasoned with a bit of salt and pepper. Repeat. For example, this time of year, (as we've discussed) I cook artichokes once or twice a week, and I put all my focus and attention into picking out the best artichokes and then preparing them beautifully. I rarely use more than a bit of oil in the pan (after blanching), salt and pepper, and a bit of lemon zest to finish. I like the artichoke flavor direct and unobstructed, their outside leaves crisped brown in the pan. I leave it at that, without other flavors getting in the way. Increasingly, I find myself thinking this is a missed opportunity. Flavor aside, I should make an effort to boost each preparation with a favorite blend of spices or seasonings for their powerful, and unique nutrients. Many of the phytonutrients in spices aren't present in other foods, and people who live in cultures with a spice-rich cuisine have, in some cases (dramatically) lower rates of certain diseases. That's a long way of saying, they're powerful. Not only on the flavor front, but in promoting health and wellness in general. It's easy to boost your food in this way, and I could be better about incorporating these accents into each meal - an oregano drizzle, a turmeric braise, the dry spices from this tea as a base for miso soup, etc. So, more than anything, this is a note to self - individual spices, spice blends, and pastes are important. Use them generously, and often. Exhibit one - this green olive paste. It's a superfood tapenade of sorts - green olives, walnuts, and good olive oil boosted with anise, and a bit of the wheatgrass powder I sometimes add to drinks or dressings - crumbled nori would be a great substitute.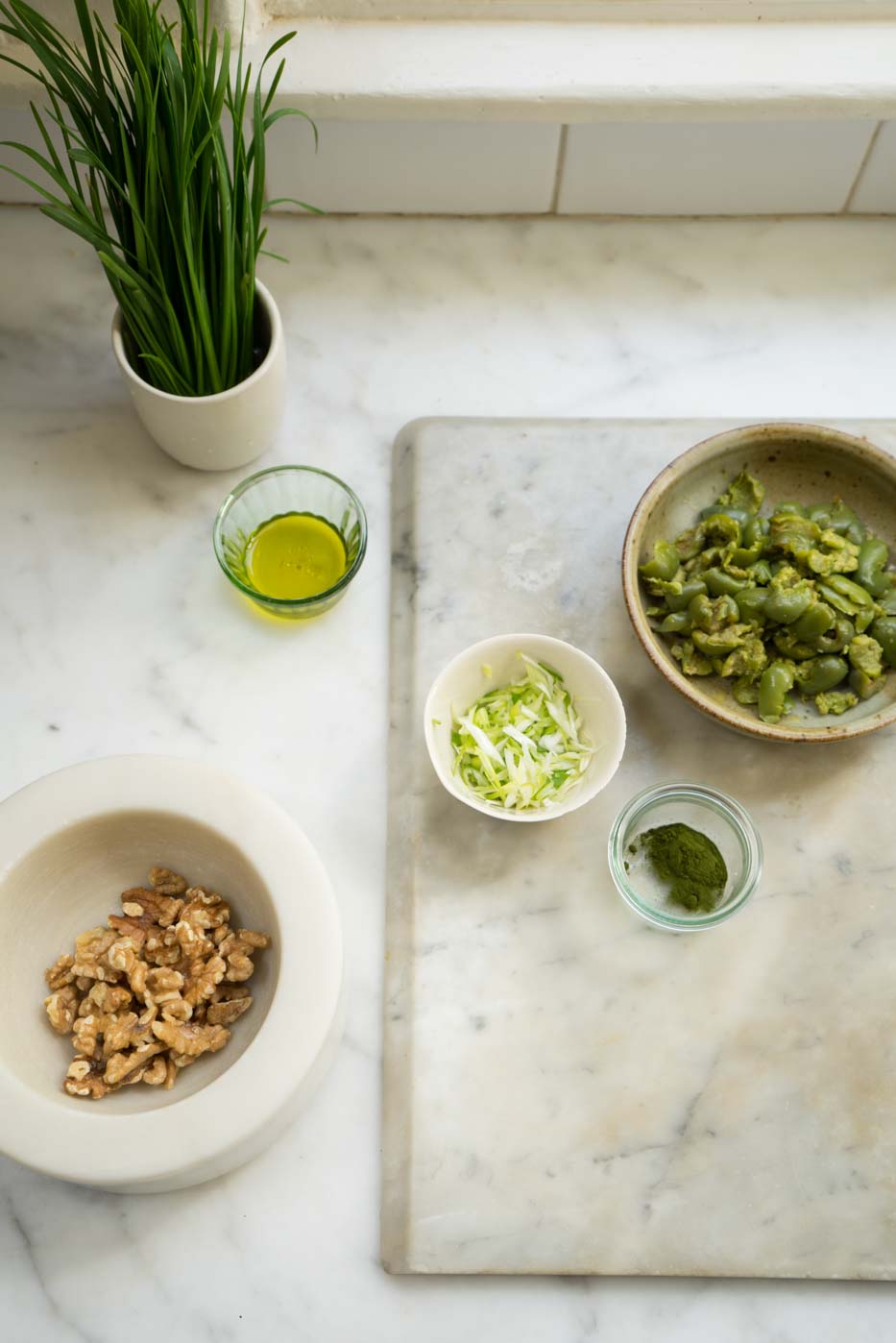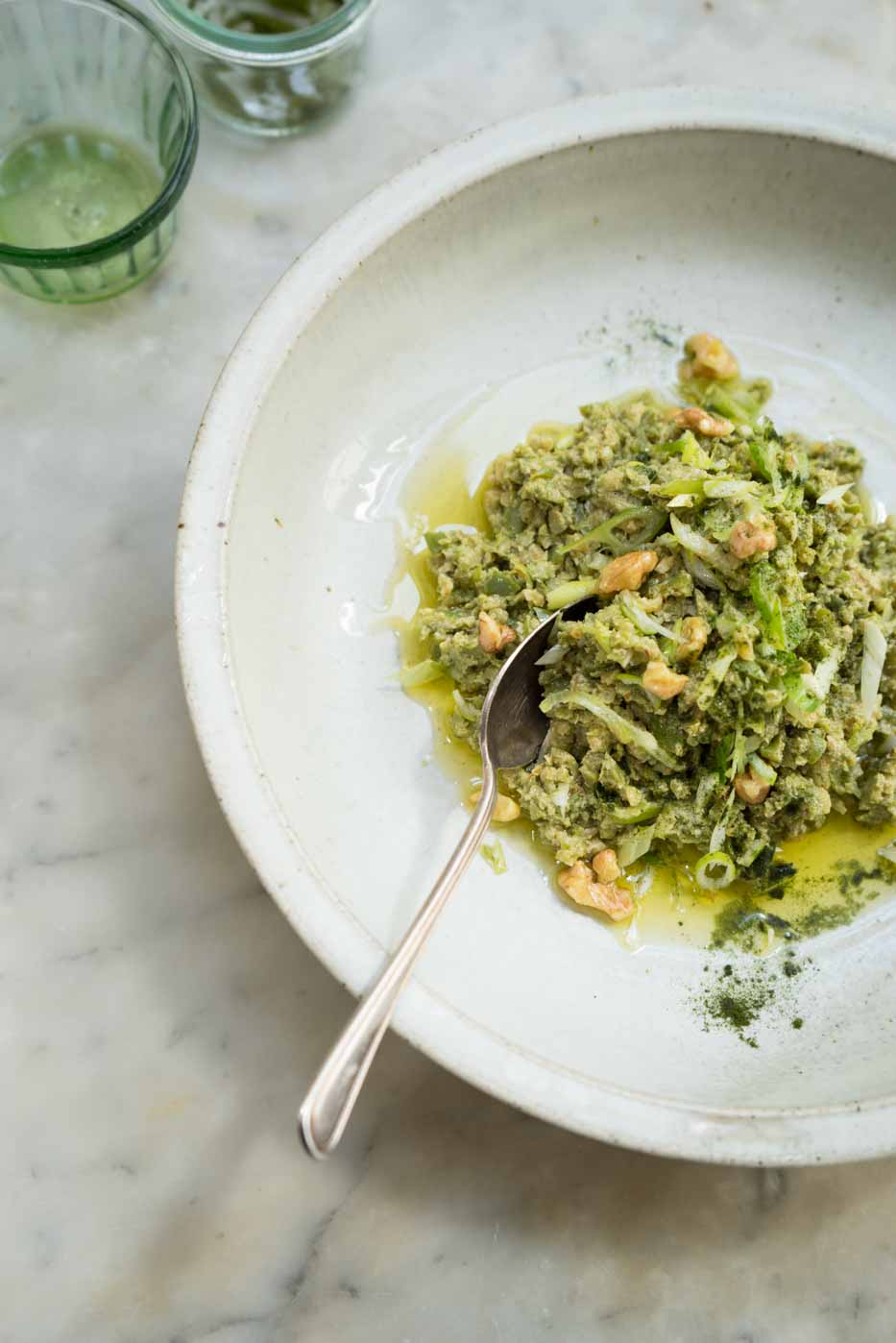 I imagine a dollop of harissa paste in a black olive version of this would be welcome. Or this green version with a bit of green curry paste (minus the anise). I made this over the weekend, and have enjoyed it in an omelette, as the punctuation on avocado toast, spooned over farro risotto, and on these little soccas!

Superfood Tapenade
This is a loose tapenade. If you prefer a more paste-like consistency, chop more, or use a food processor to blend more thoroughly.
8 oz green olives (30 olives), rinsed and pitted
1 green onion, slivered
2/3 cup / 2 oz toasted walnuts, chopped
1/4 teaspoon red chile flakes
1/2 teaspoon wheatgrass powder, spirulina, or crushed (toasted) nori
generous pinch of ground anise or fennel
1-2 tablespoons extra virgin olive oil
squeeze of fresh lemon juice
sea salt to taste, if needed
Combine the olives, green onions, walnuts, chile flakes, and wheatgrass powder on a cutting board. Chop together to desired consistency. Transfer to a bowl and stir in the anise and olive oil. Taste and season with lemon juice and salt.
Makes about 1 1/2 cups.