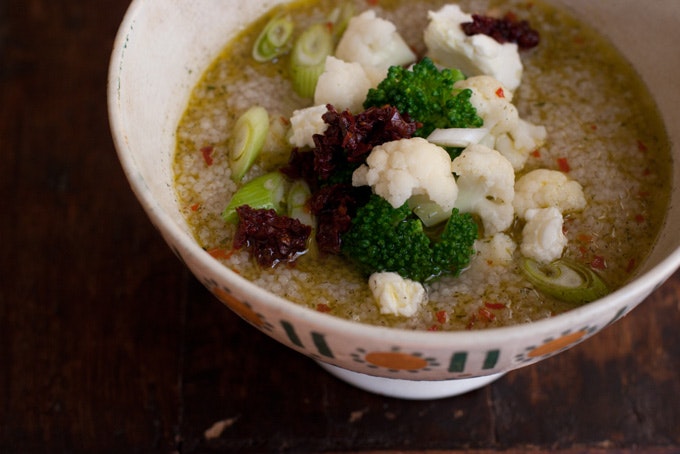 Ten Minute Couscous Soup Recipe
For those of you who think you don't have time to make soup from scratch, this one's for you. It is a quick-cooking couscous soup that I like to throw together when I'm feeling particularly lazy. It goes something like this - bring a pot of flavorful broth to a boil. While the broth is heating, chop a few quick cooking vegetables and measure out a cup of couscous. Once your pot of broth is bubbling away, stir in the couscous, stir in the vegetables, wait just a couple minutes and enjoy with a few garnishes or condiments. All told, it takes me less than ten minutes, and by the time I've got a pot of broth simmering, the rest of the ingredients are prepped. You end up with a pot of beautiful, brothy couscous topped with a bit of melty goat cheese and bright broccoli and cauliflower florets. It is all punctuated with a spoonful of finely chopped sun-dried tomatoes.
I was thinking, this could be a good, nutritious office lunch as well - you could do it on a smaller scale. Heat some broth in the microwave, then pour it over a bit of couscous and vegetables, cover for a few minutes, etc. Like a do-it-yourself cup-of-not-noodle soup. If I were going to make a one-pot meal out of this, I'd likely add some sort of protein component maybe a poached egg, or something. A curried version might be nice - just stir a touch of curry paste into the broth at the beginning. Or even better, a harissa version, with some chopped greens?
Ten Minute Couscous Soup Recipe
This is a soup that should be made to order, if it sits around the consistency changes and the vegetables get that over-cooked flavor no one likes. I like to use whole wheat couscous, which I've been seeing around more often lately. I also picked up a box of barley couscous the other day - delicious. If all you can find is regular couscous, no problem, that will work as well too. I just try to pick up "whole" versions when given the choice. Use a delicious broth, one you wouldn't mind enjoying a bowl of on its own - I've mentioned before that I like Rapunzel Herb Bouillon with Salt (available at many stores). This soup can easily be made vegan by leaving out the cheese.
7 cups great-tasting vegetable broth
2 or 3 pinches crushed red pepper flakes
3 tablespoons extra virgin olive oil
1 cup whole wheat, barley, or regular couscous
1 1/2 cups broccoli florets, cut into tiny pieces smaller than your thumb
1 1/2 cups cauliflower florets, cut into tiny pieces smaller than your thumb
4 oil-packed sun-dried tomatoes, chopped (opt)
4 green onions, trimmed and thinly sliced
an ounce or two of goat cheese
In a large pot heat the broth, red pepper flakes, and olive oil. When it comes to a boil remove the pot from the heat and stir in the couscous. Wait two minutes and stir in the broccoli and cauliflower. Wait another two minutes - just long enough for the vegetables to loose their raw edge, and ladle into bowls. Top each bowl with some sun-dried tomatoes, green onions, and a bit of goat cheese.
Serves 4-6.