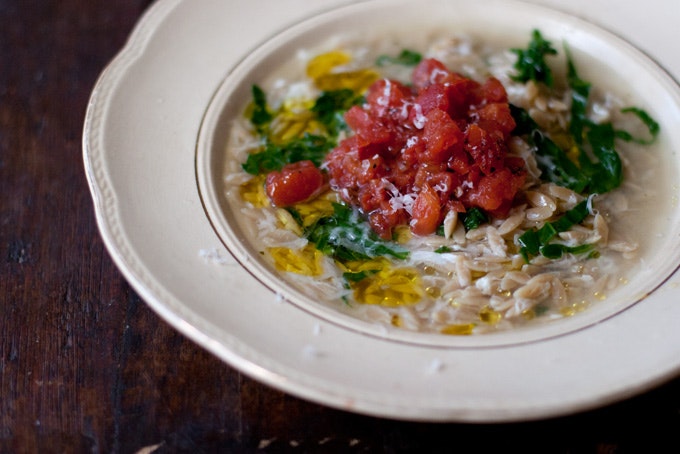 This soup is known by a few names around here - lil' noodle soup, aspirational noodle soup, and too-lazy-to-wait-for -a-pot-of-rice-to-cook noodle soup. It's made with orzo, a good broth, and whatever I can rummage from my pantry. For those of you unfamiliar with orzo, it is pasta shaped like a chubby grain of rice. It even comes in a whole wheat version, which is what I use. Orzo plays the lead role in this simple soup made with the petite pasta swimming in an egg drop soup style broth that has been boosted with flecks of chard and topped with vibrant, fire-roasted tomatoes. It's finished with an all-important thread of golden olive oil and a flurry of grated cheese. All in all a quick and vibrant bowl of not-too-heavy sustenance.
A couple tips - use a great broth, with just a few ingredients in this recipe, it's key. Before serving be sure to adjust your salt, if the soup tastes flat, add more a pinch or two at a time until all the flavors pop. Vegans, or those not too keen on eggs, no worries - skip them altogether. It's just as good. Different, but still good.
Orzo Soup Recipe
For some added flavor, or to take this soup in another direction, toss the tomatoes with somewhere between a teaspoon + of adobo sauce (from can of chipotles)....more or less depending on how spicy you like your food.
7 cups vegetable broth
1 1/2 cups whole wheat orzo (or other small pasta i.e. pastina)
2 cups chard or spinach, chopped
1 14-ounce can of fire-roasted diced tomatoes, well drained
1 teaspoon red pepper flakes.
good quality extra virgin olive oil
3 egg whites
fine grain sea salt

some grated Parmesan cheese (to finish)
Bring the broth to a boil in a large saucepan. Add the orzo and cook until just tender - about ten minutes. Stir in the chopped spinach.
In the meantime, heat the tomatoes, red pepper flakes and a splash of extra virgin olive oil in a separate saucepan. Taste, and salt a bit if needed.
Just before serving, Slowly pour the egg whites into the soup, stirring quickly with a whisk. The whites should take on a raggy appearance. Taste and add more salt if needed. Serve the soup in individual bowls, with each serving topped with a generous spoonful of tomatoes, a drizzle of olive oil, and dusting of cheese.
Makes 4-6 servings.