Thinnest Oatmeal Cookies Recipe
One of the easiest cookies I know how to make - made from rolled oats, they're razor thin and lacy, golden, freckled with poppy seeds, with and anise accent from crushed fennel seeds.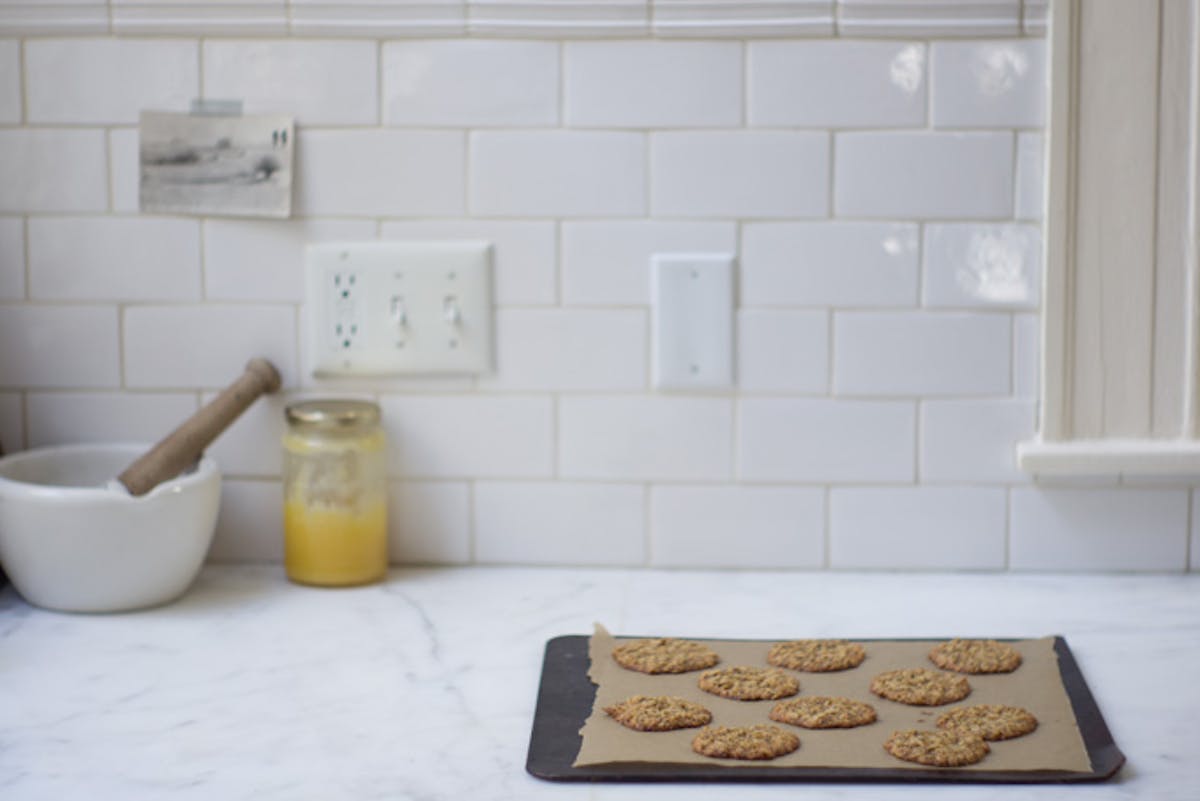 Hi all - I thought I'd take a stab at a kid-friendly oatmeal cookie recipe today. Remember when Jack was tiny? Well, he's not anymore. And we cook and bake together when he comes to stay - imagine me hovering over him, pointing out hot surfaces every ten seconds. The number of times I utter the word careful is mind-numbing. He loves making Belgian waffles, blanching broccoli, and baking cookies. And he can whip egg-whites like a champ. It's super fun, although, I will say (like many adults I know) he tends to lose interest if a baking project is too involved. So, my plan is to try these cookies with him. It's a stove top dough, so I don't have to bother pulling out the big electric mixer, and there are all sorts of aspects I suspect he'll like - pounding fennel seeds with a mortar and pestle, using an egg-beater to blend the sugar and egg, and working with dough that transforms from little bumps to pancake flat in a short baking time. It's all quick to pull together, and the resulting cookies are razor thin and lacy, golden, freckled with poppy seeds, with and anise accent from crushed fennel seeds.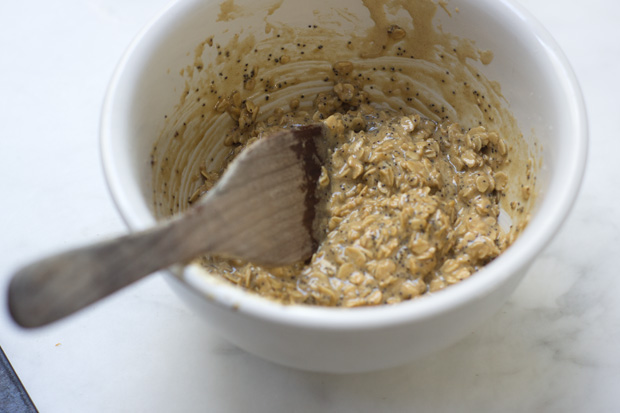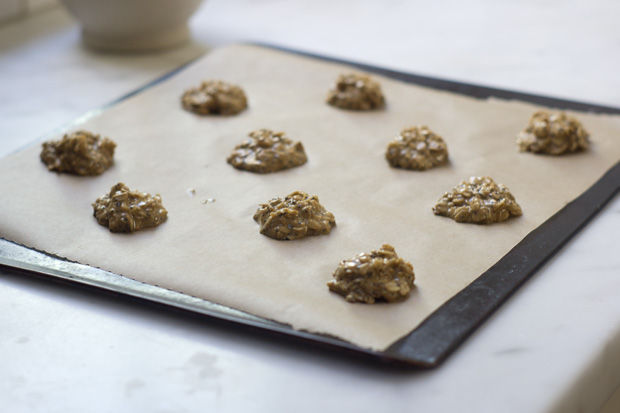 Just know, these are a specific type of cookie. They're different from these snappy whole wheat favorites. These are lacier, and a bit less substantial. The dough comes together fast, and compared with many other doughs, it's easier to manage when you have a little kitchen helper - faster baking. These are cookies best enjoyed the same day, preferably 15 minutes after they come out of the oven. Their life-cycle goes something like this: chewy and hot just from the oven, snappy when cool for a few hours, not as snappy (but still tasty) beyond that.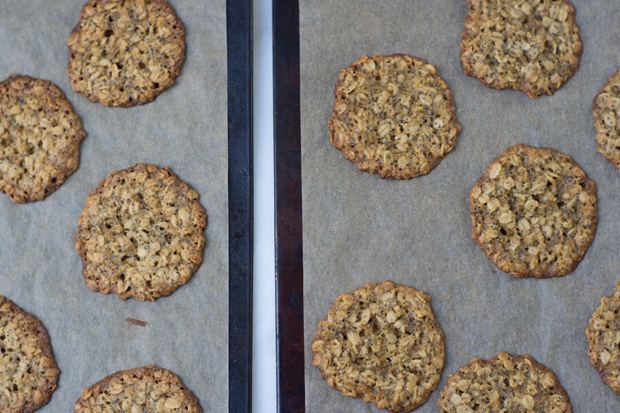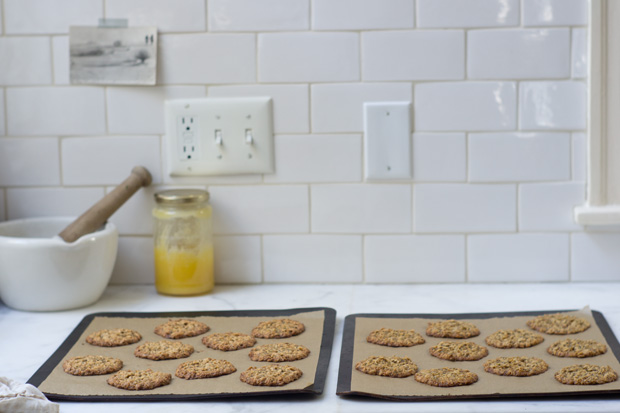 One last note for you bakers out there - you can certainly trade out the type of sugar you use here, as long as it is fine-grain. I've baked them using natural cane sugar, Muscovado sugar, and a blend of the two.
Thinnest Oatmeal Cookies
You can absolutely use brown or Muscovado sugar in place of the white sugar called for here (and I have in the past), but the cookies tend to lose their snap more quickly. Also, I used poppy seeds and fennel here, but you could introduce spices, or finely chopped nuts, or take them in whatever flavor direction you can dream up
1 tablespoon whole wheat flour
1 teaspoon baking powder
1/4 teaspoon fine grain sea salt
1 teaspoon fennel seeds, crushed
4 teaspoons poppy seeds
1/2 cup unsalted butter
1 1/2 cup / 5 oz uncooked rolled oats (not instant)
1 egg, room temperature
2/3 cup / 4 oz natural cane sugar
Preheat oven to 350F / 180C with a rack in the top third. Line two baking sheets with parchment paper, Silpat isn't as good for these cookies.
In a small bowl, combine the flour, baking powder, salt, fennel and poppy seeds. Set aside.
Gently melt the butter in a medium saucepan. When just melted, remove from heat and stir in the oats. Stir until well coated.
In a large bowl, whisk the sugar with the egg until it is the consistency of a creamy icing - I like to use an old-fashioned egg beater here. Whisk the flour mixture in, and then add the oats. Stir until combined, then drop, a level tablespoon at a time, onto the prepared baking sheets, at least 2 inches apart. I like to bake these one sheet at a time, in the top third of the oven, spinning once halfway through. Bake until very deeply golden, about 8-10 minutes. Remove, and let sit for a few minutes, then transfer to a rack to continue cooling. Best enjoyed within 4 or 5 hours of baking - their texture definitely changes (for the worse) overnight. Repeat with remaining dough.
Makes about 2 dozen cookies.
Prep time: 10 minutes - Cook time: 10 minutes