Toasted Four Grain Cereal Recipe
A hot, filling, wintertime DIY four-grain breakfast cereal that you can trick out with all sorts of different toppings.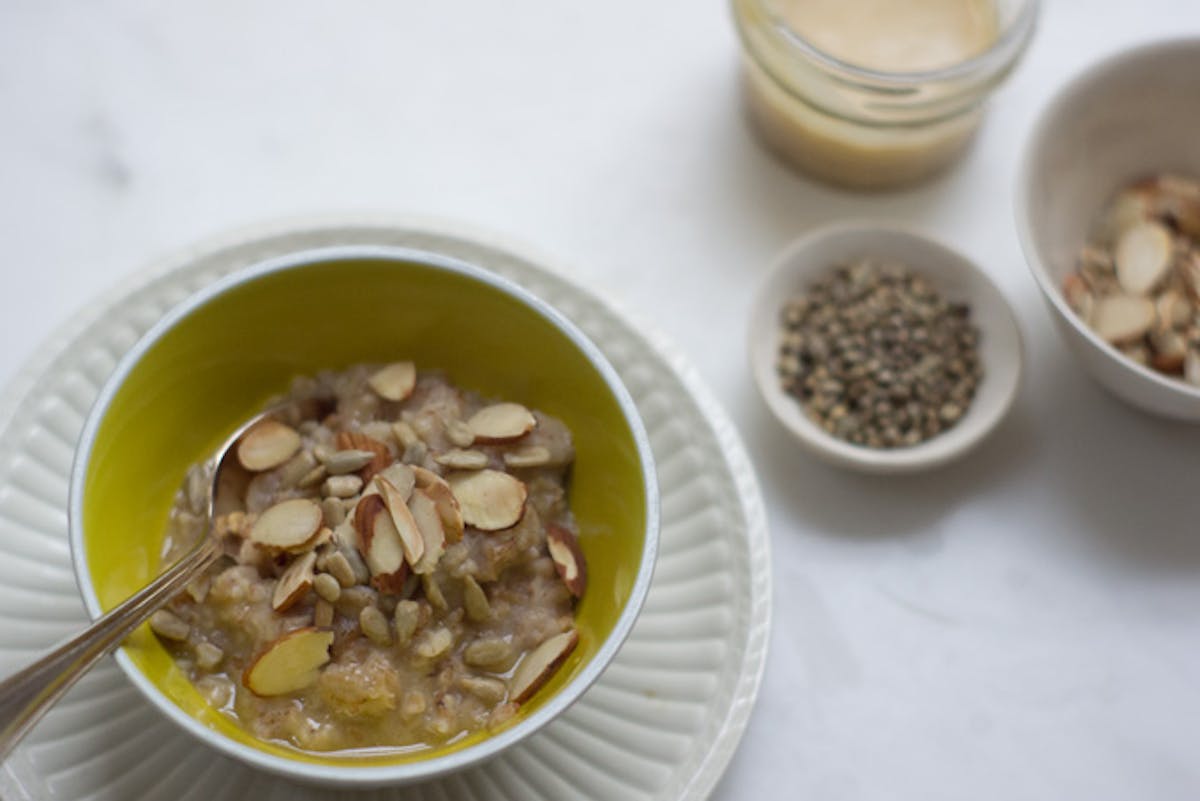 Somehow, I've managed to pass the weekday breakfast baton. Wayne has always been the house barista, keeping me (and any visiting friends) adequately caffeinated. At some point, a couple years back, he started adding a toasty overnight oatmeal to his morning repertoire. Actually, he usually does a blend of oats and other rolled grains, but if you like oatmeal, you'll like this. Lynn, from Satsuma Press, stayed with us recently, was asking about the recipe. This is for her and any of you who are looking for a hot, filling, wintertime breakfast cereal that you can trick out with all sorts of different toppings.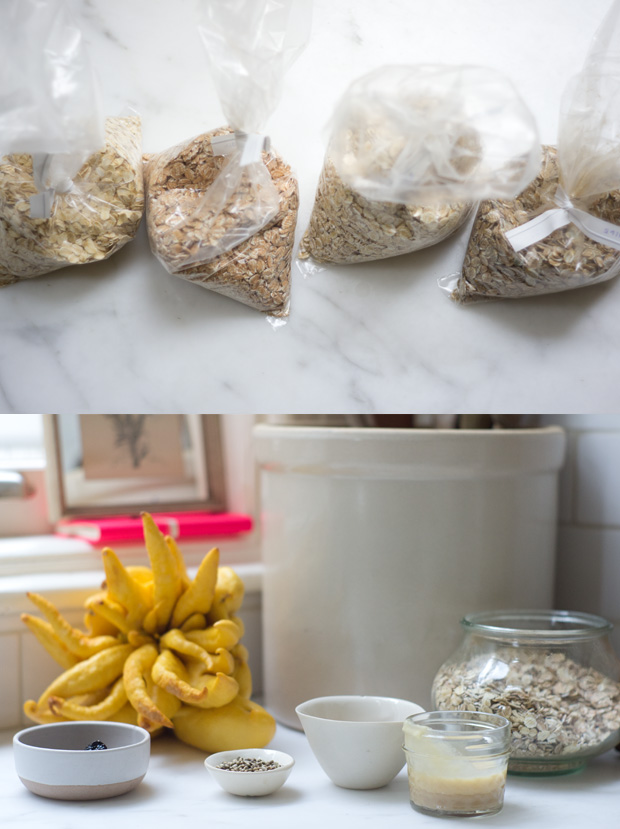 There are a number of four or five-grain breakfast cereal blends you can buy ready-mixed. That said, it is incredibly easy to make your own blend, and keep it on-hand in a jar. We've been using a blend of rolled oats, rolled rye, rolled barley, and rolled spelt. But don't sweat it if you can't find those exact grains. Browse the bin section of your grocery or natural foods store, see what they have, and go from there. The only rolled grain I haven't loved as a part of our mix was Kamut.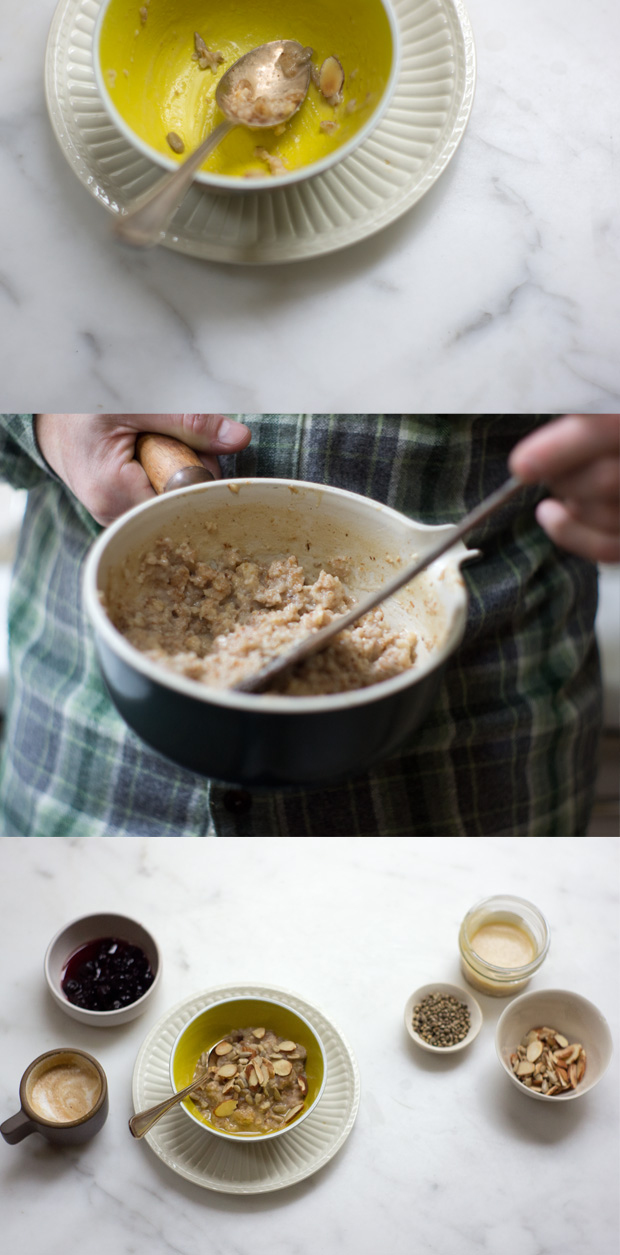 One of the things I love most about this ritual is the one thing that might put some of you off. The "day-ahead" factor. The night before Wayne makes his cereal, he toasts the grains in a bit of butter. You have to plan ahead a bit, but the trade-off is a house that smells like a batch of oatmeal cookies is baking. Here, the scent drifts from the kitchen at the back of the house, up the hallway, and into each room along the way. It's one of the last things he does at the end of the day, and it let's you know breakfast is going to be good.
I kept track of some of the toppings I've used over the past couple off weeks and listed them below. Allow me to highlight the buttermilk maple butter, which I make for waffles, but use it here as well. Creamy, sweet, with a bit of tang - a generous drizzle is all you need.
A couple other links: I had some fun with the Remodelista ladies, for their new Style Counsel feature. Aaaand my run at the Piglet over at Food52 ended abruptly with a Momofuku Milk Bar face-off. :/ Looking forward to watching the next few rounds from the sidelines though.
Toasted Four Grain Cereal
The key here is flexibility - don't worry if you can't find these exact grains. The technique will work with rolled oats, store-bought five-grain cereals, or experiment with other rolled grains you come across in the bin section of your store or local natural foods shop. This recipe instructs you to soak the cereal overnight, but you can certainly do everything the morning of, the grains will just take a bit longer to cook. A
Four grain cereal blend:
1 cup / 3.5 oz / 100g rolled oats
1 cup / 3.5 oz / 100g rolled rye
1 cup / 3.5 oz / 100g rolled barley
1 cup / 3.5 oz / 100g rolled spelt
Make a jar of four grain cereal blend, to keep on hand, by combining the rolled oats, rye, barley, and spelt. Store in an airtight container. You now have enough to make four batches.
1 tablespoon butter
1/4 teaspoon fine grain sea salt
2 2/3 cup / 560 ml water, plus more to your preference

Optional toppings:
- bourbon blueberries*
- buttermilk maple butter**
- lots of toasted nuts & seeds
- tiny drizzle of half & half or cream
- chopped apples sauteed in a bit of butter and cinnamon
- in summer, brown sugar-mashed berries
The night before you want to enjoy your cereal, melt the butter over medium-high heat in a saucepan. Add 1 cup / 3.5 oz / 100 g of the four grain cereal mixture, and stir well to coat. Add the salt and continue to cook, stirring often, until the grains have really toasted and are quite fragrant - roughly 5-7 minutes. Remove from heat, add the water, and leave overnight.
The next morning, heat the cereal over medium-high until it comes to a simmer. Leave it for about 10 minutes, or until the cereal is cooked through. Here's the thing - the cereal will thicken more the longer it simmers, so timing is truly a judgement call here. If you prefer a thinner cereal, feel free to adjust with more water. When the consistency seems right, taste, and add more salt if needed. Also, at this point, the cereal is unsweetened, and it's really up to you to doll it up to your liking. Many days, I keep it simple and add a small drizzle of maple syrup, a tiny splash of cream, and whatever toasted nuts are nearby, but I kept track of some favorite recent toppings up above, and noted them in the ingredient list - bourbon blueberries for the weekend, buttermilk maple butter mid-week :)...Enjoy.
Serves 2-3.
*Bourbon Blueberries: Place dried blueberries in a jar and cover with bourbon. Refrigerate until ready to use. These are super-boozy. I typically drain, then season them with brown sugar before using. Or serve in a puddle of the bourbon that has been blended with maple syrup.
**Buttermilk Maple Butter: In a saucepan, over gentle heat, combine equal parts maple syrup, buttermilk, and unsalted butter. Heat just until butter is melted stirring regularly. I typically do 1/2 cup / 120 ml of each. Serve warm.
Prep time: 10 minutes - Cook time: 10 minutes