Turnip Green Tart Recipe
I'm back from Portland. This recipe was inspired by a bag of chervil, turnip greens, and beautiful heirloom red celery given to me by June Taylor just before leaving. The tart is made with a buttery cornmeal crust, and a mustard-kissed, garlicky, turnip green filling.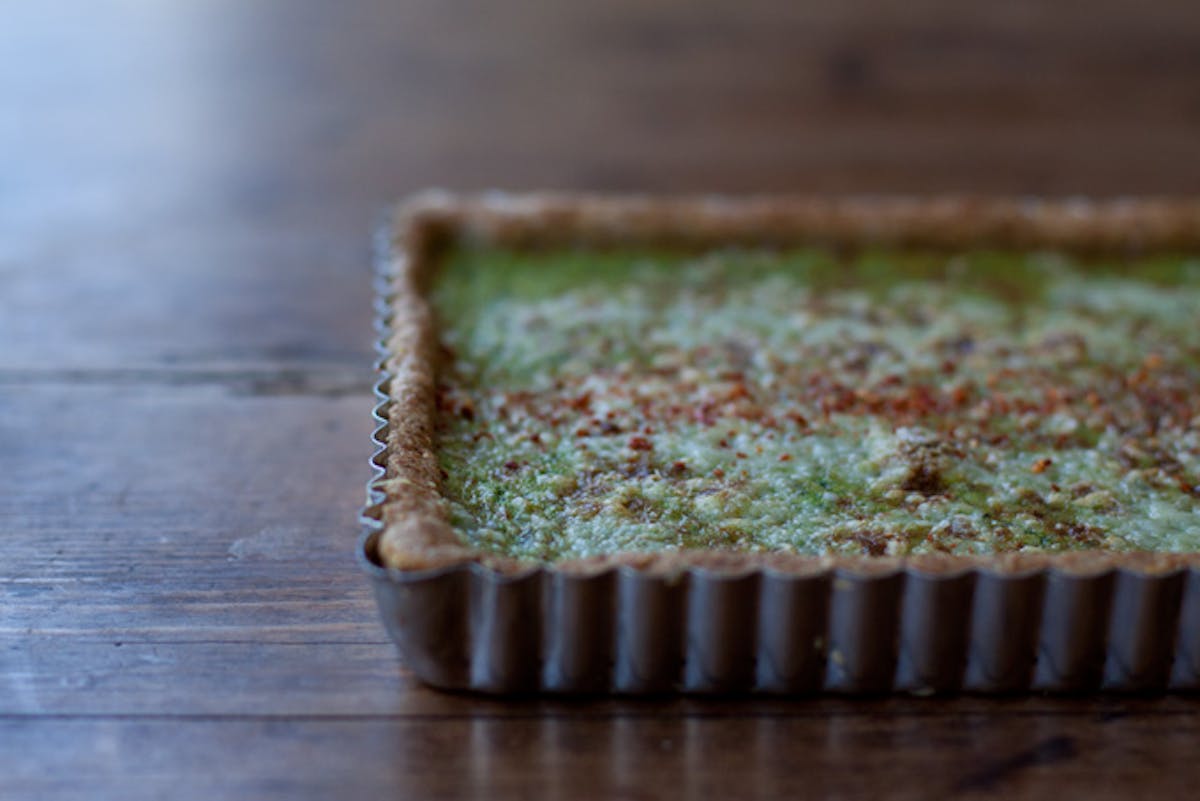 Well, it's Sunday. I returned from Portland, Oregon on Wednesday, and here I am looking at my suitcase and my carry-on bag. They are exactly where I dropped them, ten steps from the front door, still fully packed. Can we unpack together? I thought it would provide me some incentive, and at the same time I can give you a glimpse of some of the treats that hitched a ride back to San Francisco in my luggage.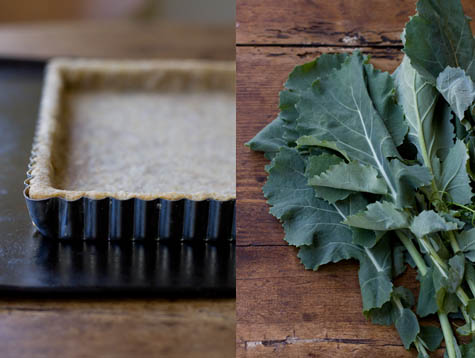 I found all sorts of neat things while exploring Portland. For starters, I bought an unreasonable amount of salt at The Meadow - some old favorites, and a few new ones - Halen Mon Gold, Murray Darling, Lemon Flake, and then there are the pretty, edible dried peony flowers.
I don't always have the best luck at thrift stores, but rummaging around one shop on Mississippi I picked up an old plate patterned with pink dahlias and green leaves. It set me back $3. I found an unusually long, thin vintage cake tin at the same place ($1), and one silver fork and matching spoon with flower details.
A couple trips to Powell's Books added weight to my suitcase, but I couldn't pass up Jane Grigson's Fruit Book, River Cottage Every Day, Rice, Spice and all Things Nice, and a few vintage art exhibit catalogs. I also picked up a copy of Edible Portland, and a copy of MIX Magazine (hi Martha!) - Books Inc. has been stocking MIX here in San Francisco, and I've been loving it, but it was nice to be able to pick up a copy on its home turf.
My breakfasts are going to be tasty as ever. Bundled in socks, two jars of preserves made it here intact. Marmalade from my friend Nancye at Moxie Rx (her meyer lemon meltaway cookies were gone long before touchdown), and a rare jar of Little Red Bike Cafe Oregon Strawberry Pinot Noir Jam from Ali and Evan. Note to self, order a loaf of Tartine sesame bread to go with.
Here's a stack of menus from meals/treats at: Clyde Common, Indish, Random Order Coffee House, Moxie Rx, and Navarre. Then there's three Polaroids, an ivory-toned beaded bracelet from Porch Light, and a blue & white striped bag I bought for my sister's birthday, from from kara-line at tumbleweed.
There were a whole host of places I wanted to get to and didn't - Ned Ludd, Pine State Biscuits, Coffee & Heart. All places I look forward to visiting the next time around.
Updated 2/7/2011: I popped back up to Portland recently, and have a few more places to recommend if you're visiting: I hopped a bus from downtown, to the Upright Brewery Tasting Room. Kim Boyce turned me on to Ziba's Pitas. These are unlike any pitas you've had. I only wish I could convince Ziba to roll her cart south to California. Coffee's was great at itty-bitty Spella Caffe', and I picked up a few gifts at Grüner one night as well - perfect salad and unbelievable buckwheat spätzle with black trumpet mushrooms.
Give me a bit of time to scan my photos. I was able to get out of the city this time around, and I'm looking forward to sharing some of the sights with you and a recipe or two inspired by my visit.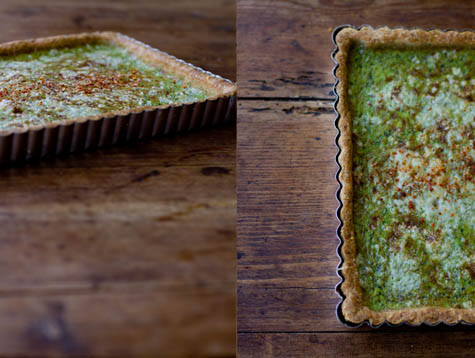 In the meantime, I wanted to share this tart. I made it just before leaving, inspired by a bag of chervil, turnip greens, and beautiful heirloom red celery handed to me by June Taylor after a lunch near the Still-Room. The tart is made with a buttery cornmeal crust, and a mustard-kissed, garlicky, turnip green filling. For a lot of the tarts I make, I use broth or pureed soup in place of much of the heavy cream traditionally called for - it turns out great. It's the kind of thing that goes nicely with a simple side salad, and a seasonal treat. We had it with the Strawberry Rhubarb Crumble. The leftovers make a tasty, portable airport lunch or snack. (And for those of you who are curious, with the rest of the ingredients I made a celery leaf pesto, part of the chervil went on savory crepes, and celery stalks went into a chopped salad I've been working on)...
Turnip Green Tart
It's convenient for me to make enough dough for two tart shells in one shot, so that's what I call for here. You can always freeze the extra dough or shell for use later in the week/month. They seem to keep fine in the freezer, well wrapped, for a few weeks, but not much longer than that. Green garlic is also great in the filling in place of the garlic clove - a couple tablespoons (chopped).
Cornmeal Tart Shell:

2 1/4 cups / 9 oz / 255 g all-purpose flour
1 cup / 4.5 oz / 125 g spelt flour
scant 1 cup / 4.5 oz medium coarse corn meal
3/4 teaspoon fine grain salt
1 1/4 cups / 10 ounces / 280 g unsalted butter, cut in cubes
1 large egg yolk
1/4 cup / 60 ml - 3/4 cup / 180 ml cold water

Turnip Green Filling:

1/4 lb. / 4 oz turnip greens, or spinach greens, de-stemmed
1 small clove of garlic
2 large eggs + 1 yolk
3/4 cup veg. broth
1/4 cup / 60 ml heavy cream
scant 1/4 teaspoon salt (more if broth unsalted)
2 teaspoons Dijon-style mustard
1 1/2 teaspoons herbs de Provence (opt.)
gruyere cheese & a bit of crushed red pepper flakes, for topping

special equipment: tart pans - 9-inch (23 cm) round, 8 x 11 inch (20 x 28) rectangle, or equivalent
Start by making the tart dough. Combine flours, cornmeal, and salt in food processor. Pulse in butter, 20+ pulses, or until the mixture resembles sandy pebbles on a beach. Add the egg yolk and 1/4 cup water. Pulse, trickle in more water if needed, just until dough comes together. Turn out onto a floured countertop and gather into a ball. Divide the dough into two equal pieces, shape each into a ball, press into 1/2-inch thick disks, and wrap in plastic, or place in baggies. Chill for at least an hour.
Preheat the oven to 350F / 180C. Place a rack in the middle of the oven.
When you're ready to line the tart pans with dough, place one of the dough disks on a lightly floured surface and roll out until the dough is large enough to line your tart pan. I usually eyeball it - you can see in the photo the dough is about 1/6 - 1/8 inch thick. Dust underneath with flour to discourage sticking throughout the rolling process. Carefully transfer the dough to the pan. Don't worry too much if you get a tear or hole, you can patch those up later with scraps. Work quickly to ease the dough into place, taking care not to stretch the dough. Press it along the bottom of the pan, out to the walls, and against the sides. Trim any excess dough - I use the palm of my hand against the edge of the tart pan to cut off any extra dough, alternately you can roll a rolling pin across the rim of the pan for a clean edge. Chill in the refrigerator for thirty minutes or so while you roll out your extra tart shell. Double wrap that one in plastic and freeze it for future use.
You're going to partially bake the tart shell before filling it, so pull the shell out of the refrigerator, dock it with a fork, making small holes along the bottom of the shell. Line the shell with parchment paper and fill to the rim with pie weights or dried beans, bake for 25 minutes. Carefully remove the pie weights and finish baking for another 5 minutes, or until the crust is dry and just barely starting to brown. Remove from oven and let cool completely.
To make the filling: Chop the greens and garlic in a food processor. You can do this by hand as well, but in this case the processor makes quick work of this. Add the eggs and yolk, pulse. Then the broth and cream. Lastly, incorporate the salt, mustard, and herbs. When you're ready to bake, fill the tart shell and bake for 30 minutes or so, or until the center is set, and has firmed up to the touch. About 2/3 of the way through I like to sprinkle with a bit of gruyere cheese. I can't help but zap the top of most tarts under the broiler for a minute or two just prior to pulling it out of the oven - it browns up the top nicely, and lends a rustic look to it. Finish with a sprinkling of crushed red pepper flakes if you don't mind a bit of heat.
Prep time: 950 minutes - Cook time: 60 minutes