Two Weeks in Japan Recipe
Wayne and I took a two week trip to Japan in Feb/March 2009. We spent one week in Tokyo and one week in Kyoto and Koyasan. This post lists many of the highlights - places we visited, cafes and restaurants we explored - many vegetarian, macrobiotic, or shojin-ryori.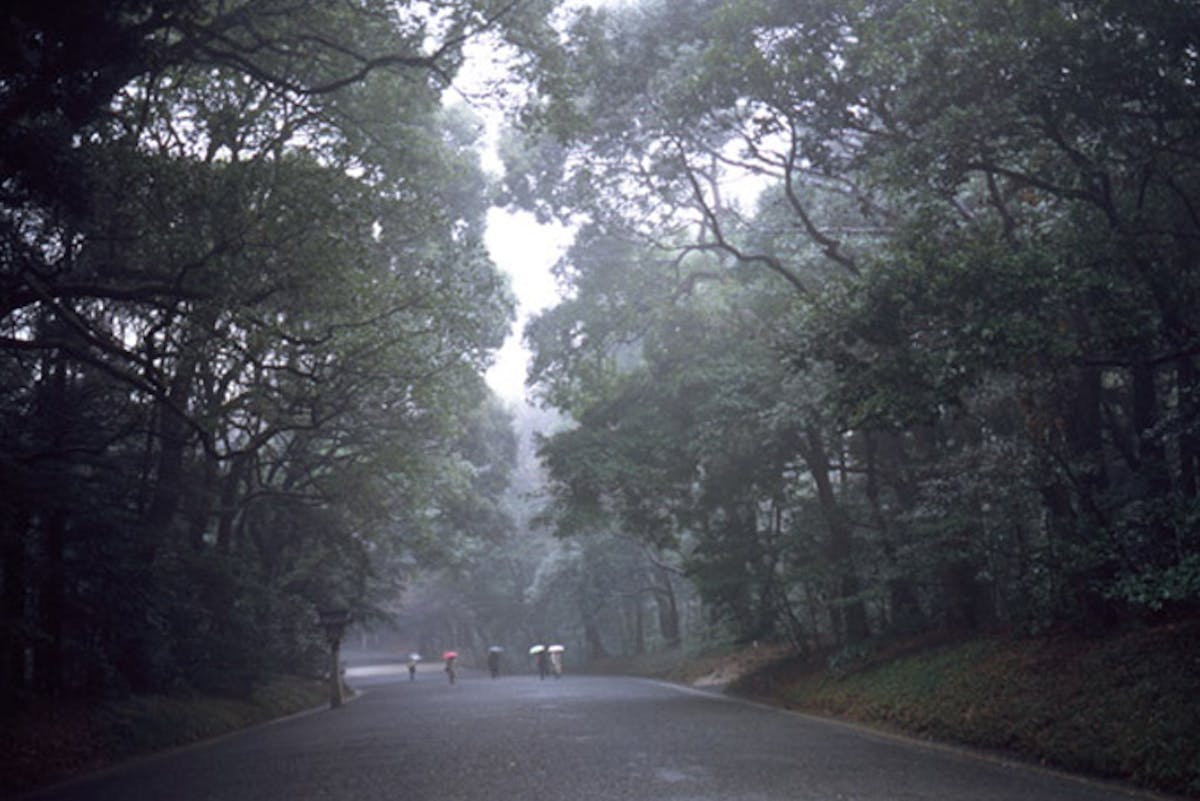 After two weeks in Japan, I begrudgingly boarded a 747 - final destination San Francisco. I have to tell you, there are times on trips like this when I get anxious to get home. I miss the little things. For example, being able to cook my own meals, having access to a washing machine, high-powered hair driers. I get tired of rummaging through my suitcase pockets looking for things. But this trip was different. I would have liked to stay longer, visit more places. We touched down in Tokyo on a chilly afternoon and spent the next two weeks bundled up and taking in as much as possible. We eventually made our way by bullet train to Kyoto, then onto Mt. Koyasan before flying back from Osaka.
I thought I'd try to outline some of the highlights of the trip in case you find yourself there. So many of you offered up suggestions, it quickly became clear I'd need another year there to explore all of them. I couldn't be more thankful for your insights, it was a bit overwhelming trying to figure out where to go, what to do, and more importantly, what to skip this time around. Your notes and emails helped immensely in that regard - enabling me to narrow things down. As far as traveling there in winter, it was quite cold, and it rained a lot, and snowed some. That didn't bother me much, it certainly isn't for everybody, traveling in winter, but I'd still go back this time of year. If you don't mind perpetually numb fingers and toes, the misty mornings were magical, and you could see the very first signs of spring in the handful of rogue plum blossom trees that had somehow exploded into full bloom despite snow still falling from the sky.
As far as restaurants go, we ate in many of the vegetarian or macrobiotic cafes in both towns (Tokyo and Kyoto). More often than not, the offerings were simple, fresh, and delicious. Meals were satisfying without being overly filling. Vibrant produce made an appearance at nearly every meal, the food was handled meticulously. Their lettuce absolutely glows on the plate, even in the simplest cafes. Thankfully it seems as if the Japanese have yet to discover bagged lettuce.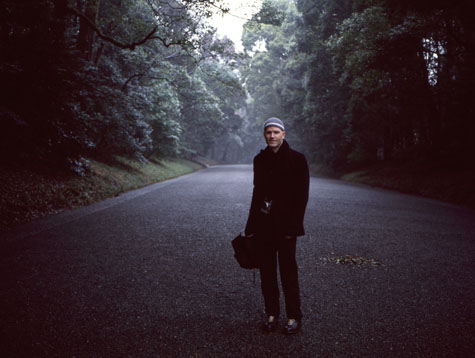 Tokyo Highlights: Brown Rice Cafe served up the best tempeh I've ever tasted. It was fresh and nutty, didn't need any sauce, marinade, or spices whatsoever. Just a pinch of salt was all. We went back twice. /// Stocked up on snacks and breakfast items at Natural House, just a couple blocks from Brown Rice Cafe. /// A walk around the neighborhood streets of Nakano and a cozy lunch at Govinda's Veg Kitchen with our friend Kurt. /// PURE Cafe (in the same area as Brown Rice Kitchen) /// Meiji-Jingu Shrine in rain so strong the drops were jumping back from the ground. /// Lunch at Macrobiotic Marche (attached to a Macrobiotic cooking school). The cafe is also attached to a little macrobiotic pantry where you can stock up on some fantastic grain blends, miso pastes, seaweeds, seasonings, and the like. /// Stroll along the river to Cow Books in Nakameguro, spotted some really cool lunch trucks parked there as well. (Tokyo Paella & Soup Girl) /// Also in Nakameguro (across and diagonal from Cow Books), I popped into cute cafe drole for a slice of extra-moist banana bread. Then, a few blocks later stumbled on the exquisite mochi treats at Higashiya. They are presented in a beautiful baton box, wrapped, and place in a bag with a mini ice-pack to keep them chilled until you get home. Hard to resist. /// I found myself at the Shinjuku Muji store and the Shinjuki Isetan basement food court more than once. There is a nice grocery store, if that is what you call it, in that food court, and I stocked up on a bunch of Japanese salts and spice blends. And then I bought a six-pack of Pierre Hermé macaroons to take back to Wayne. We don't have those in San Francisco. /// Great photo book store / gallery, Sokyusha, also in Shinjuku. The little gallery was showing some huge, stunning Kohei Yoshiyuki prints - The Pond series. /// Leica store in Ginza. /// I got an email from a reader (thank you Caitlin!) who sent me a link to this article about a chef doing ital soba in Tokyo. The miniscule restaurant is called Asahi, and it is Tokyo's only Rasta-vegan noodle house. Chef Koichi Nakajima is it. It is just him, you, and maybe four or five other diners. He turned out our very best meal in Tokyo, and (at second glance) I think he did it using a couple of deluxe camping stoves. Well worth the effort it took to seek out the tiny, off-the-beaten path location (a couple subway transfers, and a 15 minute walk). I promise to write more about it in more detail later. There's a map on this page. /// Watching a snowstorm from the 52nd floor of the Mori Tower at Tokyo City View in Roppongi. We kept warm in a nearby bookstore with a great photo book selection as well - Tsutaya. Had a cozy lunch at nearby Eat More Greens. /// Organic Show & Earth Garden/Earth Shows with Chika - good company, and lots of interesting heirloom beans, grains, seeds, and arts & crafts for sale.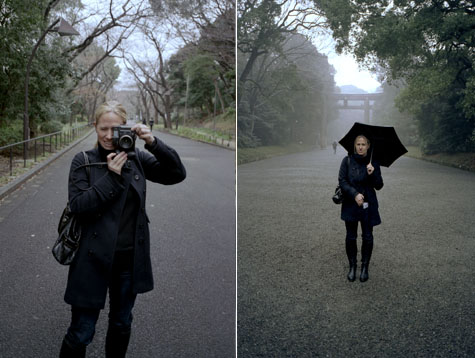 Kyoto Highlights: After a week in Tokyo we took the Shinkansen (bullet train) to Kyoto. /// Dinner in Gion at Yamafuku with our friends Aaron and Yuko - tip: bring your favorite Japanese speaking friend. In addition to many other things, a few highlights of this meal included a whole, small roasted eggplant with a double miso slathered crust, and sesame silken tofu. /// A friend gave us four tiny pastries when we arrived. The petite ginger-crusted cakes were made to look like baked sweet potatoes. I'm still trying to figure out how they are made, the cake inside the crust seemed like some sort of mochi cake, but I'm not exactly sure. It was our favorite pastry of the trip. /// An early morning walk through thousands of orange temple gates at Fushimi Inari Taisha shrine. /// The Golden Pavillion. /// The Bamboo Forest. /// Cozy, tasty set lunch at Biotei back near our hotel. /// Shopping at Angers. /// Knife shopping at Aritsugu in the Nishiki market. /// Best ever daily drip coffees around the big round counter at Inoda. /// Philosopher's Stroll. /// Soba noodle soup topped with egg and yuba skins and chopped green onions at Kyoto Ukiya on the ground floor of The Kyoto Museum. /// Most special meal in Kyoto was a shojin-ryori lunch at Shigetsu adjacent to the Tenryu-ji temple, near the Bamboo Forest.
Koyasan: We took the subway to a train, to another train, and then a cable car up the side of a mountain to get to UNESCO World Heritage site Koyasan. There are a few dozen monasteries visitors can stay at, but no hotels - we booked our stay through Japanese Guest Houses and stayed two tranquil nights. We spent most of our time walking around the town and temples - and enjoying the temple meals. You are invited (encouraged) to observe the early morning chanting with the monks, I imagine a rare opportunity for many including myself. And our misty forest stroll through the Okunoin Cemetery to the Lantern Hall was otherworldly. /// There is a fantastic little cafe (Bon On Shya International Cafe) on the main road in Koyasan where a couple, Veronique and Takeshi, serve espresso drinks as well as a lunch set each day.
I recognize writing about our trip in a list like this is quite this reductive, but I wanted to keep it to a somewhat reasonable length. I look forward to getting into more detail about some of the places we visited in the coming weeks/months. I'll likely post more pictures to my Flickr stream over the coming weeks as well. I shot the photos in this post the morning we visited Meiji-Jingu Shrine near Harajuku Station. Wayne took the two shots of me, one of them I'm a little damp from the rain, and trying to keep my camera dry using my hand (not particularly effective).
I hope this is a good start for those of you who think you might want to visit Japan. We definitely thought of it as an "introductory" visit, and can't wait to go back.