Carrot Oatmeal Cookies Recipe
One of my favorite cookies - a carrot oatmeal cookie sweetened with maple syrup. They are made with fragrant coconut oil, plenty of chopped walnuts, rolled oats, and a bit of fresh ginger. They also happen to be egg-free and vegan.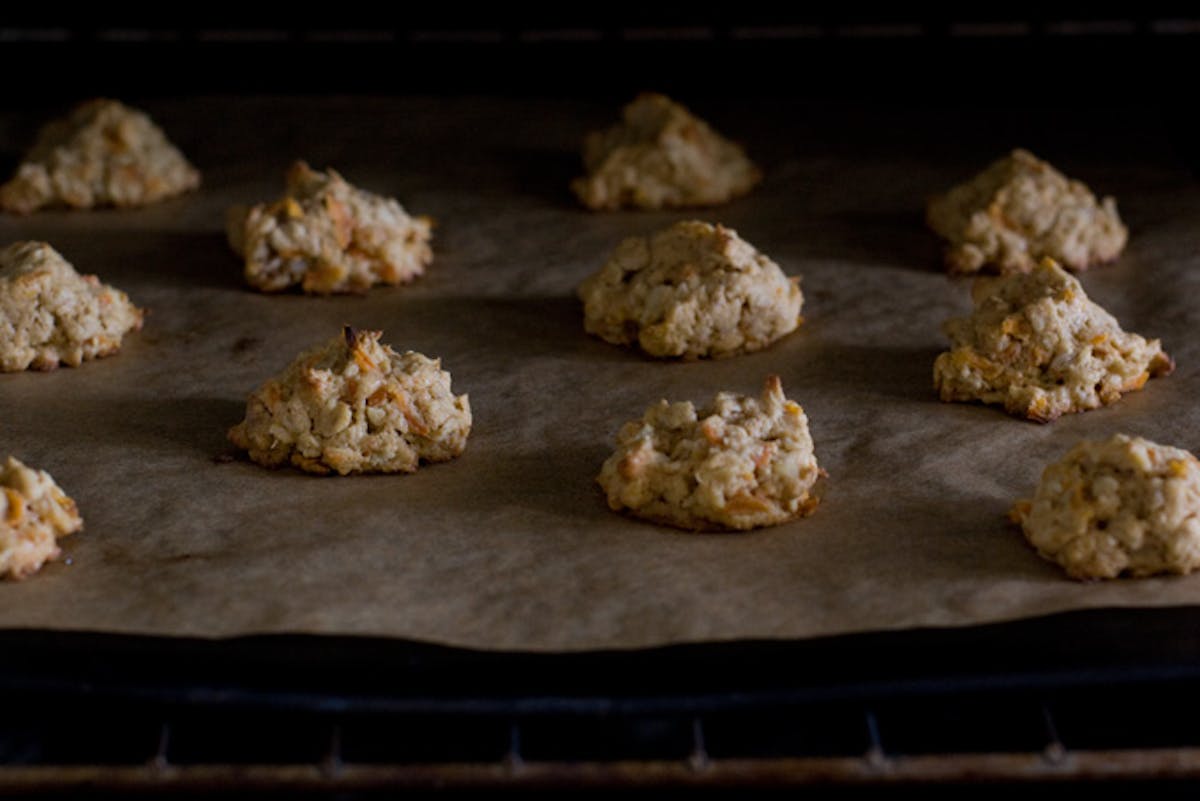 If you somehow combined a coconut macaroon with a bit of carrot cake, you might end up with a cookie like this one. I took a few carrots leftover from Bryant's Jamaican Veggies Patties, shredded them, and turned them into a batch of carrot-flecked cookies. They are egg-free, vegan, and sweetened with maple syrup. I used fragrant coconut oil, plenty of chopped walnuts and rolled oats as well. For those of you who loved Nikki's cookie recipe a while back, give these a try. The oats get golden and a bit crusty-crunchy on the bottoms, but the carrots, coconut oil, and a kiss of ginger keep things nice and moist inside. So good.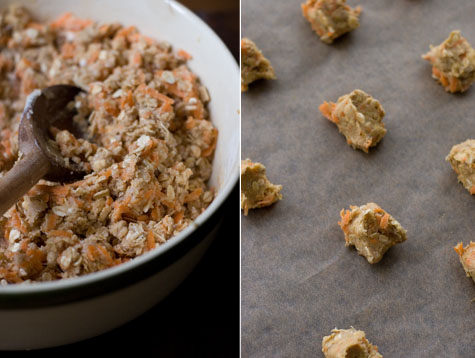 Because there is no cane sugar, these cookies lack that super sweet, high-key edge. They're not going to be as sweet as most American baked goods you're used to, but I think they're better. Because there are no eggs in the batter, you don't need to worry about sneaking a taste of dough ;)...And while I love these just as they are, I can imagine playing around a bit by adding some shredded coconut, or different nuts, and/or dried pineapple - or doing a curried version.
Carrot Oatmeal Cookie Recipe
After your initial batch experiment with the type of nuts/seeds you use. Lemon zest, clarified butter, and olive oil might be ingredients to play around with as well - but I haven't tested them in this recipe. And I have to say, I love the flavor and richness the coconut oil brings to these cookies. If you have a hard time finding whole wheat pastry flour, feel free to substitute unbleached all-purpose flour.
1 cup whole wheat pastry flour
1 teaspoon baking powder
scant 1/2 teaspoon fine grain sea salt
1 cup rolled oats
2/3 cup chopped walnuts
1 cup shredded carrots
1/2 cup real maple syrup, room temperature
1/2 cup unrefined (fragrant) coconut oil, warmed until just melted
1 teaspoon grated fresh ginger
Preheat oven to 375F degrees and line two baking sheets with parchment paper.
In a large bowl whisk together the flour, baking powder, salt, and oats. Add the nuts and carrots. In a separate smaller bowl use a whisk to combine the maple syrup, coconut oil, and ginger. Add this to the flour mixture and stir until just combined.
Drop onto prepared baking sheets, one level tablespoonful at a time, leaving about 2 inches between each cookie. Bake in the top 1/3 of the oven for 10 - 12 minutes or until the cookies are golden on top and bottom.
Makes about 2 1/2 dozen cookies.