White Bean Salad Recipe
A tasty white bean salad topped with toasted walnuts, crumbled cheese, and a hint of citrus. Makes a good side dish, a satisfying lunch, or light dinner.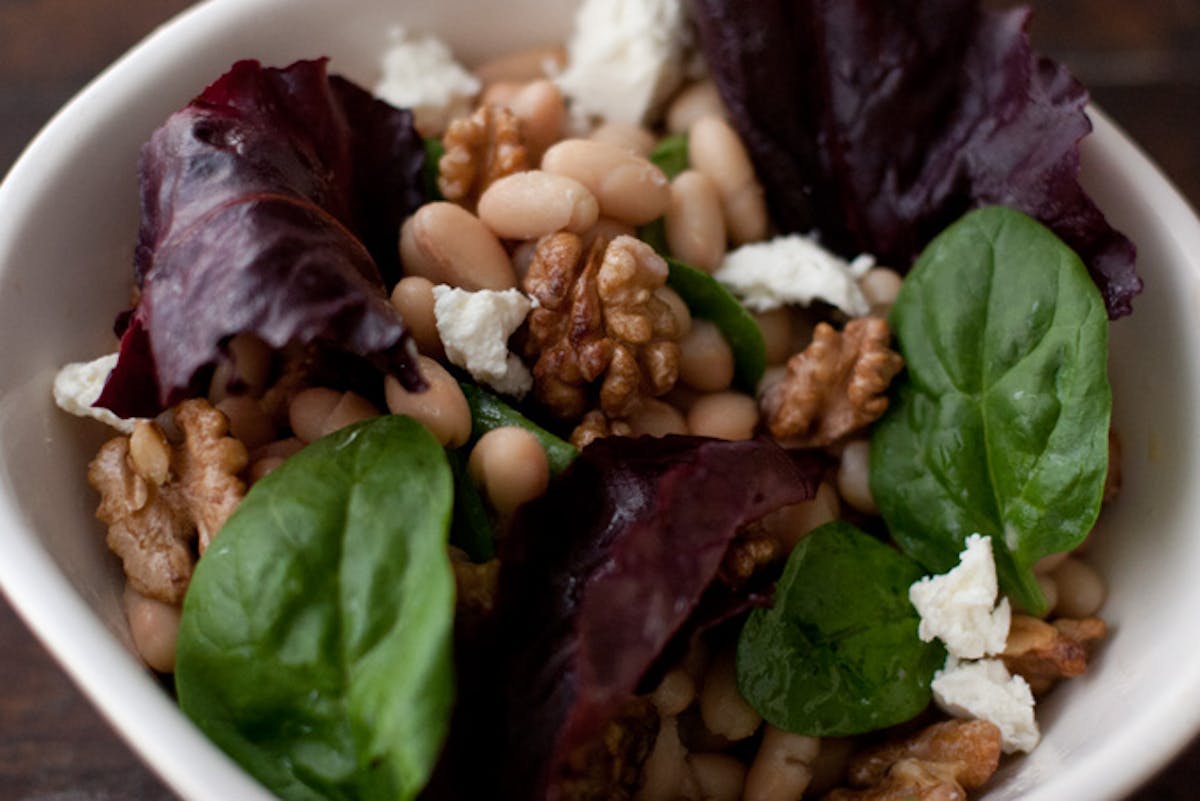 I have a little notebook that I contribute to regularly. It's the place where many of my favorite recipes (or recipes ideas) go until I am ready to share them. I suspect that if I ever chose to do another book (years from now!), much of the inspiration would come from the pages of this 5-by-8-inch booklet. It still has many, many blank pages waiting to be filled and I look forward to the meals, travels, and conversations that will surely spill over from my life to sneak between its front and back covers. One recent entry, White Bean Salad with Toasted Walnuts, Crumbled Manouri Cheese, and Citrus Oil, became an immediate favorite of mine. I wanted to share it with you, for those of you who appreciate recipes that come together in 5 minutes or less, this is a bean salad to try.
Like some of my favorite recipes, this one came together serendipitously. I had some white beans on-hand thinking I'd made some sort of pasta e fagioli - but it was late when I arrived home, and we decided we wanted to eat dinner immediately if not sooner. Not to mention the fact that pasta e fagioli with canned beans is less than ideal.
This is when I start grabbing things. In this case twenty seconds later I had the following on the counter in front of me: a small bag of baby spinach, 2 cans of white beans, a small chunk of manouri cheese, two handfuls toasted walnuts, an amazing ruby grapefruit olive oil, salt, and some champagne vinegar.
The tangy citrus notes in the olive oil played off the creamy beans beautifully. The crunch and toasted heartiness of the walnuts added another layer of flavor and depth. The next time around I'll do the salad justice and use some proper beans, but even using canned it was remarkable. Makes a good side dish, a satisfying lunch, or light dinner.
Other things that might be nice in this salad: shaved Parmesan in place of the crumbled cheese, thinly sliced celery, citrus segments....other ideas? Hope you enjoy this one as much as I do.
BAY AREA BOOK SIGNING: Before I sign off for the weekend, I want to let Bay Area readers know that I'll be signing books at Mrs. Dalloway's Literary & Garden Arts in Berkeley at 7:30 on June 14th. This is a lovely shop that I suspect might set me back a few dollars before I finish up that night. In addition to the signing in Berkeley, there are a couple other signings coming up - one in the north bay, and one in the south bay - but that might be it for me this summer. I'm think I'm ready to hop some flights and do a bit of globetrotting ;) But before I do so, I would love to meet more of you in person.
Mrs. Dalloway's Literary & Garden Arts
2904 College Ave, Berkeley Ca
June 14, 7:30 pm
White Bean Salad
A couple purple lettuce leaves snuck into my baby spinach bag at the market, I like the color they add to this salad so I left them in. I call for a citrus olive oil in this recipe (I used the ruby grapefruit olive oil from O Olive Oils. Orange or Lemon would likely be nice as well (and more readily available). In a pinch, an alternative would be to use a good quality extra-virgin olive oil along with some citrus zest.
2 big handfuls baby spinach, washed and dried
2 cans white cannellini beans (or freshly cooked equivalent)
2 handfuls walnuts, toasted
a couple glugs of citrus-flavored olive oil
a small splash of champagne vinegar
a few pinches fine-grained sea salt
a bit of crumbled cheese (manouri, goat cheese work nicely)
Rinse and drain the beans. If you like your bean salad on the warm side, my shortcut for heating them up is to run them under hot water (saves having to wash a pot).
In a large bowl combine the spinach, beans and walnuts. Add the olive oil, a splash of champagne vinegar, and salt. Toss gently but make sure you get everything nicely coated. Sprinkle a bit of cheese on top and enjoy.
Serves 4.