Wintery Spring Rolls Recipe
The spring rolls I packed for a flight from San Francisco to Paris - ginger-onion paste, brown sugar tofu, mushrooms, and herbs.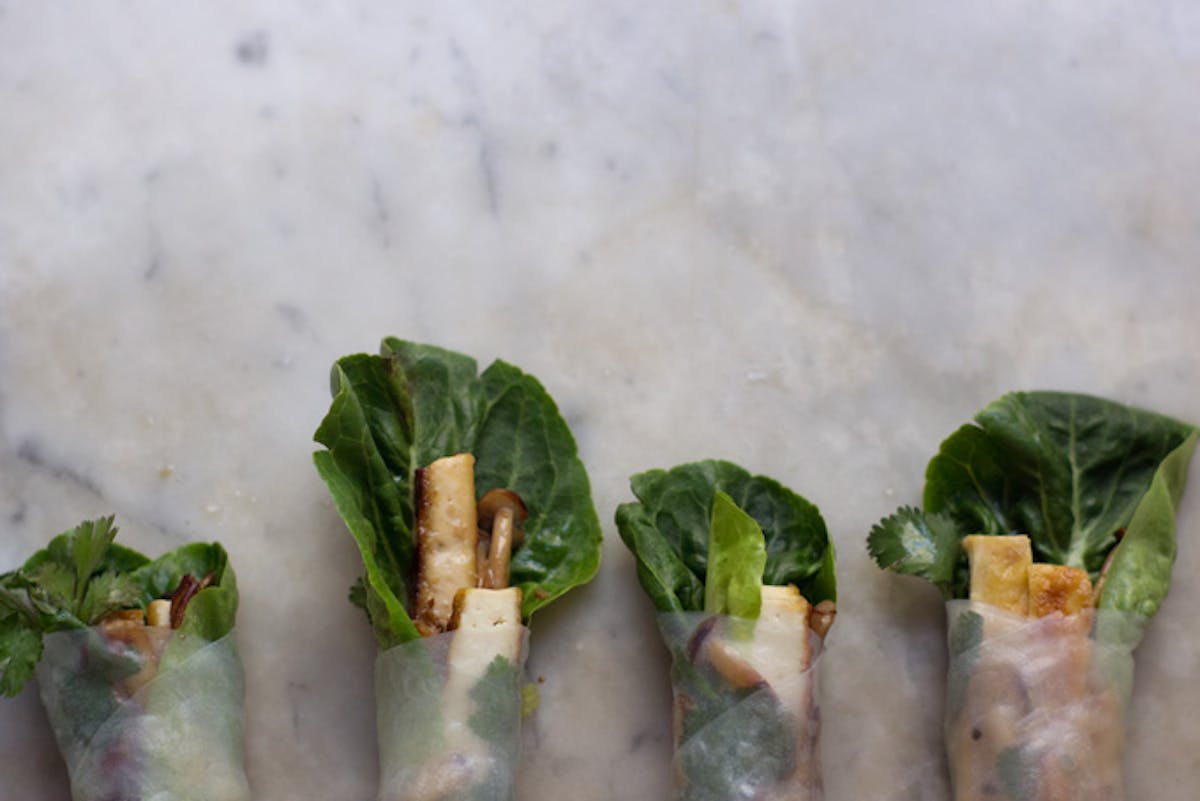 This post started with me snapping a few photos of the lunch I packed for a flight from San Francisco to Paris. My hope is, by the time you see this, I'll be my way back home - film spent, notebooks full. I'm also going to hold out on you a bit, Paris wasn't my final destination. I was making my way someplace I've never been before.
For this trip, I packed spring rolls. And if my memory is serving me well, this was a first for me. I've done noodles, gyoza, mini burritos, and panini, but never spring rolls. My take: I slathered the rice paper wrappers with a gingery-onion paste, added a couple stiff-spined lettuce leaves for crunch, there was brown-sugar rubbed tofu, mushrooms, and herbs (in this case cilantro). When you have a glance at the recipe you might think it looks a bit component-y, but that's just the nature of spring rolls. They actually come together pretty quickly. And the good news is you can prep the onion paste and tofu a day or two ahead of time.
If you get the seasoning right on each of the components here, I'm going to argue that you don't need a dipping sauce. Although, I made these a number of times in the weeks leading up to my trip, and they are certainly good with a simple soy dipping sauce. Or, I do a simple twist on peanut sauce with almond butter (in place of the peanut butter) thinned with a bit of soy sauce, splash of miring, and either fresh lemon juice or brown rice vinegar to cut the creaminess of the nut butter. Thin with some hot water until it is the consistency you like.
If you're curious about what my little travel lunchbox looks like, you can see a few pics of it here. I'm excited to get home and share some pictures and new recipes with you! xo -h

Wintery Spring Rolls
Here's how this works. Each roll has a slather of ginger onion paste, a couple crunchy lettuce leaves, some mushrooms, tofu, and a bit of cilantro (or other herb of your choice - mint, basil). Roll tight, and you're set.
Ginger Onion Paste:
2 spring onions, finely sliced
2 red spring onions, finely sliced (or equiv. red onion / shallots)
3 tablespoons grated, peeled ginger
1/2 teaspoon fine grain sea salt
6 tablespoons sunflower oil
Brown Sugar Tofu & Mushrooms:
12 ounces extra firm tofu
3 medium cloves garlic
1/2 teaspoon fine grain sea salt
4 teaspoons natural cane sugar (or brown sugar)
2 tablespoons sunflower oil

8 ounces mushrooms, brushed clean, sliced 1/4-inch thick
For spring roll assembly:
Ginger Onion Paste (above)
Brown Sugar Tofu & Mushrooms (above)
crisp, crunchy lettuce (baby gems / romaine)
1 small bunch fresh cilantro or other herbs, well washed / dried
~1 dozen rice paper wrappers
Make the ginger onion paste: Place the onions and ginger in a mortar and pestle. Sprinkle with the salt, and pound until the onions are quite bruised, but not paste-like. Heat the oil in a small saucepan until hot (hot enough that you could saute something in it). Add the onion mixture to the oil, remove from heat, and transfer to a jar to cool. I like to drain off (and save) most of the oil before using it here in the rolls, leaving just the paste.
Make the tofu & mushrooms: Pat the tofu dry, and cut into six equal slabs before arranging in a single layer on a rimmed plate. Place the garlic in a mortar and pestle, sprinkle with the salt and sugar, and pound into a paste. Work the oil in, a bit at a time, until the ingredients are completely combined. Use your hands to slather and gently coat each piece of tofu, be quite thorough. Set aside, and leave the bowl dirty.
Cook the tofu in a single layer in a large skillet over medium-high heat until deeply golden on each side. I've found I don't need any addition oil here. Remove from the pan, and when cool enough to handle, slice into pencil-thick pieces, and salt to taste.
In the meantime, toss the mushrooms gently (but well), in the residual marinade left in the tofu bowl. Once the tofu is done, you can use the same tofu skillet to cook the mushrooms. Use high heat, and cook until the mushrooms release their water and take on a nice, dark color. Transfer to a bowl or platter, and season appropriately.
Assemble the spring rolls: In bowl of hot water, dip each rice paper wrapper for just 3 seconds. Resist over-soaking, even if the paper is a bit stiff it will continue to absorb water as you assemble the wrap. Place on a flat work surface and fold in half. Have a glance at the photos up above if you've never done this. You're going to want to keep all your ingredients crowded into 1/3 of the available surface of the wrapper at this point.
Put down a generous smear of ginger onion paste. Then a lettuce leaf, tofu, a few mushroom, cilantro. Then, tuck and roll. I like the open-sided rolls (above), but you can certainly make enclosed rolls by leaving the wrapper round, and folding in the edges mid-wrap.
Makes about a dozen rolls.

Prep time: 15 minutes - Cook time: 15 minutes