Baked Quinoa Patties Recipe
A few London pics, a look at how I packed my lunch for the flight, and the baked quinoa patties I brought along with me - dill, feta, chives, cumin, and garlic.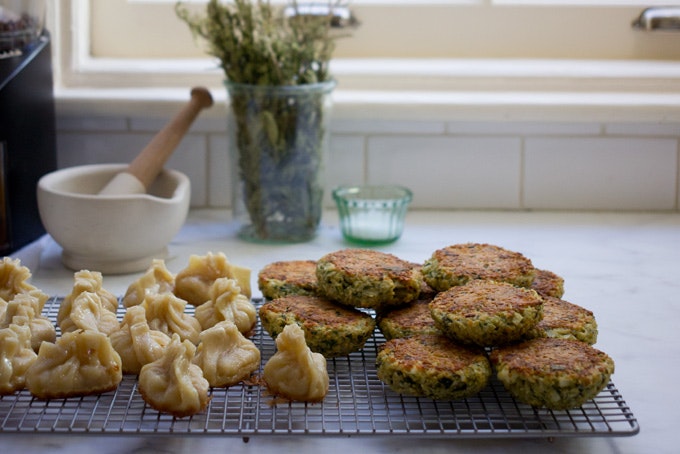 On the subject of packing food for airplane flights, it appears that a number of you were curious about how I go about it. The specifics. So I thought I'd share a few more photos, and include a more detailed explanation. My lunch-on-the-go is an ever-evolving system which (currently) involves a collapsible container, two thick rubber bands, and a plastic fork/spoon thing. All food goes in one container, and I avoid anything liquid to get through security. A good splash of sauce seems to be fine though. For my flight to London, I packed the potstickers I shared last week. What you didn't see was the way I buried them under a layer of these baked quinoa patties. I'll tack on the recipe for those down below.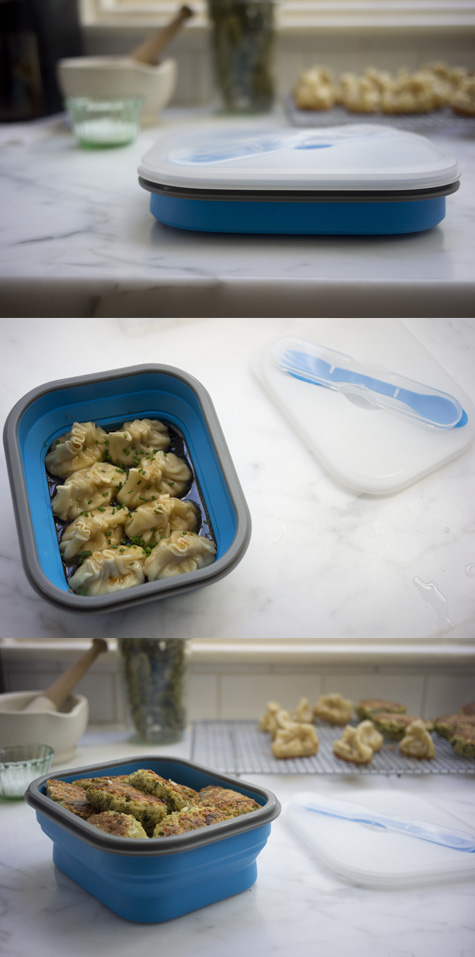 Now, I'm not typically a fan of squishy silicone products. But I like a number of things about this lunch container. It's reusable. And when it's not full it collapses down to nothing in my luggage. The best thing? It has yet to leak. The quinoa patties are sort-of an herby, vegged-up, baked version of the Tiny Quinoa Patties in Super Natural Every Day - dotted with feta and flecked with lots of dill, chives, and kale. I used a folded piece of parchment paper to divide the dumplings from the patties.
Noodles and tofu are another favorite flight combo. Something like the Otsu recipes in either Super Natural Cooking or Super Natural Every Day. They're flavorful, not overly saucy, and I like being able to get a nice mix of noodles, vegetables, and some protein in one bowl. Frittatas, burritos - same thing.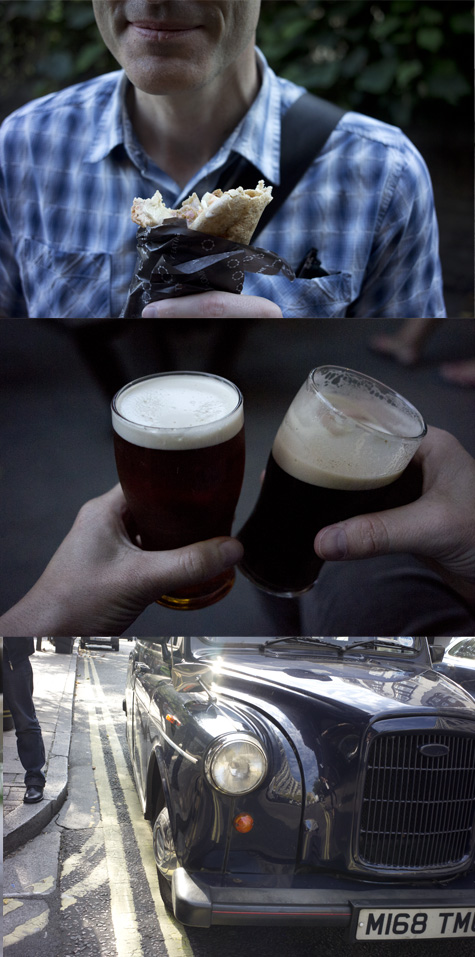 As I'm typing, I'm making my way back home. This morning was a blur of motion - escalators, elevators, and people-movers. A trek with luggage from the hotel to the subway, then subway to train, train to airport. Next up - the flight to San Francisco. In the meantime, here are a few snapshots from the past week.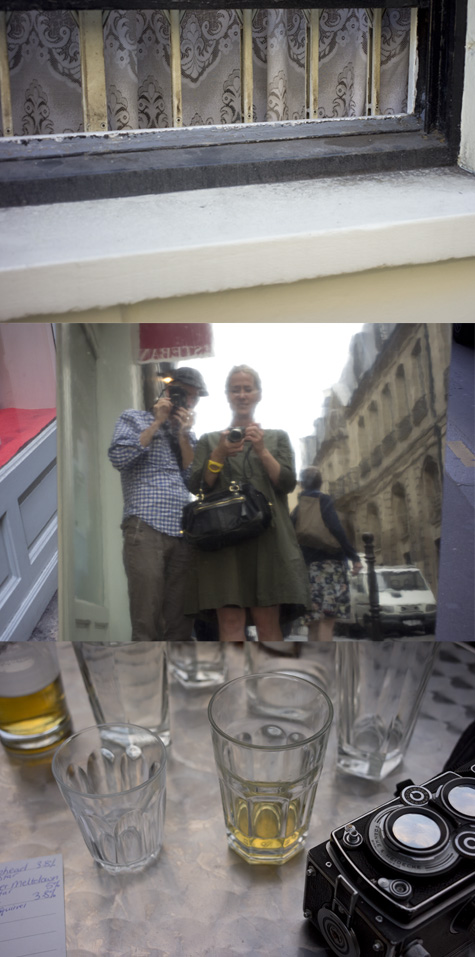 I'll do my best to type up a list of some of my favorite London spots soon (and update my Paris map as well). The food has been incredibly inspiring, and I feel like I've barely put a dent in the list of places I wanted to visit. Before I make my way home though I want to thank Heather And Tina, Anna, Brian, Keiko, Yotam, Clotilde, Maxence, Dorie, Michael and everyone else for the warm welcome - and for all the tips, pointers, and insights that helped make this trip extra special. xo-h
Baked Quinoa Patties
HS: I baked these, but you can pan-fry them in a skillet** if you like - it's a bit quicker, but requires more of your attention. I've included those instructions at the bottom of the recipe.
2 1/2 cups / 12 oz /340 g cooked quinoa, at room temperature*
5 large eggs, lightly beaten
1/2 teaspoon fine-grain sea salt

1/3 cup/ .5 oz /15 g finely chopped fresh chives
1/3 cup /.5 oz /15 g finely chopped fresh dill
1 cup / 1.5 oz /45 g finely chopped kale
1 yellow or white onion, finely chopped
3 cloves garlic, finely chopped
1 teaspoon (toasted) cumin
1 teaspoons baking powder

1 cup / 3.5 oz /100 g whole grain bread crumbs, plus more if needed
water or a bit of flour, if needed

1/3 cup / .5 oz / 15 g crumbled feta

1 tablespoon extra-virgin olive oil or clarified butter
Preheat oven to 400F / 200C.
Combine the quinoa, eggs, and salt in a medium bowl. Stir in the chives, dill, kale, onion, garlic, and cumin. Stir well.
Add the baking powder and bread crumbs, stir, and let sit for a few minutes so the crumbs can absorb some of the moisture.
Gently stir in the feta.
At this point, you should have a mixture you can easily form into twelve 1-inch / 2.5cm thick patties. I err on the very moist side because it makes for a not-overly-dry patty, but you can add more bread crumbs, a bit at a time, to firm up the mixture, if need be. Conversely, a bit more beaten egg or water can be used to moisten the mixture. If you're still having trouble getting the mixture to hold - mix in flour, a couple tablespoons at a time.
Oil a baking sheet, and arrange the patties with a bit of space between each. Bake for ~20 minutes, or until the bottoms are brown. Flip and bake for another 5 minutes.
Enjoy hot, or allow to cool to room temperature on a cooling rack.
Makes about a dozen patties.
**Alternately, you can cook the patties in a skillet. Here's how - Heat the oil in a large, heavy skillet over medium-low heat, add 6 patties, if they'll fit with some room between each, cover, and cook for 7 to 10 minutes, until the bottoms are deeply browned. Turn up the heat if there is no browning after 10 minutes and continue to cook until the patties are browned. Carefully flip the patties with a spatula and cook the second sides for 7 minutes, or until golden. Remove from the skillet and cool on a wire rack while you cook the remaining patties. Alternatively, the quinoa mixture keeps nicely in the refrigerator for a few days; you can cook patties to order, if you prefer.