Yeast-raised Cornbread Recipe
Yeast-leavened corn bread recipe, heavily flecked with kernels of bright yellow corn and generously spiked with chives. Perfect for stuffing and soup-dunking.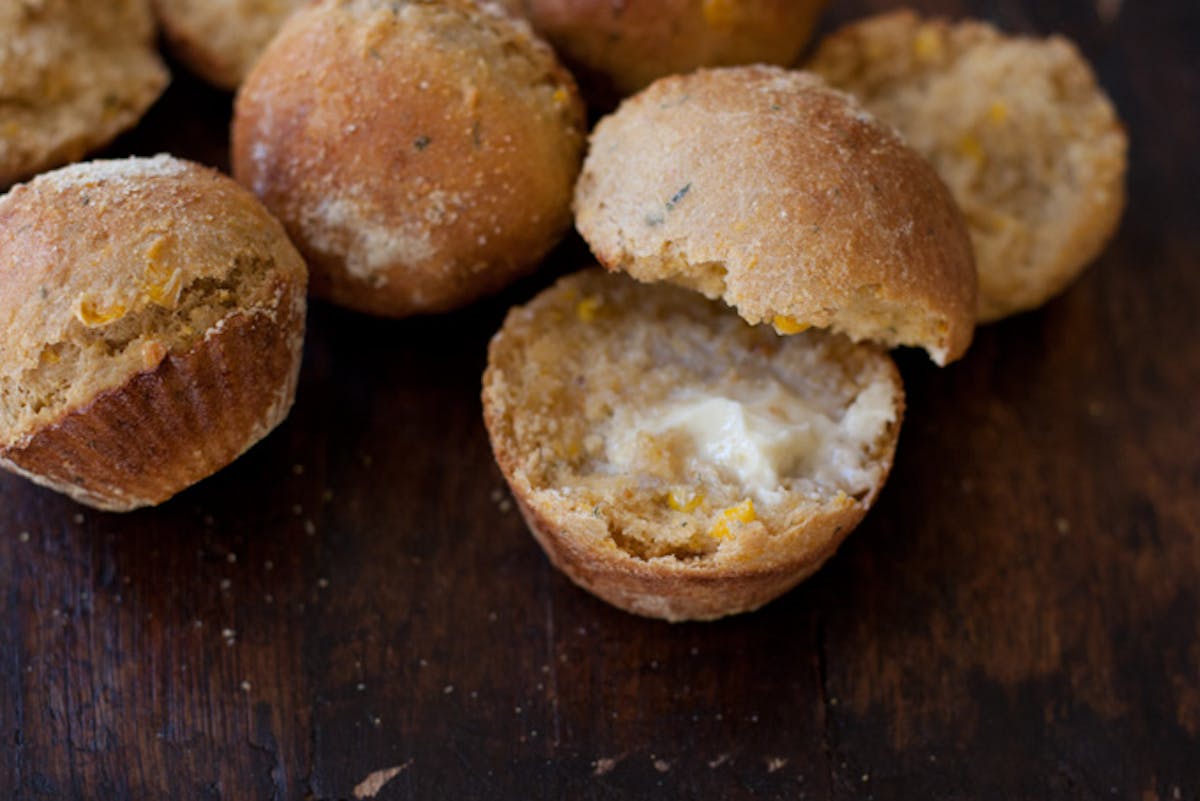 I decided if I was going to feature a cornbread recipe on this site, it needed to be two things - delicious and unique. Good enough to get people to try something beyond their traditional cornbread recipes, good enough to get them to put down the "Jiffy" mix. It took a while for inspiration to strike - years in fact. But strike it did, in an antique shop in central California. I was flipping through a dusty, old natural foods cookbook and spotted a recipe for a yeast-raised cornbread, one could tell at a glance the recipe itself wasn't any good, but the idea sounded full of potential.
Many cornbreads are quickbreads, they use baking soda and/or baking powder and have a tender, crumbly texture. Yeast-leavened corn bread is more bready and less muffin-like in texture. My version is heavily flecked with kernels of bright yellow corn, has plenty of cornmeal in the dough itself, and is generously spiked with chives. You can bake it in free form shapes, in two standard loaf pans, or as individual rolls like I did here. It's a cornbread that was born to be in stuffings or dunked in hearty soups - it has the structure for it, and isn't inclined to go to mush.
A small reminder, please read the recipe through before committing to it, you will definitely be shifting into baking mode - with all the kneading, rising, and shaping that goes along with it. Make sure you have a nice block of time and aren't feeling rushed - I can tell you from experience sweet-talking the dough when you are pinched for time doesn't make it rise any faster.

I'd like to see if the (unbaked) dough freezes well, I forgot to test that aspect this time around, but will report back and update the post at a later date. I also imagine marrying this corn bread recipe and my favorite Peter Reinhart pizza dough would result in a knock-out cornmeal pizza dough - on my ever growing list of things to try.
Let me know what you think overall. Yes? No? Don't mess with a good thing?
Links:
The Kitchn bakes up a batch of this cornbread loaf-style
Yeast-raised Cornbread Recipe
I call for white whole wheat flour but feel free to substitute bread flour or all-purpose flour - you'll have equally tasty results. I also instruct you to let the dough rise in a warm place - it's not very eco of me, but if it is particularly chilly in my kitchen I will leave the oven on and place the bowl on top to keep it nice and happy.
4 cups white whole wheat flour
1 1/2 cup organic cornmeal
1 1/2 teaspoons fine grained sea salt
1 (1/4 ounce) package active dry yeast
1 cup warm water (~105 degrees)
1/4 cup olive oil
3 tablespoons honey
3 extra-large eggs, room temperature
2 cups of fresh or frozen corn, if frozen defrosted to room temp
2/3 cup chopped chives

Cornmeal and olive oil for preparing loaf pans or muffin tins
This recipe yields two standard loaves of cornbread OR 1 1/2 dozen standard-sized muffins. Prepare your pans by rubbing them generously with olive oil, dust with cornmeal, then tap out any extra. Set aside.
In a medium bowl whisk together the flour cornmeal and salt. Set aside.
In the bowl of a Kitchen-Aid type mixer, dissolve the yeast in the warm water. Add about 2/3 of the flour/cornmeal mixture. Now add the olive oil, honey, just TWO of the eggs, corn, chives and begin to mix with the dough hook attachment at low speed. As the dough is starting to come together mixing begin adding more of the flour/cornmeal mixture a bit at a time, letting it incorporate along the way - you might not need to use all of it. Keep adding until you achieve a dough that is tacky. It should clear the sides of the bowl but stick to the bottom of the bowl. If the dough is too wet and doesn't come off the sides of the bowl, sprinkle in some more flour just until it clears the sides. If it clears the bottom of the bowl, add a teaspoon or two of water.
Dial up the speed a bit to medium, and keep mixing for about seven minutes. Turn the dough out onto a floured countertop, knead a few times, gather the dough into a ball and rub with a bit of olive oil. Place in a large, greased (olive oil) bowl, cover with a kitchen towl or plastic wrap and let rise in a warm place until doubled, about an hour.
Once the dough has doubled, turn it out onto the countertop. To make the rolls you see in the photo up above, start by cutting the dough into thirds - three big wedges. Pat each third into a square shape and cut each into six pieces - you will end up with 18 equal size pieces. Without over-handling, shape each piece into a ball and place the muffin tins. Let the rolls rise in a warm spot until roughly doubled - another hour. Alternately, if you want to bake two loaves, cut the dough into two equal pieces, shape and place in prepared pans. I imagine, you can also bake this dough freeform if you like.
Preheat the oven to 375 degrees. Just before baking whisk the remaining egg and brush on the dough, sprinkle with cornmeal. Bake the rolls for 18-20 minutes on the middle rack, or until rolls are golden. If you are baking loaves it will take significantly longer. Turn out onto cooling racks. Serve slathered with salted honey-butter.
Makes two loaves or 1 1/2 dozen rolls.