Baked Oatmeal Cups
Baked oatmeal cups are the perfect on-the-go breakfast staple. These are made with oats, bananas, and lots of berries, then baked into golden deliciousness.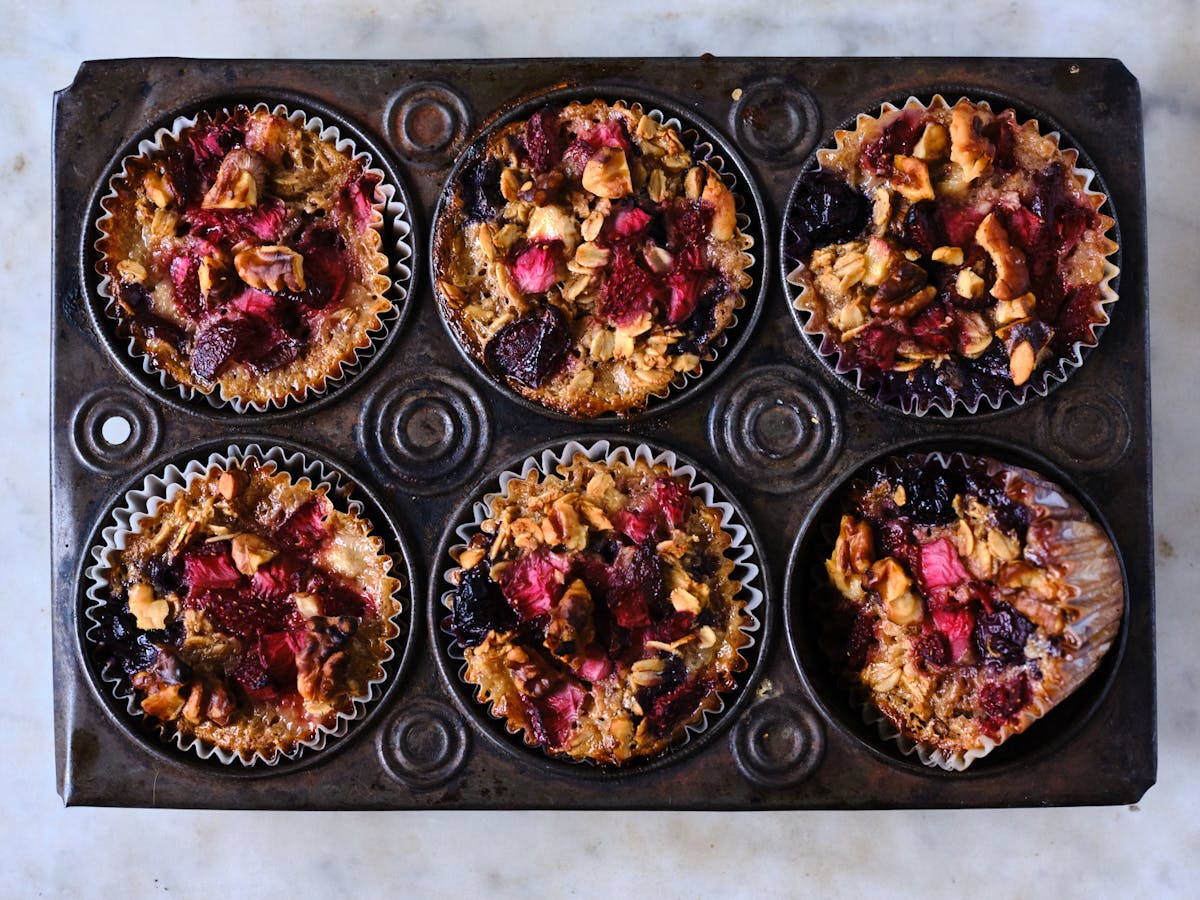 My book Super Natural Every Day was published in 2011, and right away one of the most popular recipes in it was the baked oatmeal. The cookbook focused on recipes made with natural, minimally-processed ingredients and the baked oatmeal made with rolled oats, toasted nuts, and lots of berries became an simple go-to breakfast for a lot of people. I've baked endless variations on it in the decade since, and make a muffin tin version of the original recipe whenever we want an easy breakfast-on-the-go option.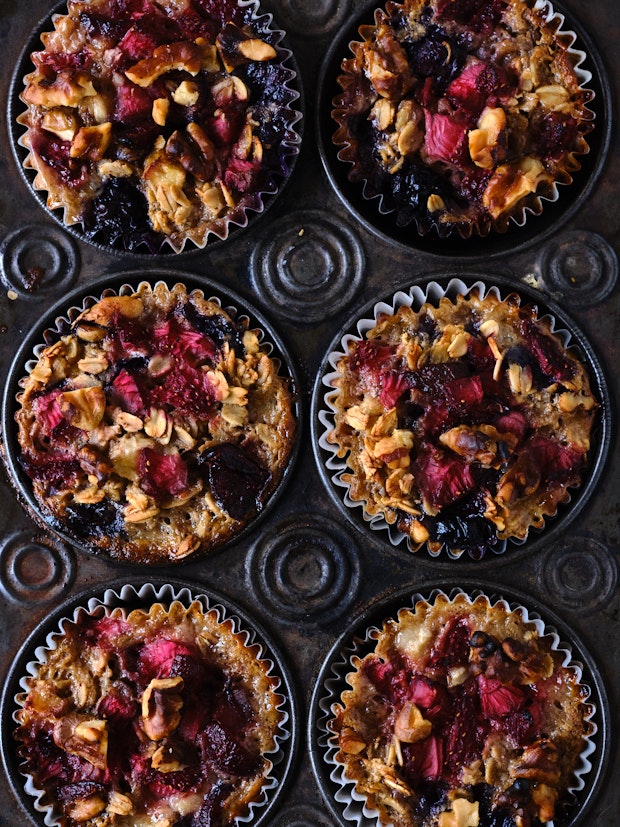 These baked oatmeal cups are made with rolled oats, chopped bananas, nuts and berries baked in a vanilla-spiked milk mixture (you can use whatever milk you like). You bake them until everything comes together in a golden topped breakfast on the go. They're flourless and gluten-free if you source gluten-free oats. You can enjoy them dairy-free if you use dairy-free milk. All in all, they're packed with goodness, kid-friendly, and super tasty.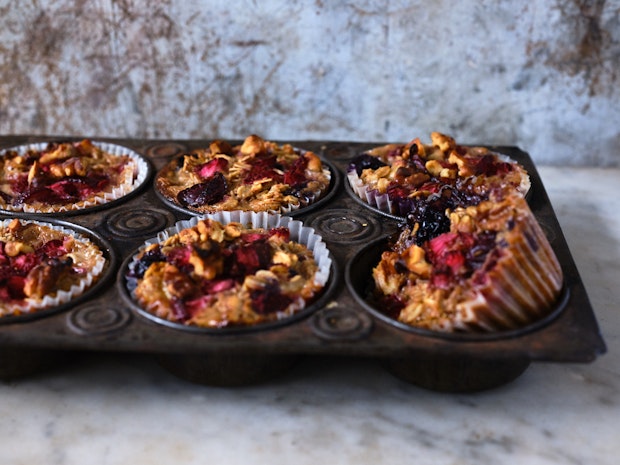 Variations
The different variations on baked oatmeal cups are endless. For starters, you can experiment with different liquids. I've baked versions with everything from buttermilk to oat milk to coconut milk to toasted coconut milk(!). Next, you can switch up the fruits. These are berry and cherry-centric, but there's no reason you can't swap in sautéed apples, or caramelized bananas, or stone fruits like pluots and apricots. You can experiment with sweeteners - maple syrup works great. A decadent version I took note of last summer was featured chopped cherries and chocolate chunks. Also, you can always go back to baking the mixture in an 8x8-inch baking dish if you want. Other ideas:
Almond baked oatmeal cups

: swap in almond extract for the vanilla extract, and use sliced almonds as your nut component

Vegan baked oatmeal cups

: add I tablespoon chia seeds and 3 tablespoons of water to the wet mixture in the recipe in place of the egg.

Play around with your spices

: go beyond the cinnamon.

Dial up the coconut and citrus

: coconut baked oatmeal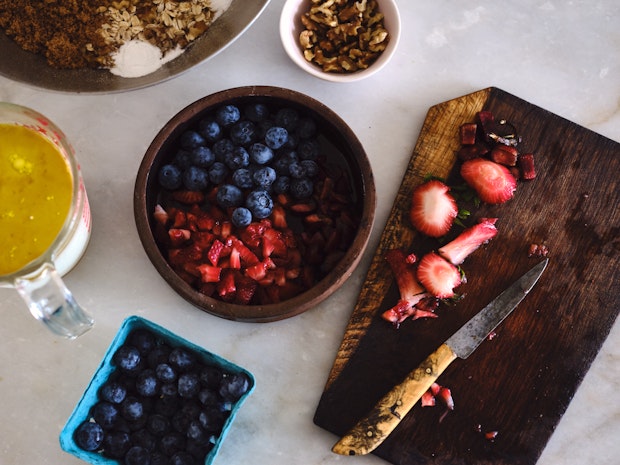 For the batch I made last week, I had lots of blueberries and strawberries from the farmers' market. Cherry season just kicked off as well, and they're so perfect and sweet. I pitted and added some of those to the mix as well.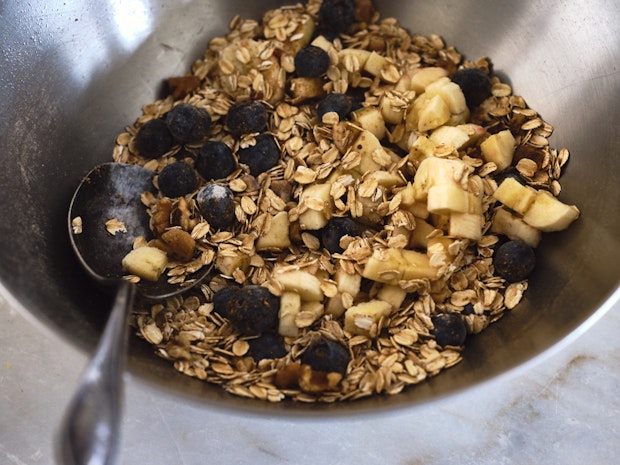 To make the oatmeal cups you combine the dry ingredients and fruit, and then combine it with the wet ingredients in a large bowl. Wait a few minutes to allow the mixture to come together a bit, the oats will start to absorb some of the liquid.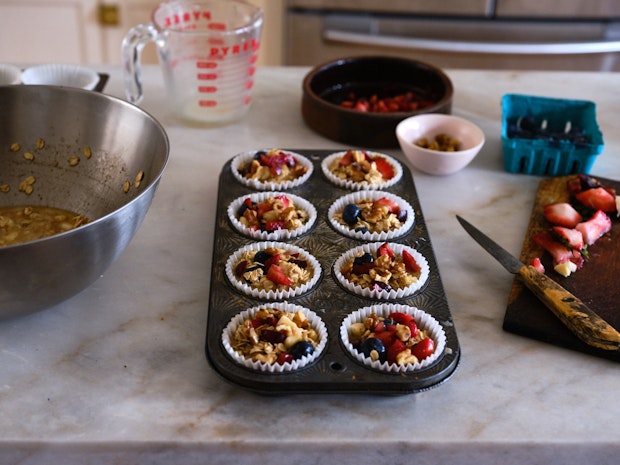 One technical tip here: you want to fill each muffin cup roughly 3/4 full. You also want a balanced mixture of oats and any of the residual liquid. You can see in the photos above and below what the pan should look like prior to baking.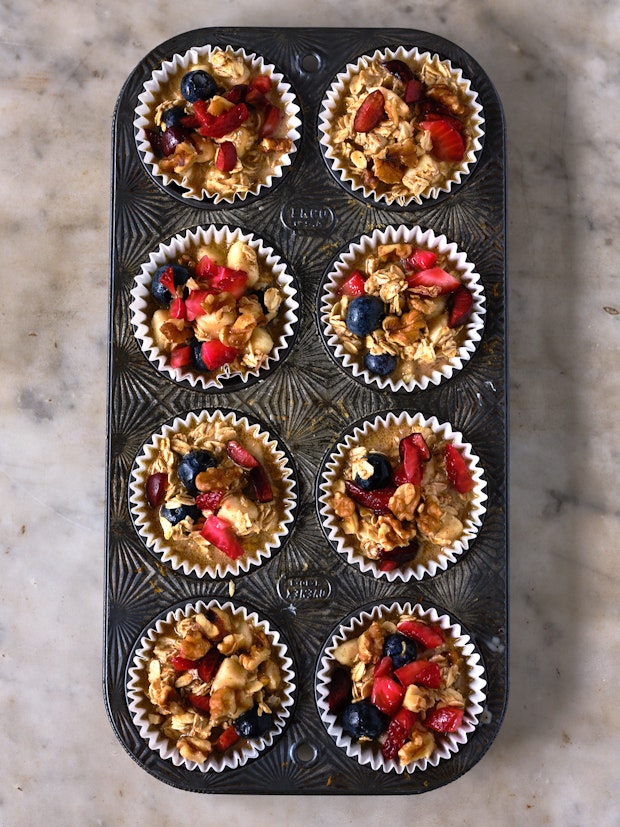 How To Store Baked Oatmeal Cups
To save any baked oatmeal cups you aren't consuming on your baking day you have a few options. You can store them, refrigerated, in an air-tight container, for a few days. Bring them back to room temperature before serving or reheat in a toaster oven, etc.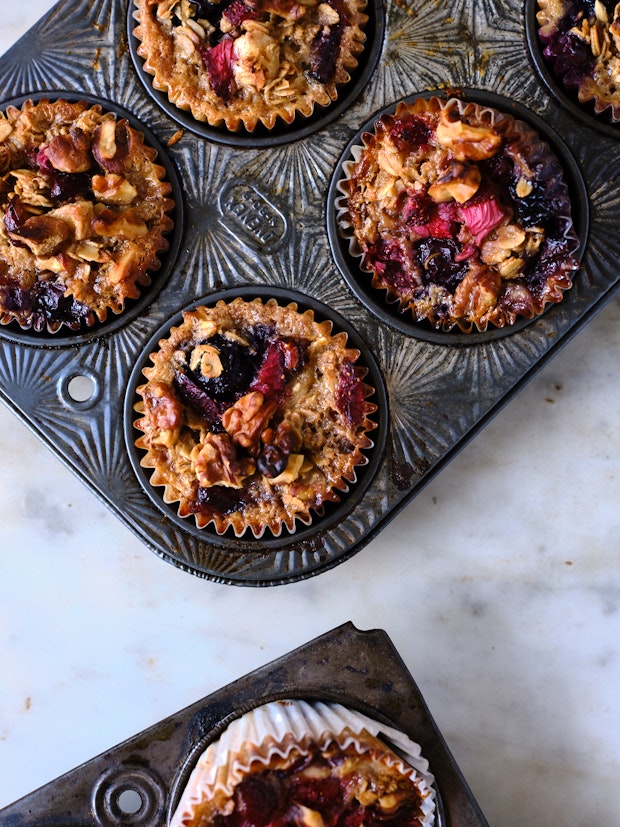 How To Freeze Baked Oatmeal Cups
Yes, you can freeze them! Allow baked oatmeal cups to cool completely prior to freezing. Arrange in a single layer on a baking sheet and freeze. Transfer to freezer-safe bag for up to a month or so. Allow the oatmeal cups to come back up to room temperature before serving. You can reheat them for extra goodness. If you know you want oatmeal cups for breakfast, allow them to thaw in the front of the refrigerator overnight. Go from there in the morning.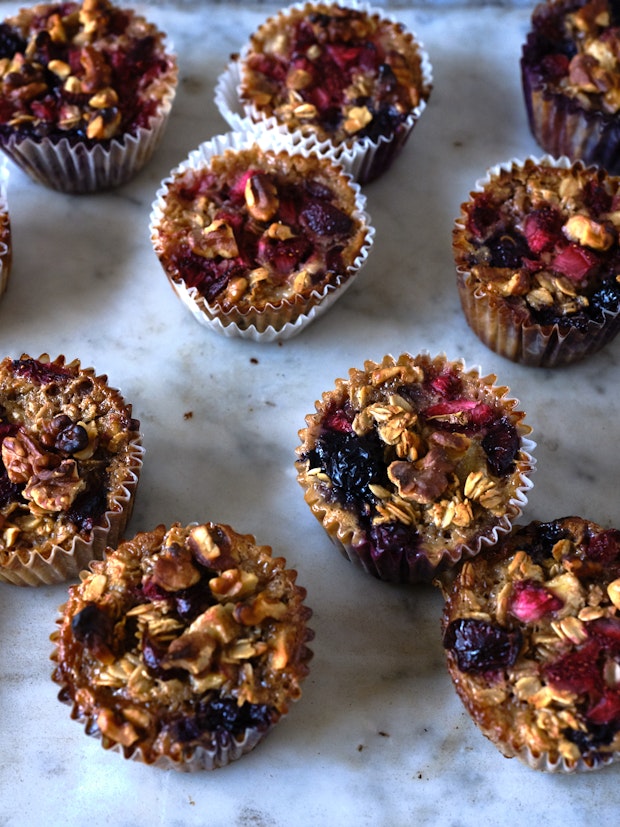 More Favorite Oatmeal Recipes
Baked Oatmeal Cups
Couple of things to note before you jump in! Be sure to use rolled oats and not instant oats. Also, you can use dairy milk, oat milk, buttermilk, or coconut milk as the liquid here. As far as substitutions go, you can swap in 1/3 cup of maple syrup for the brown sugar if you like. And yes, you can replace the egg with a flax egg. Just work those ingredients into the wet bowl. Enjoy!
Ingredients
2

cups

/ 7 oz / 200 g rolled oats

1/2

cup

/ 2 oz / 60 g chopped walnuts

1/3

cup

/ 2 oz 60 g brown sugar (or other granulated sugar of your choice)

1

teaspoon

aluminum-free baking powder

1 1/2

teaspoons

ground cinnamon

Scant 1/2 teaspoon fine-grain sea salt

1 1/2

cups

/ 6.5 oz / 185 g mix of chopped strawberries, cherries, and/or blueberries

2

ripe bananas, peeled and cut into 1/2-inch pieces

2

cups

/ 475 ml milk of your choice (see headnote)

1

large egg

3

tablespoons

extra virgin olive oil

2

teaspoons

pure vanilla extract
Instructions
Line a baking tin with muffin wrappers, this recipe yields about 12 baked oatmeal cups.

Preheat the oven to 375F with a rack in the middle of the oven.

In a large bowl mix together the rolled oats, walnuts, brown sugar, baking powder, cinnamon, salt, and berries. Gently mix in the bananas until they're evenly distributed. Set aside.

In another medium bowl whisk together the milk, egg, olive oil, and vanilla extract. Pour this mixture over the oat-berries mixture and fold together. Allow to sit 5-10 minutes and then mix again.

I like to use a soup ladle to transfer the mixture to the muffin tin, filling each cup about 3/4 full (see photo above). The mixture will still separate a bit just, spoon a good amount of any residual liquid over the oats in each cup.

Bake for 35-45 minutes, or until the oatmeal cups are deeply golden and well set. Remove from the oven and allow to cool a bit on a rack. They'll continue to set as they cool.
More Recipes
Popular Ingredients