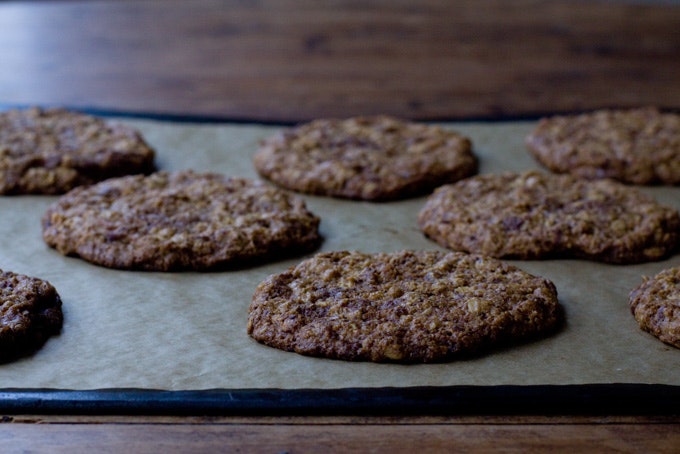 Whole Wheat Oatmeal Chocolate Chip Cookies Recipe
I'm pretty sure the last thing anyone needs is another oatmeal chocolate chip cookie recipe. I mean, the sense I get is that most people have their OMG favorite recipe, and tend to stick with it. Except, perhaps, for those times when you're lured away by an off-beat recipe incorporating something like corn flakes, or, I don't know - toffee. But those are just flings, right?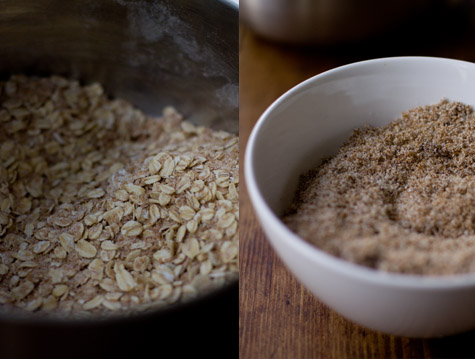 Anyhow, I wasn't planning on posting this recipe, I was just playing around with a bag of Massa Whole Wheat Flour, and the last of the oats in my refrigerator. This was the result. I'm posting the recipe not because they're the best oatmeal chocolate chip cookies ever of all time. They're really good (promise!), but...I'm mainly posting the recipe, because they make amazing ice cream sandwich cookies. And it's prime ice cream sandwich season.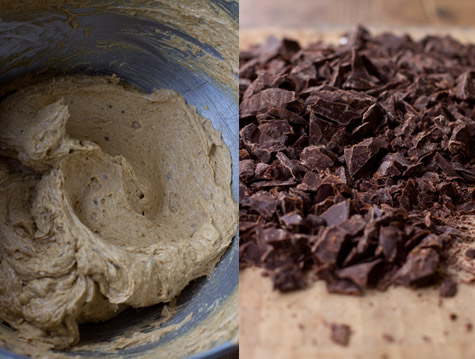 Cook these cookies long enough, then let them cool, and you'll have thin, snappy, super-oaty cookies. They'll be structured enough to embrace a smear of your favorite vanilla, or coffee, or mint chip ice cream.
For those of you on the hunt for some savory, summertime inspiration, I think I have something you'll like coming up next. In the meantime, the Double Broccoli Quinoa, Harissa Spaghettini, Maple Grilled Tempeh, or these Kabobs, are all worth revisiting.
Whole Wheat Oatmeal Chocolate Chip Cookies
As with most cookies, I bake these to order. The dough freezes well. Bake off as many as you want, then portion off any leftover dough into appropriately sized balls. Double-bag, then freeze. You can bake these straight out of the freezer, you'll just need to tack on a few minutes of extra baking time (because the dough will be colder). Your cookies won't be quite as flat or snappy, but they are delicious just the same, and will still work for ice-cream sandwiches.
Ingredients
2 3/4

cup

/ 9 oz / 255 rolled oats (not instant)

1

cup

/ 4.5 oz / 125 g whole wheat flour

2/3

cup

/ 1 1/2 oz / 45 g wheat bran (or germ)

1

teaspoon

baking soda

1 1/2

teaspoons

baking powder

1

teaspoon

fine grain sea salt

1

cup

/ 8 oz / 225 g unsalted butter

1

cup

/ 6.5 oz / 185 g natural cane sugar or light brown sugar

1

cup

/ 6 oz / 170 g firmly packed Muscovado or dark brown sugar

2

large eggs

2

teaspoons

vanilla extract

10

oz

/ 285 g semi-sweet chocolate bar, chopped and shaved into chunks and splinters
Instructions
Preheat the oven to 350F / 180 C, with racks placed in the middle. Line two baking sheets with unbleached parchment paper and set aside.

In a medium bowl combine the oats, flour, wheat bran, baking soda, baking powder, and salt. Set aside.

Either by hand, or using an electric mixer, cream the butter until light and fluffy. Beat in sugar for 3+ minutes, scraping down sides a few times along the way. Incorporate the eggs one at a time, then the vanilla - scraping the sides of the bowl another time or two. Add the dry mixture, and stir until everything barely comes together. Then stir in the chocolate, mixing until it is evenly distributed throughout the dough.

Use a small ice-cream scoop, spoon, or 1/4 cup measuring cup, to make uniform dough balls. I used a metal 1/4-cup measuring cup, filling it about 3/4 full. Arrange each cookie at least 3-inches apart on the prepared baking sheet. They'll flatten out quite a bit. For extra crisp cookies, bake until deeply, deeply golden on the bottom, about 15+ minutes. Rotate the pans once about 2/3 the way through baking - back to front, top to bottom. Like your cookies a little chewier? Bake for less time. Cool on a rack.
Related Recipes
More Recipes
Popular Ingredients