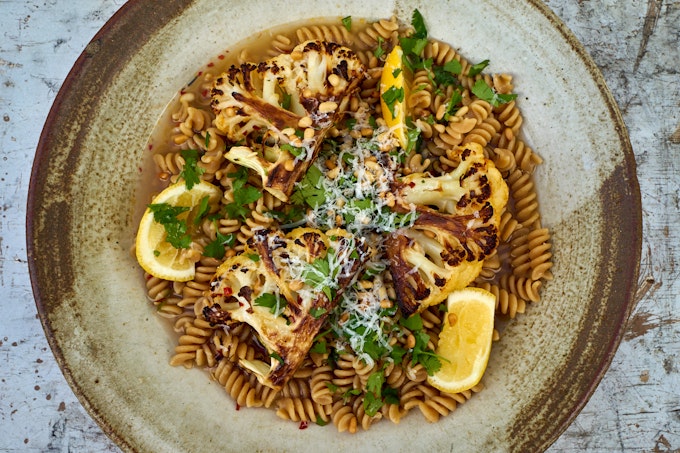 Beer-Roasted Cauliflower with Pasta
Hang in there with me on this one. It's a study in efficiency, and with some faith, it all comes together in the end. In short, poach a whole head of cauliflower in an olive-oil dappled, chile-spiked, beer-based broth, then wedge it & roast it until golden-crusted and butter tender. At the last minute, use that same broth to cook your favorite pasta. Serve it all up in a bowl with a shower of fresh herbs.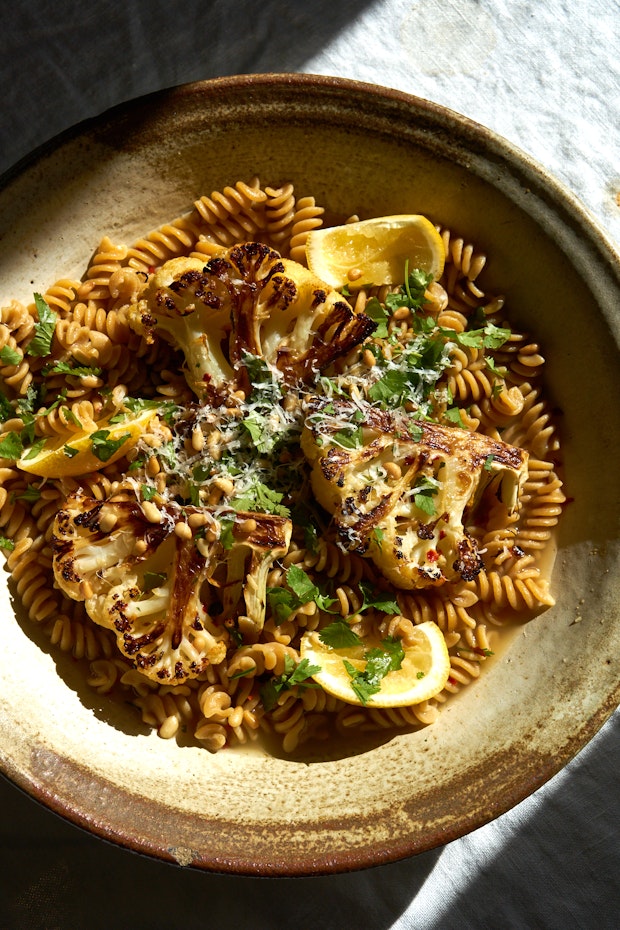 PRO TIP: Only add as much pasta as you'll eat to the broth. It's not great for leftovers. Use whatever pasta you like – I used a whole wheat fusilli here, but you could use penne, or one of the alternative grain or legume pastas.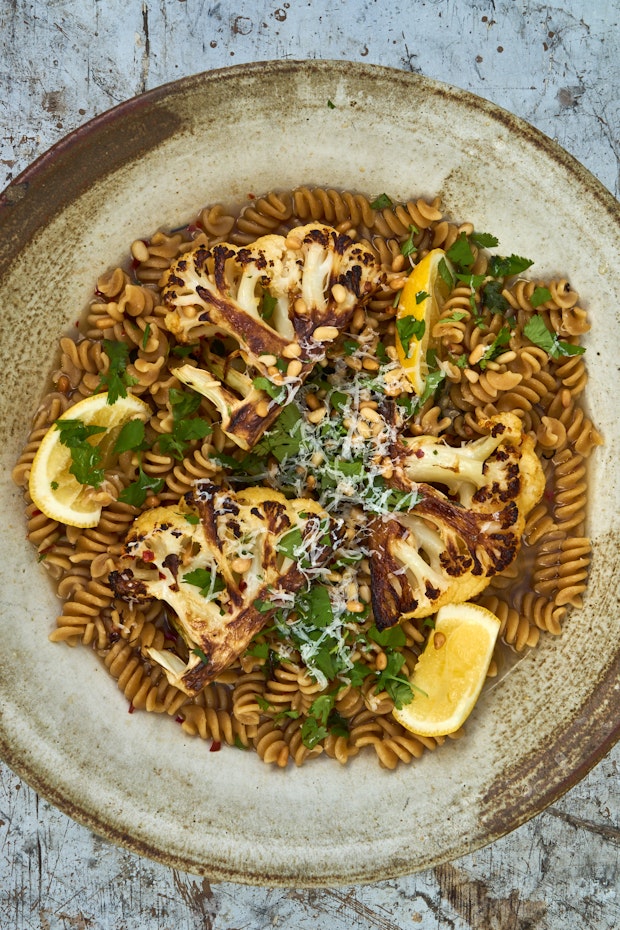 I started working on this recipe just before leaving San Francisco. It's the perfect hearty bowl for cold nights, wintery weather, or summer in SF.  A squeeze of lemon brightens everything up.
Beer-Roasted Cauliflower with Pasta
Ingredients
1 12-

ounce

beer, pilsner or hefeweizen

3

cloves

garlic, peeled, and crushed

3

tablespoons

extra virgin olive oil

1

tablespoon

fine grain sea salt

1

tablespoon

red chile flakes

10

cups

of water

2

tablespoons

fresh lemon juice

1

medium-large head of cauliflower, stem trimmed

12

ounces

favorite short pasta or ravioli

to serve: fresh herbs: chopped cilantro or basil, dusting of cheese, sprinkling of pine nuts, lemon
Instructions
Pre-heat the oven to 425F. In a medium-large saucepan combine the beer, garlic, olive oil, salt, chile flakes, water, and lemon juice. Bring to a boil, and lower the cauliflower into the pot. Cover, and simmer for ten minutes or so, flipping once or twice along the way. Use a strainer to drain and transfer the cauliflower to a cutting board, and (IMPORTANT) keep all that broth in the pot.

Cut the cauliflower into four wedges, and place on a rimmed baking sheet or baking pan. Roast until deeply golden, flipping once along the way, twenty minutes or so. Check on the bottom now and then, to avoid burning. Remove from oven.

While the cauliflower is roasting, dial back the heat under the broth. When the cauliflower is nearly done, bring the broth back to a boil, add the pasta, and cook per package instructions. Serve the cauliflower in wedges in the brothy pasta with a showering of fresh herbs, and a dusting of Parmesan.
Related Recipes
More Recipes
Popular Ingredients