Rainbow Cauliflower Rice Bowl Recipe
This is the sort of meal I crave after a travel stint. It's when I end up lingering around the produce section even longer than usual in an effort to cherry-pick the most vibrant ingredients. In this case, rainbow chard with electric pink stems, a tight head of pale yellow cauliflower, just-cut chives - green, tall, and straight. The perfect avocado. I think we can all agree, these types of rainbow bowls are all about finding good ingredients. Here's how it played out.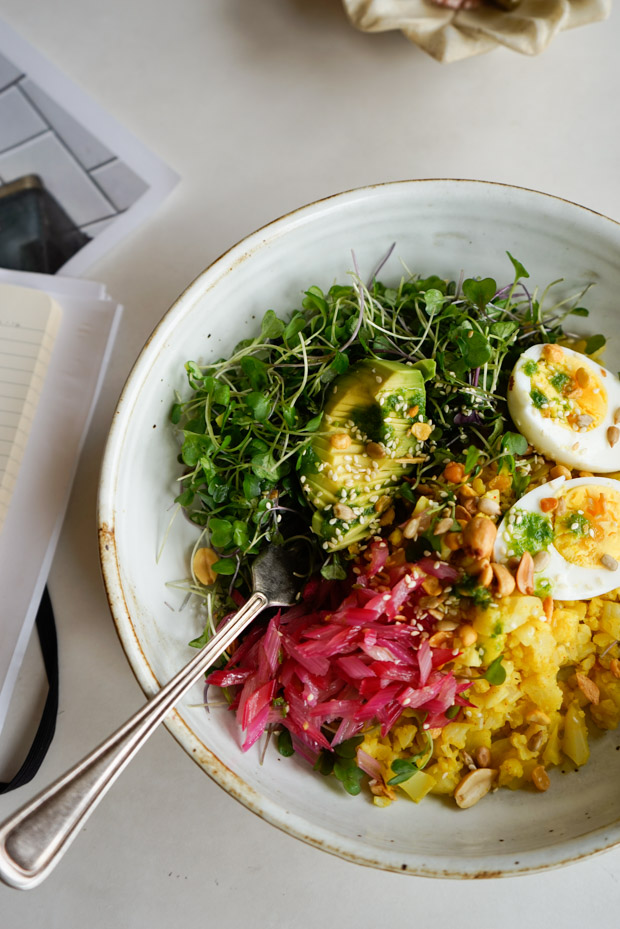 Lightly cooked cauliflower is chopped, then tossed with turmeric, cumin, cayenne, and a touch of ghee - although, you could certainly, use coconut or olive oil. The cauliflower is the base to which you add whatever else you might have at hand - sliced avocado, hard-boiled eggs, toasted seeds, rainbow chard stems, lettuces. While the cauliflower was steaming, I pureed the chives with olive oil for a finishing drizzle. It's a bowl exploding with color and freshness, light and bright with enough substance to keep me feeling A+ throughout the afternoon....Enjoy! -h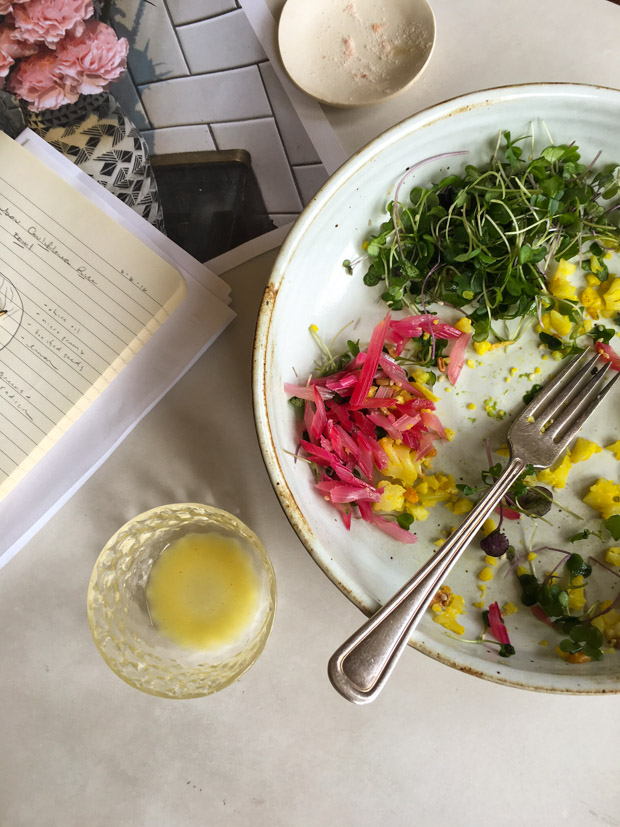 Rainbow Cauliflower Rice Bowl
You'll have plenty of chive oil leftover. It's great over eggs, swirled into salted yogurt, on just about any salad, and on and on. To make this vegan, use olive oil, or coconut oil in place of the ghee, and swap out the egg.
Ingredients
1/4

teaspoon

turmeric

1/4

teaspoon

ground cumin

cayenne pepper, to taste

fine grain sea salt, to taste

1

teaspoon

ghee, coconut oil, or olive oil

1

bunch of chives

2/3

cup

extra virgin olive oil

1

medium head of cauliflower, cut into eights

Some or all of the following: little lettuces or micro greens, sliced chard stems, sliced avocado, toasted seeds, hard-boiled egg.

Fresh lemon juice
Instructions
Combine the turmeric, cumin, generous pinch of cayenne and salt, with the ghee in a large bowl. Set aside. Puree the chives with the olive oil and another pinch of salt in a blender. Blend well, and set aside.

Either steam the cauliflower until tender, about 7 minutes. Alternately, cook in a pot of lightly salted water until tender, just 2 minutes or so. Drain and proceed. I also cook chard stems along with the cauliflower at this point, if using - just until tender. When cool enough to handle, transfer the cauliflower to a cutting board, and chop into small, rice-sized pieces. Transfer to the bowl containing the spices, and stir, stir, stir. Until everything is equally coated. Taste, and add more salt if needed.

To serve, toss any lettuces with a bit of the chive oil and arrange in individual bowls (or on a family-style platter). Add the cauliflower rice, as well as any avocado, egg, seeds, and/or chard stems. Drizzle with more of the chive oil, and finish with a generous squeeze of fresh lemon juice.
Related Recipes
More Recipes
Popular Ingredients