Buckwheat Cheese Straws
These cheese straws look like wispy tree branches and they never last very long around here. Crispy, cheddar-flecked, and rustic, buckwheat flour lends these slender creations their convincing tone.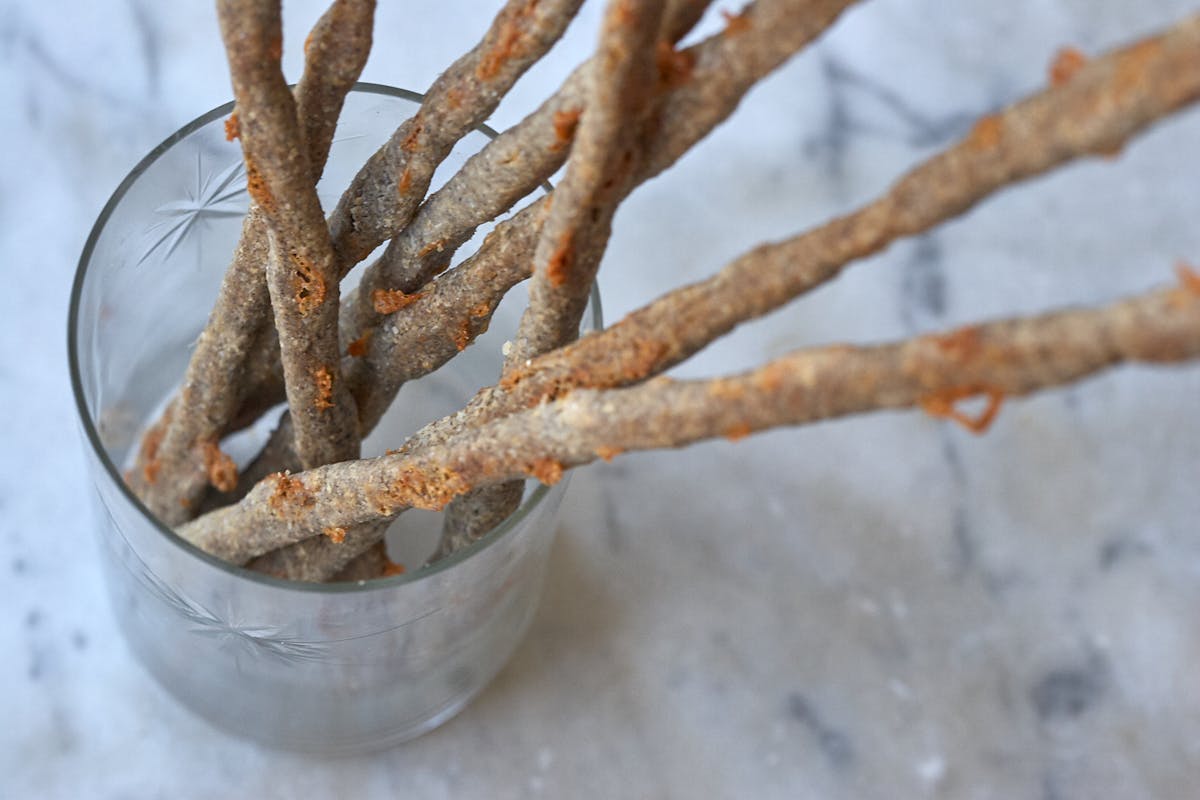 Buckwheat cheese straws never last long when I bake them. They're tasty, dramatic, butter-kissed and punctuated with baked flecks of melted cheese. To my eye, the toasted cheddar bits look a bit like orange moss - but maybe I'm over-thinking things. After you get the hang of it, these are easy to make. Although, it might take a practice twig or two. The inspiration for this recipe was rye-thyme cheese straw recipe I enjoyed years ago baked from Jerry Traunfeld's The Herbal Kitchen. Think of these as a distant cousin!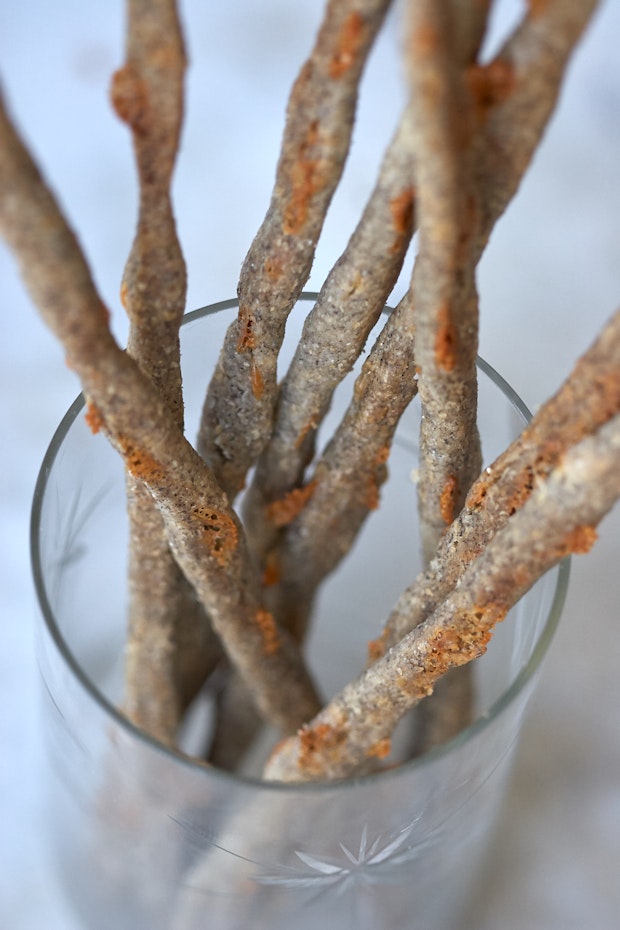 Cheese Straws & Edible Tablescapes
Before we get to the recipe I should also say, another thing I love about cheese straws is all the ways you can display them at the table. They make a dramatic centerpiece standing upright in a small glass or jar, but are just as much fun lying down, stacked and tangled together like an edible pile of sticks. Big bouquets of cheese straws in larger vessels is the way to go if you have more baking capacity. The drama!
How To Make Buckwheat Cheese Straws
If you know how to make pie dough, the process here is quite similar.  To start, butter and flour is combined until a sandy texture is achieved. Ice water is added to bring the ingredients together and formed into a patty.  Chill until ready to shape the straws.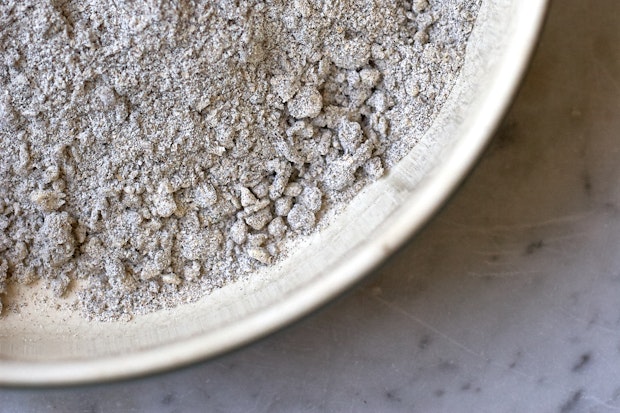 Next, roll out the dough on a floured surface. Cut into strips as pictured below.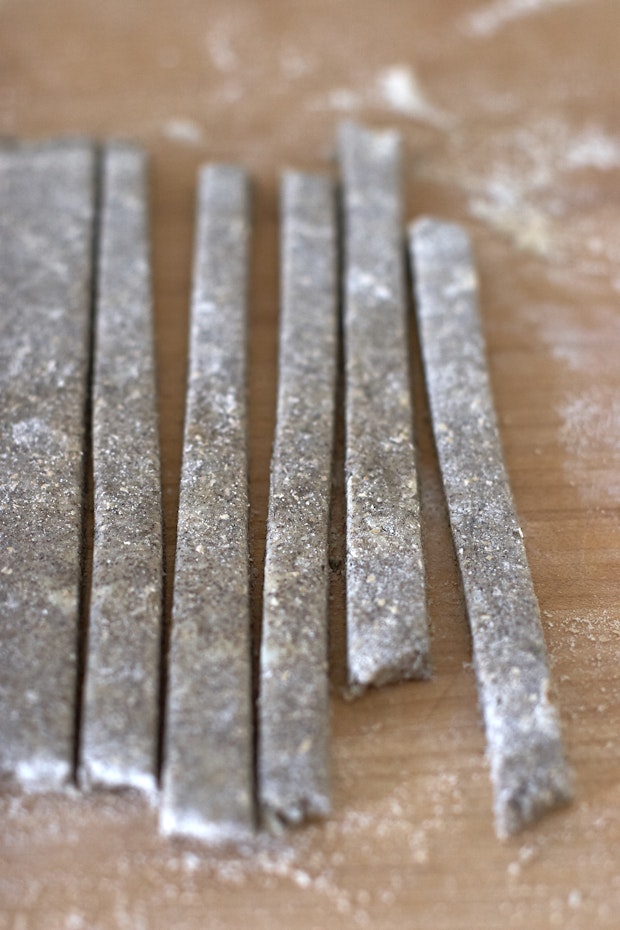 For the final straw shape, roll the dough into long pieces and arrange on a parchment lined baking sheet. Bake until golden and crisped.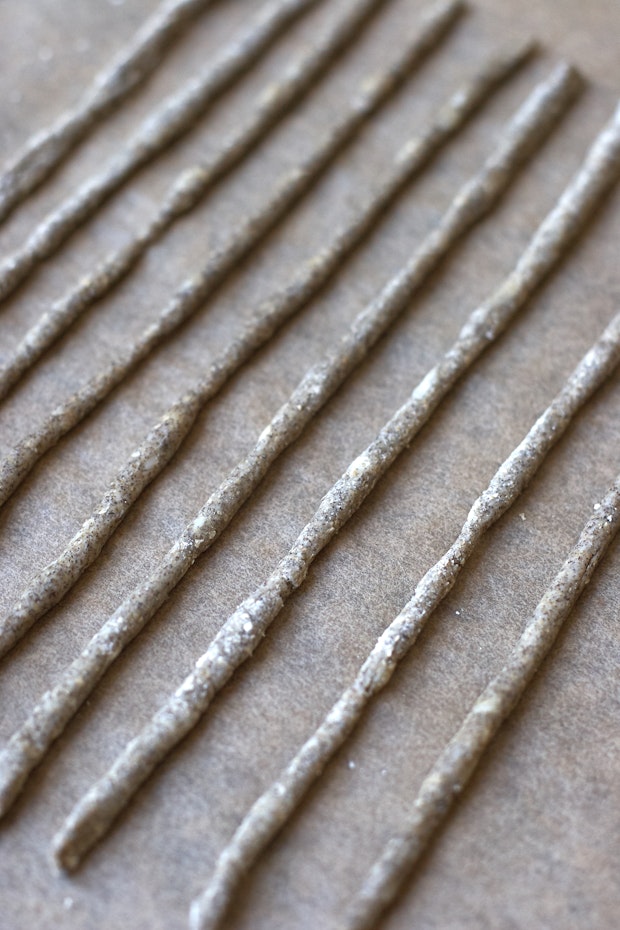 Other Shapes?
If you get tired of making straws, you might stamp out various shapes. I haven't tried it with this exact dough, but I suspect it would work nicely. Keep the dough 1/4-inch thick or less, and keep a close eye on things while they are baking.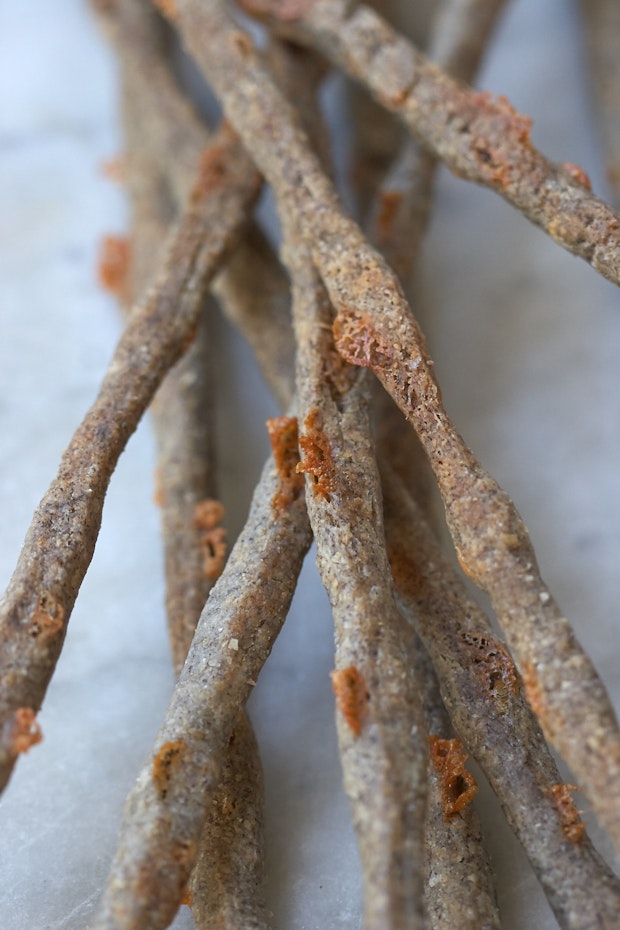 Cheese Straws: Variations
You can certainly experiment with a number of the variables here. This recipe calls for a cheddar, but you could certainly experiment with gruyere, Swiss cheese, pecorino, or other hard cheese. I've also noticed a few great suggestions in the comments including this one.
Cheese ribbons: Sue says, "For a variation, my ex-husband, the chef, used to run breadstick dough thru the pasta machine, let it rest (in fridge?), cut it in very long, very thin strips, then twist them and even roll the tops of the sticks around something tubular while baking. Very fanciful, magical centerpieces. And sprinkled with large grain salt, they sparkle!"
Other Homemade Crackers
Buckwheat Cheese Straws
The buckwheat flour here gives these cheese straws a depth that others made from all-purpose flour don't have. That being said, you could certainly give these a shot using all whole wheat pastry flour, spelt flour, or unbleached all-purpose flour. Or experiment with other flours in place of the buckwheat flour.
Ingredients
1/2

cup

buckwheat flour

1

cup

whole wheat pastry flour

1

teaspoon

fine grain sea salt

1

teaspoon

fresh thyme, chopped

8

tablespoons

(4 ounces) unsalted butter, cold, cut into 1/4-inch cubes

3/4

cup

(2 1/2 ounces) white cheddar, shredded on a box grater

1/2

cup

ice cold water
Instructions
Combine the flours, salt and thyme in a bowl of a food processor. Add the butter and pulse until the mixture resembles little pebbles in a beach of sandy flour (about 20 quick pulses). Alternately, you can cut the butter in using a knife and fork. Transfer to a mixing bowl and toss in the cheese. Sprinkle with ice water and use your hands or a spoon to stir it through and bring everything together into a ball of dough. Flatten the ball into a 1-inch thick square patty, wrap well in plastic, and place in the freezer for thirty minutes.

In the meantime, preheat your oven to 400°F degrees. Line a baking sheet with parchment paper or a Silpat, and place a rack in the middle of the oven.

I find it easiest to work with one half of the dough at a time. Remove the dough from the freezer, cut in half, re-wrap the half you won't be using immediately, and place it back in the freezer. If the dough gets too warm it is difficult to work with. On a well-floured surface roll out the remaining dough into a rectangle roughly 6x12-inches and 1/4-inch thick. Use a knife to cut 1/2-inch wide strips (see photo), each about 6-inches long. Now take a strip of dough and gently pinch it all along its length so that it is easier to roll out into a straw shape roughly 12-inches long. If the dough is giving you trouble, consider chilling it a bit longer. Place each straw on the prepared baking sheet, and repeat with the remaining strips, leaving at least 1/2 inch between each straw.

Bake the straws one pan at a time for about 8-10 minutes, or until the straws look set, and the cheese is golden where it is touching the pan. Flip each straw and bake for another 2-3 minutes on the other side. Keep in mind if your straws are on the thin side, they'll bake in a flash, if they are slightly thicker they will need to go longer. Remove from oven and let cool, they will crisp more as they cool.

Sometimes I bake off half the dough, and keep the other half in the freezer for another day, but feel free to bake all of it - repeating the process with the second half of reserved dough.
Notes
Makes about 4 dozen straws.
Related Recipes
More Recipes
Popular Ingredients