Super Orange Citrus Rice
This incredible citrus rice is flooded with orange juice, flecked with celery and carrots, and boosted with a packet of French onion dip mix.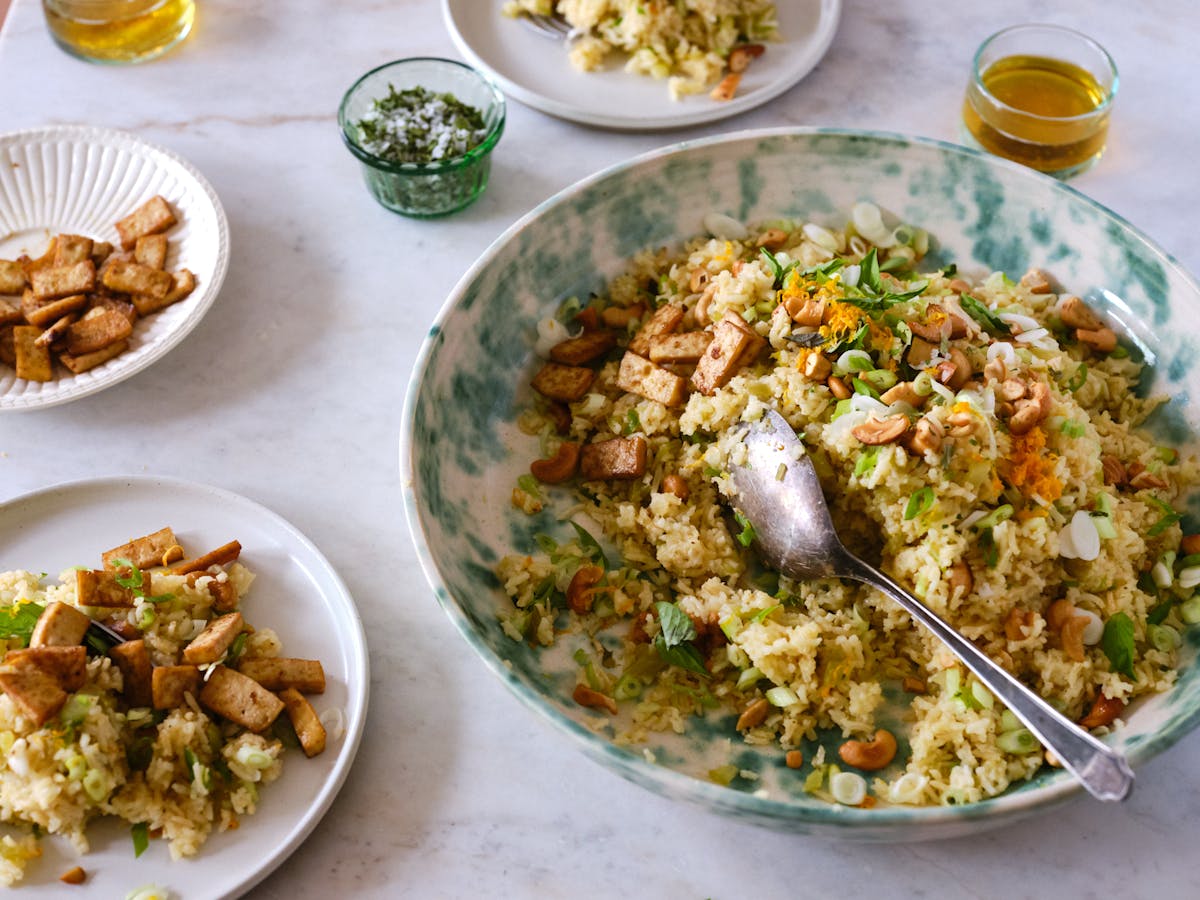 This incredible citrus rice is flooded with orange juice, flecked with celery and carrots, and boosted with a packet of French onion dip mix. It's beautiful, delicious, and if you're in a rice or grain rut, it's just the thing to get you out of it. This Super Orange Citrus Rice is also the perfect base for a rice bowl, and I love using leftovers the next day for a citrusy-y take on fried rice.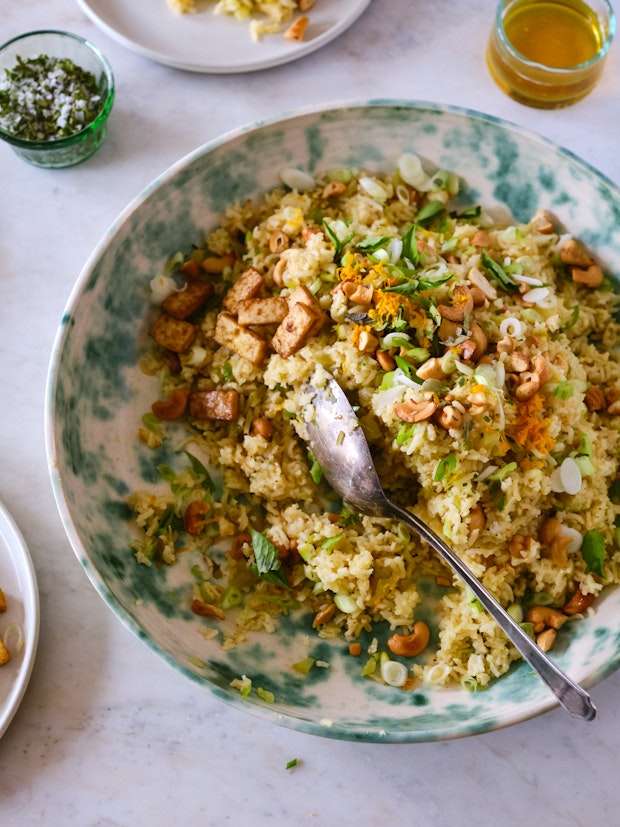 I cook rice a couple times a week. Half the time I'll make it straight and simple - water, rice, and a bit of salt. The other times I like to mix it up with different broths, infusions, and favorite flavors, ingredients and textures. A lot of you know how much I love a good rice situation - I included a whole section of ideas in the back of Super Natural Simple. I also constantly revisit Bryant Terry's Amazing Green Rice, this Congee with Brown Rice and Turmeric, and this herby rice situation. Recently, this super orange citrus rice has been in high-rotation. Here are the details!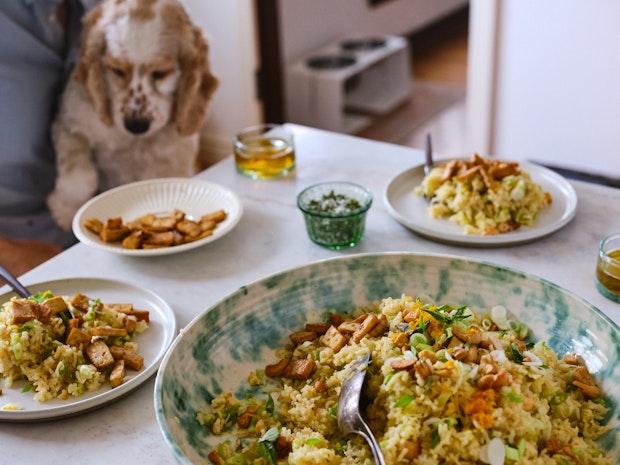 Citrus Rice Inspiration
One of the things I love about flea markets, estate and yard sales is finding and browsing old cookbooks. I come across a lot of community cookbooks, and always have my eyes peeled for books that are special, unusual, and/or regionally specific. Today's recipe was inspired by a cookbook I picked up a few years ago, published by Sunkist in 1968. It is cover-to-cover recipes that are citrus inspired - note the sub-title: lemons, tangerines - citrus treasures of the west - oranges, grapefruits.
A few of the recipes caught my attention. In particular, there is an orange rice recipe that calls for "instant minced onions." I imagined that would add a nice seasoning element to a citrus rice. I tend to keep French onion soup mix on hand to make the French Onion Strata in Super Natural Simple, and have dehydrated onions in my pantry as well. Today's recipe evolved from there. I love the way the onion helps counter the sweetness of the orange juice, keeping the whole dish squarely in the savory camp.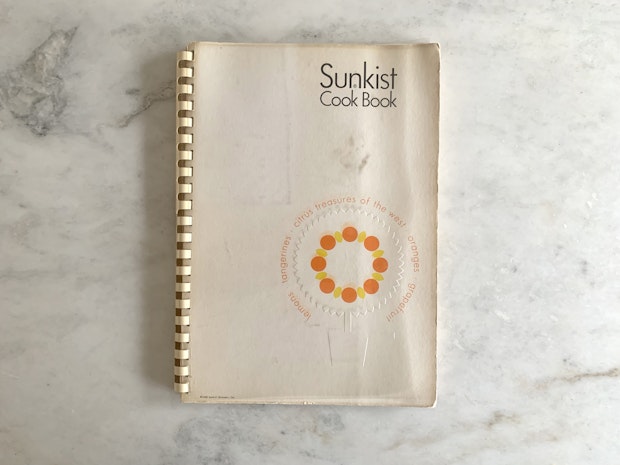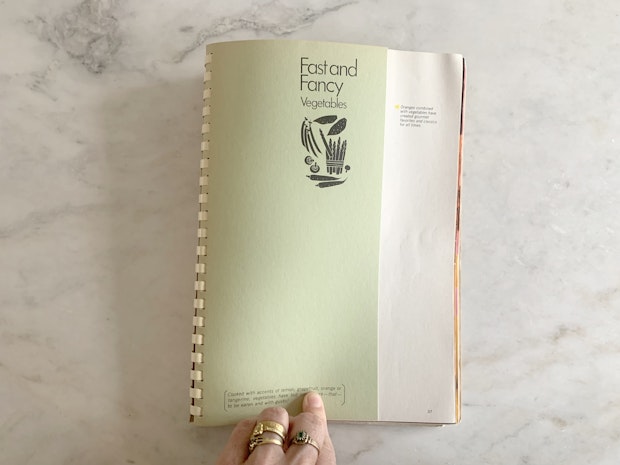 What Kind of Rice to Use?
I've been using brown basmati rice for this recipe. Short grain brown rice should also work, you might need to adjust the cooking time a bit though. I've tested a blend of half brown basmati with half white basmati and it wasn't great. Unsurprisingly, the white grains really blew out and over cooked while the brown rice grains finished cooking.
The general rule of thumb here is yes, you can likely use your favorite rice, whatever it is. You should simply adjust the amount of liquid and cooking time according to whatever you typically use for 2 cups of rice. So, for example, if you're using 2 cups of white rice, scale back the orange juice and water called for in the recipe from 4 cups to 3 cups (or 3 1/4 cups total liquid). Hope that makes sense. It's a long way of saying you can likely make this with success with whatever rice you have on hand.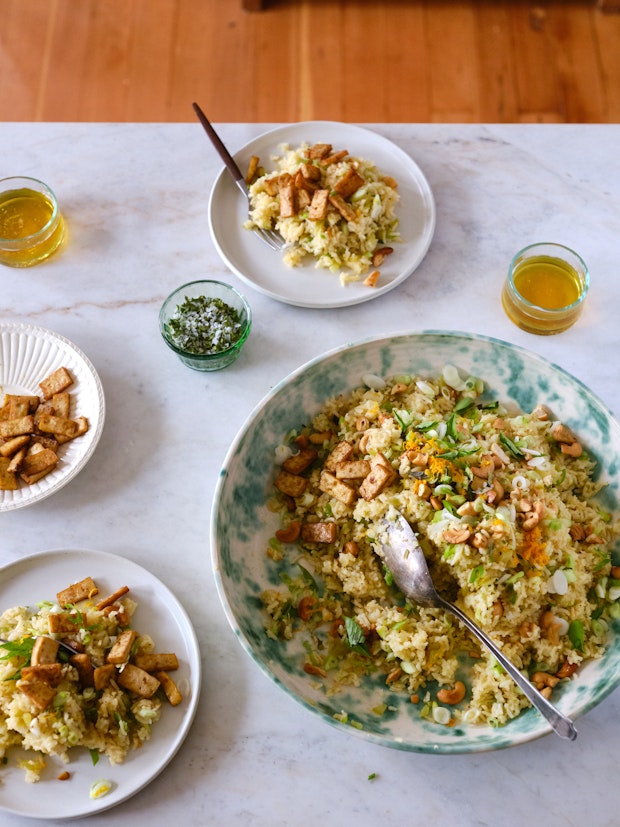 Make Citrus Rice into a Meal
You can easily add another hearty element to this rice and make a one bowl meal. You see the citrus rice pictured here topped with a bit of simply marinated, baked tofu. It's just slabs of thinly sliced extra-firm tofu tossed in 1 tablespoon olive oil, 1 tablespoon wasabi paste, and 2 teaspoons soy sauce and baked until golden in a 375F oven. Wasabi paste can be tricky to come by, and when I'm out of it I'll substitute a favorite curry paste or tobanjan paste. Throw some broccoli or cauliflower florets into the oven with the tofu for some added veg.
Alternately, I like to make a thin omelette with an egg or two, slice it thinly, and use that in place of the tofu. And before I forget, if your celery is extra leafy, be sure to make your own celery salt! It's really wonderful on this rice, but also on all sorts of soups and salads.
Leftover Ideas
This recipe makes a good amount of citrus rice, and we often have leftovers. It's SO good the next day, perfect for a quick fried rice for lunch, or easy dinner. The citrus element is really fantastic and unexpected if you aren't in the know.
If you're looking for more rice recipes I have so many ideas. Laugh/cry. Be sure to try this green rice, my favorite mushroom casserole, and this vegetarian take on paella. I also love cooking with quinoa, cooking with lentils, and on the citrus recipe front, don't miss this citrus salt - it's so much fun to play around with a range of limes, lemons, grapefruits, and tangerines! Enjoy! -h
Super Orange Citrus Rice
If you're using another type of rice (or an alternate grain), adjust the amount of liquids and cooking time. Guidance on this front is often on the packaging. Also, the onion dip mix I use often for this recipe doesn't have much added salt. If yours is salty, reduce the amount of salt called for in the recipe. You can always season to taste later on. I like to use the Simply Organic French onion dip mix here, but don't get hung up on the brand. More than anything you want delicious onion-based seasoning here, so trust your taste buds if you're unsure.
Ingredients
3

tablespoons

olive oil or butter

2

cups

chopped celery (and leaves)

2-3

tablespoons

instant minced onions OR French onion dip mix

1

teaspoon

salt

2

cups

brown basmati rice, rinsed

2

cups

orange juice, plus zest

2

cups

water

1

cup

chopped carrots

1

cup

toasted cashews

1

bunch chopped scallions
Instructions
Heat the olive oil in a medium saucepan. Stir in half of the celery, the instant onions, and salt. Saute for just a minute or two.

Add the rice and stir until well coated. Saute for another minute or two before adding the orange juice and water. Bring to a simmer, cover, reduce the heat and cook (covered) for 45-50 minutes, or until the rice is tender.

Remove from heat, stir and fluff in the carrots and remaining celery, cover again, and allow to sit for another 10 minutes. Season with more salt if needed, and serve topped with the cashews, scallions, and some orange zest.
Related Recipes
More Recipes
Popular Ingredients