Glazed Lemon Cake
This lemon cake is moist, fragrant and topped with a salted lemon glaze. It is made with lots of lemon zest and freshly squeezed lemon juice. You don't need a mixer, the olive oil based batter comes together quickly, and you're not much longer than an hour from having a beautiful cake to share.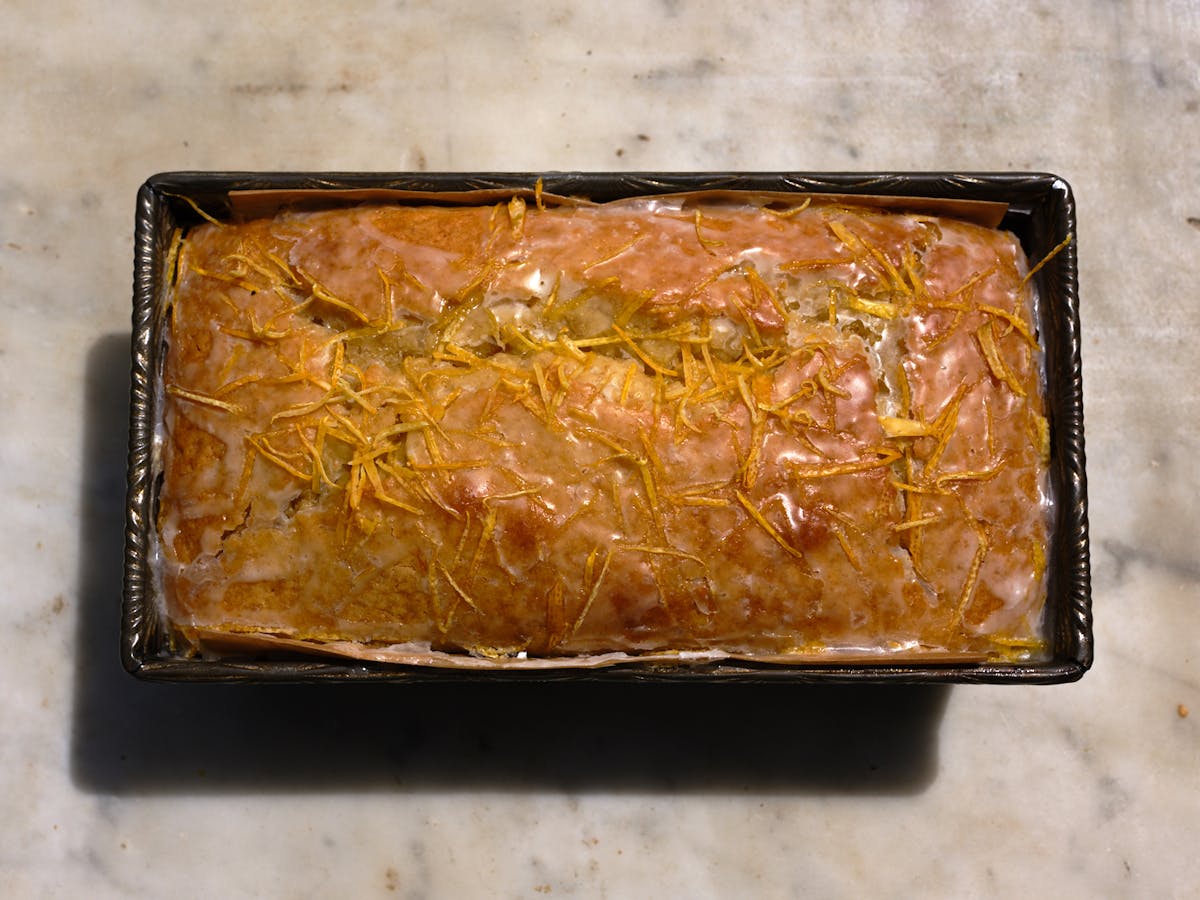 If you love to bake, you likely have a lemon cake in your repertoire. This is mine and I've been making variations on it for just about ever. I love it for many of the reasons people celebrate a good cake. It is moist and beautifully fragrant. It makes people happy and it sings with lemon flavor. You fold an arguably aggressive amount of hand-chopped lemon zest and a good jolt of juice into the batter and glaze. I like to make this cake with sourdough discard, but just as often don't - instructions for both methods are included in the recipe below. This is the perfect picnic cake. No mixer necessary, and the batter comes together in a flash. Give it a try!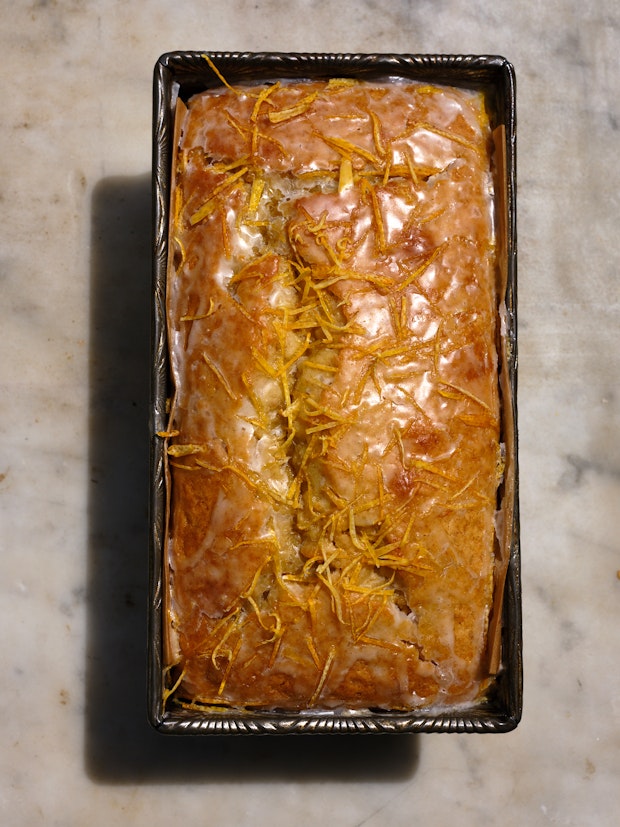 Lemon Cake: Ingredients
The ingredient list for this cake is relatively short. Considerations for some of the main ingredients have notes below.
Yogurt

- I like to use Greek yogurt for this cake. Either low-fat or full-fat will work.

Sourdough Discard

- Sourdough discard works beautifully in this batter. It adds a dimension of flavor and contributes to a fluffy crumb. Also, I'm eternally trying to use my discard up in things like crackers, quick breads, and the like. If you don't have discard, you can still make the cake (see the asterisk in the recipe). I do it all the time. Basically, add an extra 1/4 cup of flour to the flour mix, and add an extra 1/4 cup of water as well. The crumb is a bit more dense, but in a good way! The cake below was made with discard and you can see the fluffy crumb.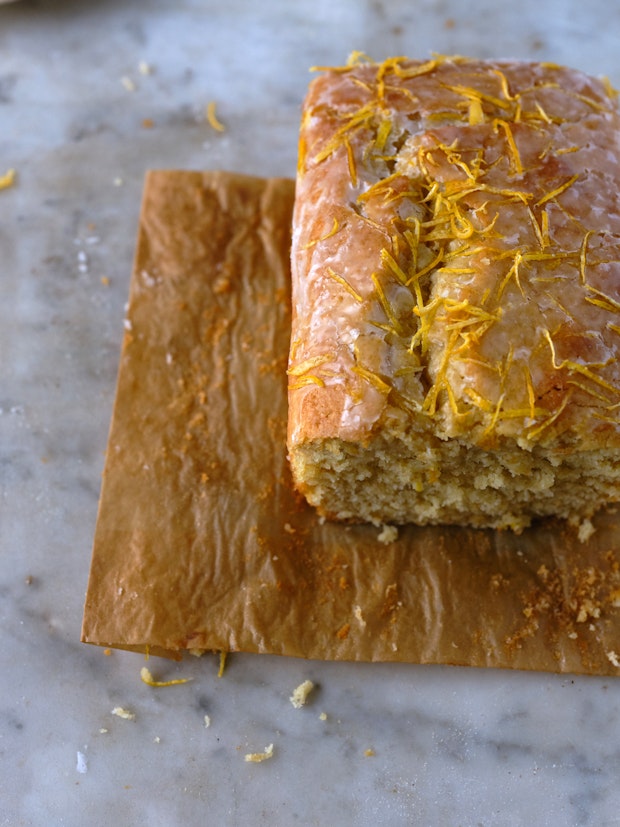 Olive Oil

- You are going to want to use a mild tasting olive oil here.

Almond Extract

- I love almond extract and use it in a lot of my baking. I especially love the combination of lemon and almonds here. But if you don't have it on hand, by all means swap in vanilla extract. It's not a big deal at all.

Lemon

- As I mention above, I'm particular about how I like to use lemon in this cake. For bursts of lemon zesty flavor, I suggest that you take the time to peel the zest from the lemon, scrape off any pith and cut it into the the thinnest whispers of strips (below). See photos. The rest of the cake is such a breeze, it's worth it to make a bit of extra effort at this step.


You can see above, all the bitter white pith is stripped from the peel. And below, the lemon peel is cut into long, thin strips.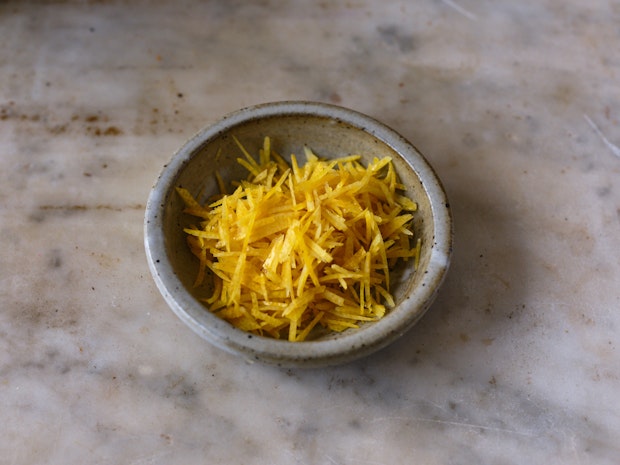 Lemon Cake Variations

These are all variations on this lemon cake I've baked in the past. Lemon pairs well with so many other ingredients, I'm sure you'll come up with other wonderful variations!
Boozy Lemon Cake

: Brush 1/4 cup whiskey (or whisky) across the top of the cake after it comes out of the oven, before topping with the lemon glaze. Limoncello is another option, and I also love amaretto here.

Glazed Citrus Cake

: Experiment beyond the lemon! You can make this cake with a wide range of citrus. Or even a blend of zests and juices. Consider blood orange, lime, grapefruit, etc. Or a blend.

Berry Lemon Cake

: Fold in room-temperature berries along with the final addition of yogurt mixture called for in the recipe. Use as few or as many berries (within reason) as you like. I also prefer to finish off berry versions of this cake with a dusting of crushed freeze-dried berries after drizzling the warm cake with glaze. Raspberries, sliced strawberries, blueberries and huckleberries are all fair game. Or combine into a mix!



Glazed Sourdough Lemon Cake

: This is the version of the cake you see in the recipe below. I love the crumb in the sourdough discard version — it is super fluffy, like a fluffy banana bread. The version with no discard has a more dense crumb - not quite in the poundcake realm but in that direction on the spectrum. The instructions for both are included below.

Lemon Cake with Pretty Flowers

: Add some edible flower petals after drizzling the lemon glaze - rose, calendula, violet, rose geranium, etc. You can add fresh or dried. (Edible Flowers)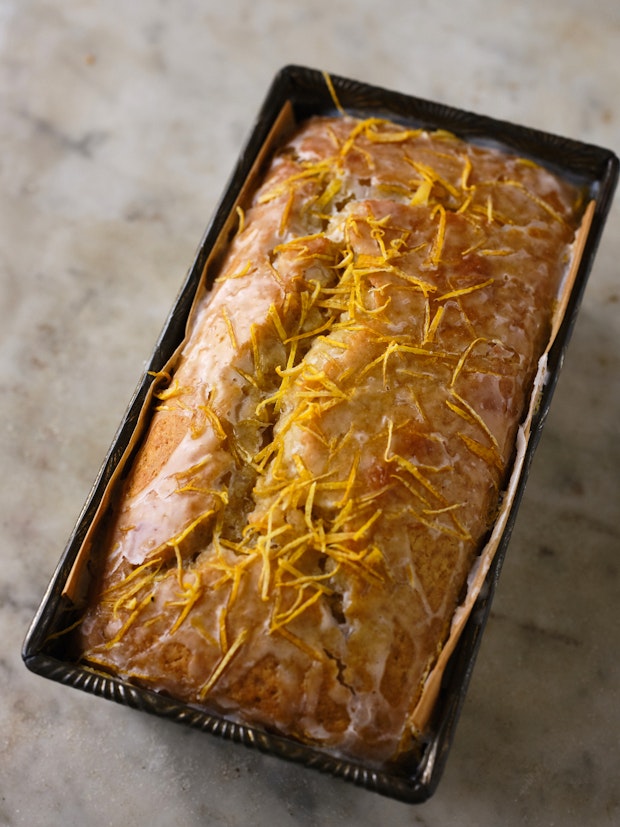 Please let me know if you try this one! Or if you explore any fun variations. Or(!) if you bake one and take it somewhere wonderful on a picnic. It's the kind of cake that loves an adventure and loves to be shared!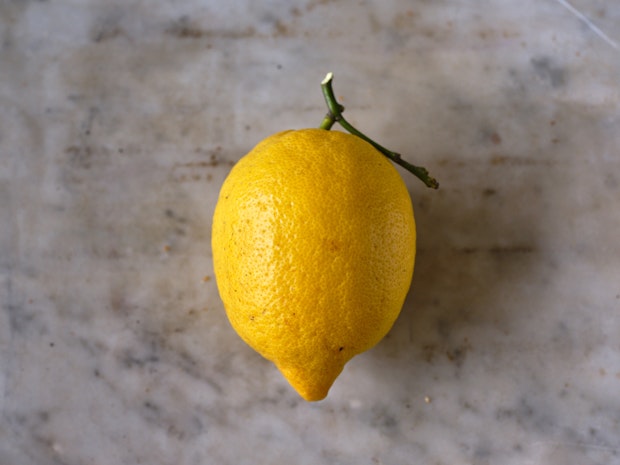 More Cake Recipes
More Lemon Recipes
And, for anyone wanting more lemon inspiration, here's where you can browse all the lemon recipes. A couple favorites include these lemon ricotta pancakes, this lemony olive oil banana bread, this lemon focaccia, this roasted lemon chutney, and these limoncello macaroons. oh! And there are some good citrus recipes here as well!
Glazed Lemon Cake
A couple notes before you get started. Start with all your ingredients at room temperature. And, as I mentioned up above, to zest your lemons for this cake, peel each lemon with a vegetable peeler and then slice the zest into whisper-thin slivers. If you use a microplane zester, please reduce the amount of zest to 2 tablespoons. Lastly, If you don't have almond extract swap in vanilla extract.
Ingredients
Lemon Cake
1 1/2

cups

/ 190g all-purpose flour

3/4

teaspoon

fine grain sea salt

1 3/4

teaspoons

baking powder

1/4

teaspoon

baking soda

1/2

cup

/ 135g sourdough starter discard*

1/2

cup

/ 100g plain Greek yogurt (full fat or low-fat)

1/4

cup

/ 60ml / 55g water

3/4

cup

/ 150g granulated sugar

1/2

cup

120ml / 95g olive oil

2

eggs

1

teaspoon

almond extract

3

tablespoons

lemon zest

1

tablespoon

freshly squeezed lemon juice
Salted Lemon Glaze:
scant cup / 100 g powdered sugar

1

tablespoon

lemon zest

1

tablespoon

+ 1 teaspoon freshly squeezed lemon juice

1/4

teaspoon

fine grain sea salt

1

teaspoon

almond extract
Instructions
Prepare a 1-lb loaf pan by lining with parchment paper. Preheat oven to 350F with a rack in the center.

Combine the flour, salt, baking powder and baking soda in a medium bowl. Use a fork to stir for 20 seconds or so, and set aside.

In a separate small bowl, combine the sourdough discard, yogurt and 1/4 cup / 60 ml / 55g water. Use your fingers to squish and break up the discard and work everything into a somewhat uniform mixture. Set aside.

In a large mixing bowl, combine the sugar, olive oil, eggs, almond extract and lemon zest. Mix until everything is combined and the mixture is a pretty, uniform yellow. Add half of the flour mixture to the sugar mixture, folding it in. Add half the yogurt-sourdough. Stir until just incorporated, then repeat with the remaining flour followed by the remaining yogurt-sourdough mixture and lemon juice. Fold until uniform, but be mindful to avoid over-mixing. Pour the batter into the prepared pan.

Bake for 50-60 minutes. I like to let the top of the caked get golden brown, so I'm typically closer to 60 minutes with this cake in my oven. Make sure a toothpick inserted into the center comes out clean. Remove from the oven and allow to cool in the pan on a cooling rack for ten minutes while you make the glaze.

Make the Salted Lemon Glaze:

Whisk the powdered sugar, most of the lemon zest, lemon juice, salt and almond extract together in a jar. Keep stirring until smooth and all lumps are dissolved. If the mixture is too thick to drizzle, add more lemon juice 1/2 teaspoon at a time. Pour the glaze over the cake in the pan preferably while the cake is still warm. Finish by sprinkling any remaining zest across the top of the cake.

Once the glaze has hardened, remove the cake from the pan and allow to finish cooling on a rack.
Notes
Makes one cake, about 10 slices.
*To make a version without sourdough discard, omit it and bump the flour up another 1/4 cup / 47g all-purpose flour and up the 1/4 cup / 60 ml water instead. - so your total flour will be 1 3/4 cups / 237g and 1/2 cup / 120ml of water.
Related Recipes
More Recipes
Popular Ingredients