Tapioca Pudding
The ultimate tapioca - a creamy, classic, delicious, vanilla-spiked tapioca pudding recipe. Guided by the tapioca enthusiasts in my family.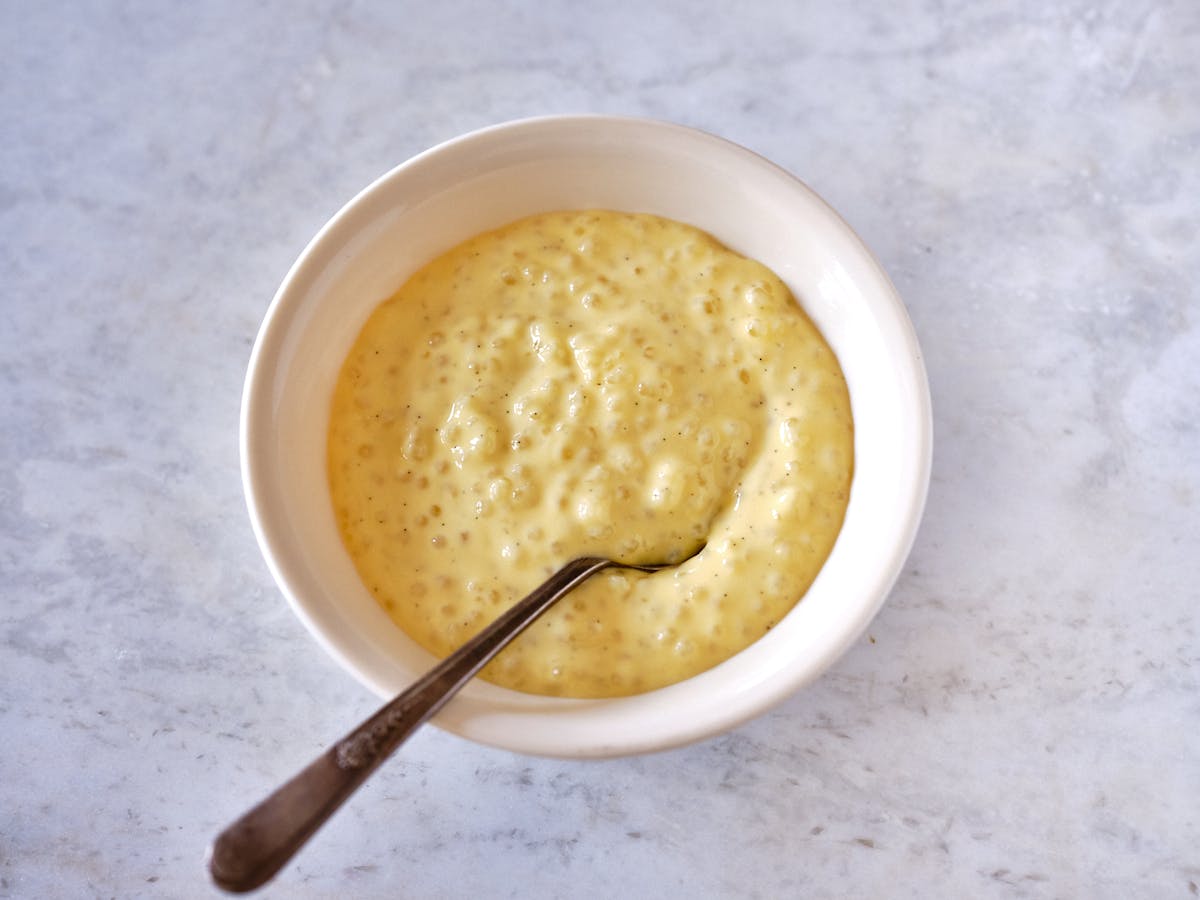 If you're on the lookout for a creamy, delicious, vanilla-spiked tapioca pudding recipe, this is it. I did a day of tapioca recipe testing while visiting my mom and dad - in between looking at old family slides and flipping through recipe binders. My dad is a big-time tapioca fan, and there was lots of experimenting with various recipes, ingredients, and techniques. And, in the end there was a clear winning approach I know you'll love. It's no secret that I much prefer a silky smooth, chocolate pudding, but this little exercise nearly made me a convert.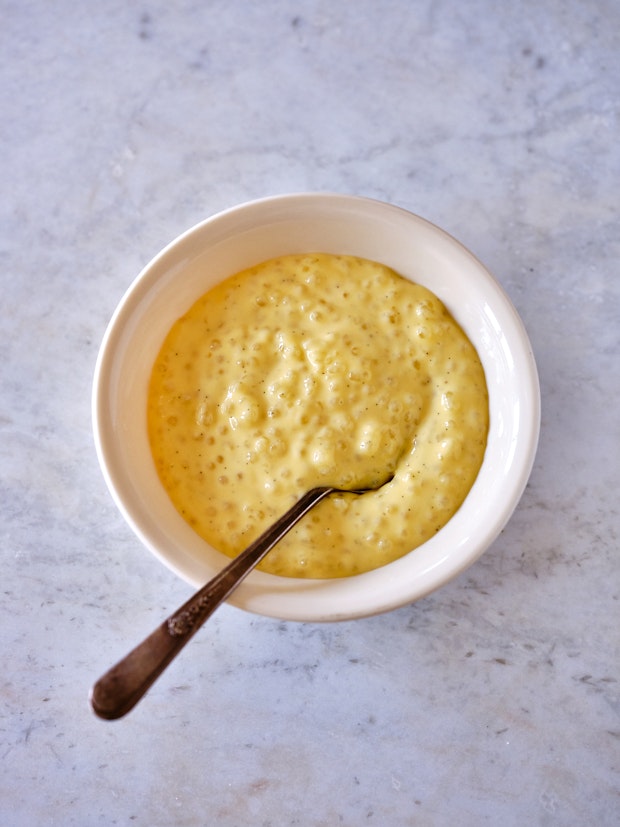 My Dad Loves Tapioca Pudding. A lot.
My dad is known to be quite generous with his tapioca pudding - my grandma and her 90 year old friends would receive weekly deliveries up until she passed away last year. I can only imagine it makes appearances at his office on a regular basis as well. Over the years he has been known to use various recipes, mixes, and whatnot in his tapioca puddings, but I wanted to zero in on one master recipe to share with you, the quintessential tapioca pudding recipe. We looked at his approach, my aunt weighed in with her recipe, and I introduced some ideas to the mix. What we ended up with was a perfect pudding good enough to make me consider switching from silky smooth to bumps and lumps indefinitely.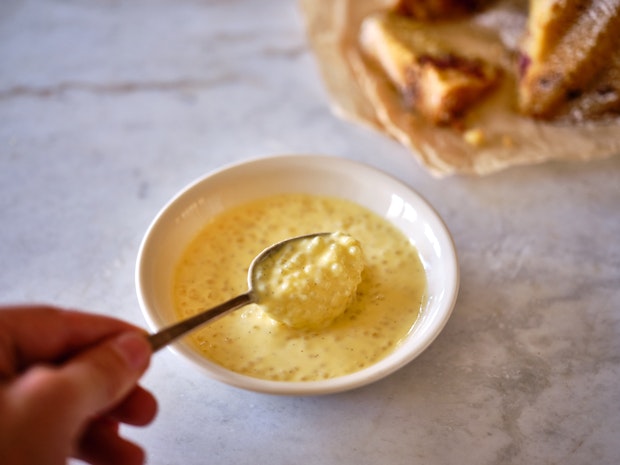 Tapioca Pudding Basics
A great batch of tapioca requires equal parts patience, attentiveness, and top-notch ingredients. Like a risotto or polenta there is much stirring involved, and you need to watch the pudding religiously. That being said, broadly speaking, making tapioca is relatively simple. When I asked my dad to articulate the most important, top-level considerations here's what he said:
- Use your thickest-bottomed pot - this will help prevent scorching. Once you've scorched the pudding, that's it - you've ruined it. He uses his Le Crueset dutch oven pot, but surprised me when he said for extra large batches he sometimes deploys the base of his pressure cooker (!?) which is very large, and very heavy. He never pressurizes it, just uses the pot part.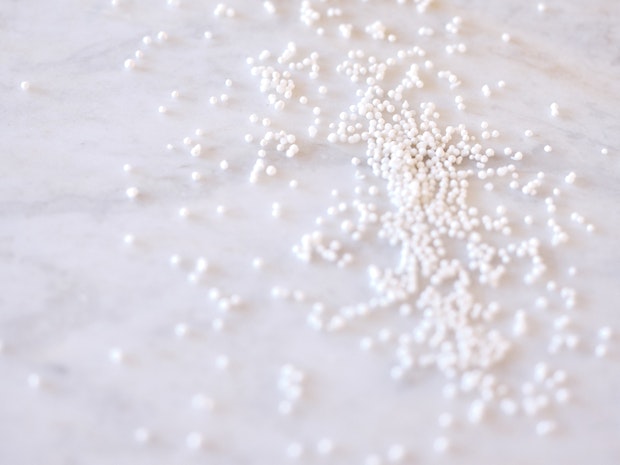 - Use the correct size of tapioca. You're after small tapioca peals here and you can see them pictured above. We did one batch with instant tapioca - this comes in a box, and like instant oatmeal the tapioca pieces are much smaller (and in this case also pre-cooked). The universal feeling among everyone who tasted it didn't have anything to do with the actual flavor (which was decent), there was an aversion to the gelatinous texture - maybe coming from the soy lecithin additive? Not sure, but it was universally agreed upon that starting from scratch with the small pearl tapioca was the way to go - Bob's Red Mill All Natural Small Pearl Tapioca worked beautifully as a base ingredient.
- Pay attention to temperature. You need to bring the tapioca pudding mixture up slowly for a few reasons. To avoid scorching, but also this gives the tapioca balls time to cook as they are coming up to a boil.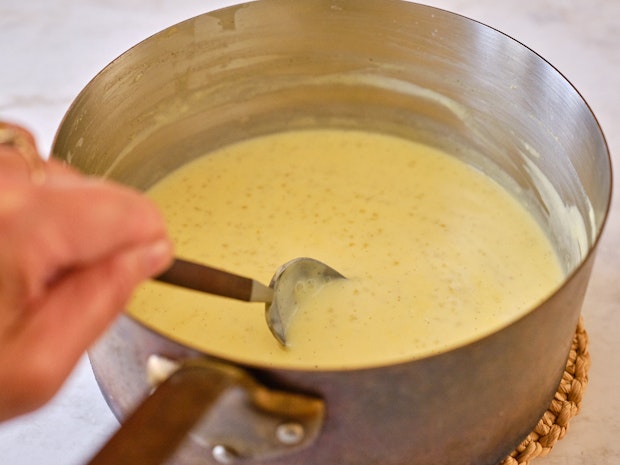 - Stir constantly. I have to admit that I get lazy and don't stir the entire time, and if your stove isn't overly hot, this is fine. But my dad likes to stir the whole time.
- Make a double batch - one for you and one to share. The recipe below is for a single batch, but easily doubles.
Other Observations
Before we move onto the recipe itself, here are a few other things I noticed as we cooked our way through various batches. First, it is important to soak small pearl tapioca before attempting to make pudding with it, or the texture will be off. Some people soak overnight, but we found that 30 minutes or so worked with small tapioca, resulting in a lively textured tapioca with wonderful creamy, custard bridging the beads. I call for an hour in the recipe to be safe - but you can reduce that a bit if you're in a time crunch.
Water or Milk? Many recipes call for water, I loved the 100% milk version we did, we even soaked the tapioca balls in milk - whole milk for that matter - again going after rich, creaminess. This version is so simple and creamy!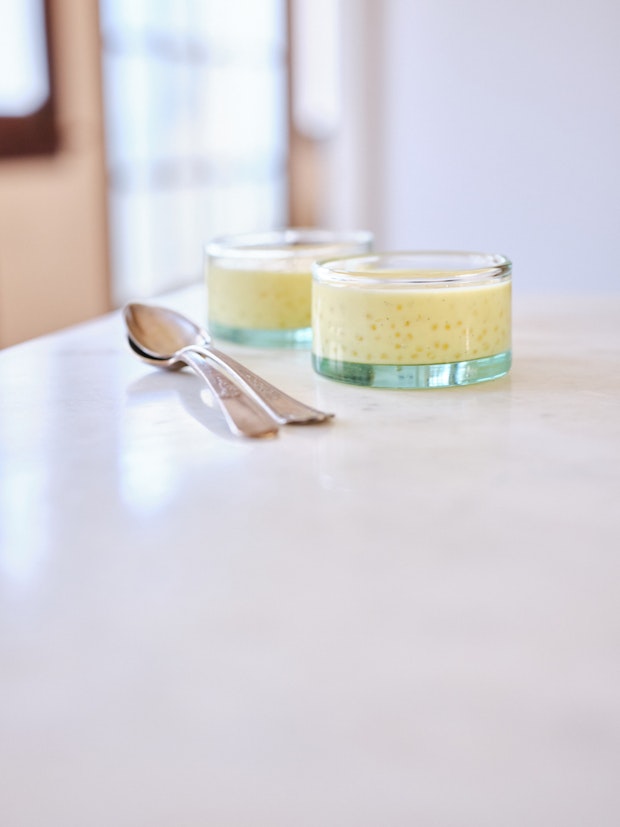 Egg whites? I know many people like to do the "fluffy" version of tapioca pudding, where you beat egg whites and fold them in - it is an extra step and I like a denser pudding, so that isn't something I incorporated here.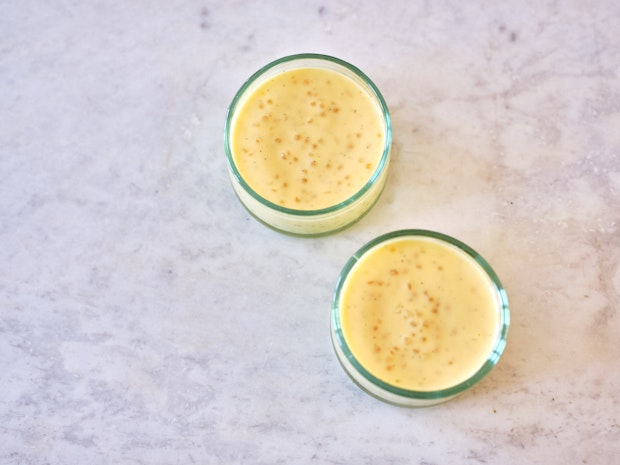 Tapioca Pudding Variations
I kind of feel like if you're going to make tapioca pudding, you should keep it classic. Let the vanilla shine through and call it a day. But it's also such a beautiful canvas to build other flavors on - I'm torn. If you're inclined to take the latter route, here are a few ideas. A pinch of saffron is always welcome, I'd add it in the last five minutes of cooking. You could take a more floral approach and add a splash of rose water or orange blossom water - add it to your liking, just a small amount at a time. I mention a chocolate tapioca variation in the headnotes down below, as well as a coconut version. I'm also imagining that a toasted sesame tapioca could be a nice wildcard flavor. Let me know in the comments if you have any favorite ingredients or flavors you like to add to your tapioca. Seems like there are endless possibilities.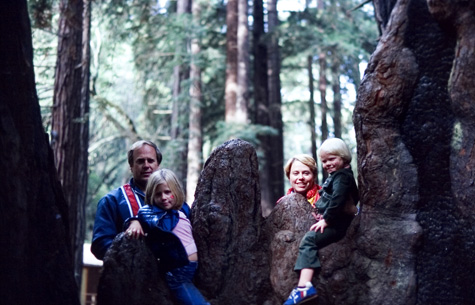 Here's an old picture I came across while looking through the old slide carousels at my parent's house. I love this photo and suspect it was shot in the California redwoods circa 1979 or 1980 likely with the camera on a tripod and my dad's old Nikon - just a guess. That is my dad, me, my mom, and my sister Heather.
Hope you enjoy the tapioca pudding. Also, before I sign off- here are a few other recipes my dad likes to make (and share):
- My Dad's Garlic Bread recipe
- He also really loves these mashed potatoes.
- And is always game for macaroni salad.
Tapioca Pudding
This tapioca pudding recipe make a classic-tasting pudding. That being said, there are endless options for variations - you can add chopped chocolate and cocoa powder to taste for a chocolate version. Next time around I'm going to do one based in coconut milk with added toasted coconut folded in at the end....lots to play around with.
Ingredients
3

cups

organic milk, divided

1/3

cup

small pearl tapioca

2

extra-large egg yolks, lightly beaten

1/4

teaspoon

fine-grain sea salt

1/3

cup

sugar

1

vanilla bean, split along the length (or 1 teaspoon vanilla extract)
Instructions
Pour 3/4 cup of the milk into a medium-sized, thick-bottomed pot. Add the tapioca and soak for 60 minutes. Whisk in the egg yolks, salt, sugar, and the remaining milk. Scrape the vanilla bean along its length with a knife and add that bean "paste" along with the bean itself to the pot (if you are using vanilla extract in place of the vanilla bean stir it in at the very end, after the pudding is completely cooked).

Over medium heat slowly bring the mixture just barely to a boil, stirring all along - this should take about 15 minutes. Reduce the heat and let the mixture fall to a simmer - you keep it here until the tapioca is fully cooked, another 20 minutes or so. Keep in mind this time can be significantly longer (or shorter). The tapioca will tell you when it is ready if you watch carefully. The tapioca beads will swell up and become almost entirely translucent. The custardy part of pudding will thicken dramatically as well - keep tasting and assessing at this stage. It is even more critical to keep stirring at this point avoid dreaded scorching.

Remove from heat and let cool a bit. This tapioca tastes its best when served warm, but is still delicious cold as well.
Related Recipes
More Recipes
Popular Ingredients