Cottage Cheese Muffins
Golden, puffy cottage cheese muffins are high in protein, filling, and endlessly adaptable. If you love a savory baked situation, these are for you.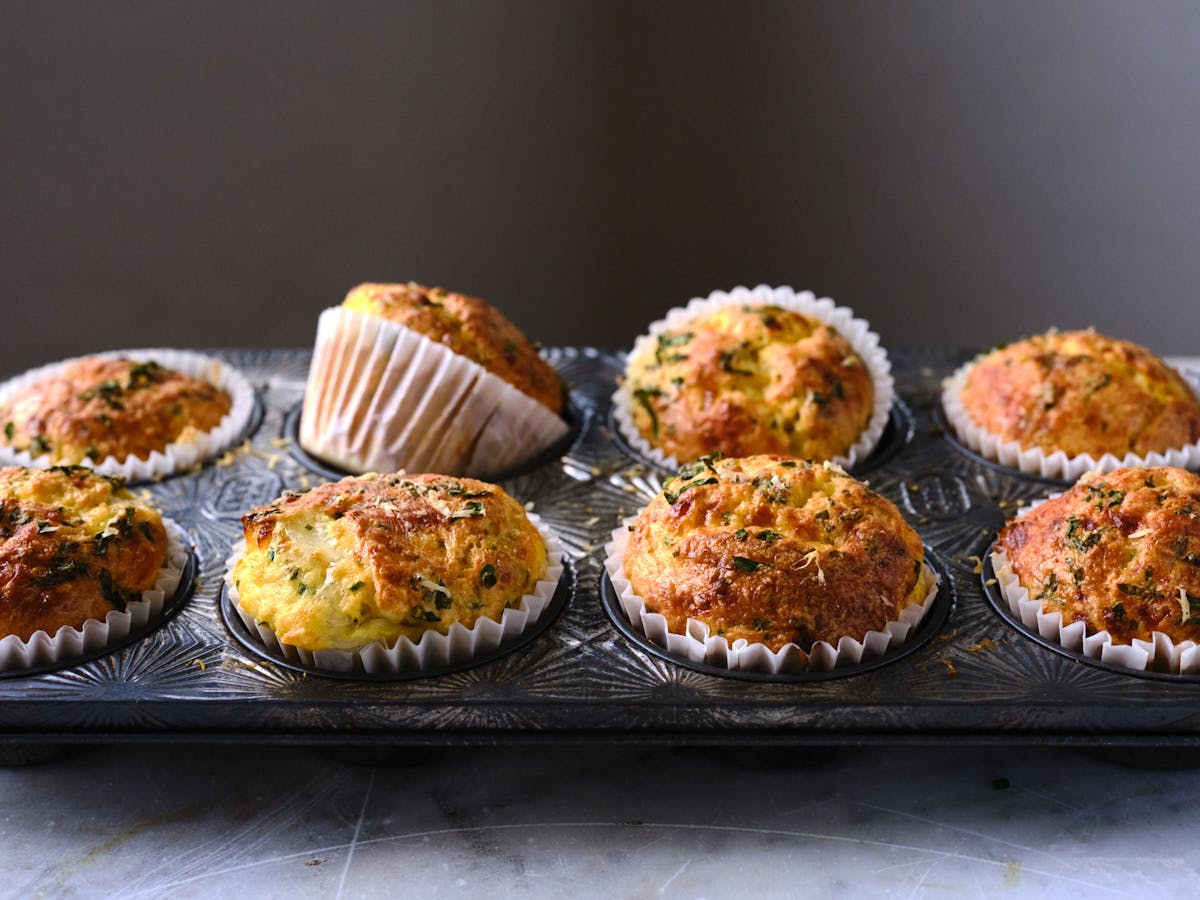 I'm always on the lookout for cookbooks by Rose Elliot. They aren't always easy to find, particularly if you are like me, living in the United States. For those of you who haven't heard of her, Rose is an accomplished UK-based cookbook author who focuses on vegetarian recipes - three million copies of her books are in print (and probably many more now!). I loved the idea behind her golden, puffy, sun-dried tomato muffins which I came across in Vegetarian Supercook (2006). Not only does the cottage cheese and ground almond base make them a smart way to start the day, but you can adapt the accent flavorings based on whatever you fancy. 

Rose highlights the combination of tomatoes, cheese, and basil in her version of cottage cheese muffins. The ingredients come together to make your kitchen smell like a cozy pizzeria. In the years since I first highlighted this recipe I've baked a good number of variations beyond the original. You can see an herb-flecked version here. It's loaded with fresh thyme, fresh oregano and lots of chives. I'll include some other variation ideas down below.

Backing up a bit, one of the great things about Rose's recipes (generally speaking) is that many of them strike a nice nutritional balance. They tend to combine proteins, complex carbohydrates, vegetables and good fats together in interesting (and delicious) ways. This is something that is actually harder to do than it sounds and I always appreciate her approach. You see that in a recipe like this one.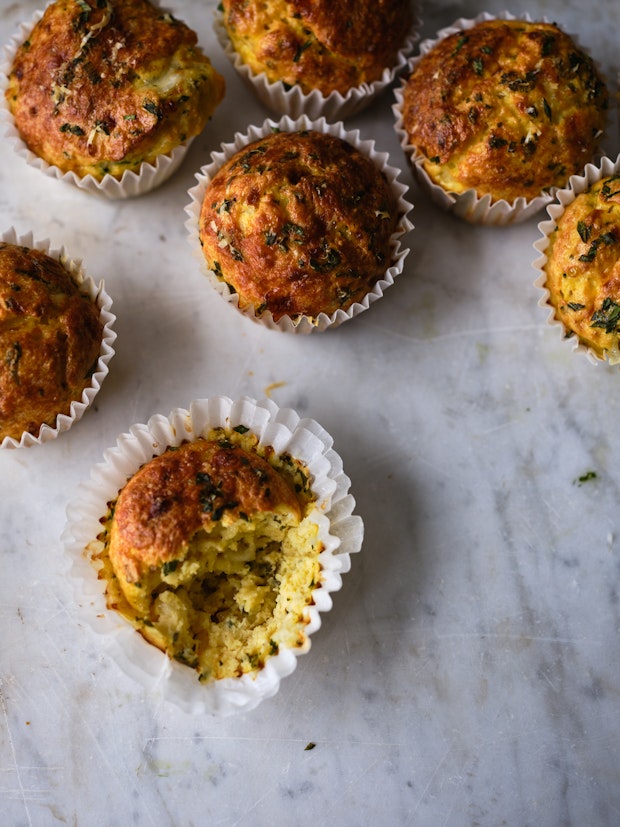 Cottage Cheese Muffins: The Ingredients
The ingredients called for here are fairly straight forward - eggs, cottage cheese, a bit of flour, some almond meal, etc. Plus whatever accent flavors you want to work in. I do have a couple preference I'll share though.
Cottage Cheese

: I tend to grab the low-fat option here. And, the larger the curd the better here. The large curds leave nice pockets of oozy cottage cheese throughout the crumb and I love it. The smaller curd cottage cheese works great as well, you'll just be missing out on some of those magic spots.

Almond meal

: You want to use a fine almond meal here. You can buy it, or grind your own in a blender. If purchasing, the skin-on almond meal option is fine, it's just a bit darker and more rustic. I used the lighter almond meal for the muffins pictured here.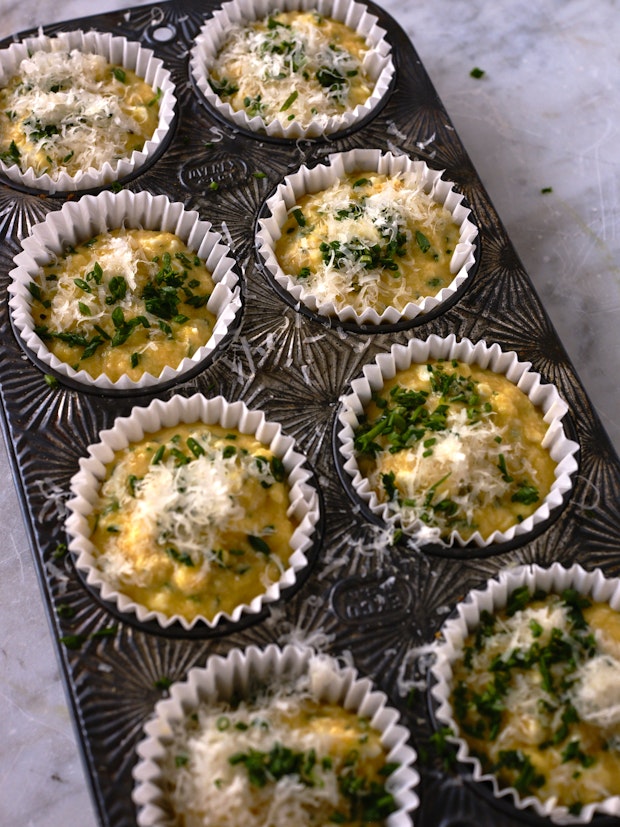 Other Things To Know
I encourage you to give these muffins a try (they're *really* good), but keep a few things in mind. The texture here isn't attempting to emulate a traditional flour-based muffins. These are much moister, less bready, and more quiche-like.  Maybe a better way to think of them is like a souffle's heartier, denser, more portable cousin.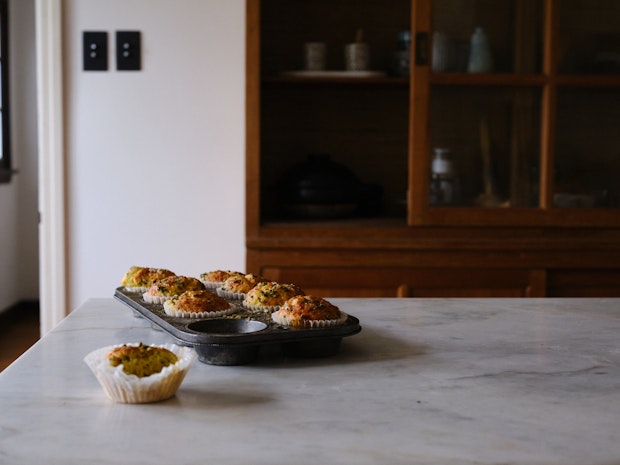 The muffins can be made gluten-free, use a GF flour or GF flour blend. If you make the muffins mini-sized they are perfect party fare, whether you go Rose's sun-dried tomato route, the herb-fleck route (pictured) or I'm sure you can dream up countless other ways to flavor the cottage cheese and almond flour-based batter.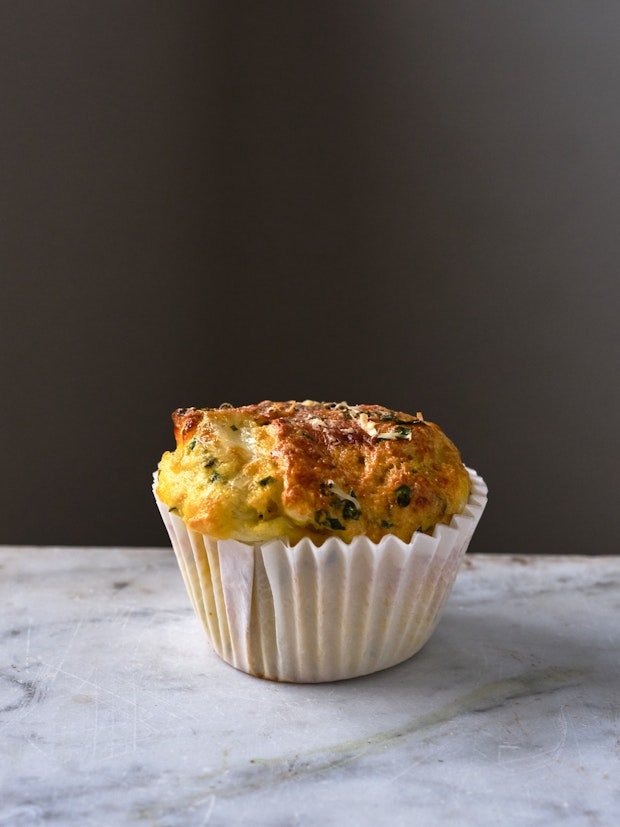 Cottage Cheese Muffins: Variations
A few variations, and people have been mentioning other ideas in the comments.
chopped olives, lemon zest and chopped herbs

roasted, chopped mushrooms and fresh thyme

chopped chipotles and adobo sauce

roasted garlic, pesto and toasted pine nuts

sautéed chopped potatoes and rosemary

No nuts version: Amanda noted in the comments, "

I used half cup flax meal and half cup ground pumpkin seeds. They turned out great."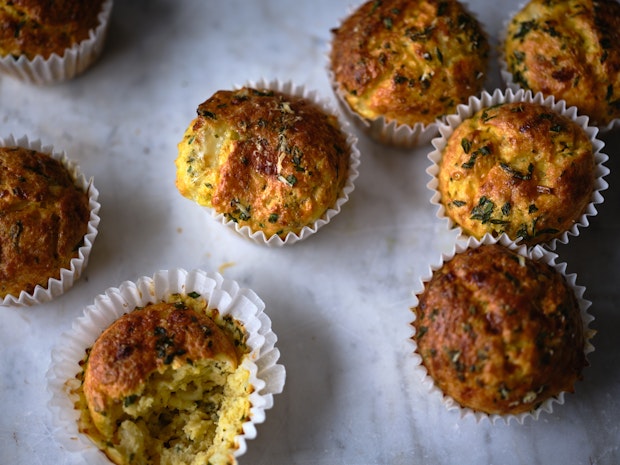 Let me know what you think of these, I really enjoyed them hot, as well as room temperature as a quick snack.
Here's where you can browse more baking recipes.
Cottage Cheese Muffins
You can use the flour of your choice in this recipe. The original recipe calls for soy flour (great for people looking for a gluten-free option), I tend to use white whole wheat flour, unbleached all-purpose flour will work as well. To make almond meal, grind 1 cup almond in food processor or blender. You are looking for a flour-like consistency. Be sure to stop short of turning the almonds into an almond paste. Lastly, for Rose's sun-dried tomato version, omit the below herbs and add 1/4 cup sun-dried tomatoes (in oil), finely chopped and 1/4 cup basil, finely chopped.
Ingredients
1

cup

/ 8 oz / 227g plain cottage cheese (low-fat is fine)

3/4

cup

/ 1 oz / 28g parmesan cheese, freshly grated

1/4

cup

/ 1.25 oz / 35g flour (see headnotes)

1

cup

/ 3.5 oz / 95g almond meal or almond flour, finely ground

1

teaspoon

baking powder

1/4

cup

/ 60 ml water

4

eggs, lightly beaten

1/2

teaspoon

salt

1/3

cup

fresh herbs (I like: 1 tablespoon fresh thyme, 1 tablespoon chopped, fresh oregano & 1/4 cup chopped chives)
Instructions
Preheat oven to 400F degrees. Line a muffin pan with medium-sized paper baking cups, you'll need eight of them.

Put the cottage cheese into a bowl with all but 1/4 cup of the Parmesan cheese, the flour, ground almonds, baking powder, most of the herbs, water, and eggs, and season with salt, then mix all together.

Spoon the mixture into the muffing cups 3/4 full (or a bit more). Scatter with the remaining Parmesan and herbs. Bake for 30-35 minutes, or until set, risen, and golden brown. Serve as hot or at room temperature.
Notes
Makes 8 muffins.
Adapted & Inspired by the Sun-dried Tomato Cottage Cheese Muffins in Rose Elliot's Vegetarian Supercook (2006).
Related Recipes
More Recipes
Popular Ingredients