Zucchini Bread
If you're looking for a go-to zucchini bread recipe, give this a shot. The recipe delivers a single beautiful loaf of walnut studded zucchini bread. Moist, just sweet enough and loaded with toasted walnuts inside and out, it has a sweet nut-crusted top, requires one pan and is a rustic stunner.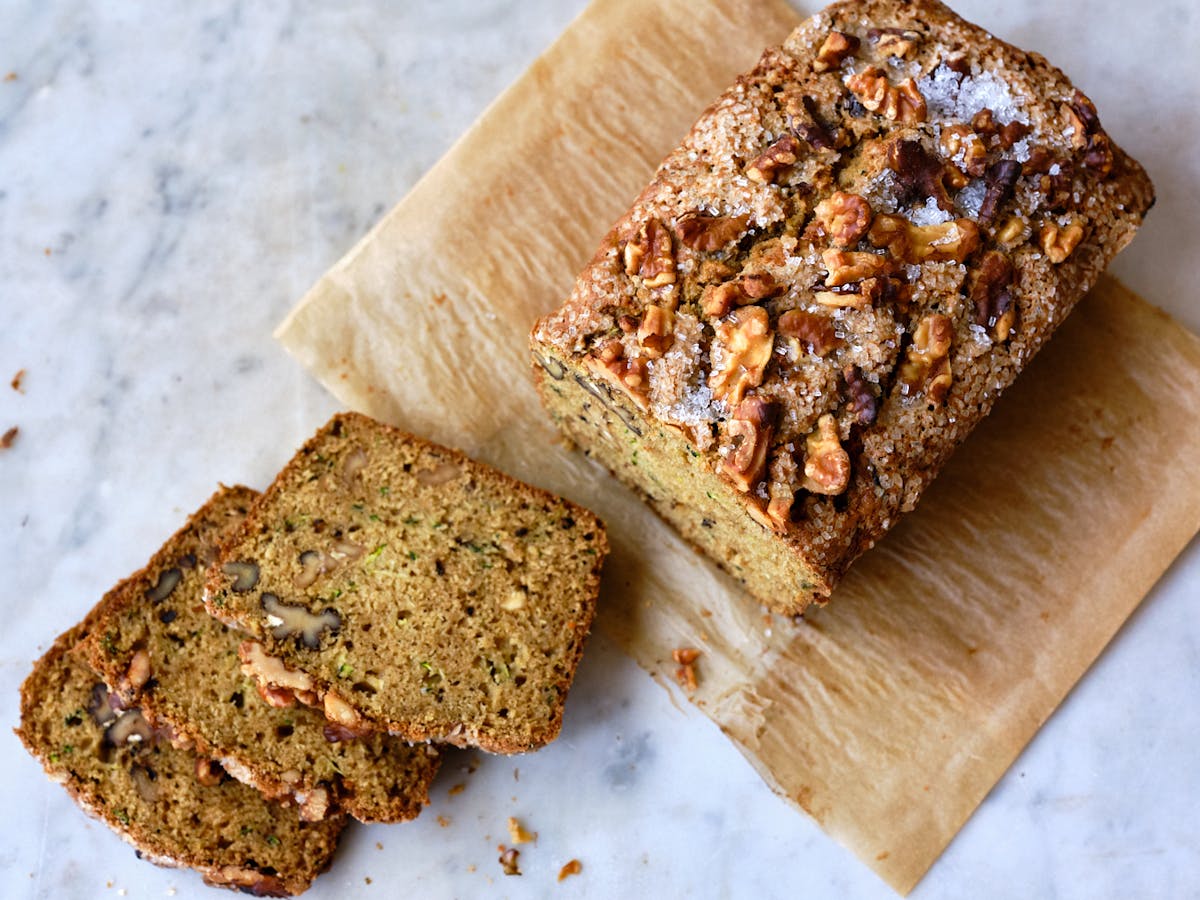 This recipe makes a single beautiful loaf of walnut studded zucchini bread. And a sizable one at that. For years I would load my zucchini-flecked quick bread batter with all manner of zest, spice, and whatnot. But that's not how I roll anymore. Over the years I began to prefer this pared-down and more minimalist version. Moist, just sweet enough and loaded with toasted walnuts inside and out, it has a sweet nut-crusted top, requires just one pan and is a rustic stunner. If you're looking for a go-to zucchini bread recipe, give this a shot.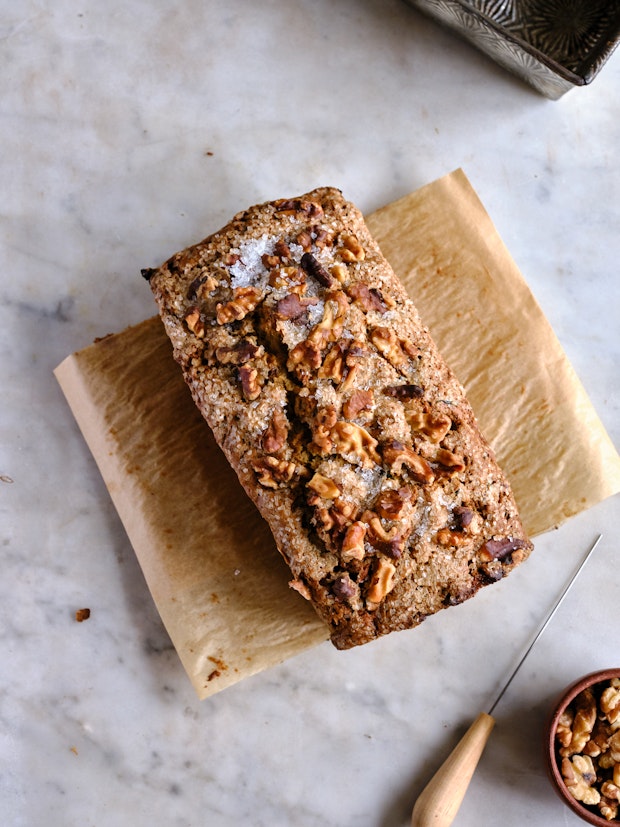 A Few Zucchini Bread Tips
Pre-grate & Freeze Excess Zucchini: When you have more zucchini than you know what to do with, grate it on a box grater and then divide 2 1/2 cup portions into freezer bags. Thaw and use with this recipe later in the year.
Too Much: If you've baked more zucchini bread than you can eat, slice it, divide with parchment paper, and freeze in baggies. When you're ready for it, thaw and toast (or toast in a pan with a bit of butter).
Accurate Baking Time: A cake tester is important here. This is a big loaf and you want to make sure the interior is cooked though. If cake batter is visible on your tester keep baking in 7-10 minute increments.
Yellow Summer Squash Are OK Too! You can basically use any summer squash you like here. Classic green-skinned zucchini are most typical, but you can also use eight-ball squash, patty pan, crooked neck squash, etc. I like to leave the skins on all of them for the color-flecks they lend to the batter. One thing to keep an eye out for is any squash that has developed seeds. Just scoop those out prior too grating.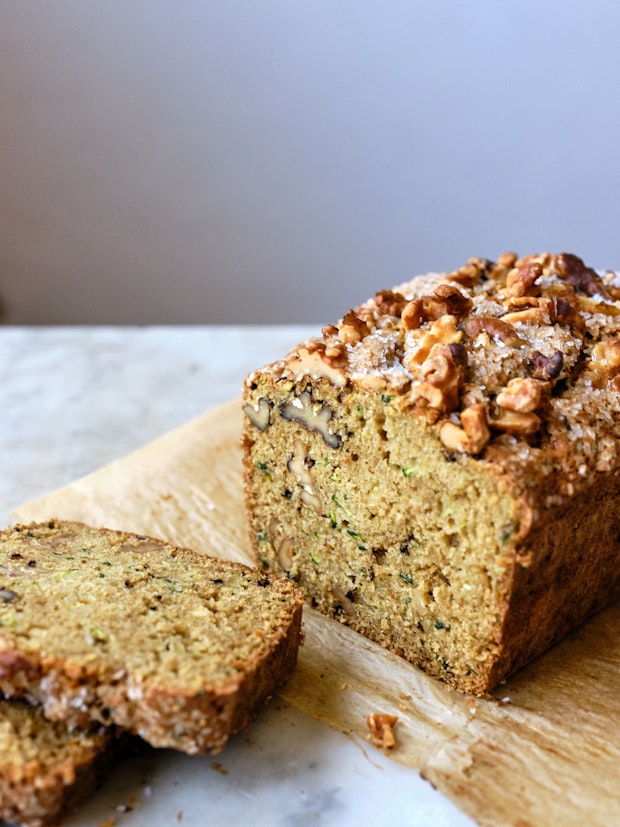 Variations
My Special Zucchini Bread: This is the more maximalist version of zucchini bread I've featured here since 2008. To the batter add: the zest of 2 lemons, 1/4 cup poppy seeds, 1/3 cup finely chopped crystalized ginger, 1 teaspoon cinnamon, and 1 tablespoon favorite curry powder. So fragrant!
All the Zests: Add the zest of 3 limes, 2 oranges, and 3 lemons. Consider swapping almond extract for the vanilla extract.
Basil & Lemon: Add 1/3 cup chopped fresh basil and zest of two lemons to the wet ingredients. You can use Italian or lemon basil.
Zucchini Oat Bread: An idea I haven't tested yet, but want to mention it in case someone wants to give it a try. Swap 1/3 cup of the flour for old-fashioned oats.
Raz el Hanout: I've baked a delicious version using a Raz el Hanout spice blend, highly recommended! Just add 1 tablespoon of Raz el Hanout to your dry ingredients.
Muffins: Yes, you can make muffins with this batter! Fill lined muffin tins 2/3 full - 3/4 if you're living on the edge! And bake until golden and cooked through.
Chocolate Chips: Kids of course love the version with chocolate chips mixed in. You can add as few or as many as you feel appropriate!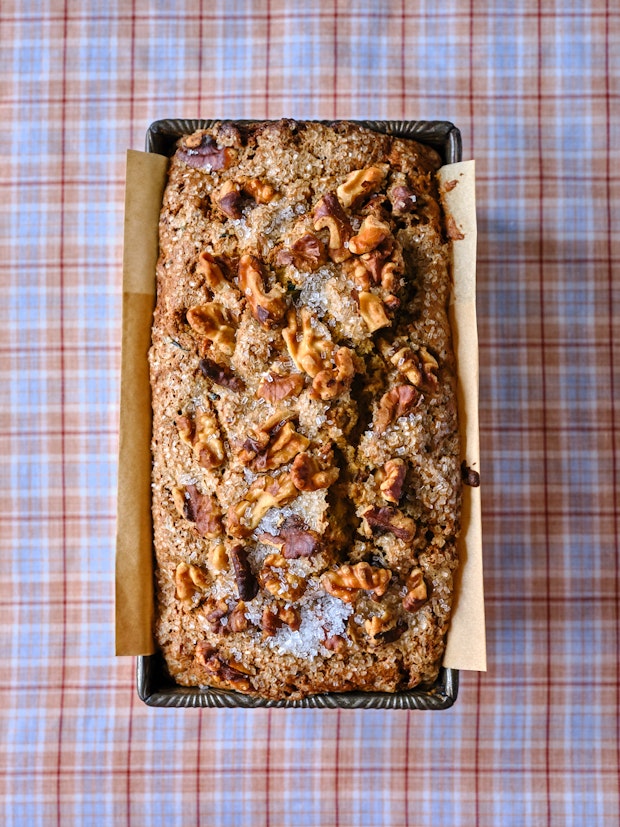 More Zucchini Ideas
If you have a garden that is anything like ours, it's putting off an incredible number of zucchini right now. Take a look at these zucchini recipes. I've been trying to come up with more recipes that put a real dent in the zucchini supply. So far, this Pasta with Smashed Zucchini Cream is a favorite. And this Grilled Zucchini & Bread Salad is perfect for summer & using up extra sourdough at the end of the week. And we love this Simple Sauteed Zucchini, especially with a little side action of this favorite pesto.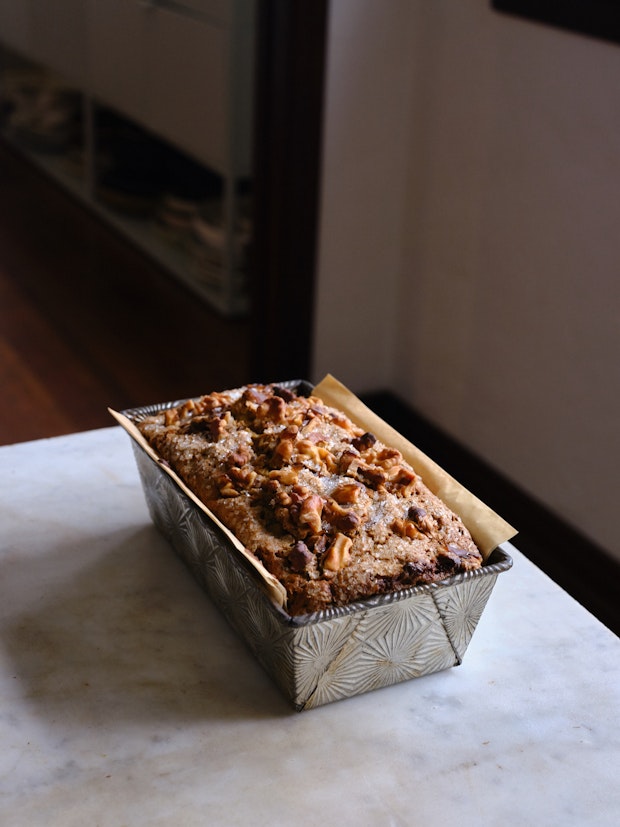 Enjoy! And please leave notes in the comments if you have other variations you like. If quick breads are your thing be sure to check out this One-bowl Banana Bread, or this lemony olive oil version. This Rosemary Olive Oil Cake is a forever favorite. As are these Seeded Pumpkin and Feta Muffins.
Zucchini Bread
A time-saving tip: if you have a food processor with the grating attachment, use it to shred the zucchini. It will perfectly shred the zucchini in no time. On the flour front, this recipe calls for whole wheat pastry flour, it lends a nice, tender crumb to the zucchini bread. That said, feel free to swap in unbleached all-purpose flour if it is more convenient or happens to be your flour of choice. Or do a 50/50 blend of whole wheat pastry and all-purpose. Lastly, I have you sprinkle some sugar across the top of your zucchini bread batter before baking, if you have a large grain sugar use that (pictured), if not granulated sugar is fine.
Ingredients
2 1/4

cups

whole wheat pastry flour (or all-purpose flour)

1 1/4

teaspoons

baking soda

1/2

teaspoon

baking powder

3/4

teaspoon

fine grain sea salt

1 3/4

cups

chopped toasted walnuts, divided

6

tablespoons

unsalted butter, room temperature

3/4

cup

granulated sugar, plus more for topping

1/3

cup

dark brown sugar, firmly packed

2

large eggs

1 1/2

teaspoons

vanilla extract

2 1/2

cups

grated zucchini (about 2-3 medium), skins on
Instructions
Preheat your oven to 350°F with a rack in the middle. Butter a 9x5-inch (1 lb.) loaf pan, dust with a bit of flour and set aside. Alternately, you can line the pan with a sheet of parchment. If you leave a couple inches hanging over the pan, it makes for easy removal after baking. Just grab the parchment "handles" and lift the zucchini bread right out.

In a medium bowl combine the whole wheat pastry flour, baking soda, baking powder, salt, and 1 1/4 cups of the walnuts.

Using a mixer or large bowl if you're mixing by hand, beat the butter until fluffy. Add the sugars and beat again until mixture comes together and is no longer crumbly. Add the eggs one at a time, mixing well and scraping down the sides of the bowl between each addition. Stir in the vanilla. Squeeze some of the moisture out of the zucchini and then fluff it up a bit before stirring it into that batter by hand.

Add the dry ingredients to the wet ingredients in two batches, stirring between each addition. Stir just until you have a thick, uniform batter. Pour the batter into the prepared pan and level it by running a spatula over the top. Sprinkle with the remaining walnuts, and 2-3 tablespoons of sugar.

Bake for about 60-70 minutes keeping a close eye on things after 50 minutes. If the top of your zucchini bread is getting too dark, drape a piece of parchment paper or aluminum foil over it for the remainder of the baking time. You're going to want to use a cake tester or toothpick to test for doneness. The cake should be golden and rustic looking, and a toothpick should come out clean.

When done, remove from the oven and cool the zucchini bread in pan for about ten minutes. Transter onto a wire rack to finish cooling.
Notes
Makes 1 large zucchini bread.
Related Recipes
More Recipes
Popular Ingredients