Cottage Cheese Pancakes
Cottage cheese pancakes are a fluffy, protein-boosted twist on traditional pancakes. Serve them up sweet or savory!
A number of you were curious about the cottage cheese pancakes I mentioned (in passing) a couple posts back. They're pretty great, and a nice alternative to pancakes that are predominately flour-based. There are never enough pancakes and waffles over here. Lol.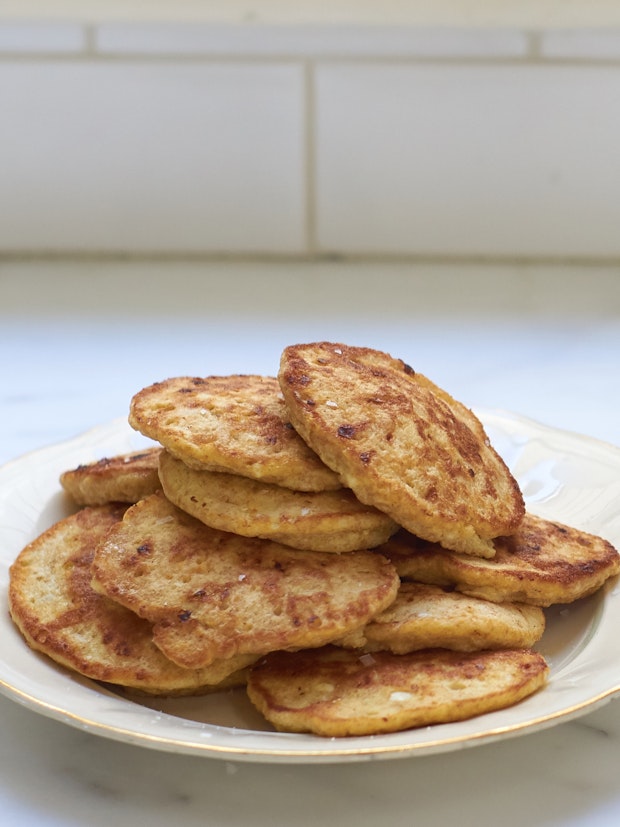 Cottage Cheese Pancakes: Ingredients
The best thing about these protein-rich pancakes is how easy they are to make using common ingredients. Beyond that, they're wildly adaptable.
Cottage cheese

: Cultured cottage cheese is a great choice here, it's a bit tangy and the curds tend to be larger. That said, I've had good results with every type of cottage cheese I've used for these pancakes.

Milk

: You can use the milk of your preference. I've had good results with both dairy, homemade oat milk and almond milk.

Flour

: As far as choosing flour goes, I like to use a mix of whole wheat pastry flour with all-purpose flour for this recipe. If you don't have any whole wheat flour, no problem. Unbleached all-purpose flour is a-ok. And, if you're avoiding gluten - I've had great results using oat flour in place of the flour called for. The 100% oat flour pancakes are more tender, and a bit trickier to flip, but they're just as delicious.

Eggs

Baking Powder

Salt

Add-ins

: See below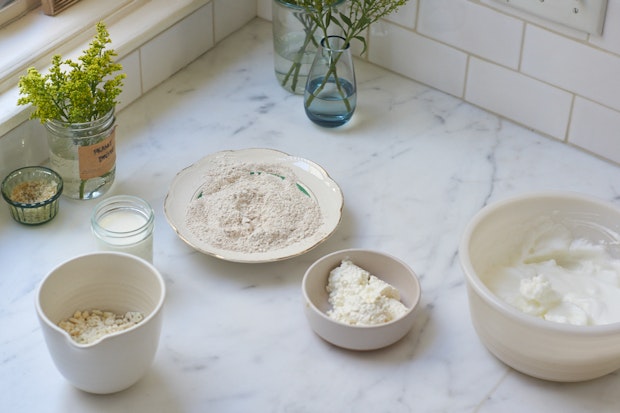 Cottage Cheese Pancakes: Add-ins
Here's the thing with these pancakes. I'm going to share a version I make that incorporates minced cauliflower. The added nutritional bump you get from it is nice, and if you chop it finely enough, no one is the wiser. That said, you can take these in a completely different direction if you like. Work something with added texture, flavor, and nutritional oomph into the base batter and you're set. If it's not cauliflower try chopped spinach, blanched/chopped nettles, broccoli, dill, finely shredded carrots, etc. It's hard to go wrong, and it's fun to experiment.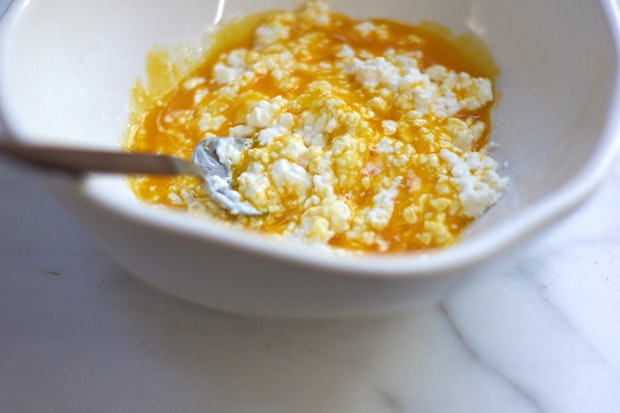 Play With Scale
The pancakes you see here are standard size - roughly 4-5-inches or so. That said, you can do, smaller blini-sized versions of these.
Toppings
There are so many options here! You can serve these pancakes topped with roasted strawberries, vitamin C honey, or blackberry saffron honey. They're fantastic topped with the dill butter from Super Natural Every Day (page 99), even better with the spiced nori butter from Near & Far (page 172). Both of those are on the savory side, or experiment with just about any of these compound butters. Seriously, blank canvas. Have fun with them!
More Pancake Recipes
Cottage Cheese Pancakes
To those of you who aren't cauliflower fans, yes, you can absolutely leave out the cauliflower. Or swap in an comparable amount of any the following: blanched nettles, broccoli, or spinach. With the spinach or nettles - blanch quickly in salted boiling water, drain well, and chop (nearly) into a paste. If all you have is unbleached all-purpose flour, no problem, use it in place of the flour blend called for. To make these gluten-free, swap out the flours for 1 cup / 110g / 4 oz oat flour. And you can use dairy milk, oat milk, or almond milk for the liquid here.
Ingredients
1

cup

/ 7 oz / 200g cottage cheese

3/4

cup

/ 180 ml milk

4

room temperature eggs, separated

1

cup

/ 4 oz / 115g raw (or quickly blanched) cauliflower, chopped into rice-sized bits

1/2

cup

/ 75 g whole wheat pastry flour

1/2

cup

/ 75 g all-purpose flour

1

teaspoon

baking powder

scant 1/2 teaspoon fine grain sea salt

butter or oil, for cooking
Instructions
In a large bowl mix the cottage cheese, milk, and egg yolks until smooth. Stir in the cauliflower.

In a separate (clean) bowl, beat the egg whites until they hold stiff peaks.

Combine the flours, baking powder, and salt into another bowl. Add the flours to the cottage cheese mixture, and stir until just barely combined. Gently fold the egg whites into the batter with a spatula.

To cook, warm a griddle or pan over medium heat, melt a bit of butter or oil in it, then spoon a little scoop (say, 3-4 tablespoons) of batter into the pan for each pancake, working in batches. You want to cook these relatively slowly, until each pancake is deeply golden on one side.

Flip each pancake, and wait until the other side is golden, and the pancake is cooked through. Continue until you've worked through all the batter.

You can keep cooked pancakes in a 225F oven until you finish, to keep them warm. They're great simply with a pat of butter and a sprinkling of salt. Or, if you want to get a bit fancy, whip up a bit of harissa, saffron or pesto-swirled salted yogurt, or any of the toppings suggested in the above post.
Notes
Makes ~2 dozen medium pancakes.
Related Recipes
More Recipes
Popular Ingredients