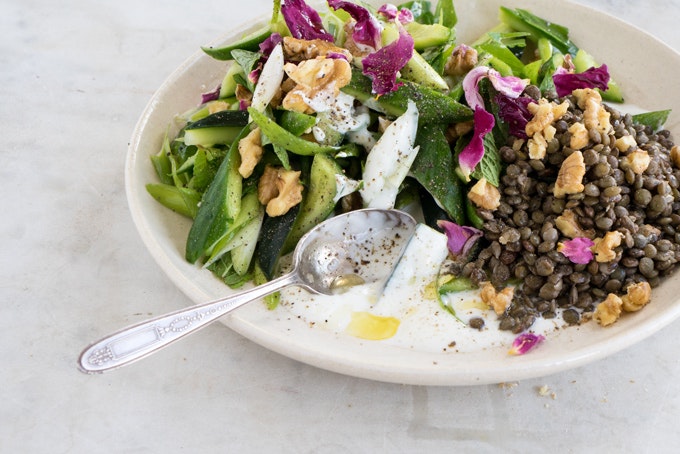 Joshua McFadden's Cucumber Salad
I want to jump in here to highlight a ringer of a cucumber salad. There were four recipe contenders in the cucumber section of the book I'm going to reference, and if the other three are as good as this, it's going to be a very cu-centric summer. The salad. It's crisp and refreshing, beautiful, and surprisingly substantial. The main players: cucumbers, ice-bathed scallions, toasted walnuts, mint, rose, and a vinegar-spiked yogurt dressing. I've been adding a scoop of lentils and making a meal out of it all week.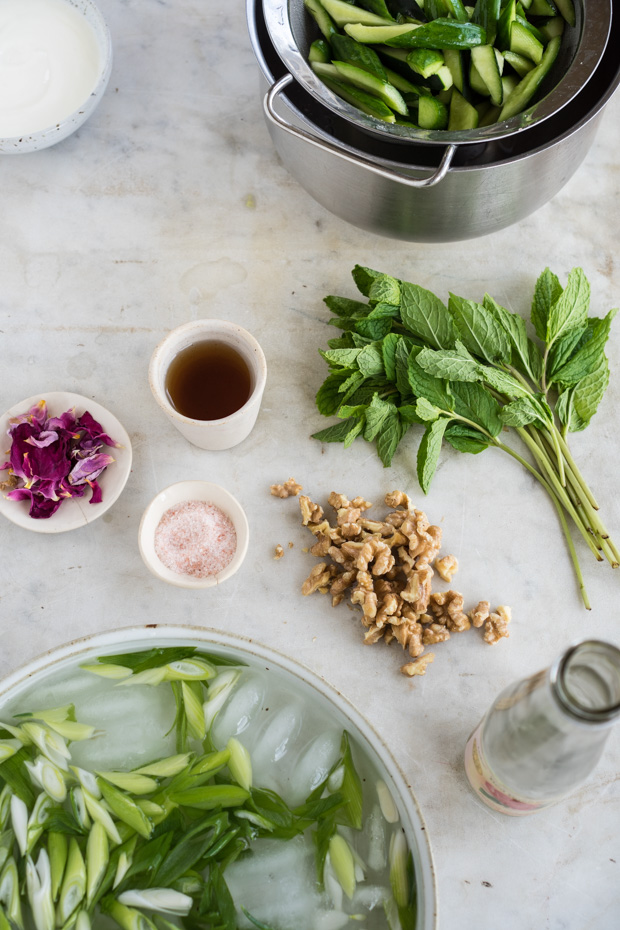 The recipe is from the new Six Seasons: A New Way with Vegetables cookbook by Joshua McFadden, and I knew the whole thing was going to be good when I saw who was working on it. If you know Tusk or Ava Gene's in Portland you know the author. For the book he worked with Toni Tajima (design / you all know her from both Super Natural books, and Near & Far), Laura Dart did the photography (she took this shot of me & Wayne years ago at one of the early Kinfolk brunches), Martha Holmberg (former editor of Fine Cooking), and Melinda Josie (illustration). A lot of heart on this team. Keep your eyes peeled if you haven't see it already - 400 pages of inspiration.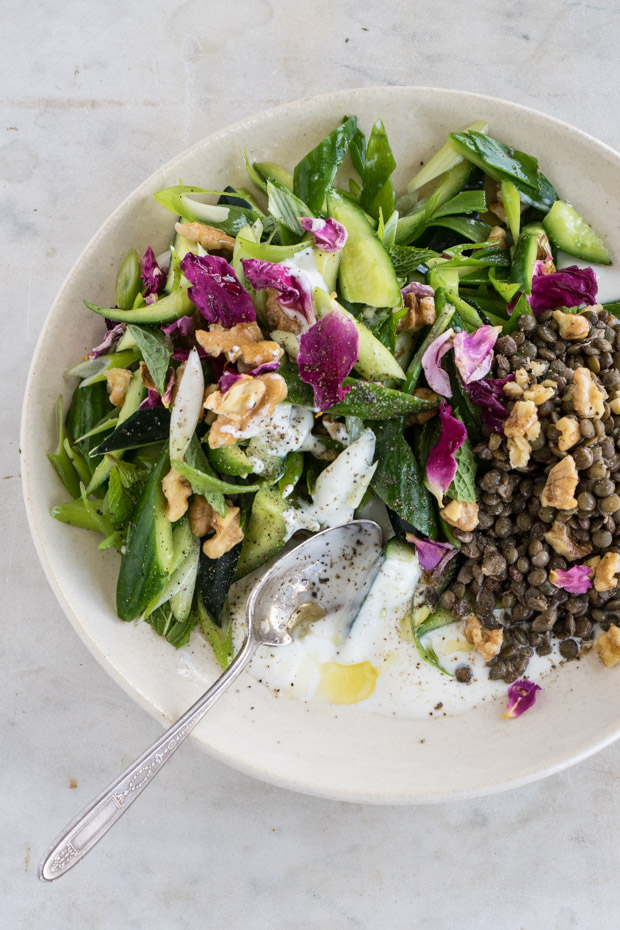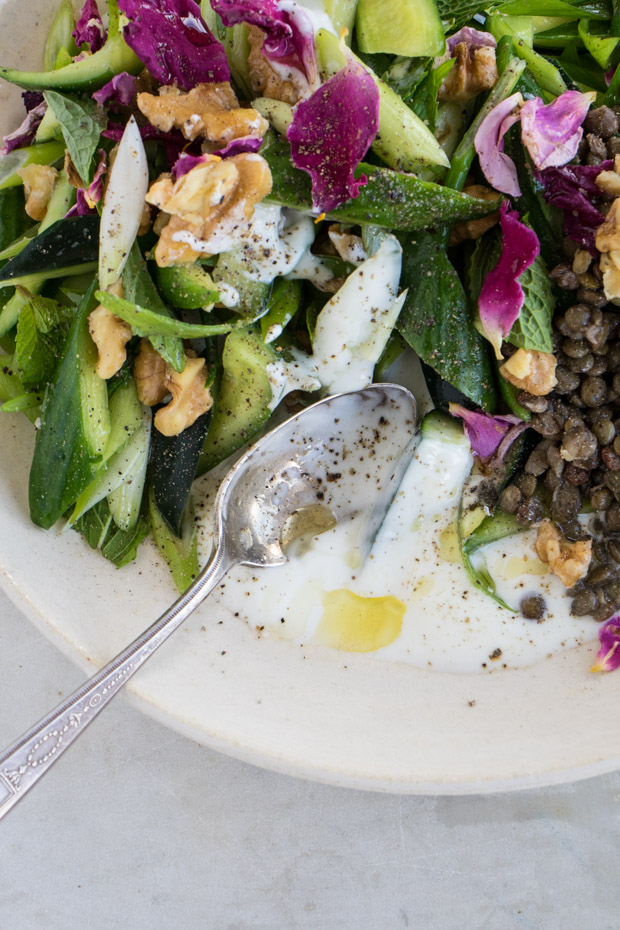 Joshua McFadden's Cucumber Salad
A couple of notes before diving into the recipe. I added some cooked lentils to make this a full lunch. Also, please feel free to use a mix of cucumber varietals, if you have access to more than one. On the vinegar front, the better your vinegar tastes, the better your overall salad is going to be. Also, you can use any edible flower here (unsprayed). I've made this salad three times now, and have taken to adding 2 cloves of smashed (into a paste) garlic to the yogurt.
Ingredients
1

pound

cucumbers, unpeeled unless waxed

fine grain sea salt & lots of freshly cracked pepper

1/2

teaspoon

rose water

1/4

cup

white wine vinegar

1/2

cup

plain yogurt (not Greek)

1

bunch scallions, trimmed (including the root end and just 1/2 inch off the green tops), slice thinly on a sharp angle, soak in ice water for 20 minutes, drain well

1/4

+ cup walnuts, lightly toasted, roughly chopped

1

small handful mint leaves

1

tiny handful rose petals, fresh or dried (from unsprayed roses)

For serving: 1-2 cups cooked lentils, drizzle of your best extra virgin olive oil
Instructions
Trim the ends of the cucumbers, halve lengthwise, and scoop out the seeds. Slice the cucumbers into shapes bite-sized shapes that echo their natural shape. Toss the cucumbers with 1 teaspoon salt and put in a colander so the salt can draw out the excess moisture. Let them sit for 30 minutes. Blot the cucumbers on paper towels to remove the moisture and excess salt and transfer to a large bowl.

Mix the rose water and vinegar together, add to the cucumbers and toss. Add the yogurt and toss again. Add the scallions, walnuts, mint, and rose petals. Season lightly with salt and lots of cracked pepper and toss again. Taste and adjust with more vinegar, salt, or pepper. Serve soon. Alternately, I've been serving the yogurt slathered across the bottom of a shallow bowl, adding the vinegar tossed cucumbers, scallions, walnuts etc. Then doing a very light toss.
Related Recipes
More Recipes
Popular Ingredients