17 Vegetarian Grilling Recipes You Need this Summer
The recipes and vegetarian grilling ideas you need to up your BBQ game this summer. A collection of mains, sides, and salads.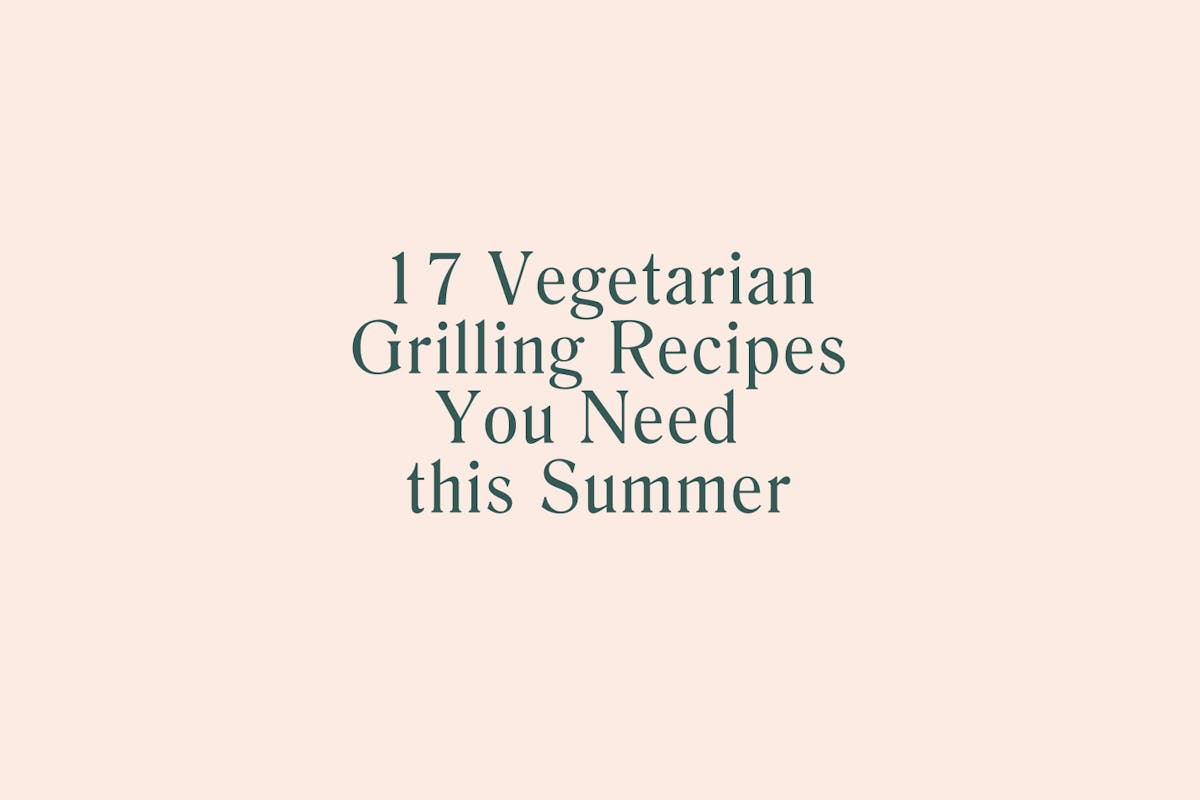 You ready for a challenge? This is going to be the summer you're going to diversify your collection of vegetarian grilling recipes. You up for it? If you haven't already, it's time to push past basic veggie burgers. And my hope is the ideas here will help you up your game.
It was fun pulling this collection together, in part because there are so many creative ways to elevate vegetarian grilling. They are the kind of recipes that even non-veg eaters want seconds of. There are a lot of ideas below, if you have any more, please leave a comment!
First, some tips
Bring foil, a pastry brush and some olive oil. This combination can instantly turn any just about any available veggie into a side with a few minutes on the grill.
If you want to be sure that the vegetarian section of the grill is actually vegetarian, bring your own scraper brush so you don't have to ask the host for one. You might also consider bringing your own tongs or spatula. If you are doing skewers, bring your own steel or bamboo skewers. An alternate is a grilling basket (love) - it makes for easy grill-top veg cooking, without having to kebab or have your asparagus fall through the slats.
Ask the host to designate a section of the grill you can use as veg. If you are the host, give a heads-up and make this zone clear to your grilling guests. Most BBQs we attend are a mixed crowed, and people are typically happy to accommodate. 
Keep in mind, it's likely your veggie option can complement whatever else is on the grill. Bring plenty to share! 
Mains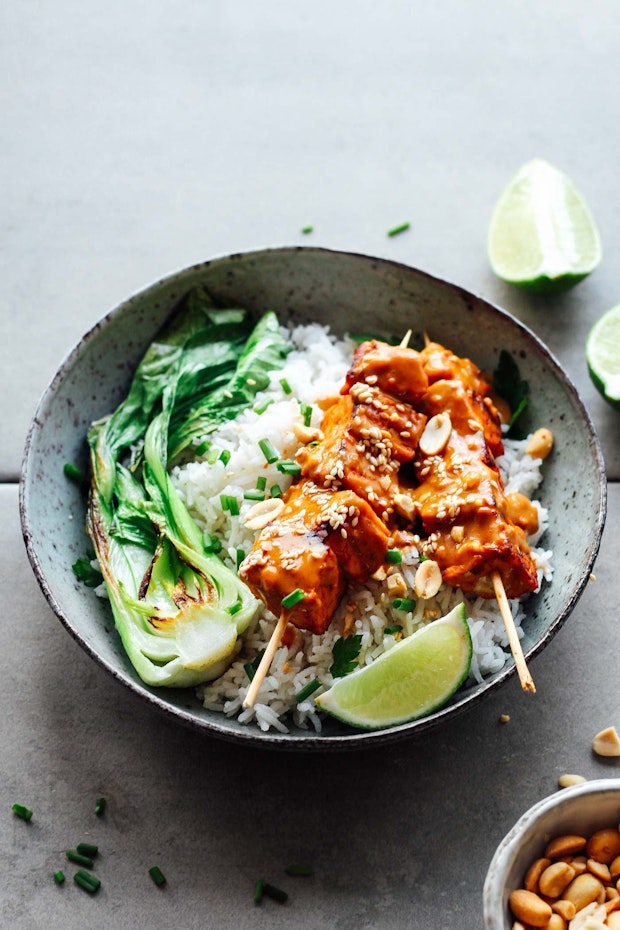 1. Sesame Peanut Tempeh Skewers (Full of Plants)  Here's another take on tempeh as a great alternative to tofu skewers. Slathered with a creamy peanut sauce.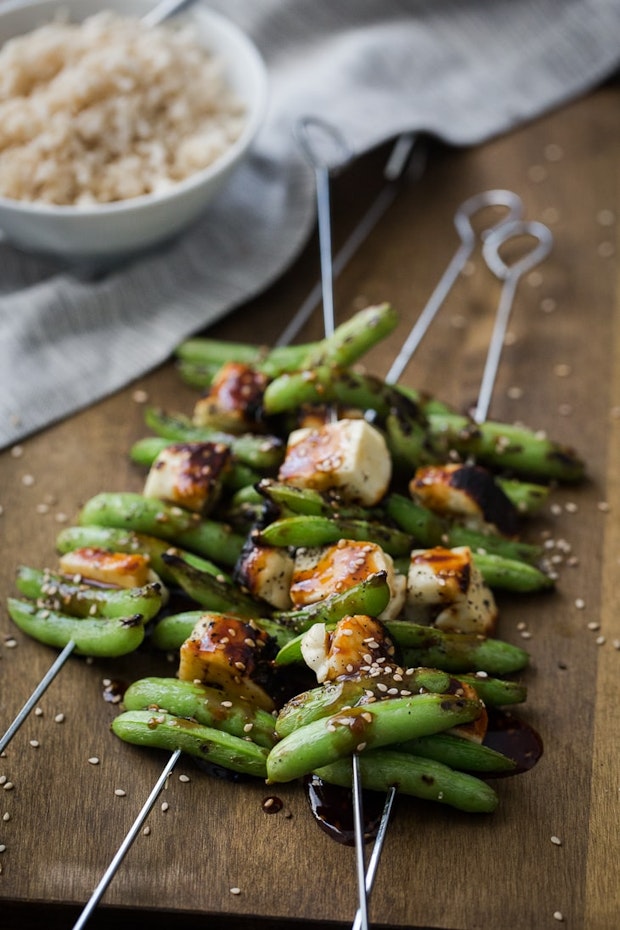 2. Snap Pea Skewers with Soy Ginger Sauce (Naturally Ella)  While you've likely had grilled snap peas, perhaps not on skewers. Making this even more original is the combination of snap peas with halloumi, love the combo of snappy and creamy.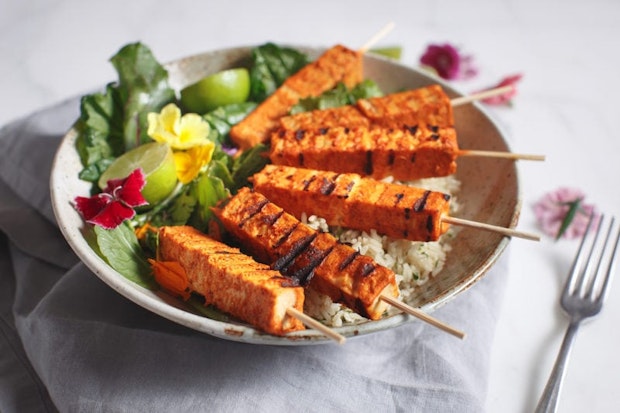 3. Tandoori Tempeh (Ascension Kitchen)  Deploying all manner of spices and rubs is one of the fun aspect of grilling. I love how free-wheeling Lauren is with her spice blend her, and imagine it could be equally tasty on grilled tofu or paneer!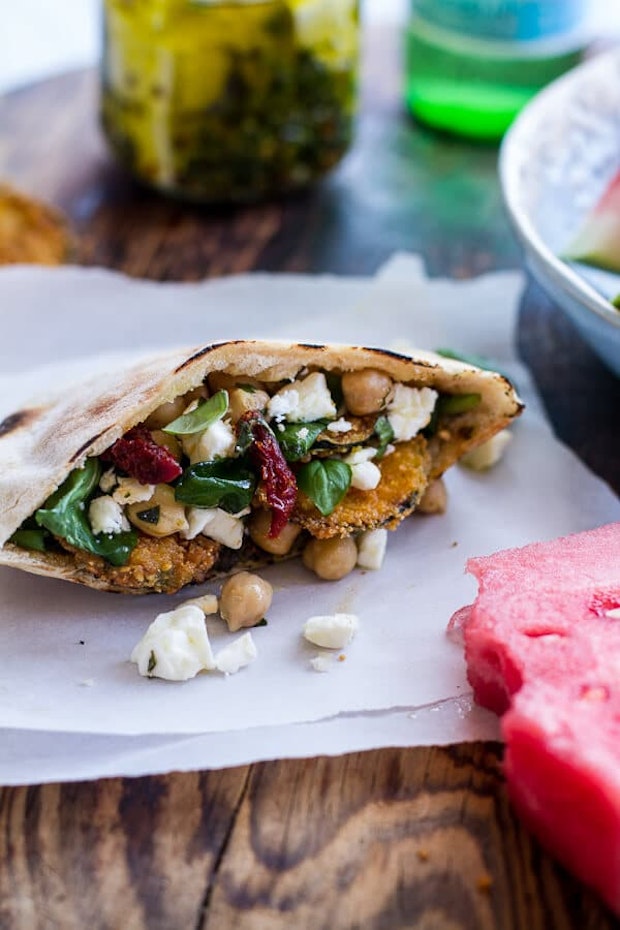 4. Greek Olive Pesto and Fried Zucchini Grilled Pitas with Marinated Feta + Garbanzo beans. (Half-Baked Harvest)  There is so much good going on with this grilled sandwhich - warm feta cheese and fried zucchini in a grilled pita sounds like an inspired alternative to nearly any veggie burger.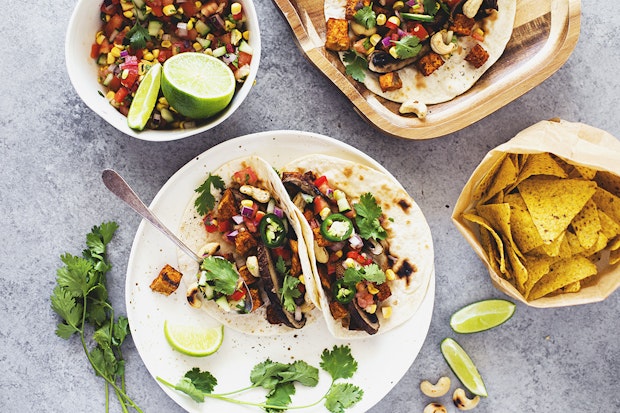 5. Spiced Sweet Potato & Grilled Portabello Tacos (Cocoon Cooks)  Another vegetarian grilling staple is the hearty portabello mushroom. This recipe combines the mushrooms and sweet potato with a cumin/paprika spice combination resulting in a great veggie main.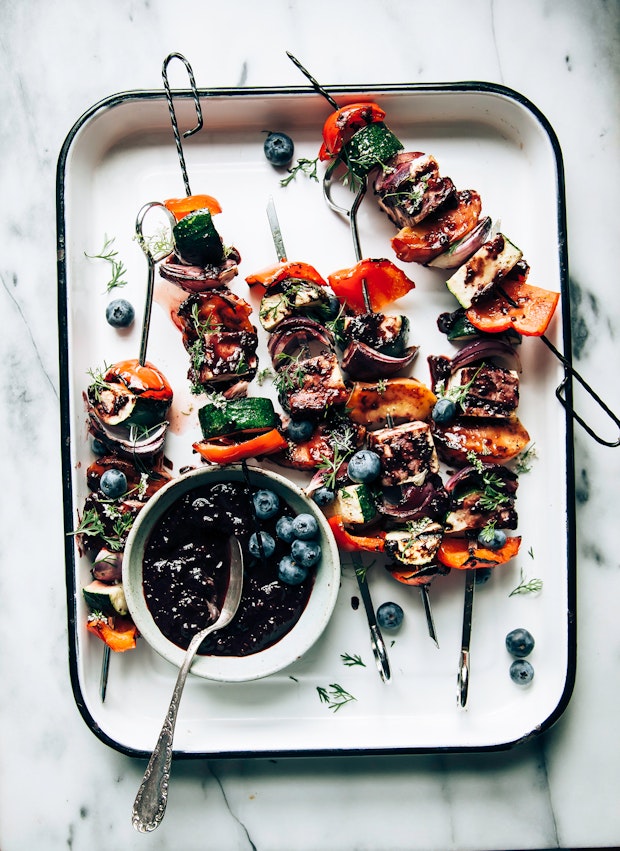 6.  Summer Veg & Tofu Skewers with Blueberry Barbecue Sauce (The First Mess)  Show up with blueberry barbecue sauce. Guaranteed attention getter, and great way to elevate those skewers!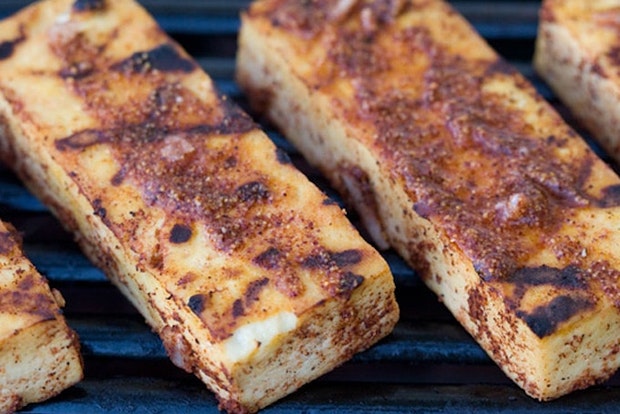 7. Lemon Achiote Grilled Tofu Recipe (101 Cookbooks)  This tofu recipe used to be a regular grilling go-to.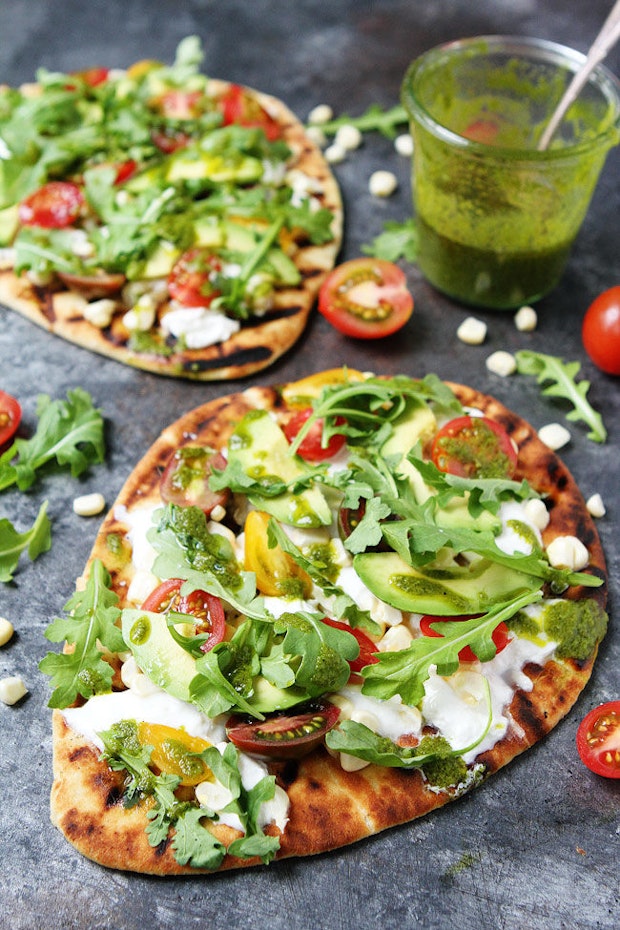 8.  Tomato, Avocado, and Burrata Flatbread (Two Peas and Their Pod)  Don't forget that flatbreads are great for the grill! While you can make your own pizza dough, you can also try store-bought doughs to make recipes like this very quickly. The whole wheat pizza dough at Trader Joe's is a favorite las. The combination of avocado and burata is a nice summer twist.
Salads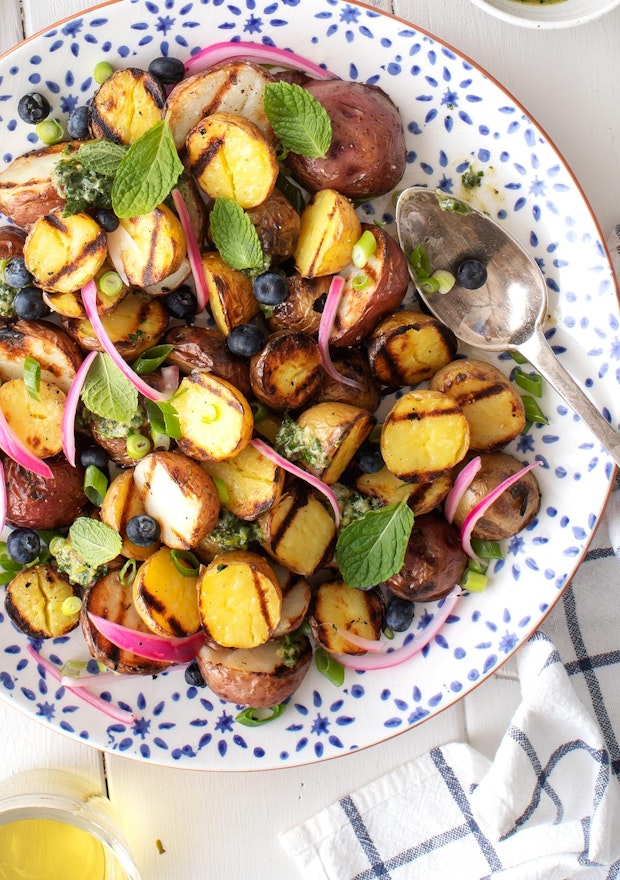 9. Grilled Potato Salad with Grilled Scallion Vinaigrette (Love and Lemons ) Everyone loves potato salad, here's a great adpation by chef Stephanie Izard for the grill. This bypasses the expected mayo bomb for a vinaigrette with miso and grilled scallions.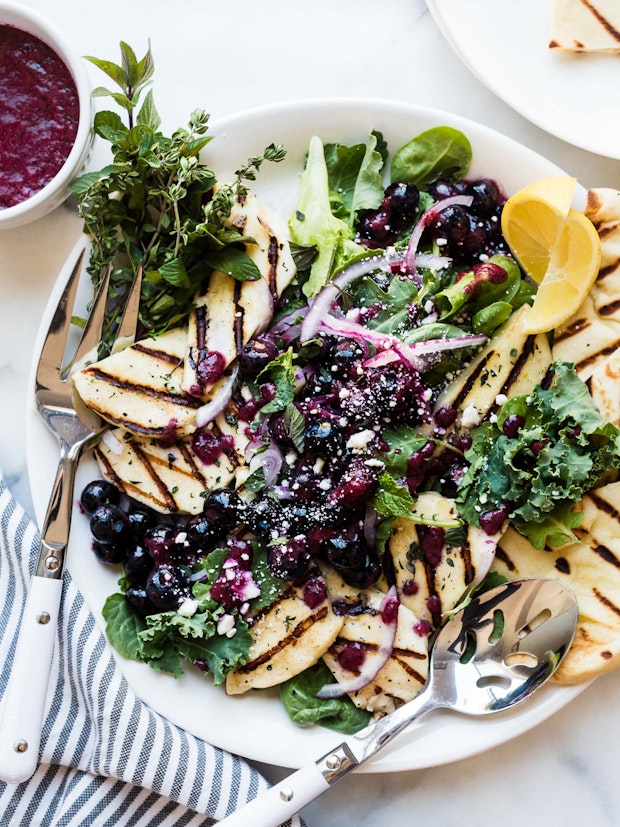 10.  Grilled Halloumi Blueberry Salad (Kitchen Confidante)  Halloumi cheese is very popular on the grill and this salad makes heavy use of it. You see the cheese mixinge with baby kale and arugula. The finishing touch is a sweet blueberry dressing.
11.  Girlled Pineapple & Cucumber Salad with Spicy Peanuts  (Kale and Caramel) Grilled fruit salads are definitely a thing, with peaches being the very popular. What caught my attention here was the addition of spicy peanuts - brililantt!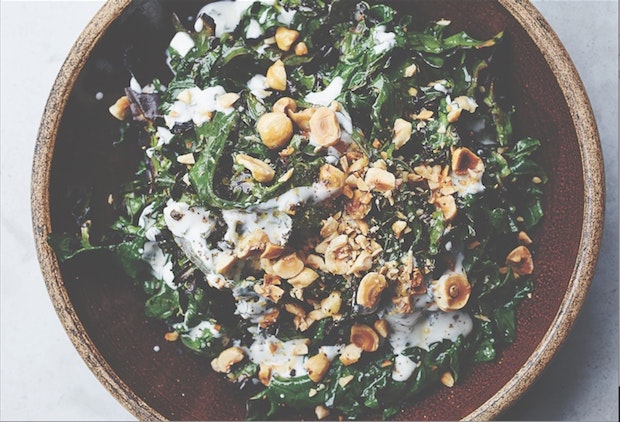 12.  Grilled Kale with Shallot-Yogurt Dressing & Toasted Hazelnuts (Well + Good) Next-level vegetarian grilling from Gjelina's stunner of a cookbook is this perfect excuse to grill kale. The shallot-yogurt dressing is sublime and can be used as a spread in many other contexts.
Veggies & Appetizers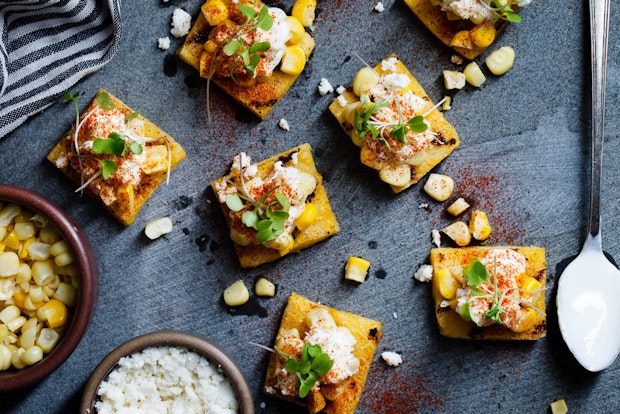 13. Mexican Street Corn Grilled Polenta Bites (Snixy Kitchen) Like Halloumi, polenta is something you'll find on many vegetarian grills. When grilling polenta, be careful it doesn't go for too long, as it can dry out. This recipe offsets that issue with a dollop of queso fresco and greek yogurt.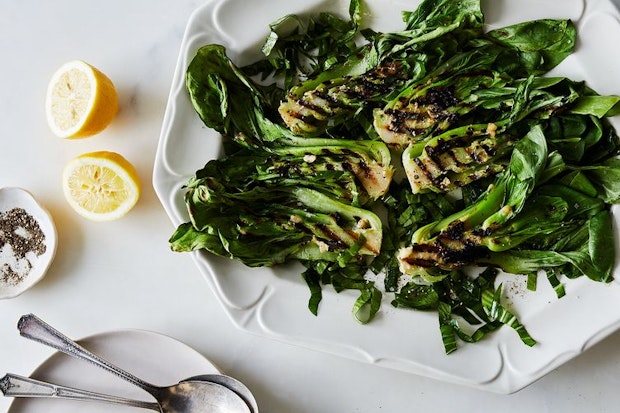 14. Grilled Baby Bok Choy with Miso Butter (Food 52) You are going to see a lot of cauliflower steaks on grills this summer. This is a great alternative, from Laura B. Russell's book Brassicas, something unexpected to put on the grill with an even more interesting miso butter dressing.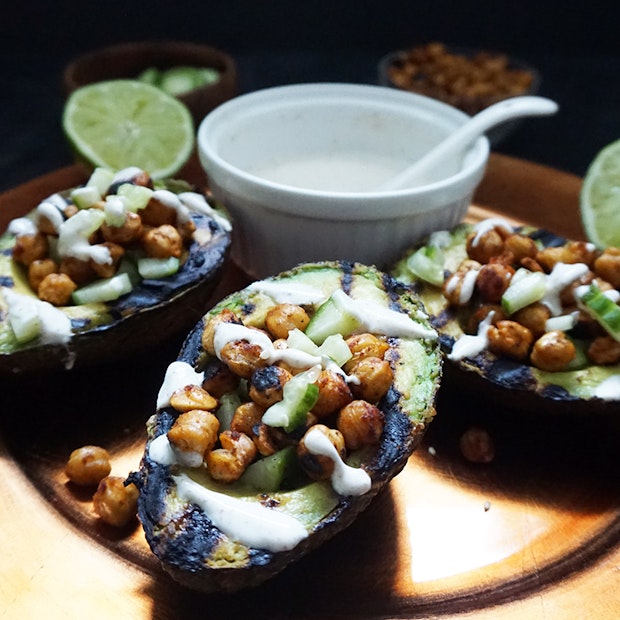 15. Grilled Avocados with Spiced Chickpeas (Bijoux and Bits)  Any excuse to include avocado! This looks like a great combination, Catherine calls for a smear of yogurt, but mentions tahini as a vegan alternative that I'll probably opt for.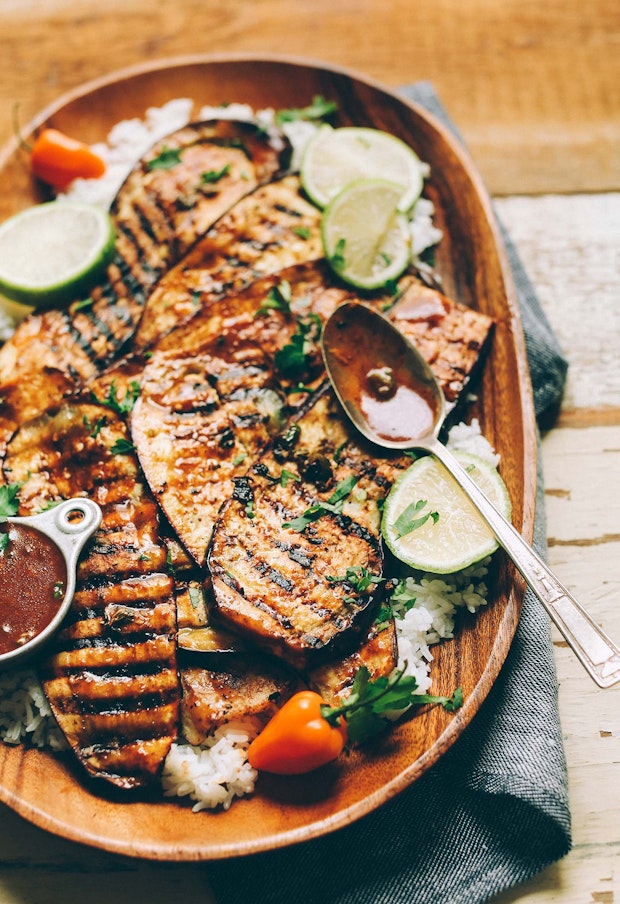 16. Jamaican Jerk Grilled Eggplant (Minimalist Baker)  Bring your pastry brush! Using tamari or coconut aminos and maple syrup among other ingredients, there's a lot of flavor in this one.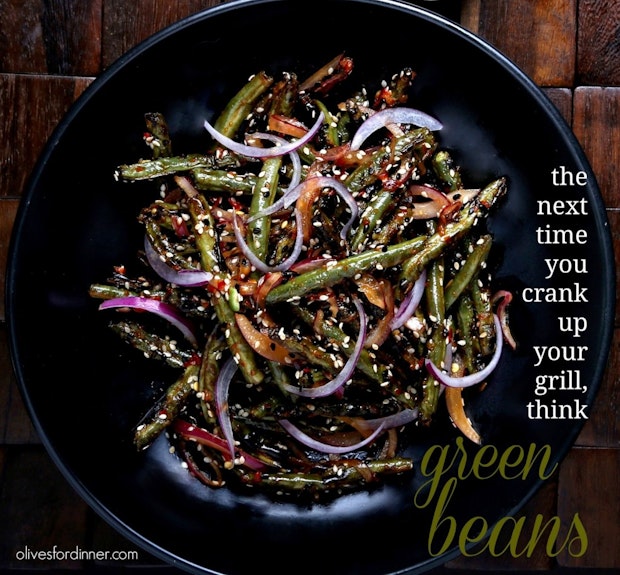 17. Sambal and Sesame Dressed Grilled Green Beans (Olives for Dinner)  Another creative, beautiful idea from Erin of Olives for Dinner. Sesame seeds are a great compliment to grilled flavors that aren't used enough.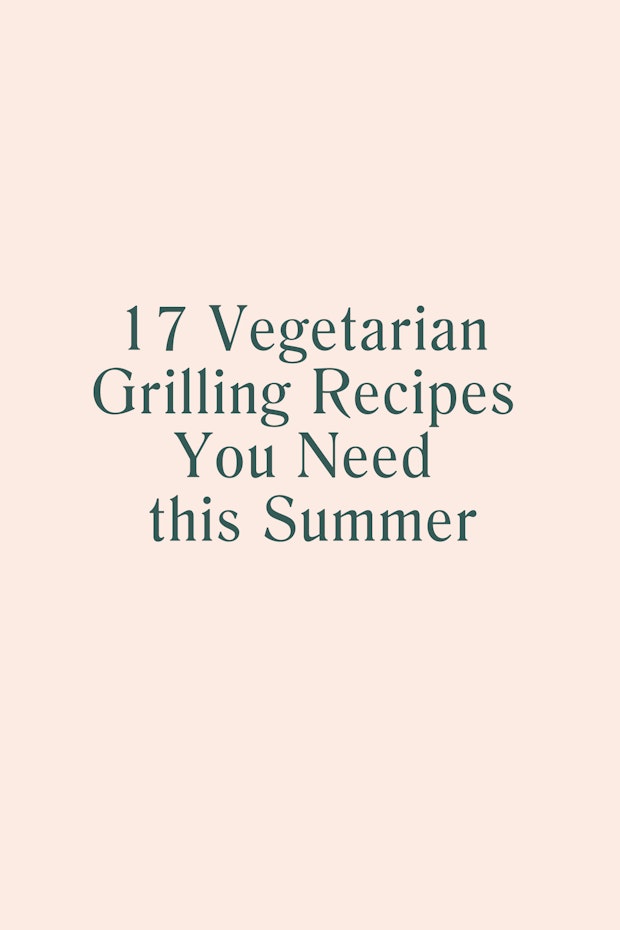 Hope you find some inspiration here, and happy grilling season! -h