This is a recipe for beautiful deviled eggs, but before we get to it, I'll ask that you let me tell you about the last couple of days first. I know the eggs are distracting, I mean, look at them! If I could give you one right through the screen, I would.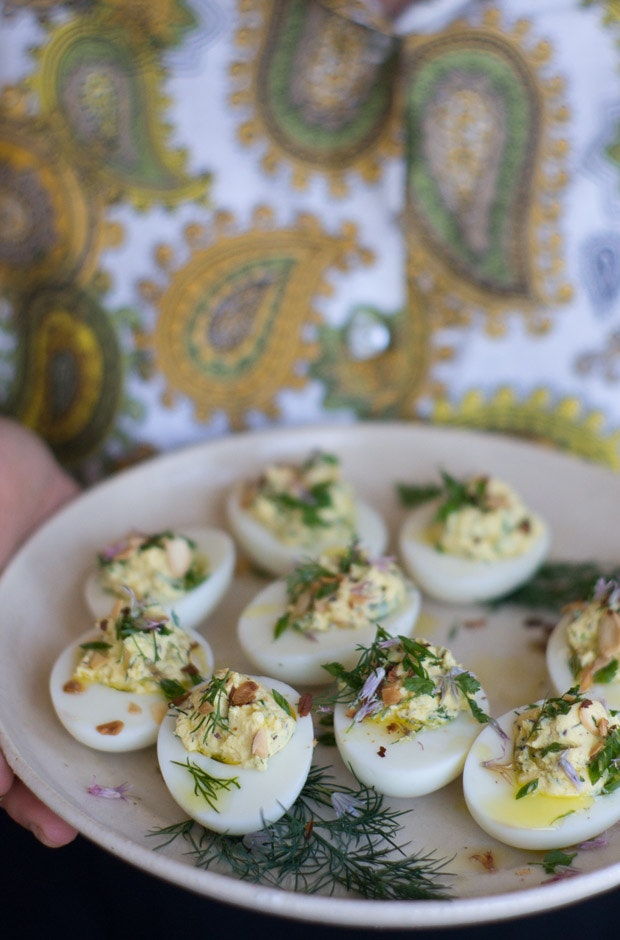 But the setting we enjoyed them in was even better. This past weekend I saw coastal wildflowers blooming purple and yellow, misty morning vistas, colorful buoys and wave-whipped fishing boats. I saw a friendly covey of quail, flashy red-winged blackbirds, sleek, needle-nosed blue herons, and a single jack rabbit with ears tall and straight. There was crystallized honey the color of creamy butterscotch, and seals bobbing amidst the rocks at the surf line.

I was visiting friends in Bolinas - the perfect overnight. We had a tasty dinner of mostly leftovers, morning coffee by a fire. When it came time to fall asleep, it was so quiet compared to nights in San Francisco, all I could hear was my heart beating. These deviled eggs were part of our dinner spread. Leftover from Friday's lunch, they made the trip north with me. Let's talk about what makes them great. The main thing for me, is they're classic, and updated at the same time.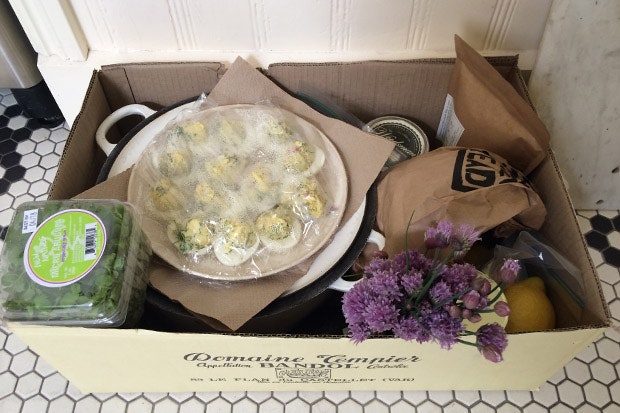 Above is my leftover box packed for Bolinas - soup, eggs, Josey Baker Bread, various toppings and condiments.
How to Make Deviled Eggs
The concept is straight-forward, but there are a couple of pitfalls to avoid. The main thing, boil your eggs properly. This is so you don't ended up with dreaded grey yolks. An ice bath after boiling is your friend here. Cool, peel, halve, make a beautiful filling from the yolks, and you're on the home stretch.
The Best Filling
It's all about getting the flavor and texture right here, and I use a little trick. The filling is mixed, mashed, and fluffed into a light herb-flecked dollop. Toasted almonds add the crunch, chive flowers bring the pretty. They're not technically deviled, as there is no paprika or mustard in this version, but you can always tweak the filling to your liking with either.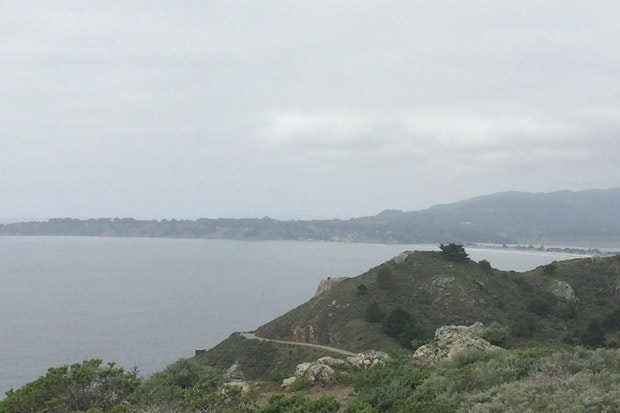 I pulled over to look up the coast from the cliffs above Stinson Beach looking north. The morning grey had yet to clear. It's such a beautiful spot! Consider making this twist on classic deviled eggs - they're wonderful. Related, check here for other favorite egg recipes.
Deviled Eggs Recipe
Ingredients
1

tablespoon

dill seed

1

dozen eggs

1/4

cup

Greek yogurt

1

teaspoon

extra-virgin olive oil

plus more to serve

scant 1/2 teaspoon fine-grain sea salt

3

tablespoons

finely snipped chives

2

tablespoons

finely chopped chervil

1

tablespoon

finely chopped dill

1/4

cup

sliced almonds

toasted
Instructions
Toast the dill seeds in a dry pan over medium heat until they deepen in color, a few minutes. Remove the seeds from the heat and allow them to cool, then gently crush them in a mortar and pestle.
Hard-boil the Eggs
Place the eggs in a pot and cover with cold water by half an inch or so. Bring to a gentle boil, then turn off the heat and cover. Let the pot sit for ten minutes. In the meantime, prepare a large bowl of ice water. When the eggs are done cooking, use a slotted spoon to place them into the ice bath. When the eggs are cool, remove them and crack and peel.
Make the Filling
Cut each egg in half and use a spoon to carefully scoop the yolks into a bowl. Set the empty white aside. Mash and fluff the yolks with a fork. Add the Greek yogurt, olive oil, and salt. Continue to mix and mash until the yolk mixture is as smooth and creamy as possible. This takes a bit of time, but the result is worth it--the yolks become creamy, light, and airy. Add the toasted dill seed and the chives, chervil, and dill to the creamed yolks, reserving a bit of each for garnish. Mix well to incorporate.
Assemble the Deviled Eggs
Use a spoon to gather small balls of yolk, then use your finger to gently slide them into the whites. Garnish each egg with the reserved herbs, dill seed, chive flowers (if available), almonds, and a finishing drizzle of olive oil.
Related Recipes
More Recipes
Popular Ingredients