Pickled Turmeric Eggs
If you've got hard-boiled eggs and five extra minutes, you can make these beauties! They're the best. Hard-boiled eggs pickled in turmeric, shallot, and apple cider vinegar - beautiful, quick to make, and delicious.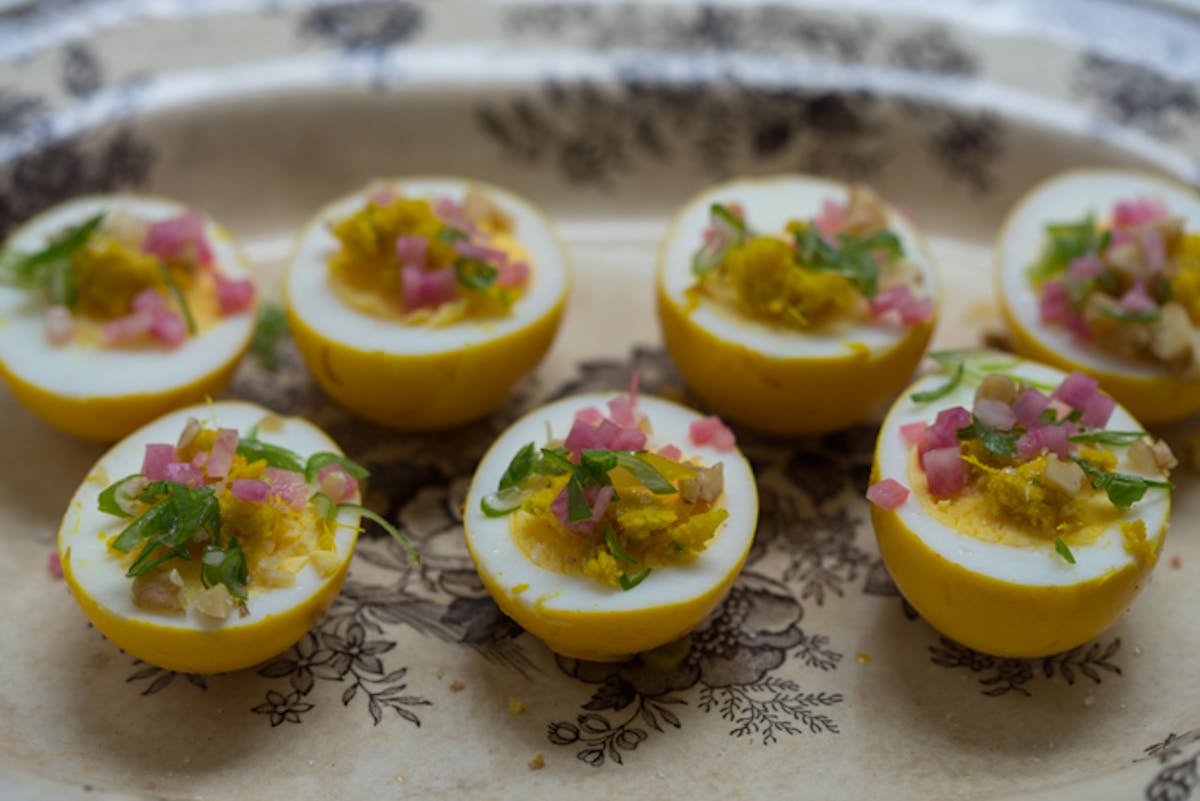 A number of you spotted these pickled turmeric eggs in my refrigerator when I posted this shot to Instagram recently. They're great! They're also incredibly easy and quick to make, and convenient to have on hand. Pickled eggs, like these, will keep in your refrigerator for a week or two, and I love to use them in all sorts of ways.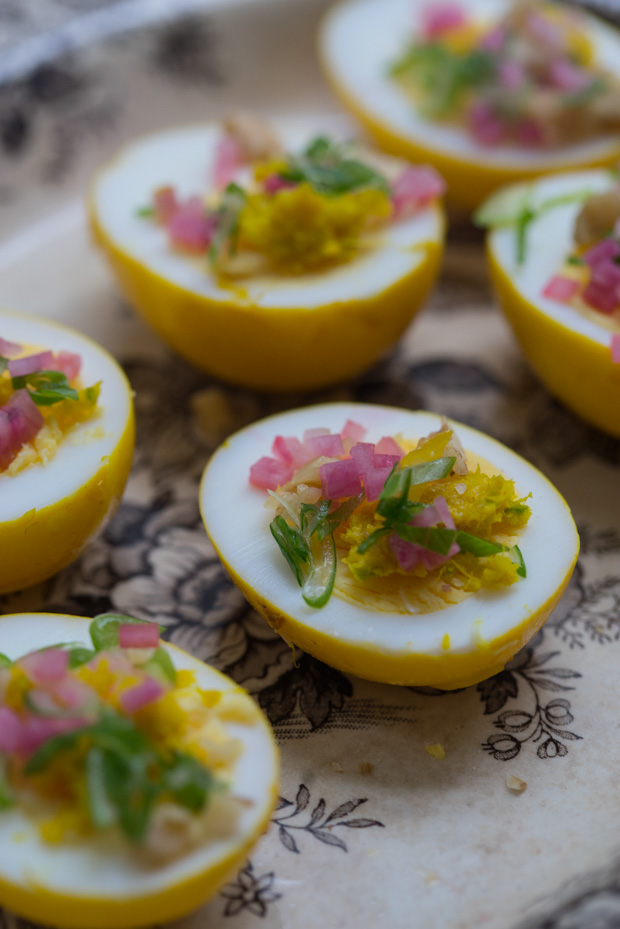 As a component in a quick lunch you can't go wrong, or to top off a Buddha bowl, or just as a stand-alone snack. You can eat them halved and topped with whatever you have on hand (pictured here with scallions, chopped walnuts, and a dab of turmeric lemongrass curry paste, and a bit of watermelon radish), but I also like to grate them on a box grater for a vibrant shredded egg salad. You can also use the shredded version as a protein-boost on top of a green salad, or as the main event on an open-faced sandwich.

The turmeric swings some nutritional weight, and brings an electric yellow hue to the outside of each egg. The apple cider vinegar delivers a nice bite and tang to the situation, and also tightens up the texture of the egg. You have to give these a try! I'm posting a video of the process here, and you can find the recipe down below as well.
One last thing I'll mention is this - Be sure to use the shallots (or onions) as well. They're great in salads, on tacos, or served as a condiment at the table. A little pickle accent is welcome at just about every meal.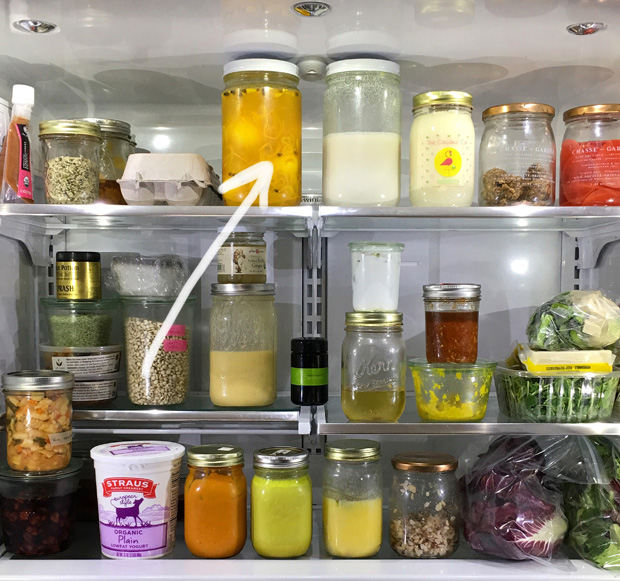 Enjoy! --Heidi

Other favorite egg recipes include: deviled eggs, egg salad sandwich, this frittata, and this skinny omelette.

Other favorite turmeric-rich recipes to try! This Dynamite Cold Tonic, this Instant Pot Congee with Brown Rice and Turmeric, my favorite Pad Thai, Turmeric Popcorn, Turmeric Cashews (so good!), and these Turmeric Soaked Chickpeas. There's also a whole directory of recipes using turmeric.
Pickled Turmeric Eggs
Electric yellow with a bit of bite. Great halved, shredded or deviled.
Ingredients
1 1/3

cup

apple cider vinegar

1/2

cup

water

2

tablespoons

sugar

1

teaspoon

fine grain salt

2

teaspoons

ground turmeric

1/2

onion (or 4 shallots), thinly sliced

1

tablespoons

whole peppercorns

6

hard-boiled eggs*
Instructions
In a small saucepan bring the vinegar, water, sugar, salt, and turmeric to a simmer. Stir until the sugar dissolves. Place the onion, peppercorns, and eggs in a glass quart jar. Pour the vinegar mixture over the eggs, secure the lid, gently rotate to move the shallots around, and refrigerate for up to ten days - two weeks.
Notes
Makes six eggs.
*Place the eggs in a pot and cover with cold water by half an inch or so. Bring to a gentle boil, then turn off the heat and cover. Let the pot sit for ten minutes. In the meantime, prepare a large bowl of ice water. When the eggs are done cooking, use a slotted spoon to place them into the ice bath. When the eggs are cool, remove them and crack and peel.
Related Recipes
More Recipes
Popular Ingredients