Hazelnut & Chard Ravioli Salad
Ravioli salads are the best! Plump raviolis tossed with toasted hazelnuts, lemony chard, and caramelized onions are at the heart of this ravioli salad recipe. The colorful platter is finished off with a dusting of cheese, snipped chives, and lemon zest.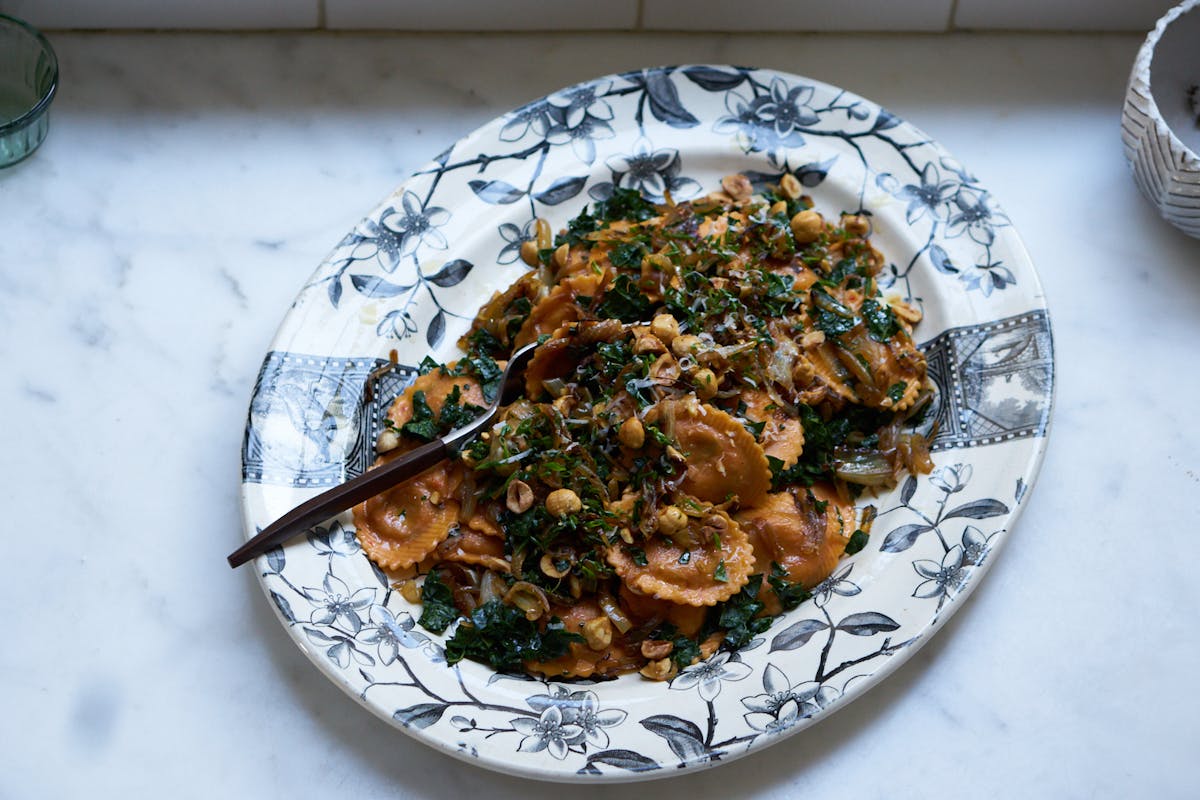 If you're invited to a potluck this winter, consider bringing this. I first published the recipe over a decade ago, and still cook it regularly for a whole host of reasons. We're talking about plump raviolis tossed with toasted hazelnuts, lemony flecks of chard, and deeply caramelized onions. You've got crunch from toasted hazelnuts, and brightness from a bit of zest. It's delicious, flexible, and totally satisfying. Also, appropriately, it makes a great vegetarian main for gatherings like Thanksgiving. I've updated and streamlined the instructions and ingredient list here so it reflects how I make it today. For example, I used to cook the chard on the side, but now I don't bother, and just massage it with lemon juice. Little tricks and improvements, and in this case, one less pan to clean.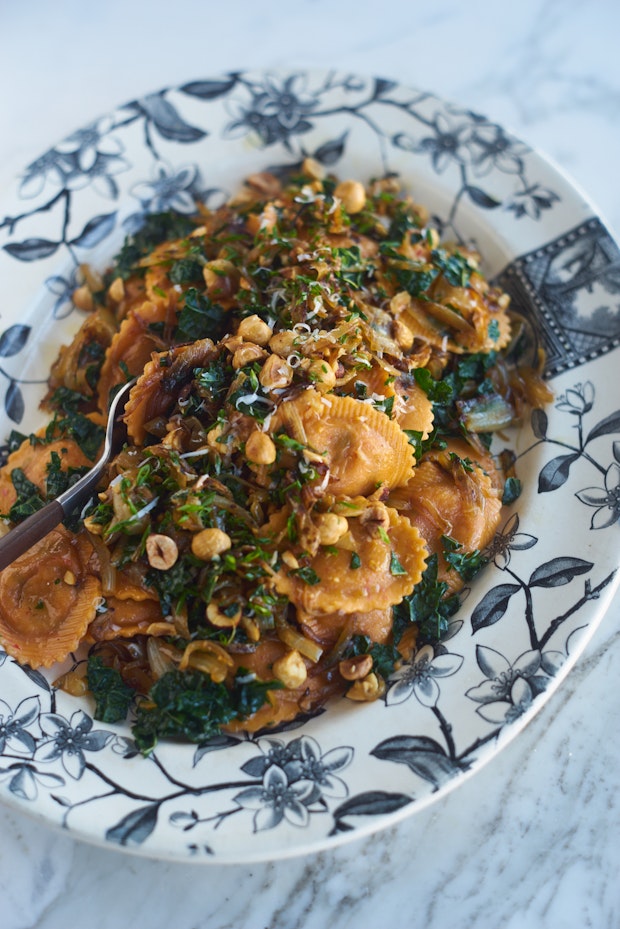 You can prepare most of the components ahead of time, and throw it together in less than five minutes when you're ready to serve it up family-style. Whenever I have a window in the days prior, I wash and chop the chard (or kale), caramelize the onions, and toast the hazelnuts.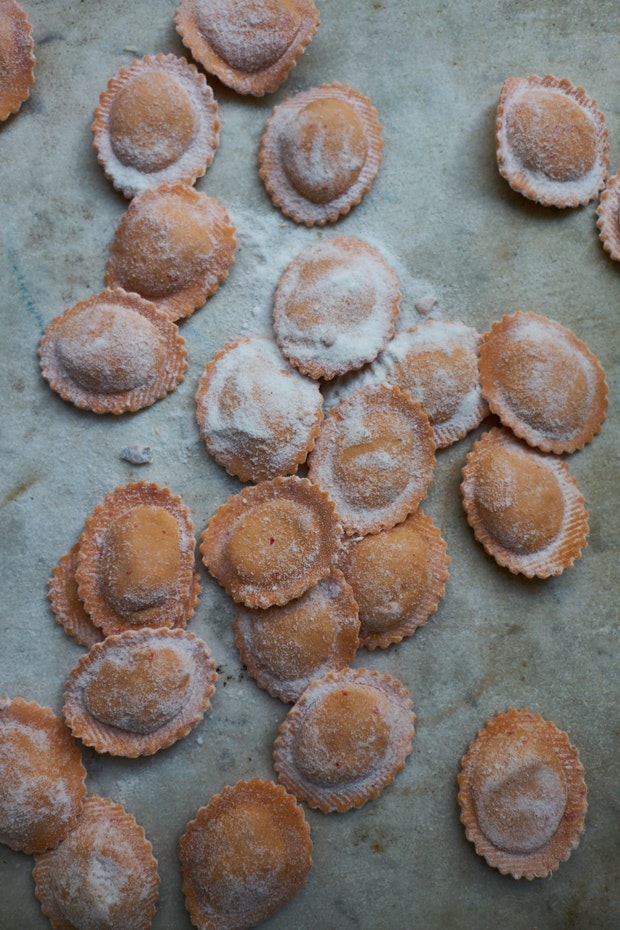 Keep in mind, this whole idea is super adaptable. You can play around with the type of raviolis you use - vegan, vegetarian, gluten-free, etc.
Hazelnut & Chard Ravioli Salad
Choose a winter flavored ravioli, I used a fresh (but store-bought) sweet onion & red chard ravioli, but I suspect a butternut squash ravioli would be delicious as well. I sometimes precook the raviolis and keep them in a single layer on a parchment-lined baking sheet until I am ready to use them - this helps prevent the raviolis from melding into one another after cooking. I often cook the onions a day or two ahead of time, and keep them in a jar in the refrigerator until I'm ready to assemble everything. To make this vegan, choose a vegan ravioli, and skip the Parmesan, still one of my faves this way.
Ingredients
1

lb.

raviolis (see headnotes)

2-3

tablespoons

extra virgin olive oil, divided

fine grain sea salt

2

small yellow onions, thinly sliced

2

cups

of chopped swiss chard or kale, deveined

2

tablespoons

fresh lemon juice, and zest

2/3

cup

hazelnuts, toasted and chopped

1/4

cup

Parmesan cheese, freshly grated (optional)

1/4

cup

chives, minced
Instructions
Into an extra-large pot of well-salted boiling water add the raviolis. After a few minutes, when the raviolis float and are cooked through, drain them and toss with one tablespoon of the olive oil. This prevents them from sticking together. Set aside.

To caramelize the onions, heat another tablespoon of the olive oil in a large thick-bottomed skillet with a pinch of salt. Cook over high heat, stirring occasionally, until the onions collapse and turn deep brown in color. You can do this ahead of time (or just before serving) - whatever you prefer. Remove from skillet and set aside.

Before serving, combine the chard (or kale) and lemon juice with a pinch of salt in a large bowl (or on a large serving platter). Massage for 15 seconds or so. Add the raviolis and to the chard, along with most of the onions, and most of the hazelnuts. Fold gently to combine everything without breaking up the raviolis. Finish with cheese (optional), the chives, any remaining onions and hazelnuts, a finishing thread of olive oil, and the lemon zest. Serve family-style.
Related Recipes
More Recipes
Popular Ingredients