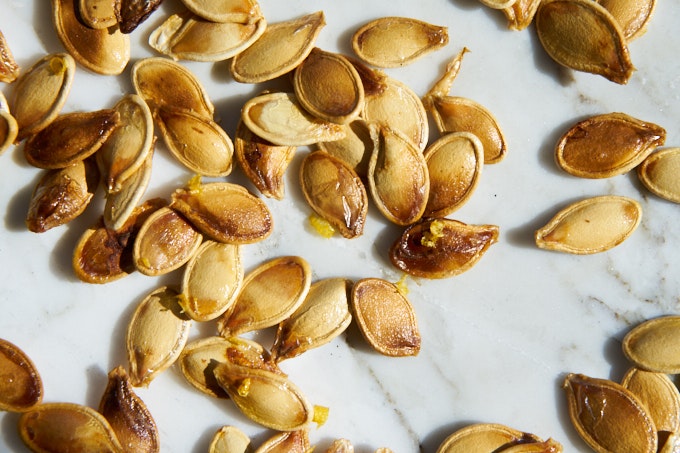 Toasted Pumpkin Seeds: Three Ways
Toasted pumpkin seeds are the tiny, edible trophies you get for carving pumpkins. Don't carve a pumpkin (or any winter squash for that matter), without toasting or roasting the seeds. That's just how it needs to be. The question is, what's the best technique? There is some debate about the best approach, but I've settled on a foolproof method over the years. It's super easy, and I'm going to share it here. Take note, there are a couple points of departure you'll see in my technique (compared to most). First! Some people boil the pumpkin seeds prior to toasting. No need. Second, I now season and spice the pumpkin seeds after baking, and I'll talk more about why.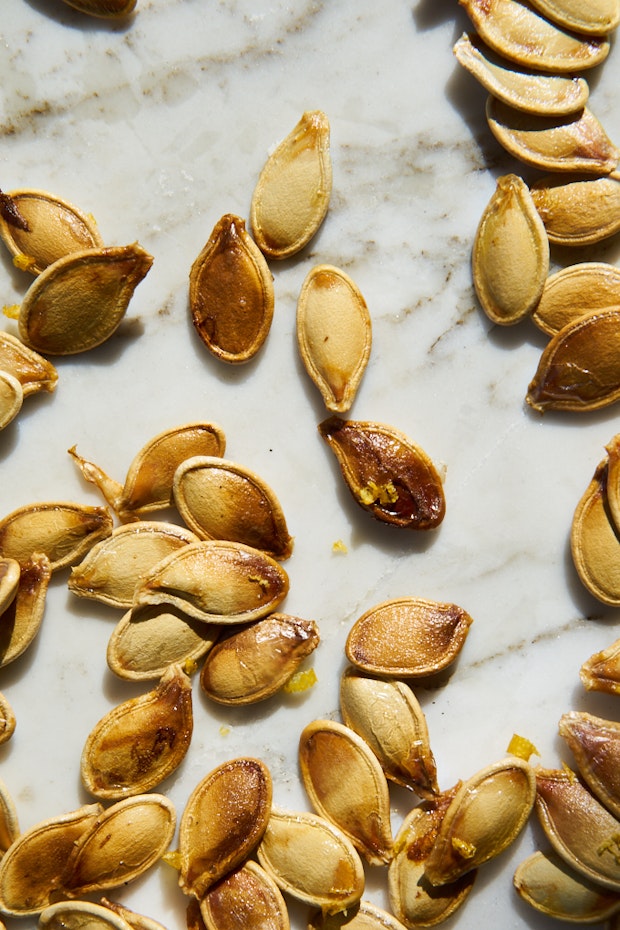 Different pumpkins, different seeds: Pumpkins aren't the only winter squash with seeds. And seeds from different squashes have different sizes, shapes and textures. Play around with white "ghost" pumpkins, blue Hokkaido, butternut squash, and all the other beautiful winter squash varietals out there for a range of seeds. Also, if you're going to roast the squash as well, they're often much better tasting versus carving pumpkins.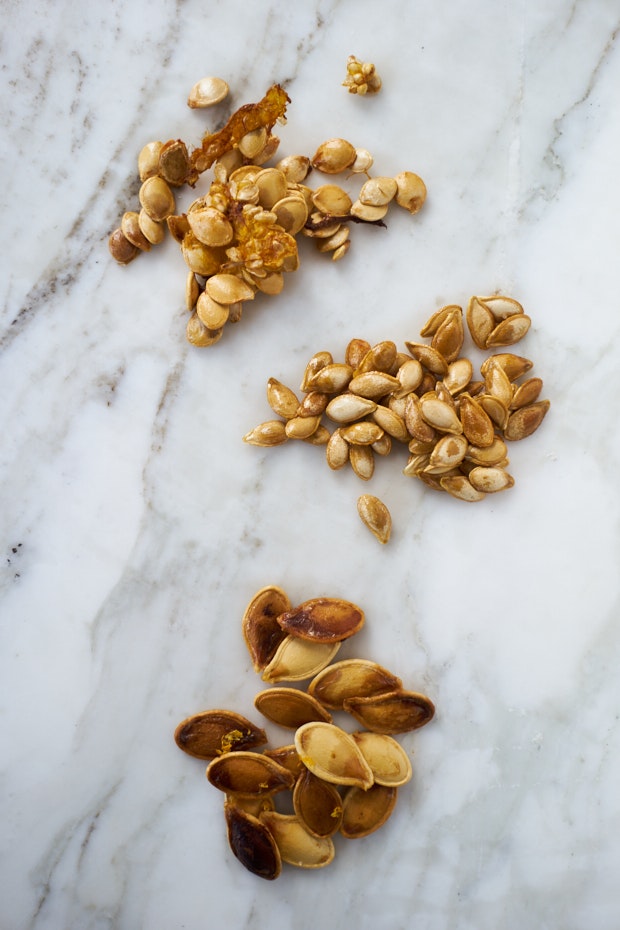 Different sizes of seeds: Smaller seeds roast more quickly, so adjust your baking time (less). Aside from that, treat them the same as you would regular "carving" pumpkin seeds. Pictured below (top to bottom): delicata squash seeds, butternut squash seeds, carving pumpkin seeds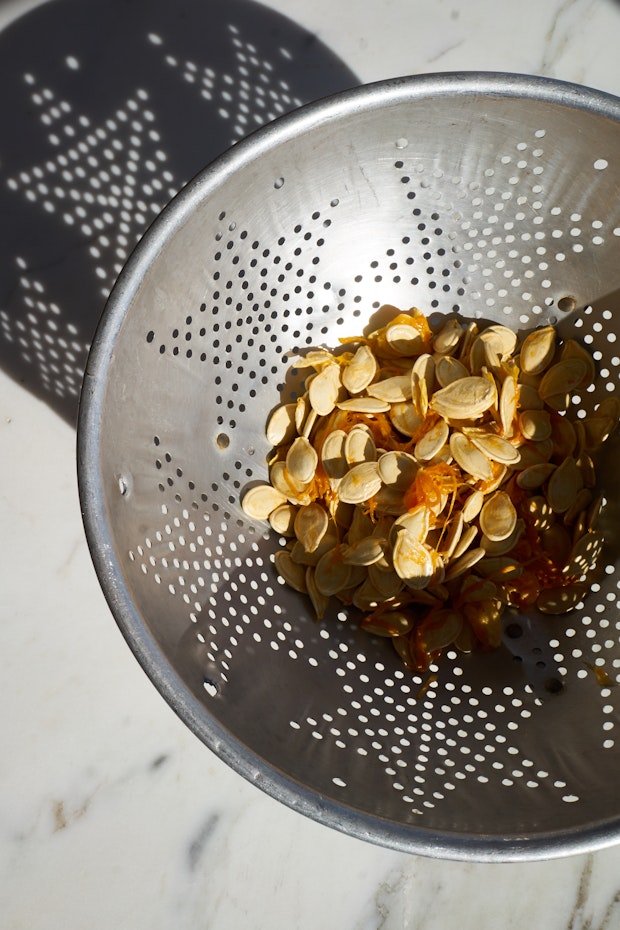 How to Clean & Make Pumpkin Seeds: Place a colander (or strainer) in a bowl filled with water. The seeds float, so this set-up makes separating the seeds from any stubborn pumpkin flesh much easier. Scoop the seeds from your pumpkin and transfer to the colander. Separate the seeds from any pumpkin flesh and pat dry with paper towels or a clean kitchen cloth.
The best technique: Bake the seeds after a good rinse, after drying well, and get as much water off the seeds as possible. I'm convinced the seeds steam less using this method, and crisp more.
When to season? I used to heavily season the pumpkin seeds prior to baking, but I find that if you bake with lots of spice coating the seeds, the spices tend to over bake or even burn. I do much or all of my spice addition post-bake now.
Toasted Pumpkin Seeds: Three Ways
Ingredients
1 1/2

cups

pumpkin seeds, well-cleaned, well-dried

2

teaspoons

olive oil

fine grain sea salt
Instructions
Preheat your oven to 375F, and line a baking sheet with parchment paper. In a medium bowl, toss the pumpkin seeds with the olive oil and sea salt.

Transfer the pumpkin seeds to the prepared baking sheet in a single layer. Bake for 15-30 minutes, or until the seeds are deeply golden. A zap under a broiler is a nice finishing tough, but not necessary.

Remove from the oven, allow to cool for a minute or two, and enjoy plain, or stir in any of the following for some favorite variations.
Notes
Meyer Lemon Zest, Cayenne, and Olive Pumpkin Seeds: Toss the toasted seeds with the zest of one lemon, ¼ teaspoon cayenne pepper, and 8 finely chopped olives.
Sweet Curry Pumpkin Seeds: Toss toasted seeds with 2 teaspoons of your favorite curry powder and 2 teaspoons brown sugar. Re-salt to taste.
Garlic Chive Pumpkin Seeds: Toss toasted seeds with 2 cloves of garlic that have been grated on a microplane grater. Add a small handful of minced chives, and toss again.
Related Recipes
More Recipes
Popular Ingredients