Healthful Double Chocolate Cookies
A nut-free (school-friendly), double chocolate version of one of the most popular cookies on my site. Made with a banana-batter, shredded coconut, dark chocolate chunks, and oats. Butter-less, flour-less, egg-less, and potentially sugar-less cookies make great after school, travel, or post-workout treats.
A lot of people have baked these cookies over the past decade. People love them because they're free of any added refined sugar, egg-free, no butter, and gluten-free. They're studded with generously with chocolate, and they're fantastic. The number one question related to them is how to make them nut-free - so kids can take them to school. I took a trip to Tucson last week (I'll post the video soon :), and took the opportunity to remix the recipe. The originals are favorite travel snacks, and I was confident that experimenting with a chocolate version wouldn't be a bad idea. The new version is double chocolate (chips and cacao), and made with crushed sunflower seeds, in place of almond meal. Enjoy! -h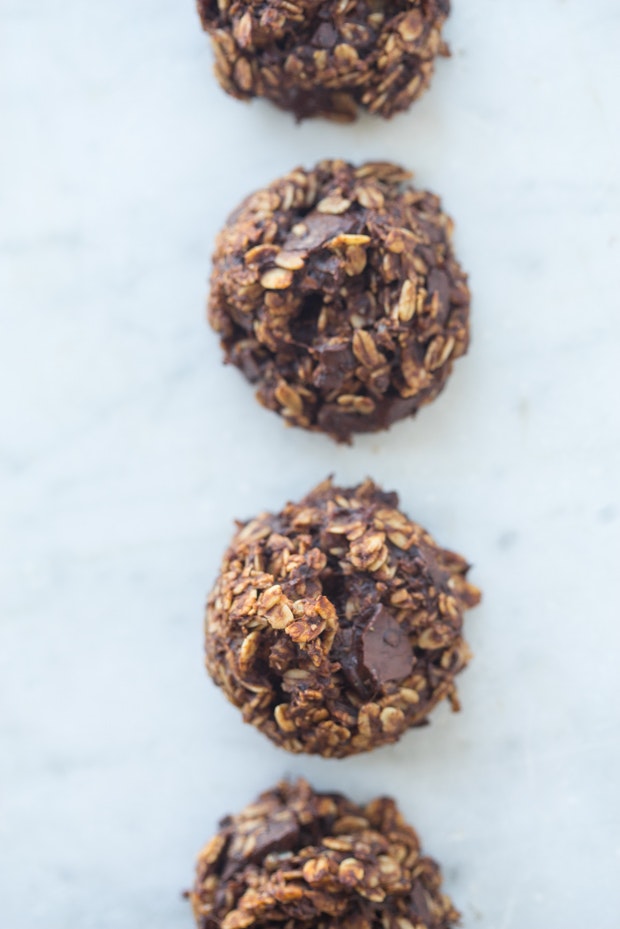 Healthful Double Chocolate Cookies
You can use unsweetened carob, or grain sweetened chocolate chips, or do what I did and chop a bar of 70% dark chocolate. You can make your own crushed sunflower seeds in a mortar and pestle or by in a food processor until it is the texture of sand - don't go too far or you'll end up with sunflower seed butter. Ground pepitas will also work in this recipe. And lastly, the coconut oil works beautifully here, just be sure to warm it a bit - enough that it is no longer solid, which makes it easier to incorporate into the bananas. If you have gluten allergies, seek out GF oats. You can watch a video of this recipe here.
Ingredients
2-3

large, ripe bananas, well mashed (about 1 1/2 cups)

1

teaspoon

vanilla extract

1/4

cup

coconut oil, barely warm - so it isn't solid

2

cups

rolled oats

1/3

cup

ground sunflower seeds

1/3

cup

cacao powder

1/3

cup

coconut, finely shredded & unsweetened

1/2

teaspoon

fine grain sea salt

1

teaspoon

baking powder

6

ounces

chocolate chips or dark chocolate bar chopped
Instructions
Preheat oven to 350 degrees, racks in the top third.

In a large bowl combine the bananas, vanilla extract, and coconut oil. Set aside. In another bowl whisk together the oats, sunflower seeds, cacao powder, shredded coconut, salt, and baking powder. Add the dry ingredients to the wet ingredients and stir until combined. Fold in the chocolate chunks/chips.The dough is a bit looser than a standard cookie dough, don't worry about it. Drop dollops of the dough, each about 1 - 2 tablespoons in size, an inch apart, onto a parchment (or Silpat) lined baking sheet. Bake for 13 - 15 minutes. Until golden on the bottoms.
Notes
Makes about 2 dozen cookies.
Related Recipes
More Recipes
Popular Ingredients