Inspiring Hand-painted Cookies
Hand-painted cookies are incredibly special, and these are some of the coolest.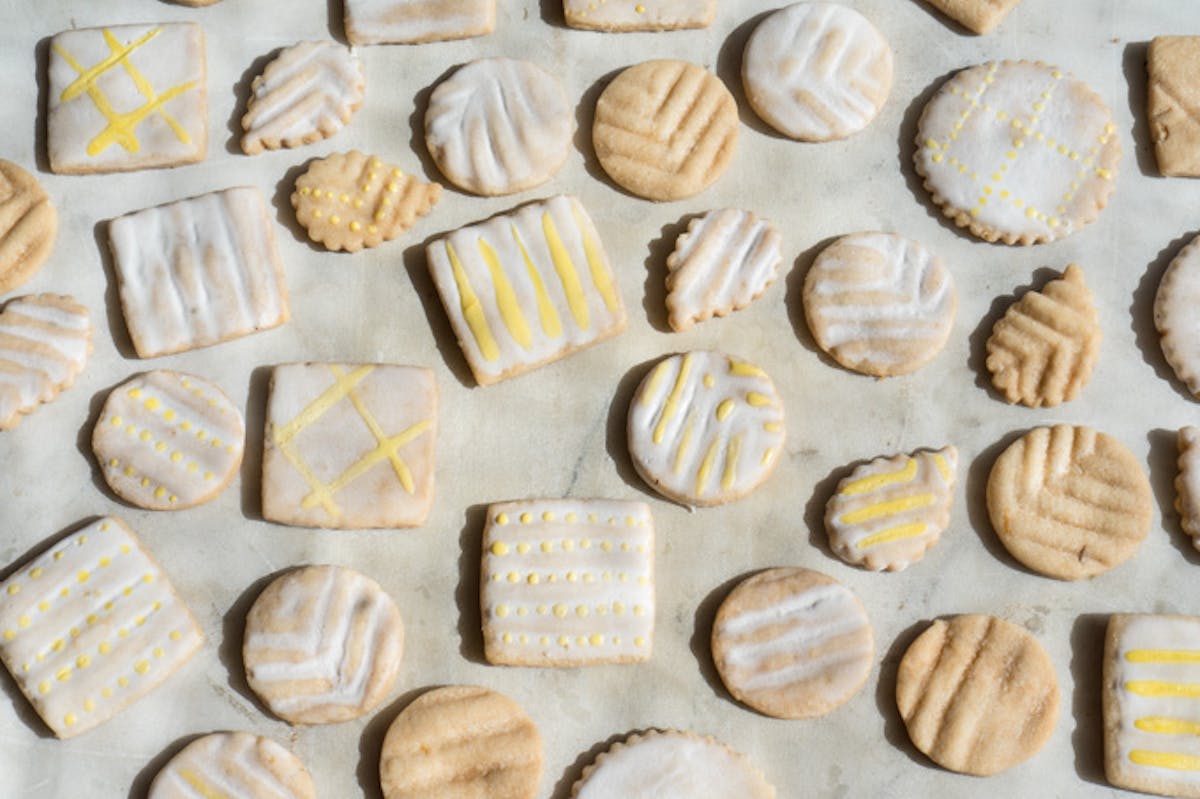 Hand-painted cookies are incredibly special. The care and attention that goes into them, remarkable. I keep a running folder of inspiration for when I have a quiet Sunday for baking. And lately, I tend to love the cookies that have a watercolor vibe. I'm linking to a bunch here. Illustration isn't my strongest suit, so graphic designs and patterns are typically where I land. Hope some of these inspire you as much as they have me!

1. Calendula Shortbread with Saffron Stripes
I do variations on these quite a lot. Made with shortbread dough (a nut-free version of this) The icing is made by mixing 3 1/2 cups powdered sugar, 2 egg whites, and enough water to thin to desired translucency. Divide the icing into separate bowls, and add color from there. The yellow was created using by infusing 1 teaspoon of vodka with a pinch of saffron and allowing it to sit for a couple of minutes. Strain the saffron liquid into the icing base a bit at a time, more or less depending on how saturated you'd like it.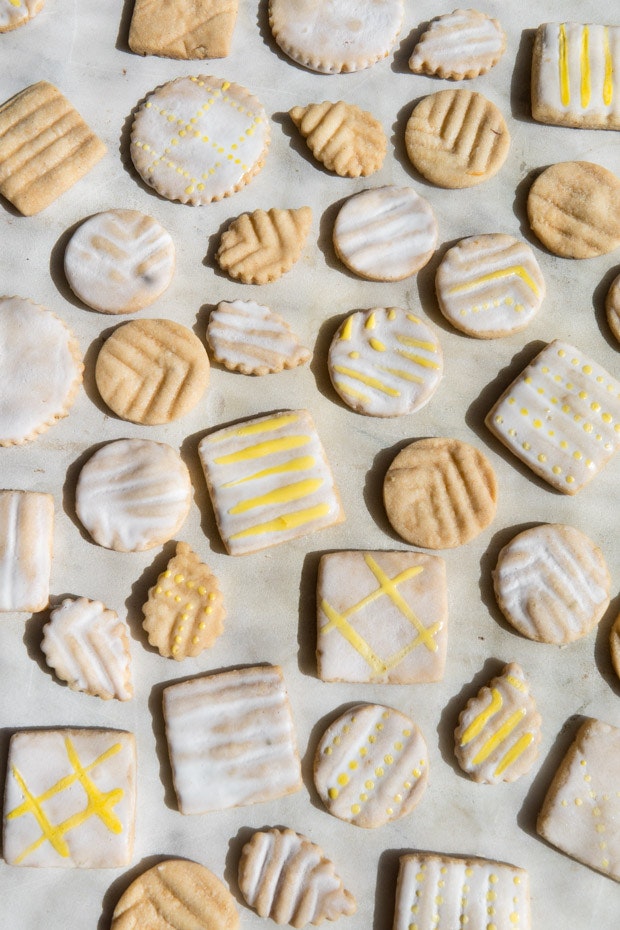 2. Ayako Kurokawa - (Burrow)
Ayako Kurokawa of Burrow patisserie in Brooklyn is the master. I love her work on so many fronts. Look at the detailed handwriting, the cat whiskers, and stripes. Ayako's work is as personal as a signature, and I love seeing her talent expressed in the most beautiful charming treats. Have you seen her paint Julia? Or, look at these if air-brush is more your thing. Follow Ayako on Instagram.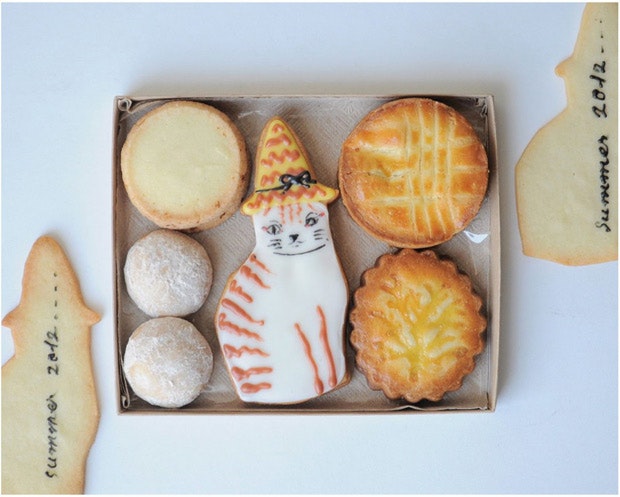 3. Ultimate Sugar Cookies
Dream team at work here - Alison Roman + Nikole Herriott + Michael Graydon. Bold, graphic, fun, & super inspiring. Get the recipe here.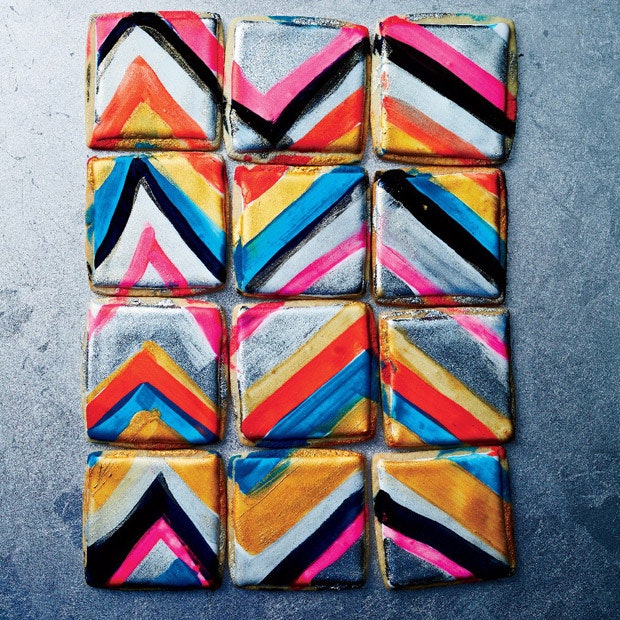 4. Jacquelyn Clark's Water Color Cookies
Love the soft colors here, and the mix of florals with abstract. Super pretty. Get the recipe here.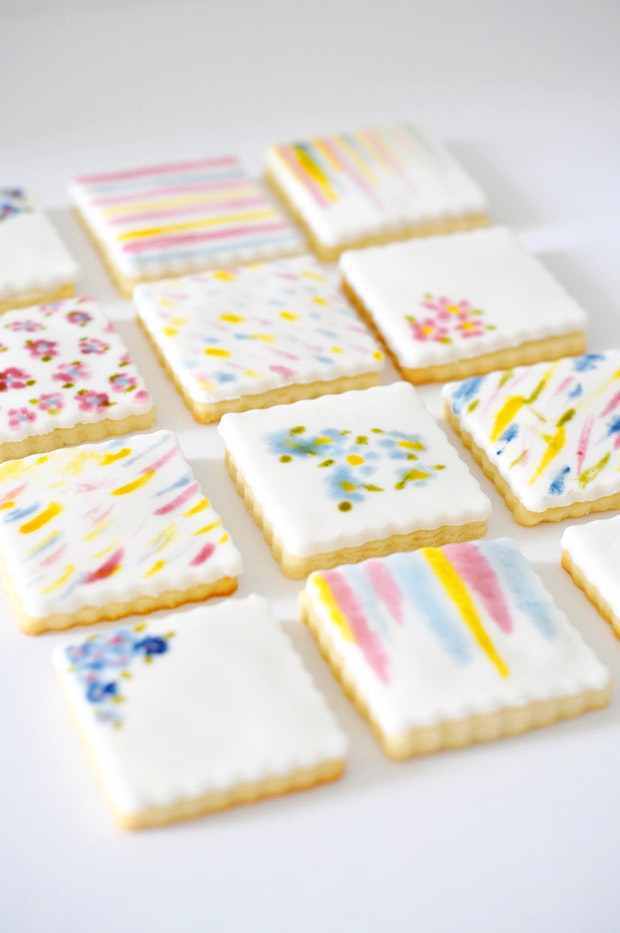 5. Albion x Sweet Marie Watercolor Cookie Tutorial - (Albion)
So pretty - I'd use natural coloring from ingredients like beets, dragonfruit, berries, and the like, but the general concept is perfect for a treat plate or dessert spread. See the process shots here.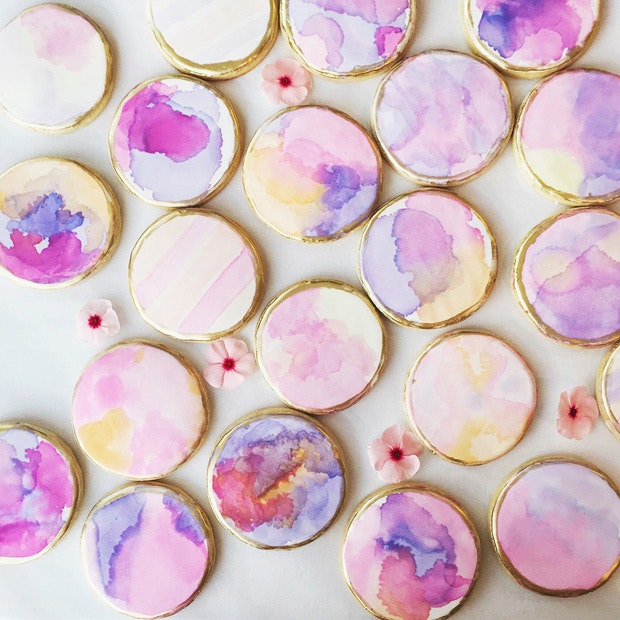 Tools: Some of my cookie tools: A range of brushes, cutters, and ruler. See that little salt cellar on the left? It has a pretty texture on the outside, I sometimes use textures like that as a bit of a template for designs. Simply roll it across the dough, and bake the cookies. It will leave a hint of the design, and you can use that as a guide for your patterns. For example, I rolled some striped pottery across the dough in the lead photo and used that as the template for the irregular stripes! Play around!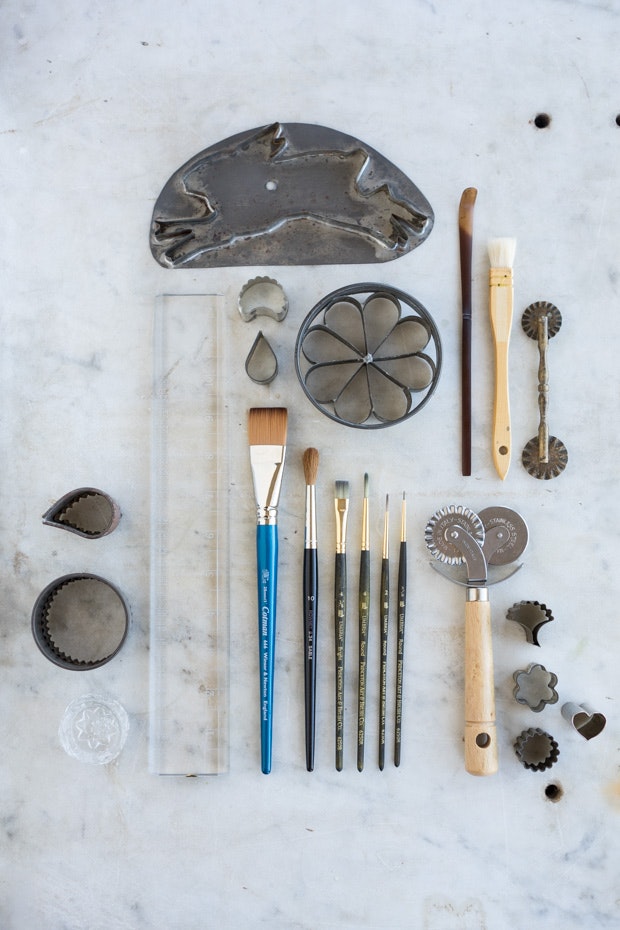 Resources:
- Make your own Natural Food Dyes or, I tend to be a bit lazy * last-minute, so I like to keep a collection of powdered fruit/vegetable powders on hand. For example, I have blueberry, hibiscus, raspberry, saffron, cacao, charcoal (good for pencil effect). Play around!