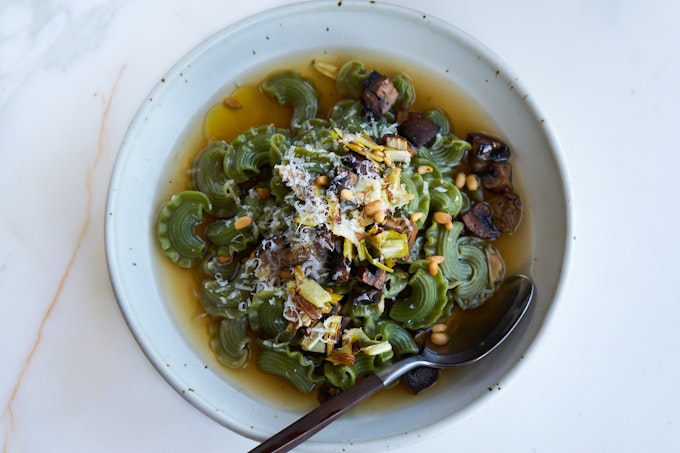 10 Minute Instant Pot Mushroom Broth Recipe
I'm going to share one of my favorite broths with you today, and then I'm going to share a list of all the different ways you can use it. If you have dried porcini mushrooms, a few cloves of garlic, salt, pepper, and a bit of thyme, you're in business. This mushroom broth is fragrant, earthy, direct, golden, and peppery - wonderful to sip hot and straight. It's also great as a component in other preparations. I'm including an Instant Pot version of the recipe here (because, so fast!), and stovetop instructions as well (30 minute simmer). No one is going to miss out! It's the prime time of year for this broth!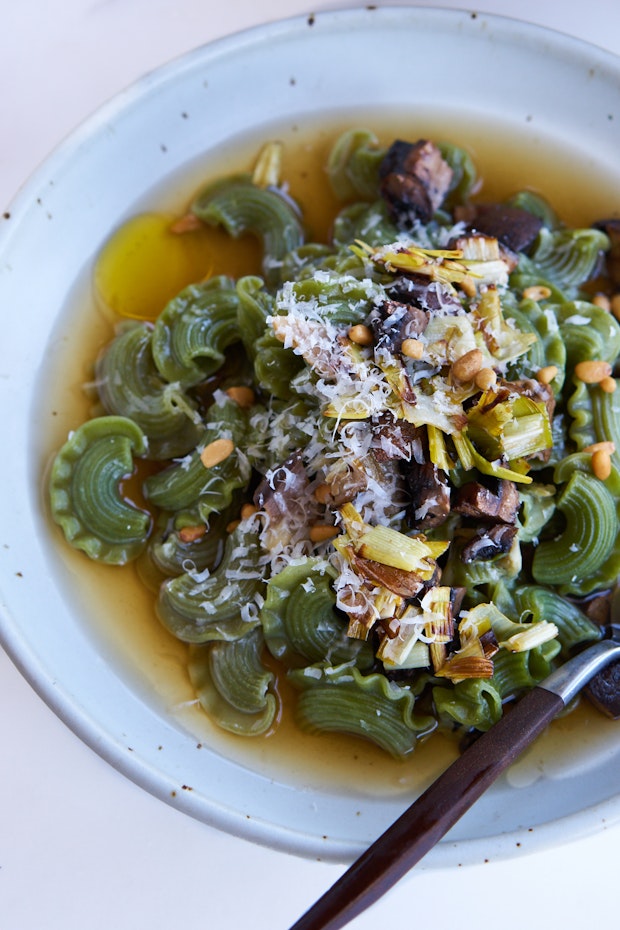 If you don't have dried porcini mushrooms, but you do have dried chanterelles or portobellos, those will work too. Mushroom broth is mushroom broth, play around, make your own dried mushroom blend. If you love shiitake, maybe work those in, etc.
There are a bunch of different ways I like to use this broth. The photo you see here is some pasta I had on hand in a bowl with the hot mushroom broth, topped with some leeks and mushrooms (roasted on a sheet pan after a toss in a bit of olive oil), finished with a dusting of grated pecorino and toasted pine nuts. You could use raviolis, you could use another short pasta, you could also throw in chopped chard or kale for good measure.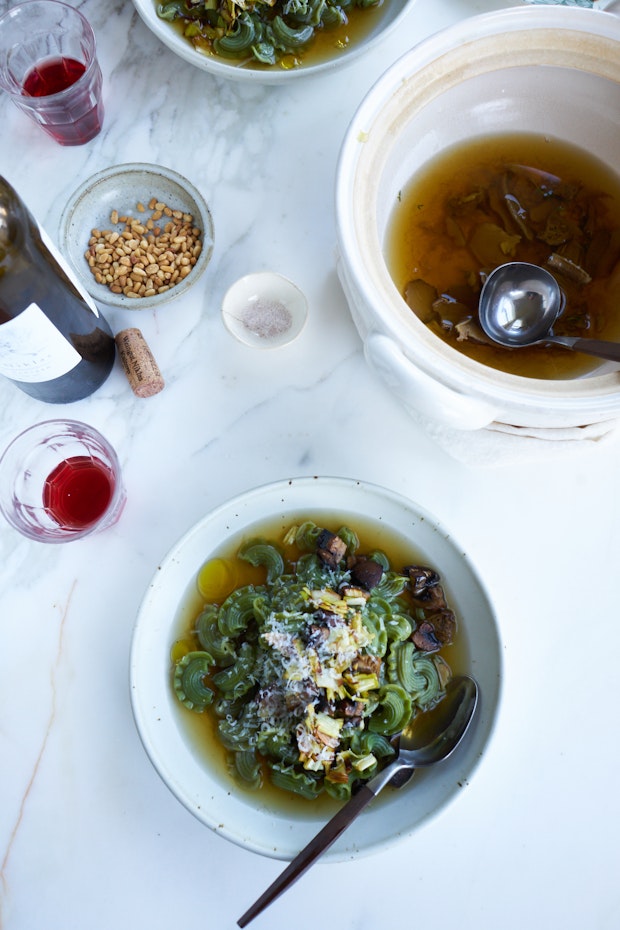 Other Ideas: Use it as the broth in your favorite mushroom risotto. Use it as the broth in a soba noodle bowl with broiled tofu and some smashed scallions and olive oil. Pour it over a bowl of hot, steamed dumplings. I love it scalding hot with plump raviolis, like on a Wednesday night if I'm eating solo.
Broth Variations: There are also a bunch of ways to build on this broth, and tweak it. There's a coconut version I love, and a turmeric version, as well, so be sure not to miss those in the recipe down below.
10 Minute Instant Pot Mushroom Broth
Use this in your favorite mushroom risotto recipe, or in any brothy noodle dish. It's wonderful on its own with a big pinch of shichimi togarashi spice blend - to clear your sinuses!
Ingredients
8

cups

water

15

g

/ 1/2 cup dried porcini mushrooms

6

medium cloves of garlic, peeled and smashed

scant 1 teaspoon fine grain sea salt

1/2

teaspoon

freshly ground pepper, or to taste

a sprig or two of fresh thyme
Instructions
Combine the water, dried mushrooms, and garlic in your Instant Pot. Close and SEAL. Pressure cook on high for 10 minutes. Carefully quick release, gently shake or tap the pressure cooker, and THEN carefully open away from you. Season with the salt pepper, and thyme. Wait a minute or two, stir, and taste. If it tastes flat to you, add more salt and pepper, until it tastes delicious. Freeze any broth you aren't going to use within a few days.
Notes
- Stovetop version: Bring 8 cups of water to a boil, with 15g / 1/2 cup dried porcini or dried Portobello mushrooms, and six medium cloves of peeled garlic, smashed. Simmer for 30 minutes or so, season with a scant 1 teaspoon of salt, and at least 1/2 teaspoon freshly ground black pepper. If it tastes flat to you, add more salt and pepper. Finish with lots of fresh thyme.
- Mushroom Coconut Broth: Add 1/2 cup full-fat coconut milk to broth. I suspect a version with cashew nut milk would be wonderful as well.
- Mushroom Turmeric Broth: omit the thyme, add 1/2 teaspoon turmeric, and a couple of teaspoons of extra virgin olive oil, ghee, or coconut oil.
For reference, this is the Instant Pot I used for this recipe: Instant Pot DUO Plus 6 Qt 9-in-1
Related Recipes
More Recipes
Popular Ingredients