13 Ways to Put your Instant Pot to Work on Thanksgiving
This is a round up of recipes for any Instant Pot owner who has ever run out of oven or stove space while cooking Thanksgiving.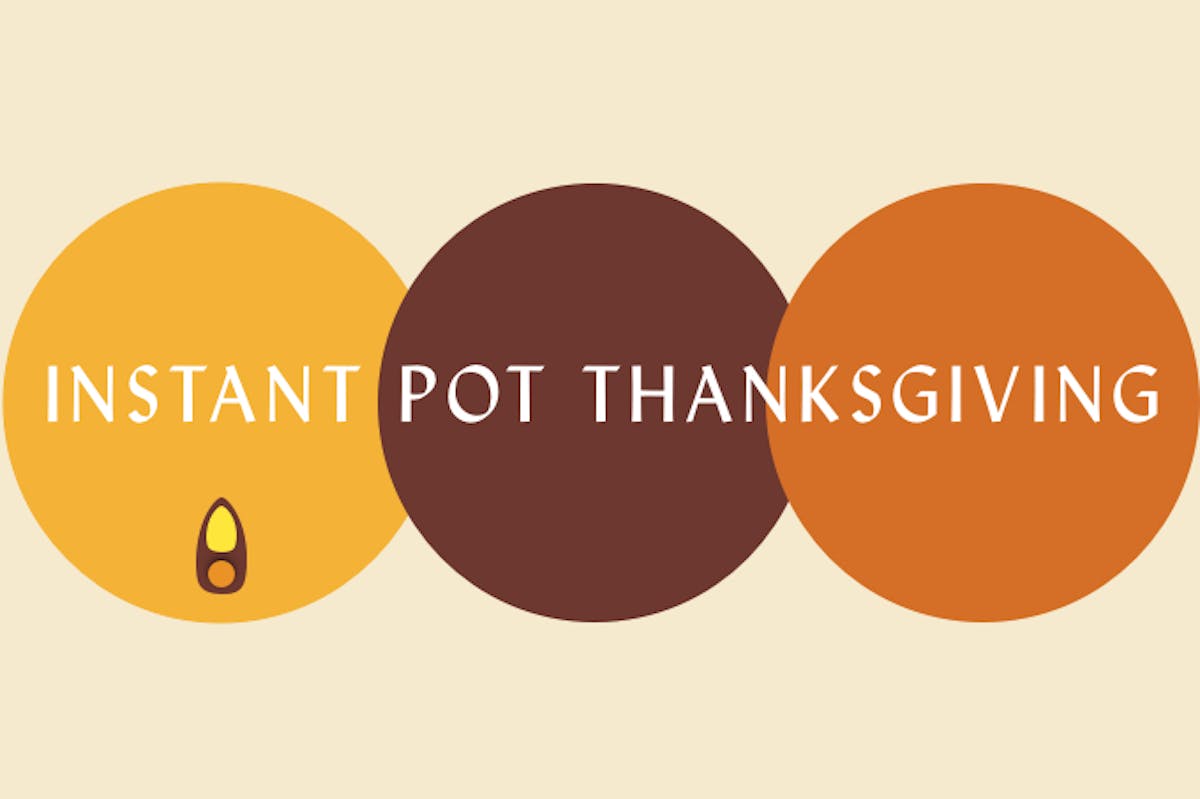 This is a round up of recipes for any Instant Pot owner who has ever run out of oven or stove space while cooking Thanksgiving. This is the year to put your Instant Pot to work. Just about every conceivable recipe has been made in an Instant Pot, including many Thanksgiving classics. The trick is spotting the good ones. These were the ones that caught my attention. Enjoy! -h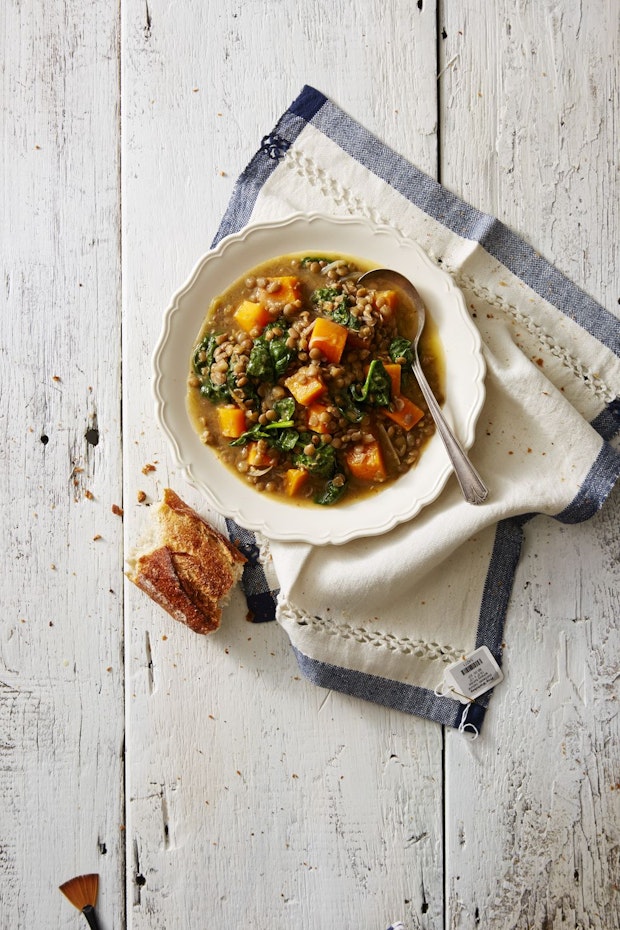 1. Winter Squash and Lentil Stew - (Good Housekeeping) A hearty winter stew that can be made in your Instant Pot, a pound of dried lentils is cooked in about 12 minutes with the pressure cooker feature.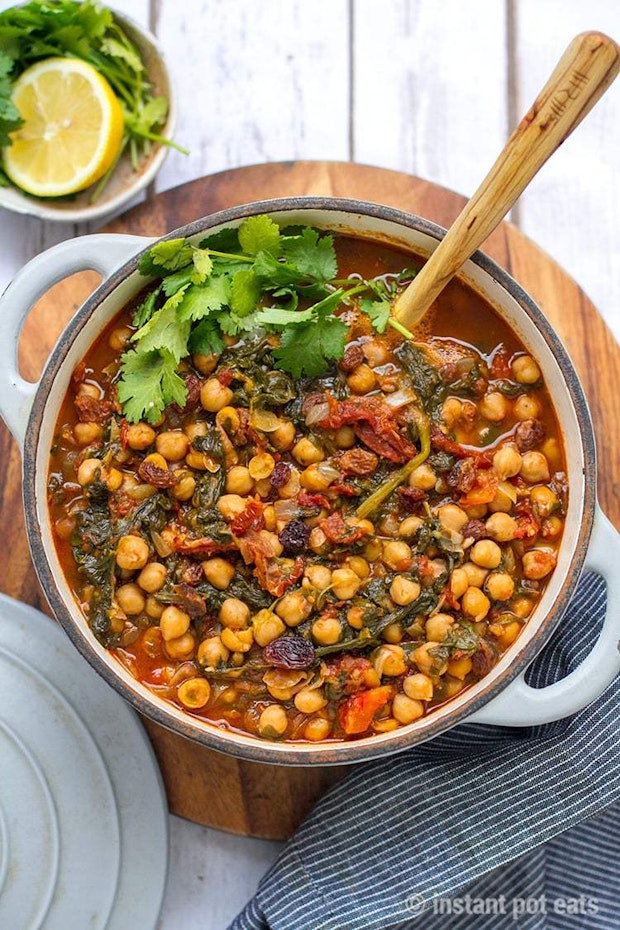 2. Moroccan-Style Instant Pot Chickpea Stew - (Instant Pot Eats) A healthful stew of spinach and chickpeas is spiced out with cumin, cinnamon and paprika. Like many of my favorite Instant Pot recipes, this one uses the sauté feature to bring out the flavor in onions and garlic, followed by pressure cooking to create a stew that tastes like it's been on the stovetop for hours.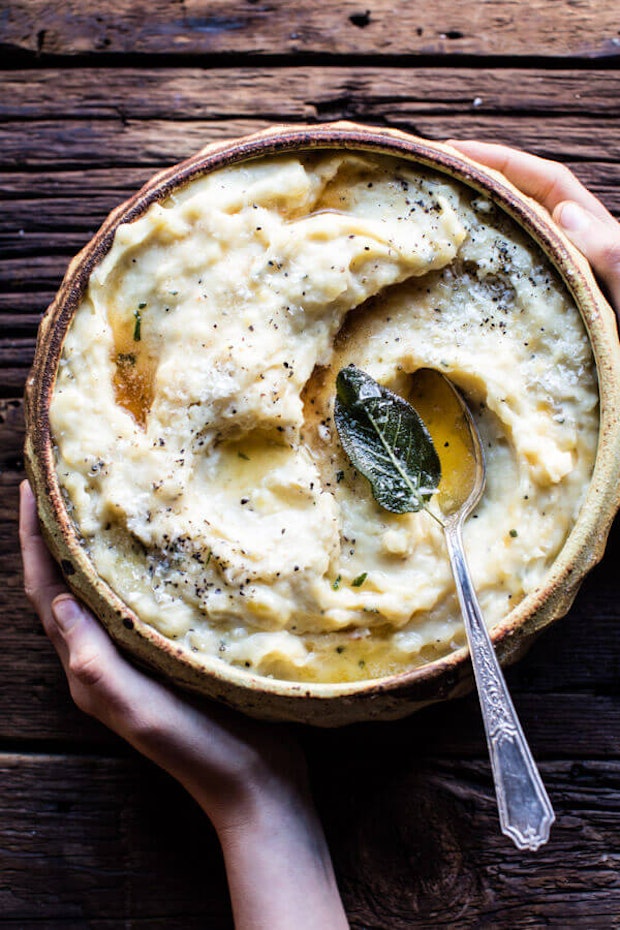 3. Three Cheese Mashed Potatoes - (Half Baked Harvest) A cornerstone of any Thanksgiving meal, you need mashed potatoes on the table. Here, Tieghan's beautiful, slow-cooked version raises the bar. Put the potatoes in your IP for a few hours and they are ready to mash. This recipe adds a ton of flavor with gruyere, parmesan and cheddar, but I can imagine experimenting with different cheese combinations to make it your own.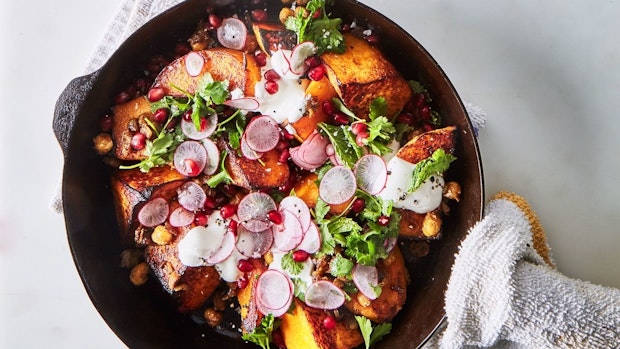 4. One-Skillet Squash with Spiced Chickpeas - (Bon Appétit) Hello vegetarian main! I'm linking to the article that highlights the main Instant Pot technique of this recipe, which is cooking a whole kabocha squash in about 20 minutes. You then add it to a cast-iron skillet with chickpeas and other goodness and roast it at 425F.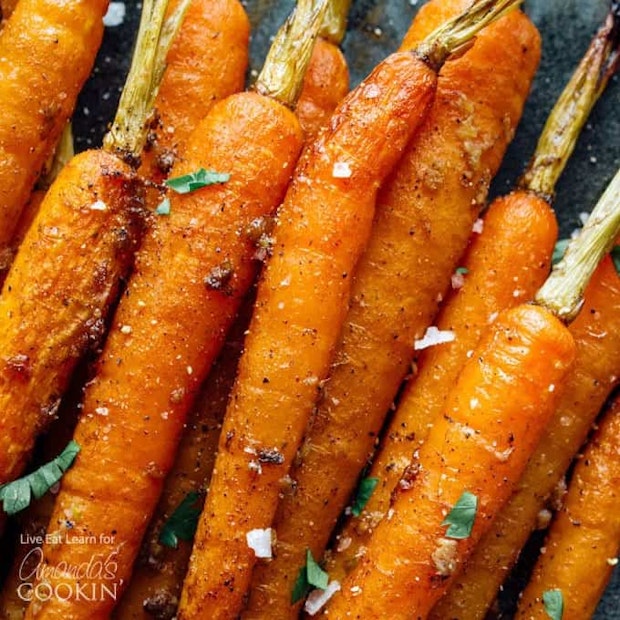 5. Balsamic Carrots - (Amanda's Cookin) A good option for a side - this recipe calls for only four ingredients! Find the prettiest carrots you can and slow cook for up to six hours.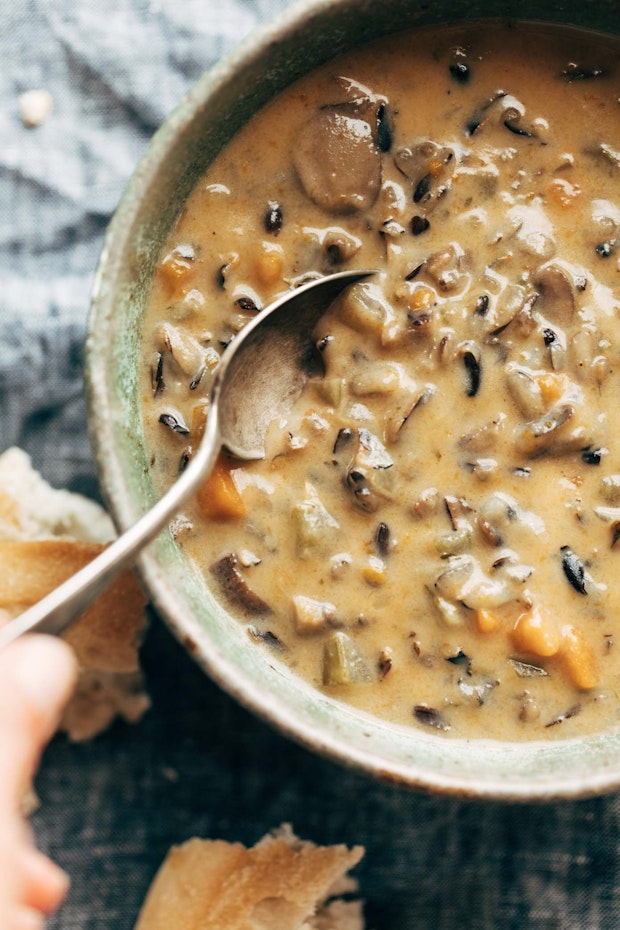 6. Instant Pot Wild Rice Soup - (Pinch of Yum) I've seen many people make (and photograph) this recipe on IG and it's popular for good reason. Source some good wild rice and after 45 minutes pressure cooking (and then a few minutes extra on the stove top) and you have one of the best soups you can bring to the table on Thanksgiving.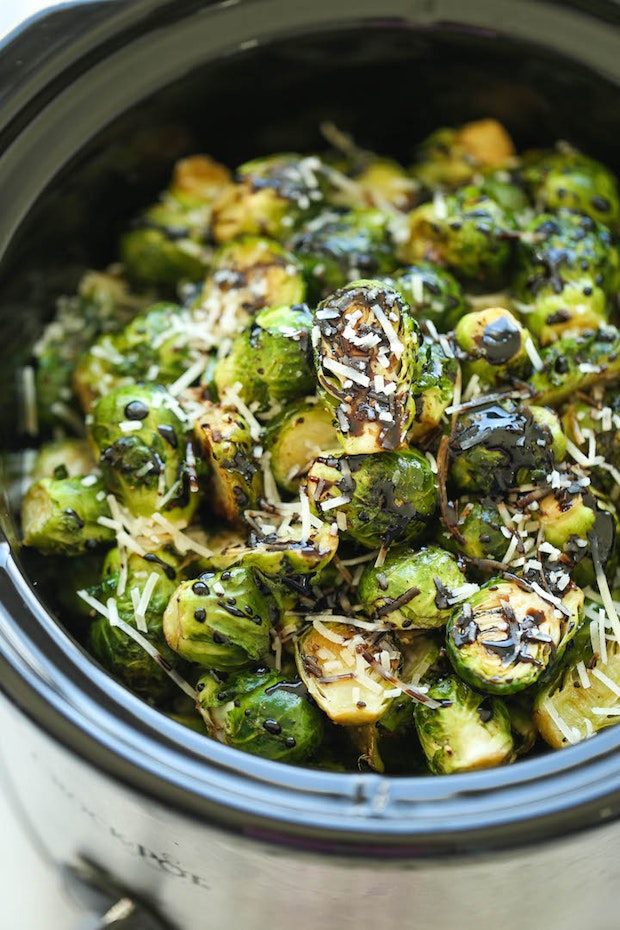 7. Balsamic Brussels Sprouts - (Damn Delicious) Not everyone loves brussels sprouts, especially our younger friends, but one glance at this recipe will change minds. This recipe is designed for slow cooking (2 hours), but I can imagine a boost of the IP saute feature to get the desired caramelization.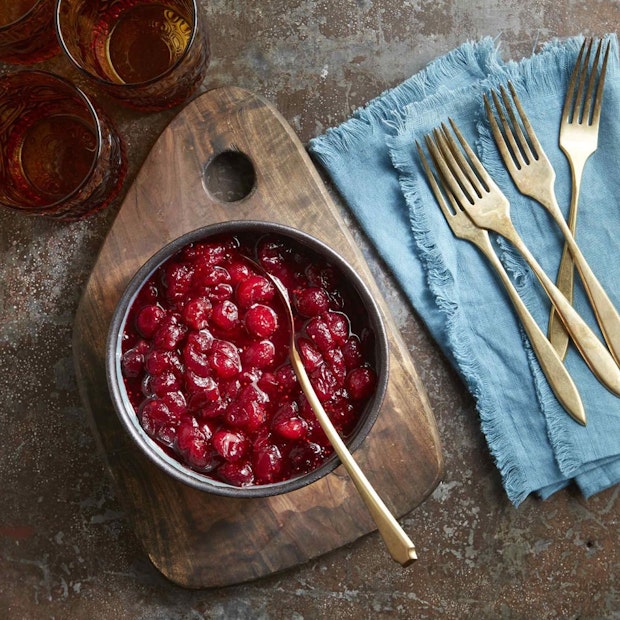 8. Cranberry Sauce - (Eating Well) Another non-negotiable on Thanksgiving, this five-ingredient recipe will check off the cranberry sauce in under 30 minutes using the pressure cooking feature of your IP.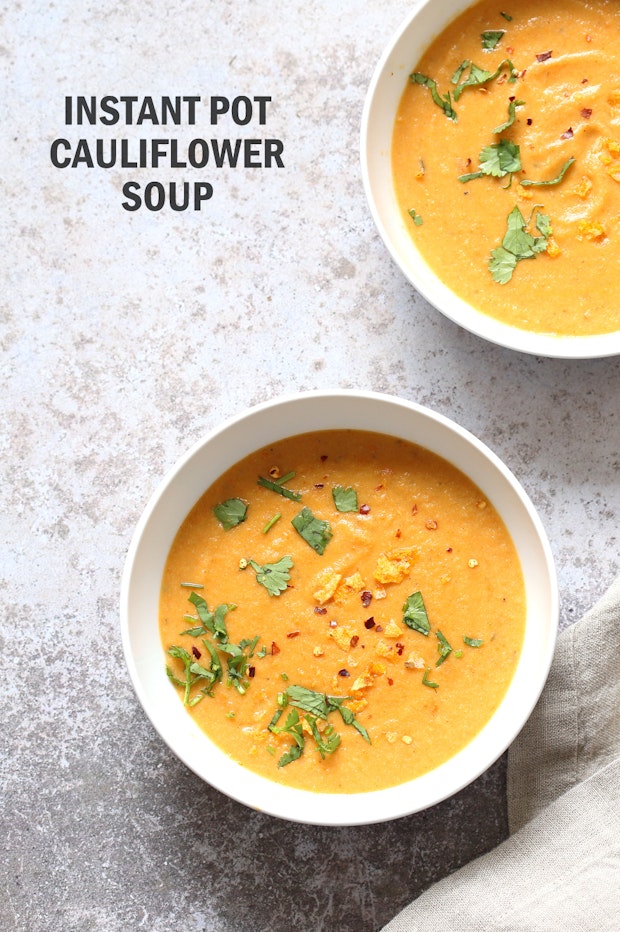 9. Smoky Vegan Cauliflower Soup - (Vegan Richa) Cauliflower is a veggie that doesn't get a lot of love  on Thanksgiving tables, but here's a way to serve it & surprise a few people. A red pepper and paprika gives the soup a nice color, while cinnamon, thyme and nutritional yeast make the flavor interesting.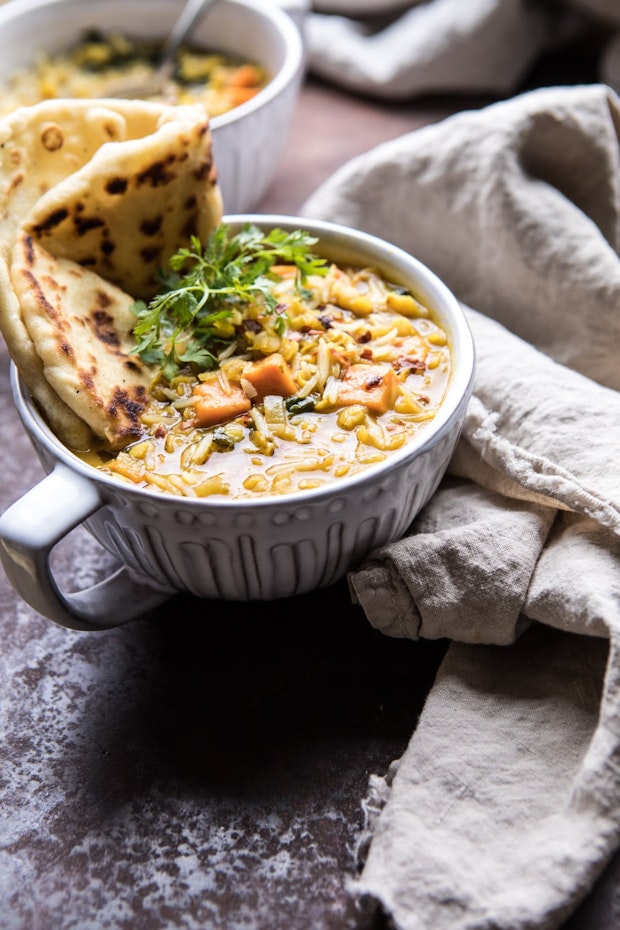 10. Coconut Sweet Potato Lentil Soup with Rice - (Half-Baked Harvest) Another winner from HBH, this is a great example of a stove-top recipe converted for Instant Pot that will help you keep the space on your stove-top free. Total prep and cooking time is 35 minutes, so it's also perfect if you are juggling three other dishes.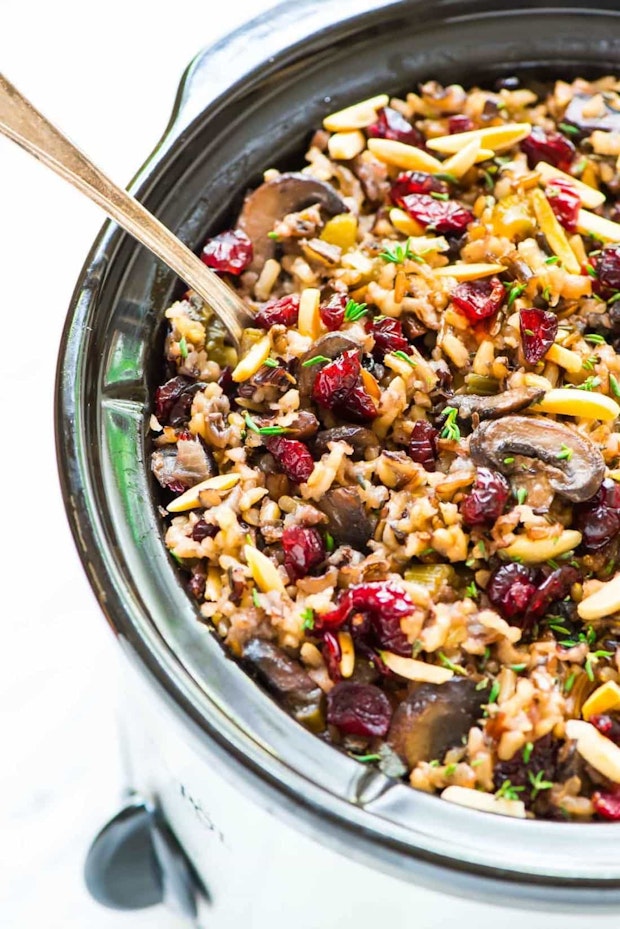 11. Crockpot Stuffing - (Well Plated) One change you can make from this recipe is you can saute the onion and celery in the IP first, remove and then cook the rice. Wild rice and cranberries elevate this stuffing from the standard you grew up with.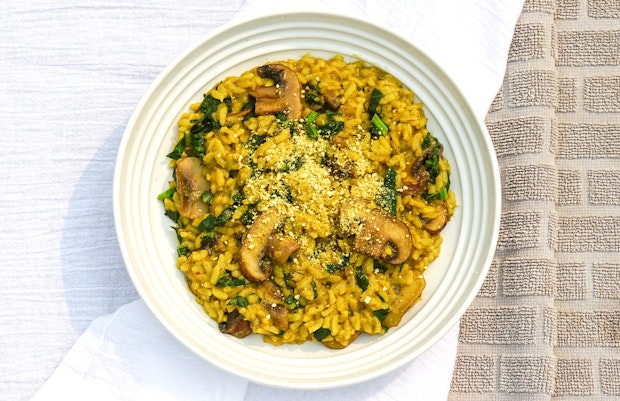 12. Creamy Kale and Mushroom Risotto - (Sammy Boyce Bal) Another idea for a vegetarian main, this recipe combines using the Instant Pot to make a creamy, easy risotto and using the stovetop to prepare a creamy vegan "parm" based around nutritional yeast.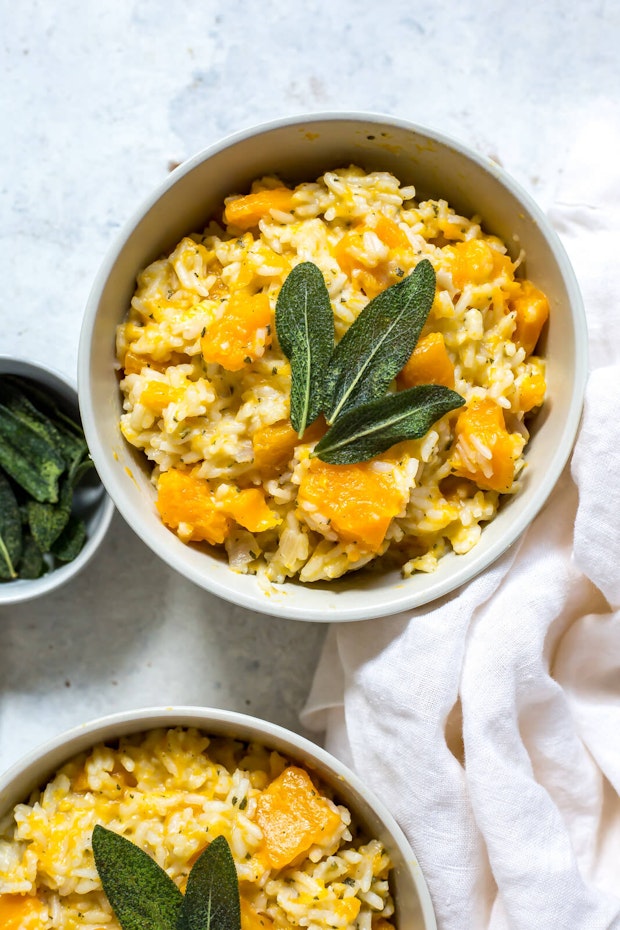 13. Butternut Squash Risotto - (Girl on Bloor) Here's another strategy for a fall risotto that can be prepared in less than 40 minutes thanks to the magic of pressure cooking.