Limoncello Macaroons
These limoncello macaroon cookies are golden-crusted, powder-coated, almond-citrus gems spiked with limoncello liqueur.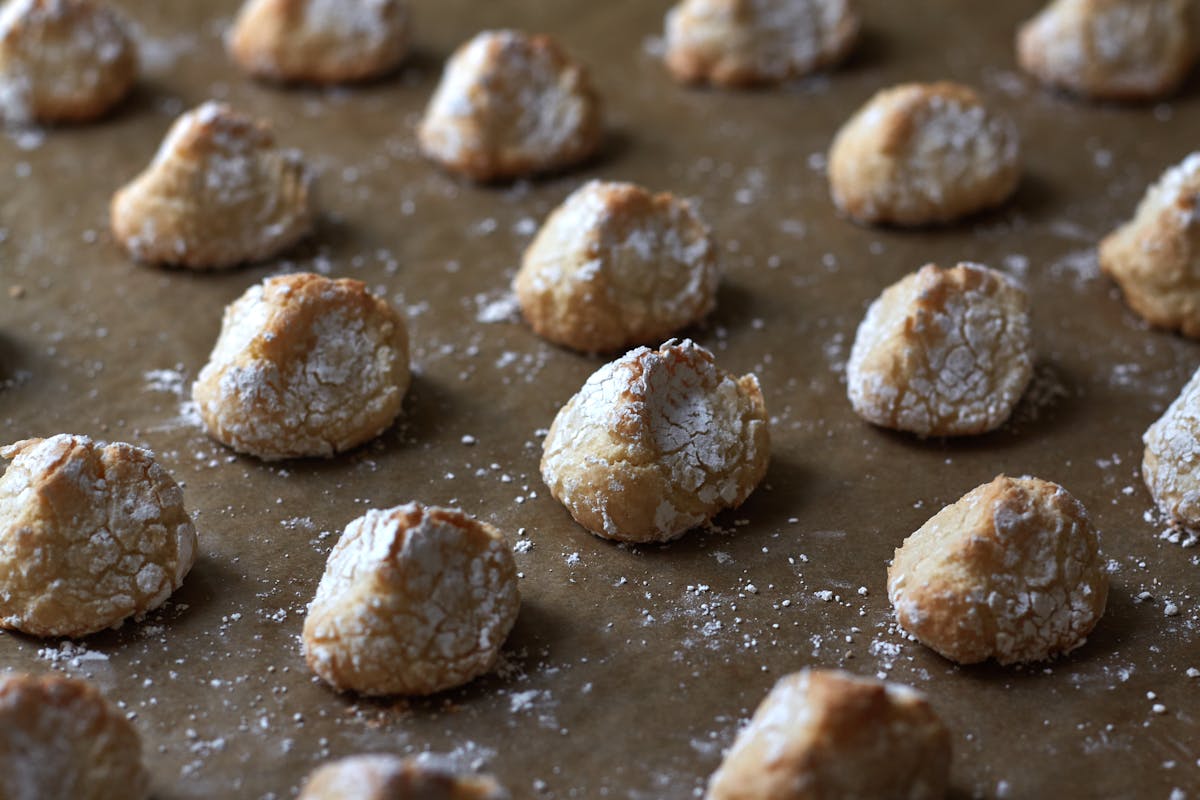 I packed a number of things for last weekend's getaway to Mendocino. One pair of flip-flops, one book, a stack of magazines, a bottle of bubbles, ten rolls of film, three cameras, a tripod and a bag of limoncello macaroons. I bookmarked these Pinched Orange Macaroons a while back, and when my sister gave me a bottle of limoncello (made from lemons in her yard), I decided to do a twist on Patrick Lemble's cookies using the homemade citrus liqueur and zest. I thought they'd be a nice little treat for the cabin.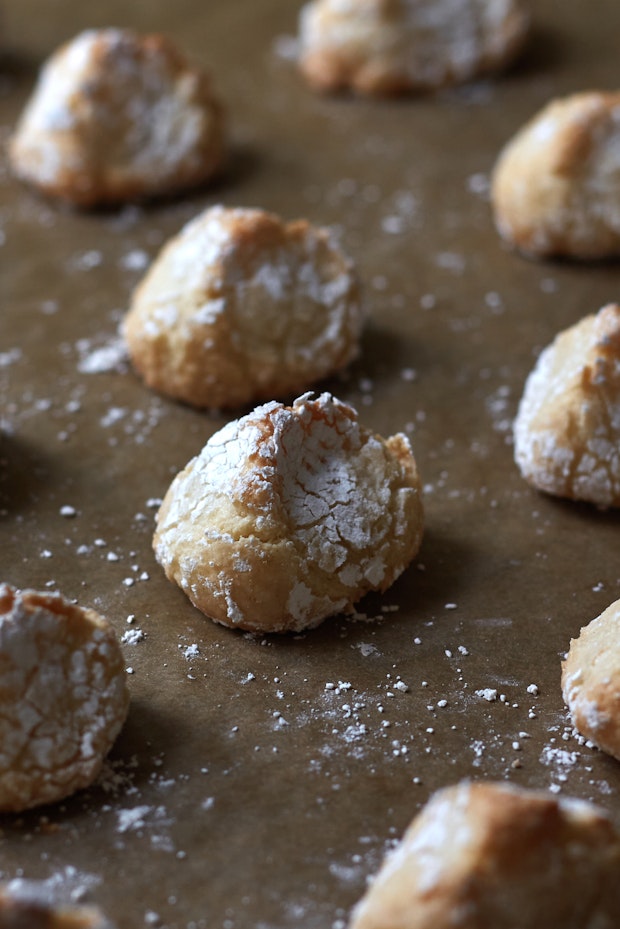 The cookies are made primarily from almond paste and they bake into golden-crusted, powder-coated, almond-citrus gems. A tad messy to make, but well worth it. They've become one of my all-time favorite little cookies.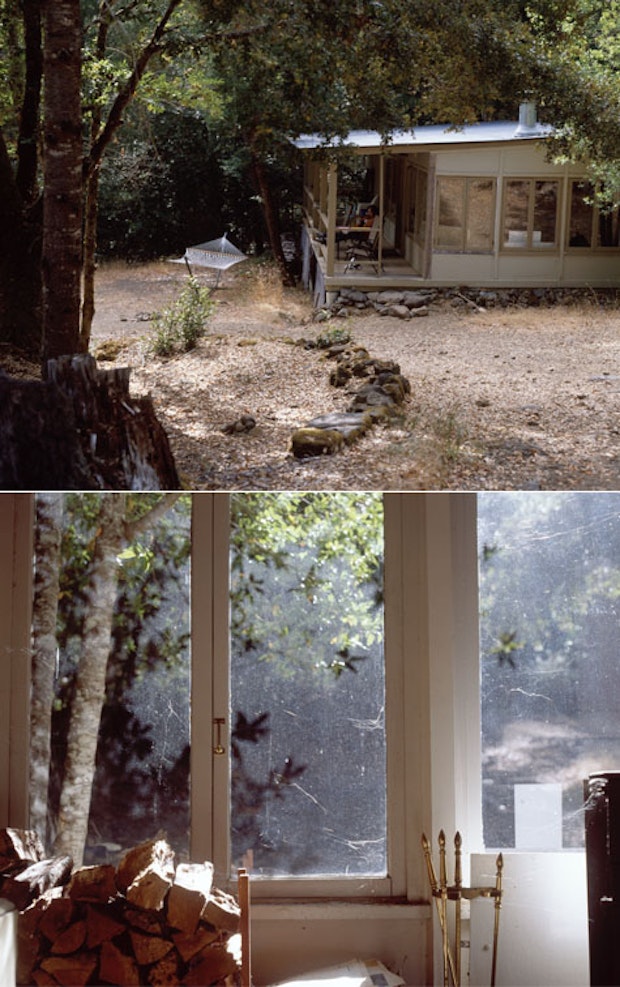 Before we dive into the minutiae of macaroon cookie making, I thought I'd share a few photos. For those of you who have missed previous mentions of the cabin, it is waaay off the grid, and a bit rustic - in the very best way possible. I like to sit on the porch and do a whole lot of nothing. We played board games and cards, cracked jokes, and talked a lot about the mountain lion that has been spotted at the cabin over the past few months.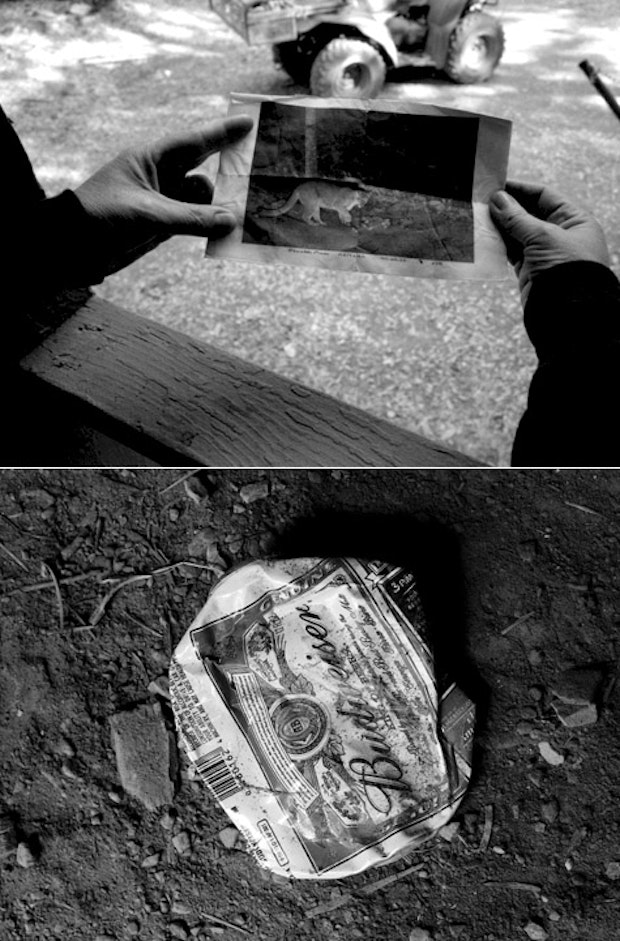 The mountain lion seemed like an abstract concept to me. Abstract in the way that I know there are bears around when I go camping, but I don't really think about it much because they don't bother me. There's a difference here. This mountain lion has apparently killed a couple goats in the area. And then, there's that photo up above. Lori & Lisa's cousin rode down the driveway on his quad one afternoon to show us. He'd rigged a motion capture camera near his cabin, just up the road a bit, and apparently the camera captured that frame. It's hard to tell from my picture, but I assure you, that cat is large.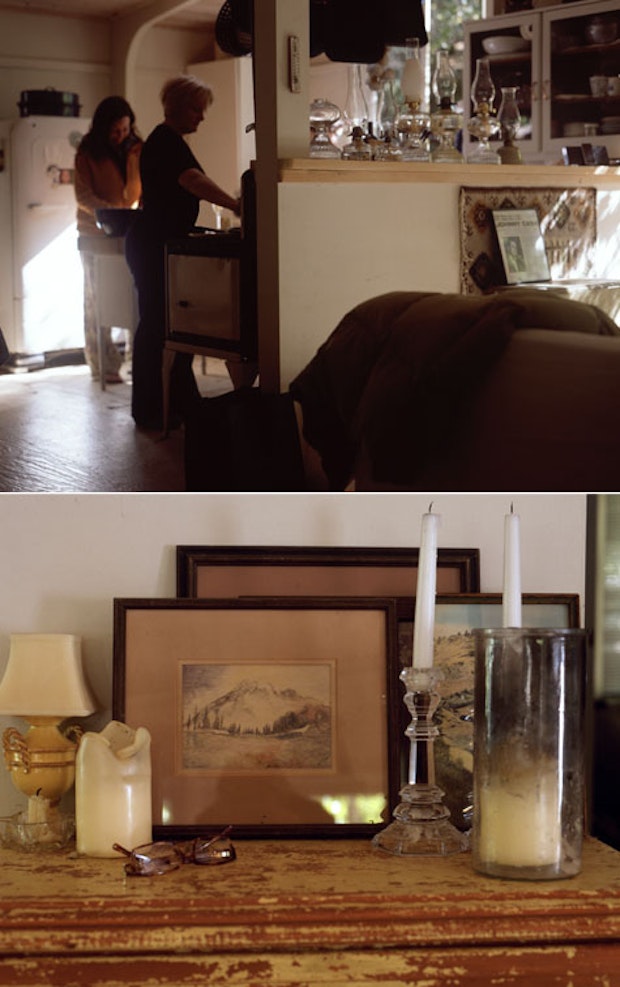 So, for the most part we stuck around the cabin. Or traveled in a pack when we were out and about. On the food front, Lori made an amazing grilled eggplant, arugula, and mozzarella salad as part of our dinner Saturday night, and if she posts it or publishes it at some point, I'll be sure to link to it and give you all the heads up. Strong, garlicky, and good. She makes a mean panzanella as well.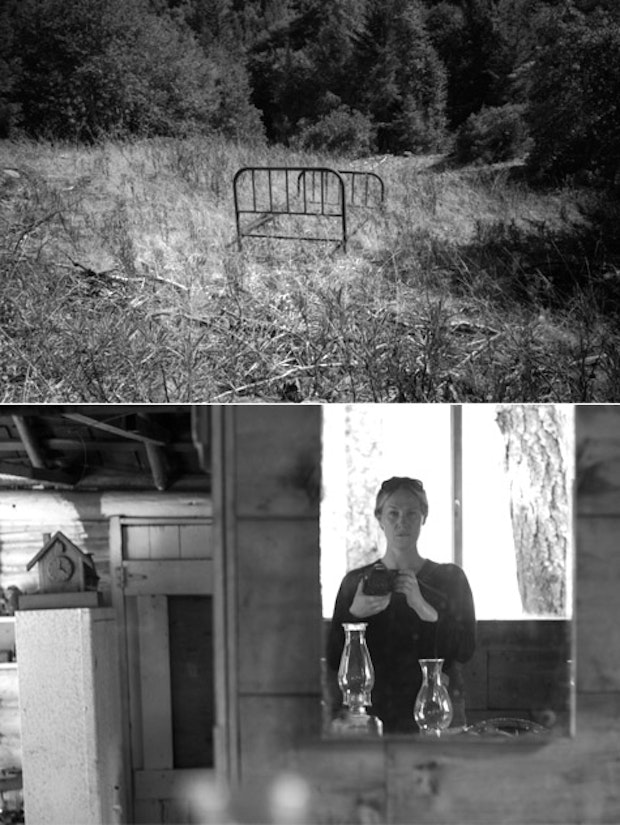 As far as the limoncello macaroons are concerned, let me say a few things. First off, they travel quite well. And while they seemed to be at their absolute peak roughly thirty minutes after baking, I placed the cooled cookies in a sealed plastic bag, and they were delicious for days. There wasn't as much textural difference between the outside crust and the super-moist middle after being bagged, but they were still 90% as good. They're perfect for a holiday cookie assortment.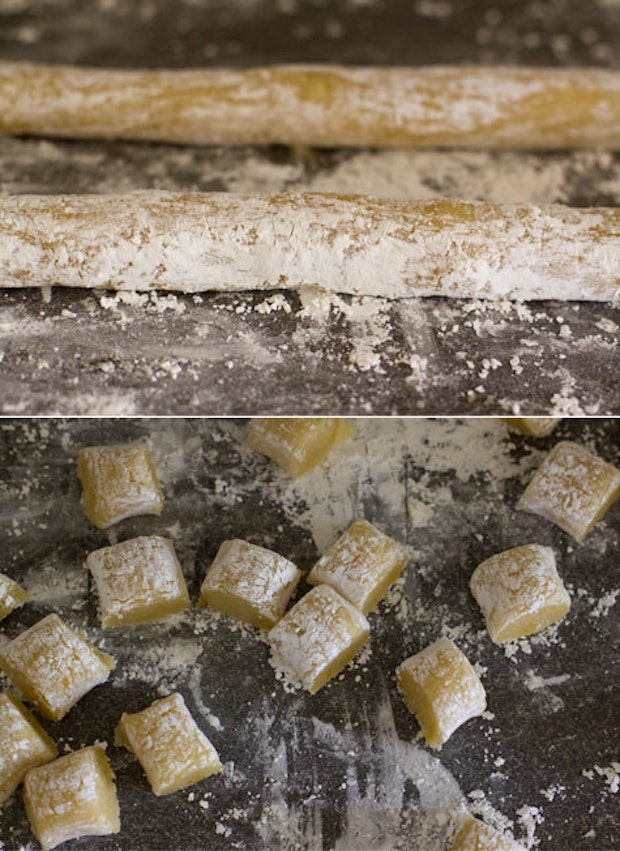 They're also made from one of the simplest batters imaginable. I made one batch following Patrick's original technique, then took a shortcut with the second batch which you'll see reflected in my version of the recipe below. In short, I found I didn't really need to do an egg wash/powder. I found the dough was quite moist. I threw a good amount of powdered sugar down on the counter top and shaped the cookies from there. They had a nice powdered sugar coating without the extra step. If you find you're not getting enough of a powdered sugar coating before baking, give each ball of dough a light brushing of egg white and a quick roll in more powdered sugar.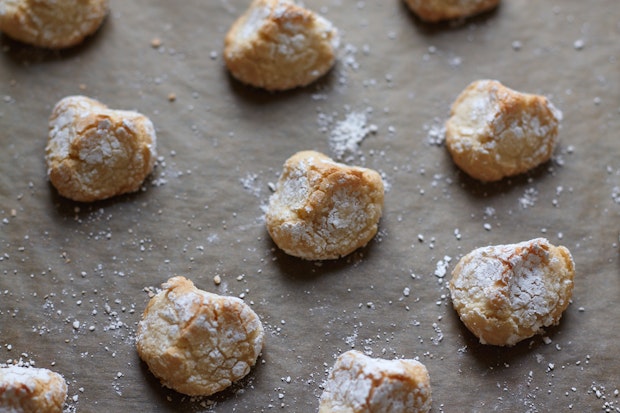 If you're still on the hunt for more treats, here's where you can find all the cookie recipes. I'll forever love classic shortbread cookies, I'd argue these are the best ginger cookies and please, please give these snickerdoodles a go. They're kissed with saffron and vanilla, really something special. For the lemon lovers? Try this glazed lemon cake!
Limoncello Macaroons
The original recipe is an almond paste base enhanced with Grand Marnier as a flavor accent. But I can imagine taking these cookies in many different directions. This time around I went the lemon route, but if you can imagine an ingredient pairing well with sweet almonds, you might try it here. I used two tubes of Odense almond paste here, but be interested if any of you know of a good, pure almond paste make from organic almonds. Also, be sure to buy almond paste, not marzipan.
Ingredients
1

large egg white

14

oz

/ 400g almond paste

1/2

cup

/ 2 oz / 55g confectioners' sugar, sifted, plus quite a bit more for surface and coating

1/4

teaspoon

pure almond extract

scant 2 teaspoons freshly grated lemon zest

1

tablespoon

limoncello

scant 1/2 teaspoon fine grain sea salt
Instructions
Line two baking sheets with parchment paper and set aside. Beat the egg white, the almond paste, confectioners' sugar, and almond extract together either by hand or with an electric mixer, until creamy, about 2 minutes.

Add the zest, limoncello, and salt and beat until combined, another 30 seconds.

Coat a clean/dry surface with a generous handful of sifted confectioners' sugar then turn the dough out onto it. Shape and roll out the dough into two 3/4-inch thick logs, roughly 18 inches long. Cut each log into 24 equal pieces (see photo). Make sure each piece is entirely coated in sugar, tapping to remove excess.

Transfer to prepared baking sheets. They don't spread much so you can crowd them a bit more than you might with other cookies. Let stand for 30 minutes.

Preheat oven to 350F / 180C degrees. Use three fingers to gently pinch each piece of dough to form an irregular pyramid shape of you like, or you can leave them pillow shaped. Bake until pale golden, about 15 minutes. Alternatively, I also like them deeply golden, it's a matter of personal preference really, but baking for a few extra minutes will achieve this. Transfer the cookies from baking sheets to wire racks, and let cool completely. These cookies keep well in an air-tight container for a few days.
Notes
Makes 4 dozen bite-sized cookies.
These cookies are a riff on the Pinched Orange Macaroons by Patrick Lemble (executive pastry chef at the Four Seasons restaurant, New York City) highlighted in the December 2009 issue of Martha Stewart Living.
Related Recipes
More Recipes
Popular Ingredients