Gin Marinated Olives
Hot, gin marinated olives. I used big, green Castelvetranos tossed with a mixture of gin and olive oil, big swatches of lemon peel, lots of herbs. Feta cubes were the finishing touch.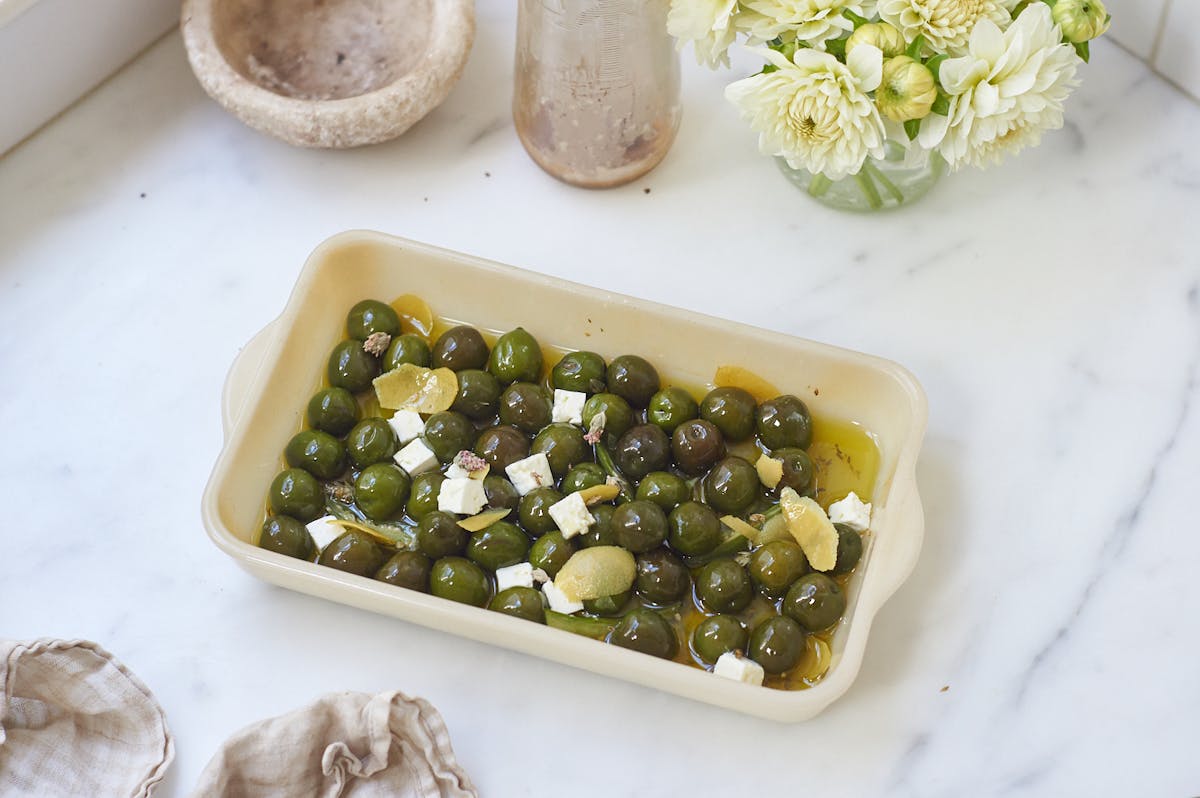 You're looking at a dish of *gin* marinated olives. I've been on a Castelvetrano olive bender for the better part of the summer. They're plump, round Sicilian olives with vivid, tight, glossy, green flesh. Harvested young, these olives are lightly brined, with a buttery texture - even more so when warm. I promise you, they're worth tracking down. We had Josey and his girlfriend fiancé(!) Cathy over for a mid-week dinner the other night, and I decided to make this at the last minute. I tossed the Castelvetranos with a mixture of gin and olive oil, added big swatches of lemon peel and lots of herbs, then baked it all for a stretch. Feta cubes were the finishing touch. You can absolutely make this with other varietals of olives as well, if Castelvetranos are tough to come by where you live.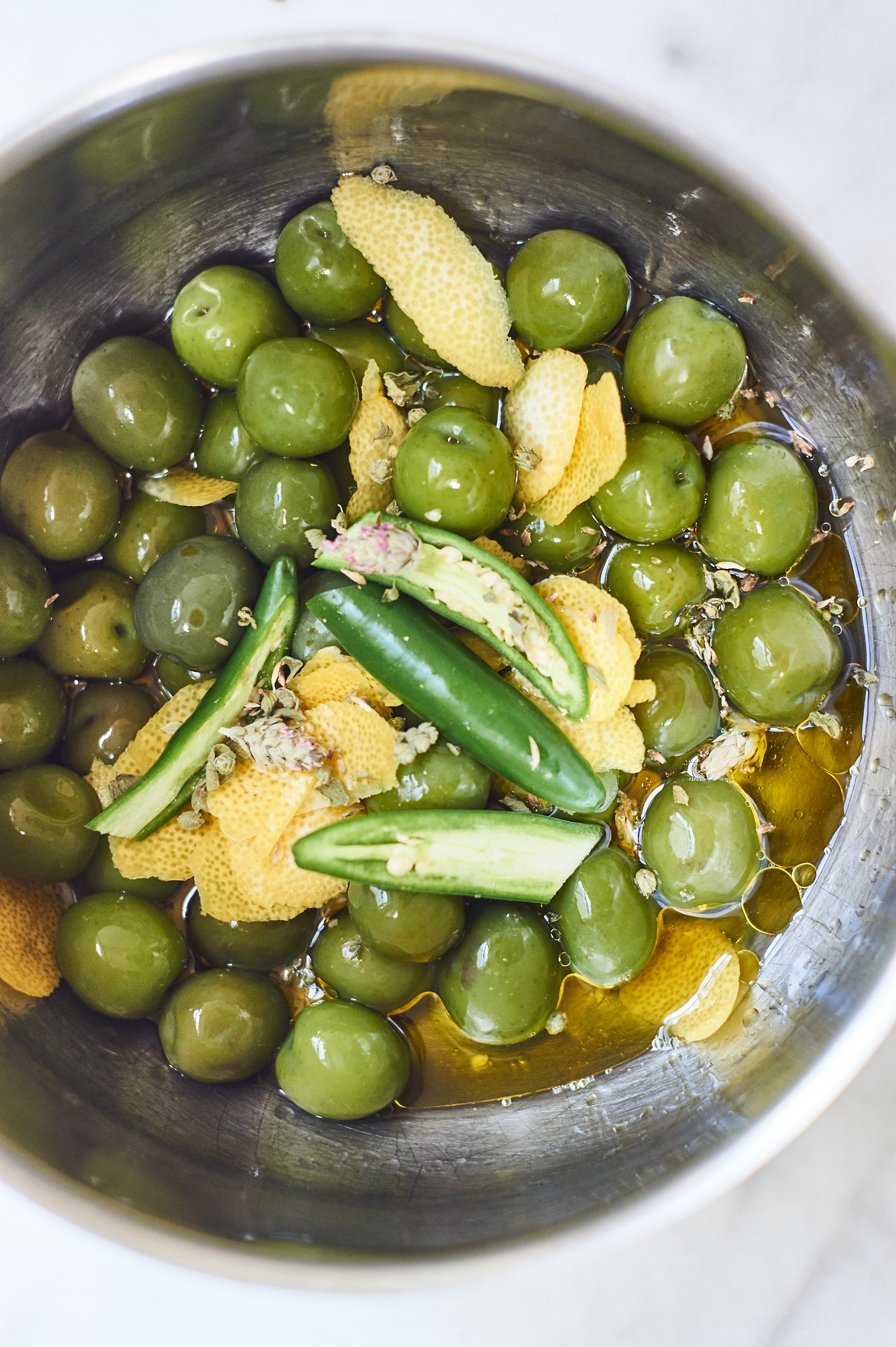 Warm/hot olives continue to be one my favorite appetizers. In part, because they're flexible, interesting and delicious. And, in part, because you can take the accents, herbs, and flavors in so many different directions. Fennel seeds and orange peel is another angle I often go....other ideas!? xo -h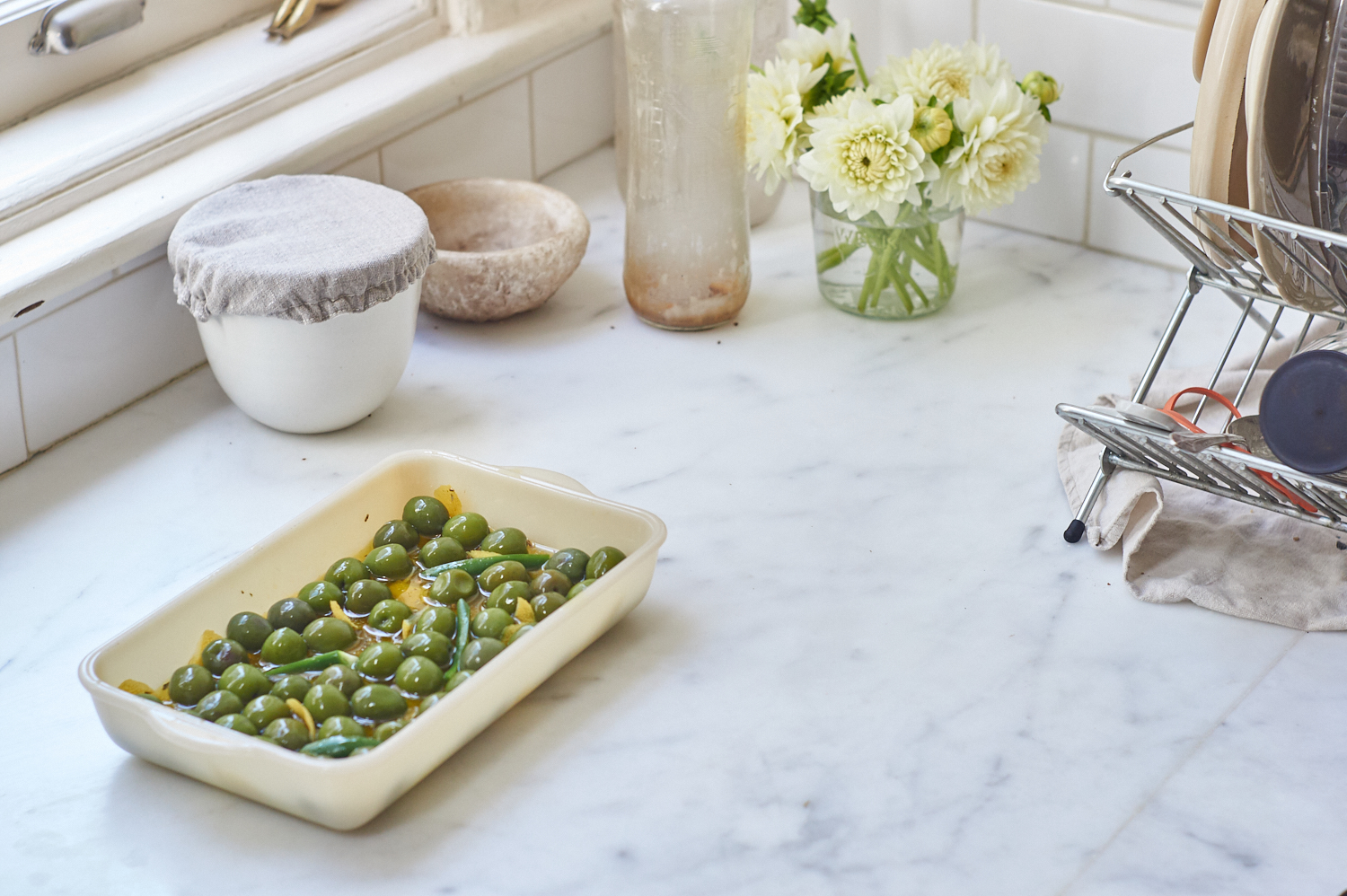 More Appetizer Recipes
Gin Marinated Olives
Save the brine from the olives to make vinaigrettes, cocktails, or use as a drizzle. I used St. George Spirits Botanivore Gin here.
Ingredients
12

ounces

drained, rinsed green olives (pref. Castelvetrano)

2

serrano peppers, halved

1

medium clove of garlic, thinly sliced

slivered peel of one lemon

6

tablespoons

extra virgin olive oil

1/2

cup

gin

1/2

teaspoon

dried oregano

a few sprigs of dried thyme, or equivalent

1/4

cup

of cubed feta cheese
Instructions
Heat the oven to 350F / 180C, with a rack in the center. In a baking dish, just large enough to arrange the olives in a single layer, combine them with the peppers, garlic, lemon peel, olive oil, gin, oregano, and thyme. Give a good toss.

Bake for about 30 minutes, carefully jostling once or twice along the way. Remove from oven, sprinkle with the feta cubes, and let cool for a few minutes before serving.
Related Recipes
More Recipes
Popular Ingredients