Meal In A Jar: Tortellini Soup
A favorite flavor-packed meal in a jar, just add water and a can of crushed tomatoes. It's a favorite one-pot lentil and tomato-based stew, dotted with plump, tender tortellini, spiked with a range of spices. Perfect for one-pot camping or weeknight meals.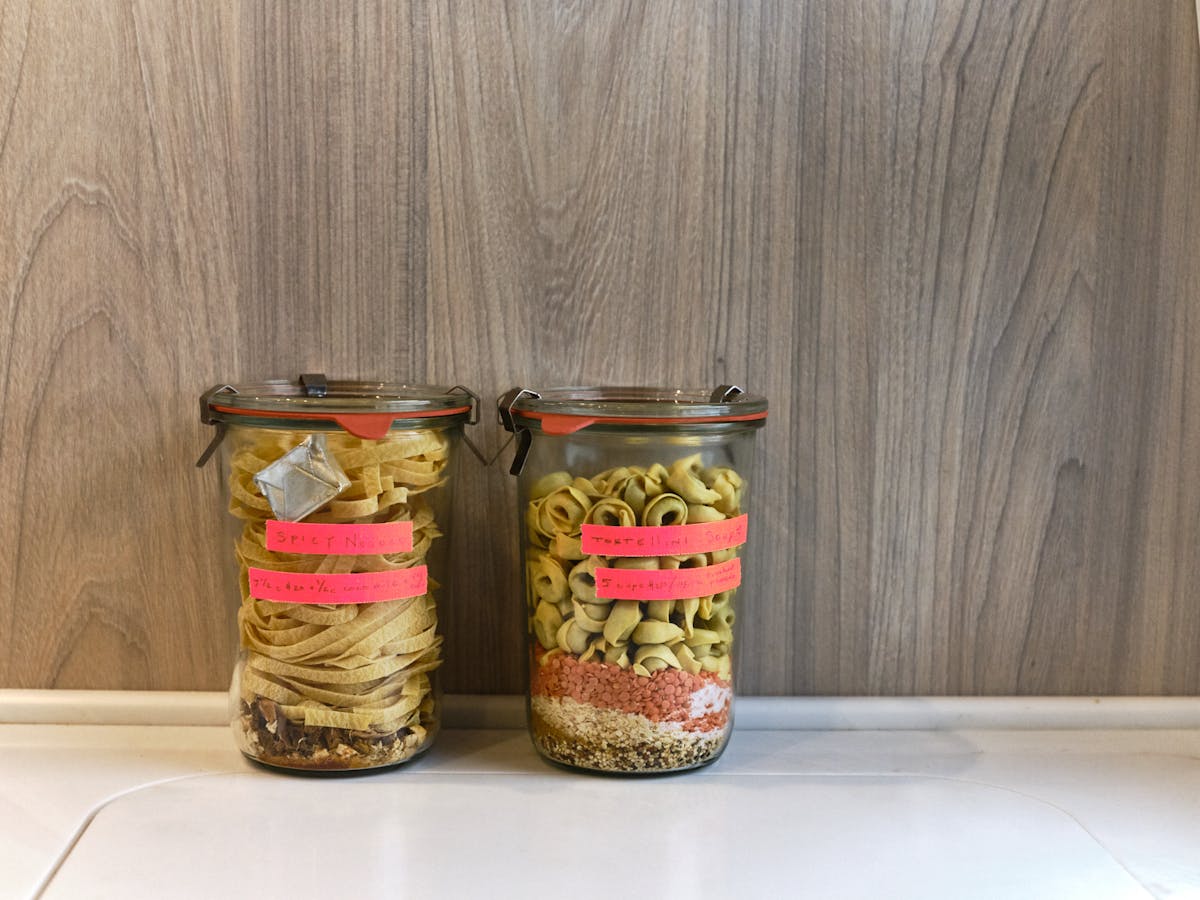 In nearly twenty years of sharing recipes on this site I don't think I've ever posted a meal in a jar. I'm talking about the "just add water" style jar meals. The kind you can keep in the pantry, gift to friends, or pack with you for a road trip or camping trip. In contrast, I'm not talking about green salads in a jar, or burrito in a jar, or those sorts of meals. Just want to clarify. I like a meal in a jar that can be cooked in one pan and only requires water and perhaps one can of something (tomatoes, or coconut milk, etc.) to be great.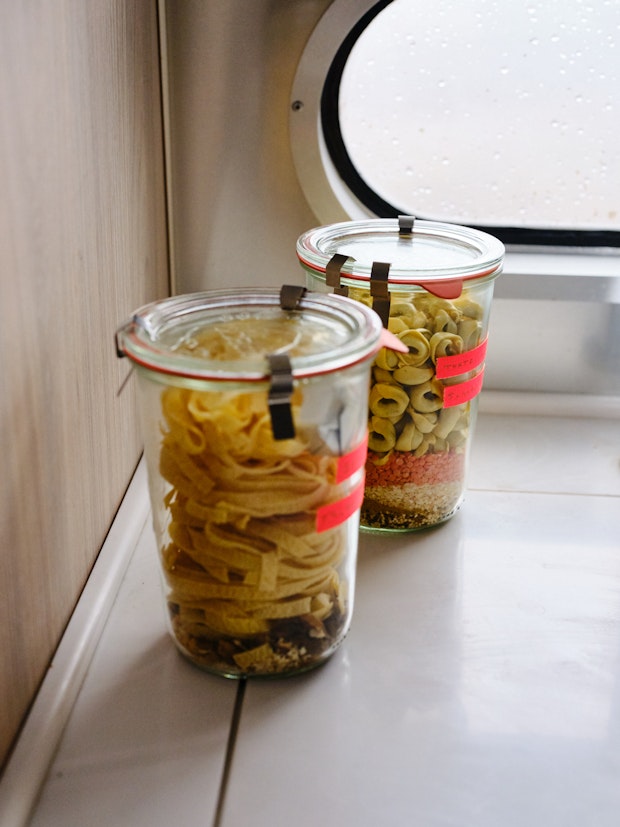 I make a range of these whenever we go camping or take our travel trailer out (and just posted a recipe collection of the ones I make most: Recipes for the Road). We've been doing a lot of fall/winter coastal camping and a cozy soup or stew always hits the spot. We were at beautiful Crystal Cove State Park for a few days last week and had to hitch up the trailer in the worst rain and wind storm to hit the California Coast all year. Complete laugh/cry mud fest. Torrential downpour. Sideways rain. This was the perfect hearty bowl of soup to thaw us out.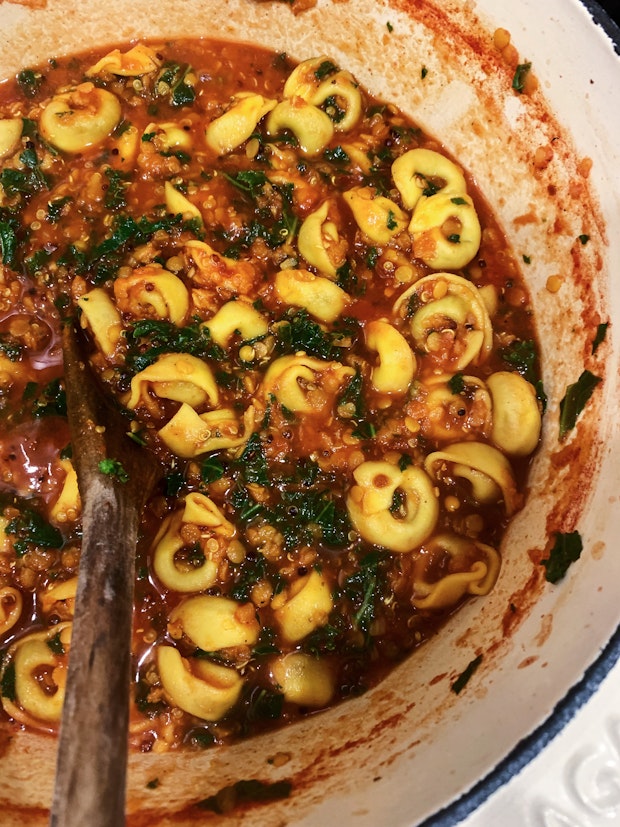 Meal In A Jar Tortellini Soup
If you've tried this Curried Tomato Tortellini Soup, you'll immediately recognize the inspiration. This is basically the "meal in a jar" version of that soup. It's a fortifying lentil and tomato-based stew dotted with plump, tender tortellini, and spiked with a range of spices. It's so delicious, and simple, and this version you combine the jar ingredients with water and a can of crushed tomatoes. There's literally no prep required for this version once you've built your jar. I talk about bonus ingredients down below, and they're completely optional but instead of the spinach called for in the non-jar recipe, I like to add finely chopped kale or broccoli florets, or whatever I have on had to work in a green veg component in this version.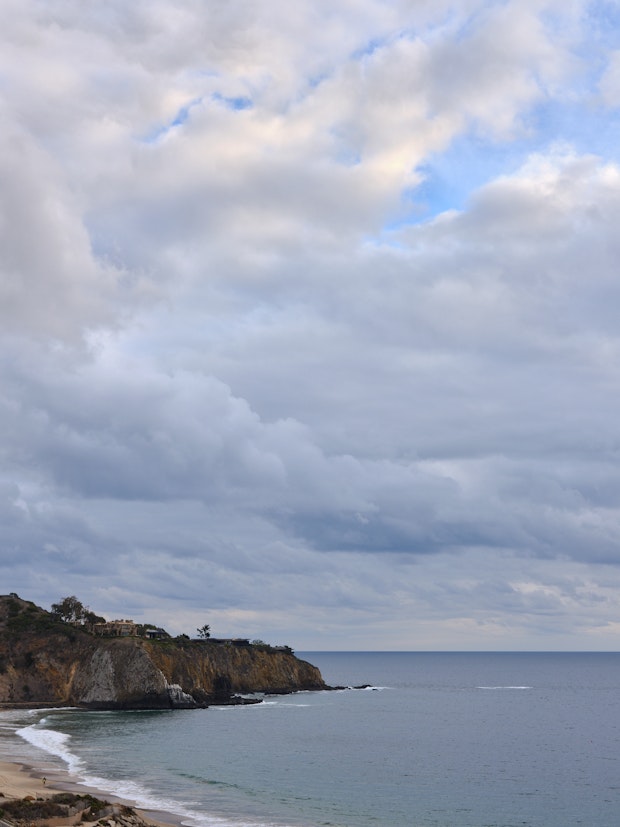 Meal in A Jar Instructions
This is just a reminder to be nice to your future self. Be sure to include all instructions on the side of your jar or container. You can use a sticker, washi tape, tag, or Sharpie marker. If you're designing your own meal in a jar (I often rework favorite recipes) try to keep things as simple as possible. This means ingredients and instructions. Take a first stab and then tweak as you go until you have a great master recipe. For this soup, I know I can always track down a can of tomatoes (I keep a couple cans in the trailer), so aside from the jar contents all I need is that and water. The instructions fit on one line. It's basically as simple as this: simmer contents of jar with 5 1/2 cups water and 14-oz can of tomatoes.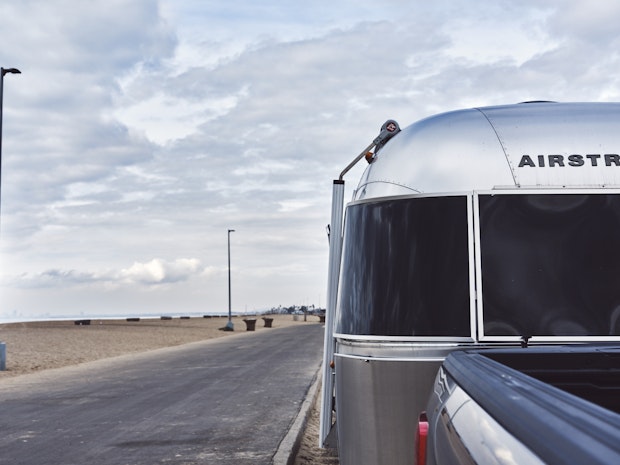 Bonus Ingredients
With these meal in a jar situations I often look to the refrigerator or cooler box for an extra ingredient or two. They're not necessary, but can be nice to have. Basically, think of it as bonus points for rounding out whatever goes in the pot with whatever fresh ingredient(s) like kale or broccoli you might have on hand. Half the time for me, it's broccoli, or some chopped kale. Use what you've got, it's hard to go wrong! Cabbage, asparagus, corn, etc. So many add-ins would work here.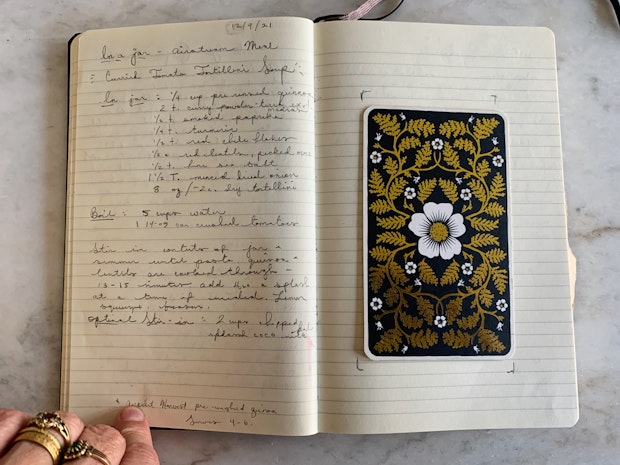 Pro-tip! Good Herbs & Spices
These types of meals in jars rely heavily on dry spices, herbs, and the like for flavor and seasoning. You want to use the best, freshest you've got. It's the difference between using a curry paste and a curry powder. Or, the difference between using something like sriracha sauce and dried chile peppers and garlic.  If you're going to make a bunch of these jars for future meals go ahead and reboot your most used spices, spice blends and dried ingredients. Source from great sources, store them in a dark, cool place, and be sure they're beautifully fragrant. I list my favorite suppliers in the back of all of my books.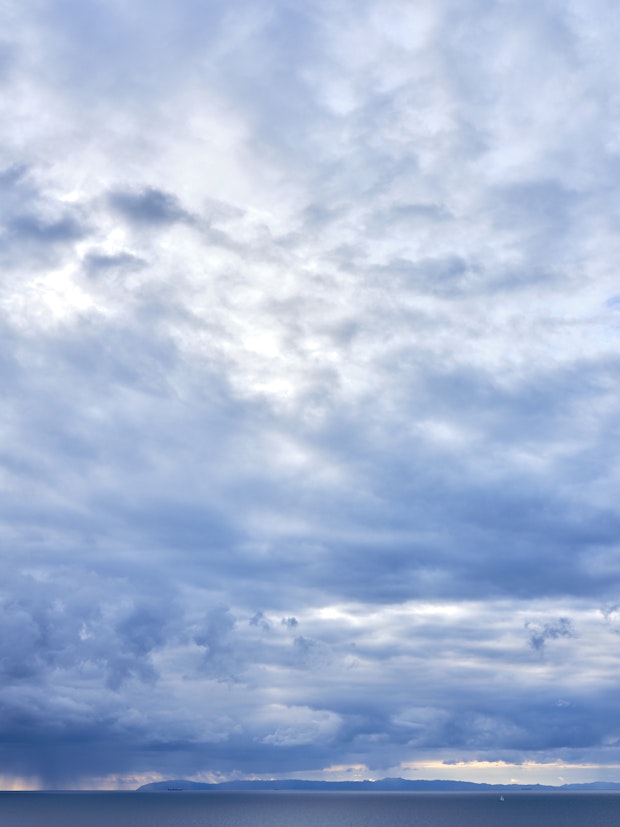 If you like this sort of meal in a jar recipe, let me know. I tend to keep these sorts of recipes to myself, In part because I often throw them together in a hurry. But I always take notes, and make tweaks, and have quite a collection of them in my notebooks. Happy to share more if you like! In fact, here's an Italian Barley Soup recipe - the jar version. I've just added this Spicy Coconut Curry Noodles recipe as well. And, in the time since this was originally posted, I've arranged them into this collection: Recipes for the Road: A Small, Useful Collection of Meal-In-Jar & Just-Add-Water Recipes for Road Trips, Camping & Everyday Life.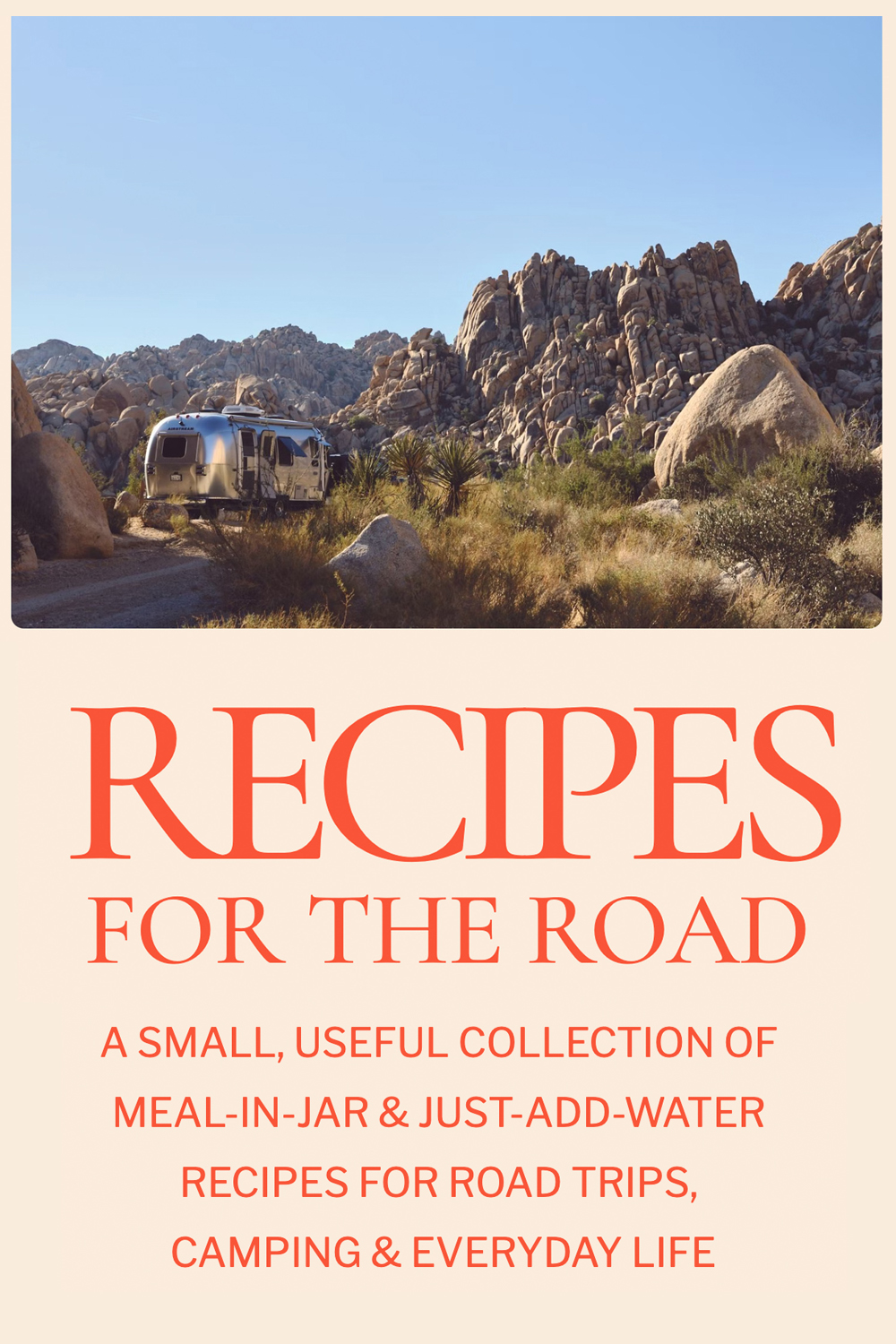 You can get more information about the collection here. It includes my favorite adventure pancake mix recipe, a bunch of soup mixes, an A+ recipe for packets of instant oatmeal, and a bunch of other recipes, photos, tips & resources.
More Soup Recipes
And if soups are your thing, be sure to browse the archives. No one loves a good one more than me and there are dozens of great soup recipes to be had. Don't miss this lentil soup, this simple tomato soup, or this ribollita. I've been increasingly using this homemade bouillon powder instead of store-bought. And here's a list of my favorite camping recipes. Get out there!
Meal In A Jar Tortellini Soup
I tend to use Ancient Harvest pre-rinsed quinoa here, and whatever curry powder I have on hand, either homemade or I also really like Terre Exotique Curry de Madras. Pick over your red lentils to make sure there are no little pebbles in the mix. You can find dry tortellini at Trader Joes. And on the tomato front, I love fire-roasted tomatoes here, but regular are good too! I can't always find fire-roasted.
Ingredients
1/4

cup

pre-rinsed, uncooked quinoa

2

teaspoons

curry powder

1/2

teaspoon

smoked paprika

1/4

teaspoon

turmeric

1/2

teaspoon

red chile flakes

1/2

cup

red lentils

1/2

teaspoon

fine sea salt

1 1/2

tablespoon

minced dried onion

8

ounces

/ ~2 cups dry tortellini

1 14-

ounce

can crushed tomatoes

optional stir-ins: 2 cups chopped kale, a splash of coconut milk, squeeze of lemon
Instructions
Build your meal in a jar:
Layer the quinoa, curry powder, smoked paprika, turmeric, red chile flakes, red lentils salt, dried onion, and tortellini in a quart-sized mason jar. Put the lid on the jar and seal until you're ready to make the soup.
Make your soup:
In a medium-large sauce pan combine the contents of the jar, the tomatoes, and 5 1/2 cups of water. Bring to a simmer and cook until the tortellini, lentils, and quinoa are cooked through - 13-15 minutes or so. Add more water a splash at a time if needed. Stir in any of the recommended add-ins at this point and bring back to a simmer. Taste and add more salt if needed and enjoy!
Related Recipes
More Recipes
Popular Ingredients