Meal in a Jar: Italian Barley Soup
This is a favorite flavor-packed meal in a jar - an herb-flecked, hearty, Italian Barley Soup with a bit of a hippie twist. Just add water and a can of crushed tomatoes and you're on your way to a really great pot of soup.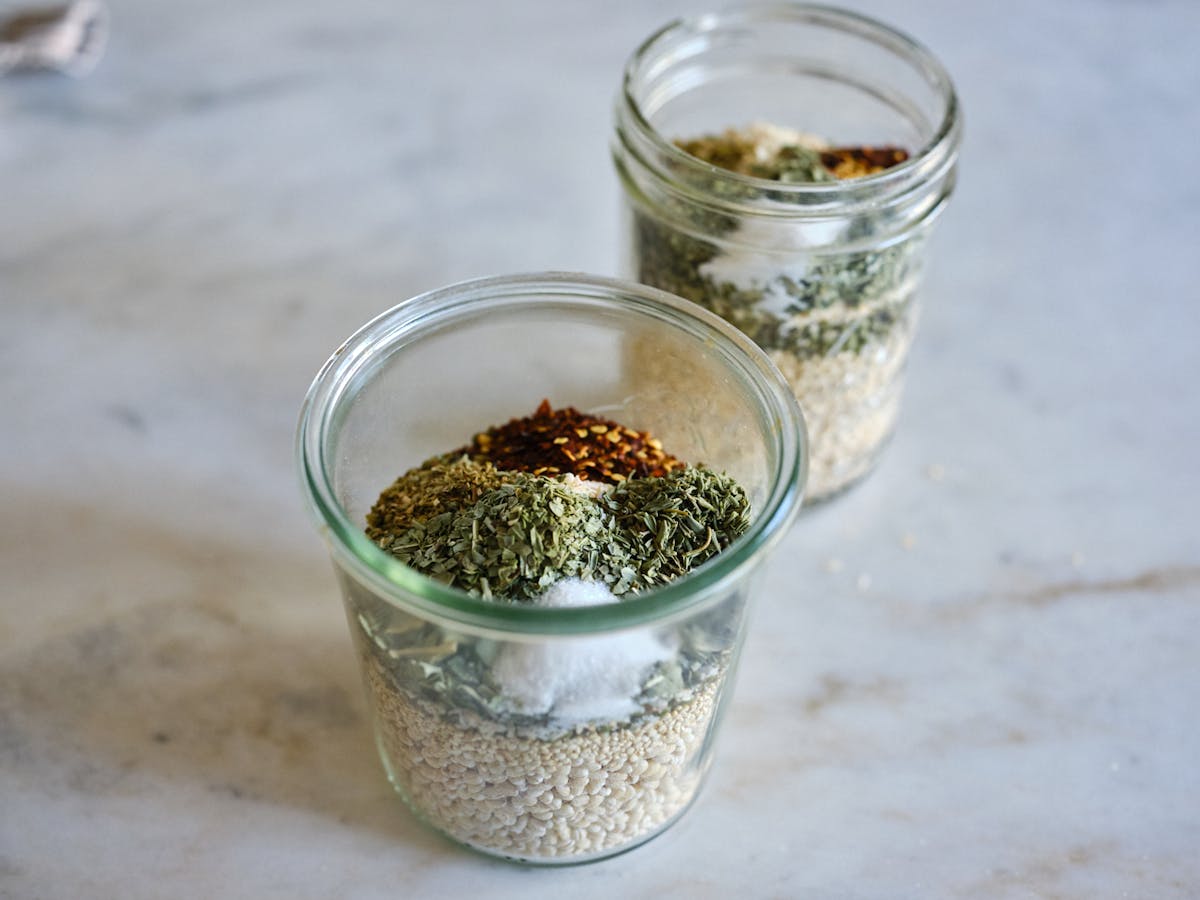 Not all of of my "meal in a jar" recipes are soups, but a lot of them are. We'll branch out at some point, I promise! In the meantime, this is the second recipe in a series that started recently when I posted a favorite tortellini soup in a jar. You were incredibly receptive to that (♥!!), so here we are with a second meal in a jar. It's an herb-flecked, hearty, Italian Barley Soup. Italian-ish would probably be a more accurate description as I like to boost the jar contents with mung beans and quinoa from my pantry, and any vegetables tend to be added at the end rather than the start.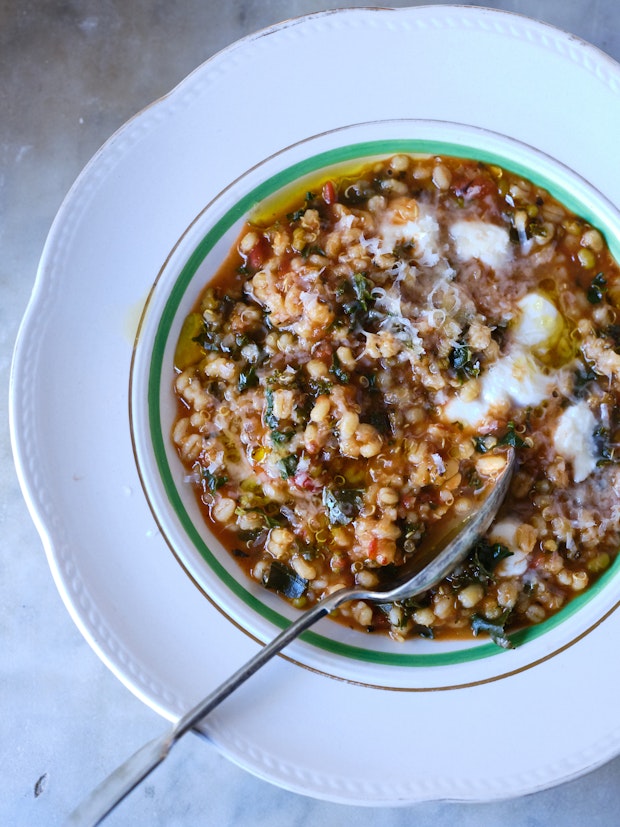 I love to keep these jars on hand for fast weeknight meals and take them out on road trips and camping as well. I keep the base recipes pretty strict and my general rule of thumb is to aim for "just add water." Or, in this case (and the tortellini soup), just add water + a can of tomatoes is fair game. The idea is that if all you have is the content of the jar, water, and perhaps an pantry-friendly ingredient or two, you have all you need for a really good meal.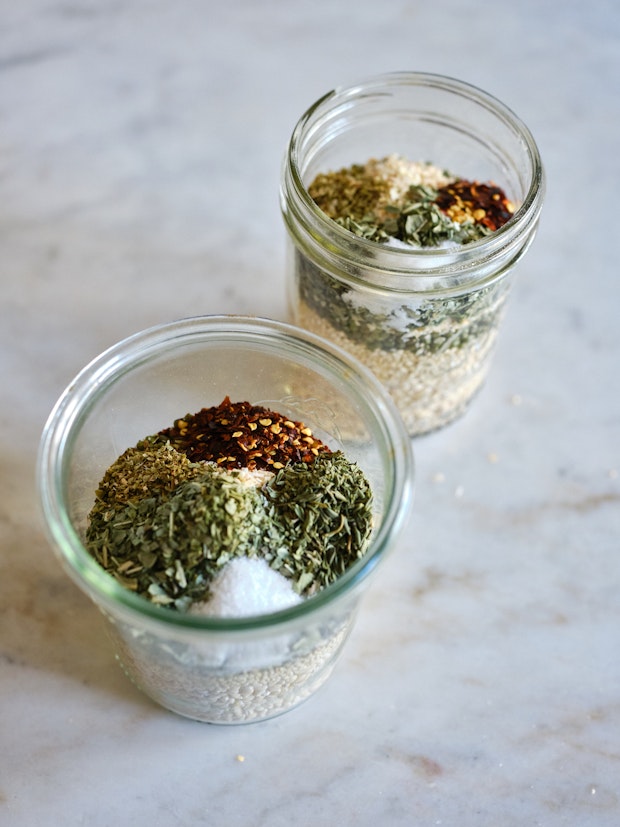 Italian Barley Soup Variations & Ideas
swap in 1 cup of pearled farro for the barley. Or go halfsies!
add a well-drained can of chickpeas
put an egg on it, my preference here is poached
drizzle with chile oil
add some cubes of root vegetables like potatoes, carrots, or sweet potatoes along with the jar contents. This gives them enough time to cook alongside the grains.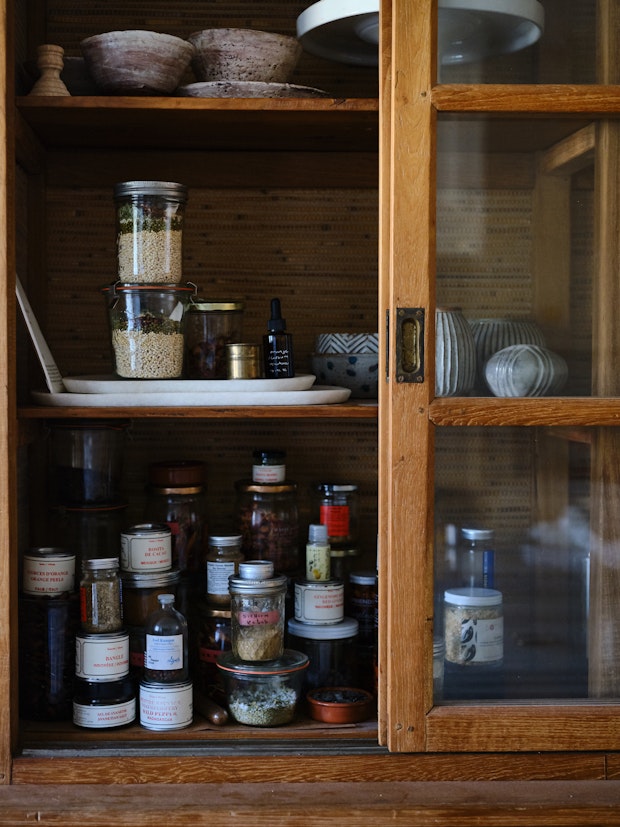 This soup fits nicely in a pint jar. I always get emails about the jar pictured on the left (below) here, it's a Weck jar, and they come in a range of sizes and shapes. I also love to reuse all manner of jam and sauce jars in for storage in an effort to keep plastics to a minimum in my kitchen.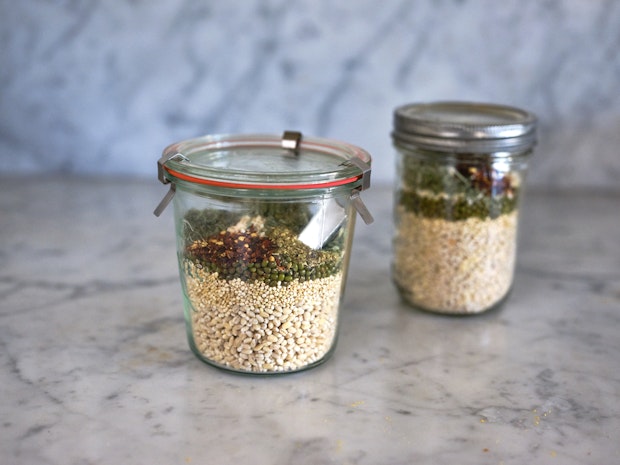 One other thing I'll mention is don't store these "forever". I try to use mine in the coming month or so. The grains will be better (and not rancid), herbs and spices more fragrant, and all the rest.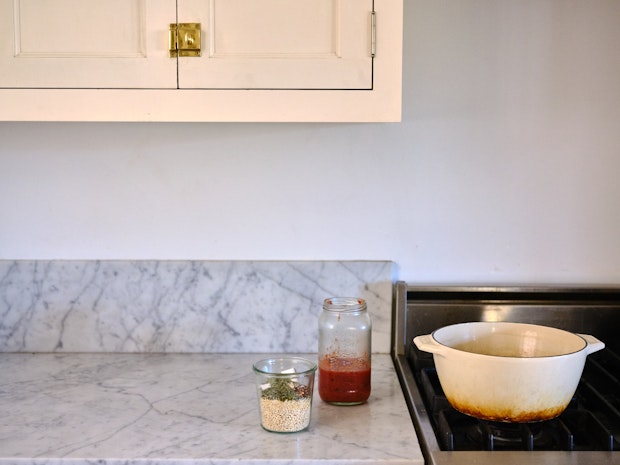 You might not think the contents of this jar will deliver a big pot of soup, but it does! The grains really swell up and absorb the herby-tomato broth. You might even need to add an extra splash of water depending on how long you allow the soup to simmer - to thin things out to your liking.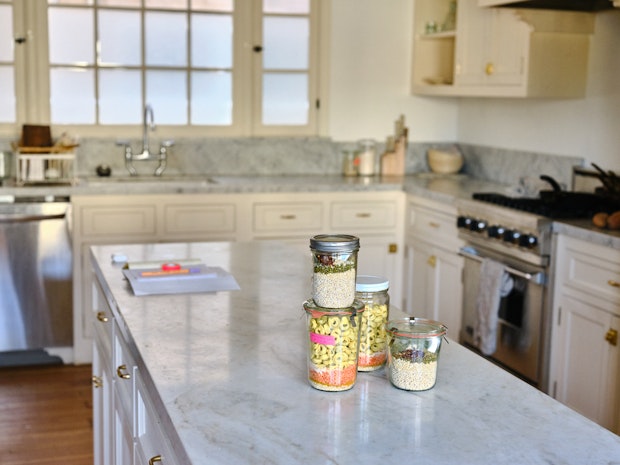 Here's a collection of dump & stir meals in jars ready to go (above photo). If you're interested in any of the baking versions I do, let me know! I take those out with us too when camping - for pancake mixes, breads baked in our portable pizza oven, etc. Or I'm happy to stick with soups, curries, and the like for now.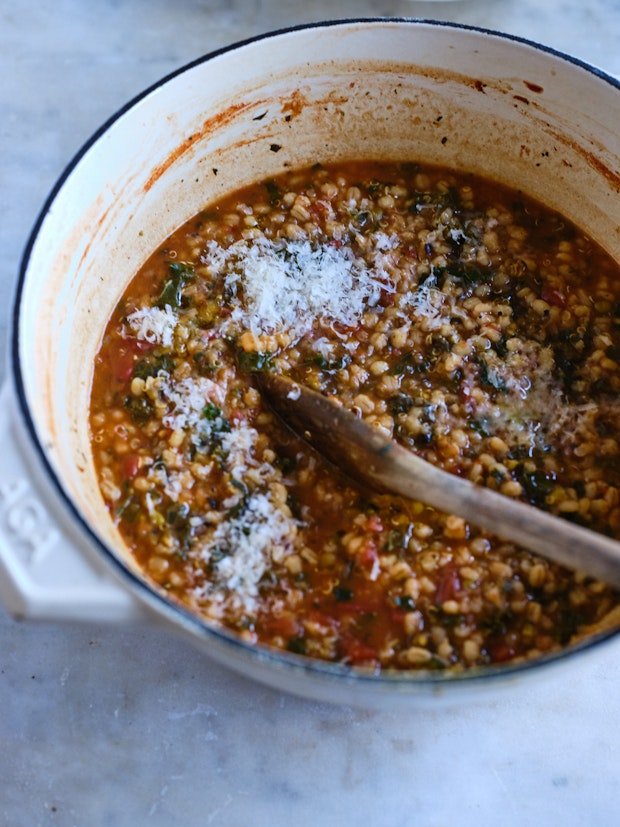 More Ideas!
I mention this down below, in the recipe, you can add all sorts of fresh vegetables to this soup depending on what you have on hand. I typically add lots of chopped kale. We have a seemingly endless supply of it coming from our garden plot. It cooks way down, so if you're going to use it go ahead and use more than you might think. Broccoli florets are another good booster vegetable to get some green going in your bowl. Chopped or shredded cabbage is also a super choice here.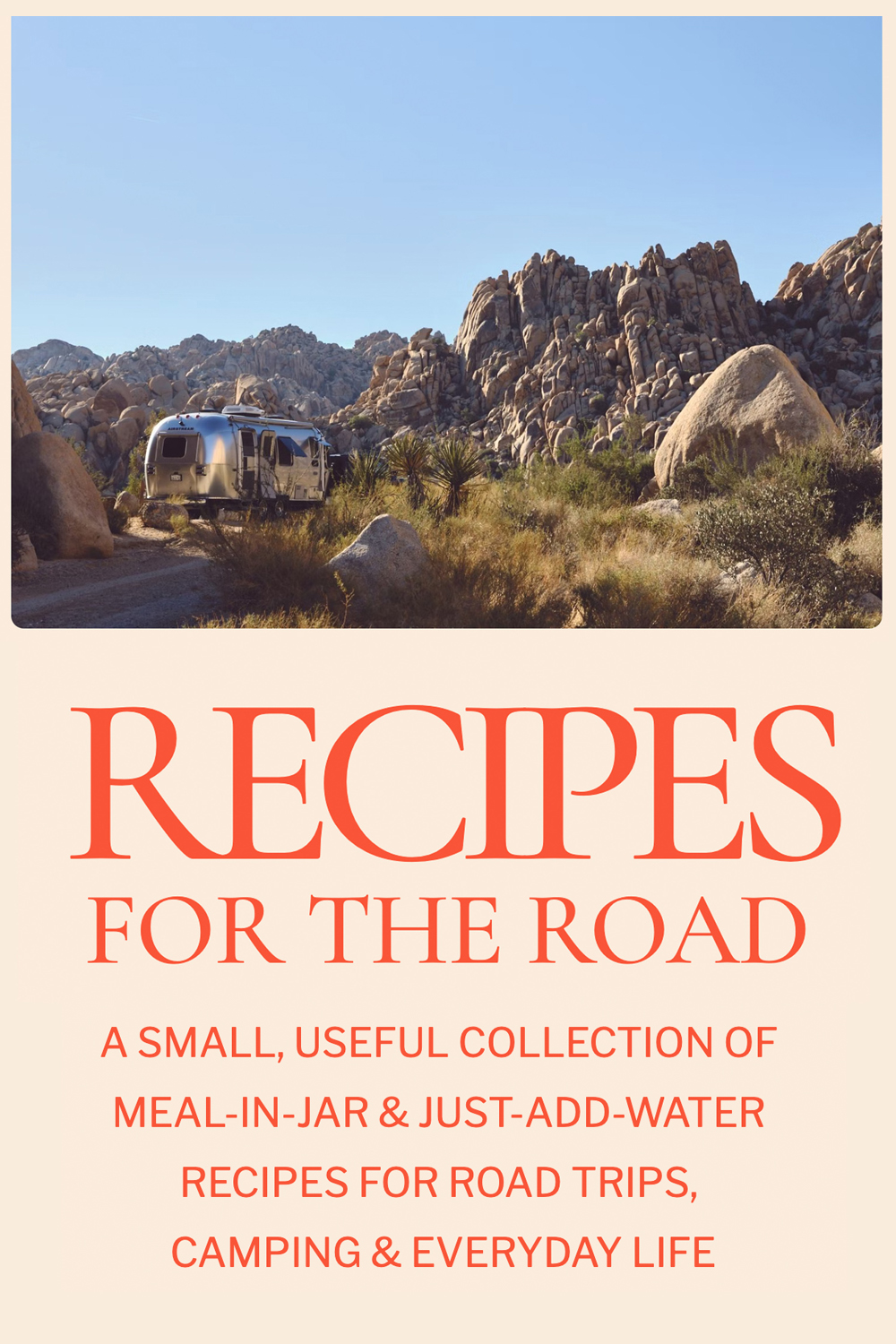 If you'd like more of these types of recipes, I've pulled together a collection of my favorites. Recipes for the Road: A Small, Useful Collection of Meal-In-Jar & Just-Add-Water Recipes for Road Trips, Camping & Everyday Life. It includes my favorite adventure pancake mix recipe, a bunch of soup mixes,  and an A+ recipe for packets of instant oatmeal. You can get a preview of it here.
If you want to take couple for a spin, here's the Meal in a Jar: Tortellini Soup, there's also Meal in a Jar: Spicy Coconut Curry Noodles, and I love this homemade bouillon powder. Here's where you can browse the complete archive of soup recipes. Also! Here's a list of my favorite camping recipes.
Meal In A Jar: Italian Barley Soup
I've noticed that some quinoas are pre-washed before packaging. This rinses of the bitter saponins. By using the pre-washed quinoa here, you can simply pour the entire contents of the jar into the soup pot, no need to rinse the quinoa. I prefer to use fire-roasted canned tomatoes here when I can find them, but the regular version are great as well. To keep this vegan, skip any cheese on the finish.
Ingredients
1

cup

pearled barley

3

tablespoons

pre-washed quinoa

3

tablespoons

dried mung beans

1 1/2

tablespoons

dried minced onions

1

tablespoon

dried basil

1/2

tablespoons

dried thyme

1/2

teaspoon

dried oregano

1/2

teaspoon

fine grains salt, plus more to taste

3/4

teaspoon

dried chile flakes

5 1/2

cups

water

14-

ounce

can of crushed tomatoes

To serve ideas: a few handfuls of chopped kale, broccoli florets, mozzarella or a bit of feta, drizzle of olive oil
Instructions
Combine the ingredients into a pint jar, leaving the bouillon cube wrapped. Set aside until ready to make the soup.

When you're ready to make soup pour the water and crushed tomatoes into a medium soup pot. Unwrap the bouillon cube and add that along with the contents of the jar to the soup pot as well. Bring to a simmer over medium heat. Allow to cook for 35-40 minutes, or until the barley and mung beans have cooked through. If you need to thin your soup at all, add water 1/2 cup at a time. If you want to add any kale or broccoli go for it a few minutes before the soup is done cooking.

Serve topped with a bit of cheese and a drizzle of good olive oil.
Related Recipes
More Recipes
Popular Ingredients