Pumpkin Pie
A classic pumpkin pie recipe with a couple wildcards to make it extra special. The creamy pumpkin custard is made with with a fragrant five spice blend and baked in a flaky, walnut-lined homemade flaky pie crust.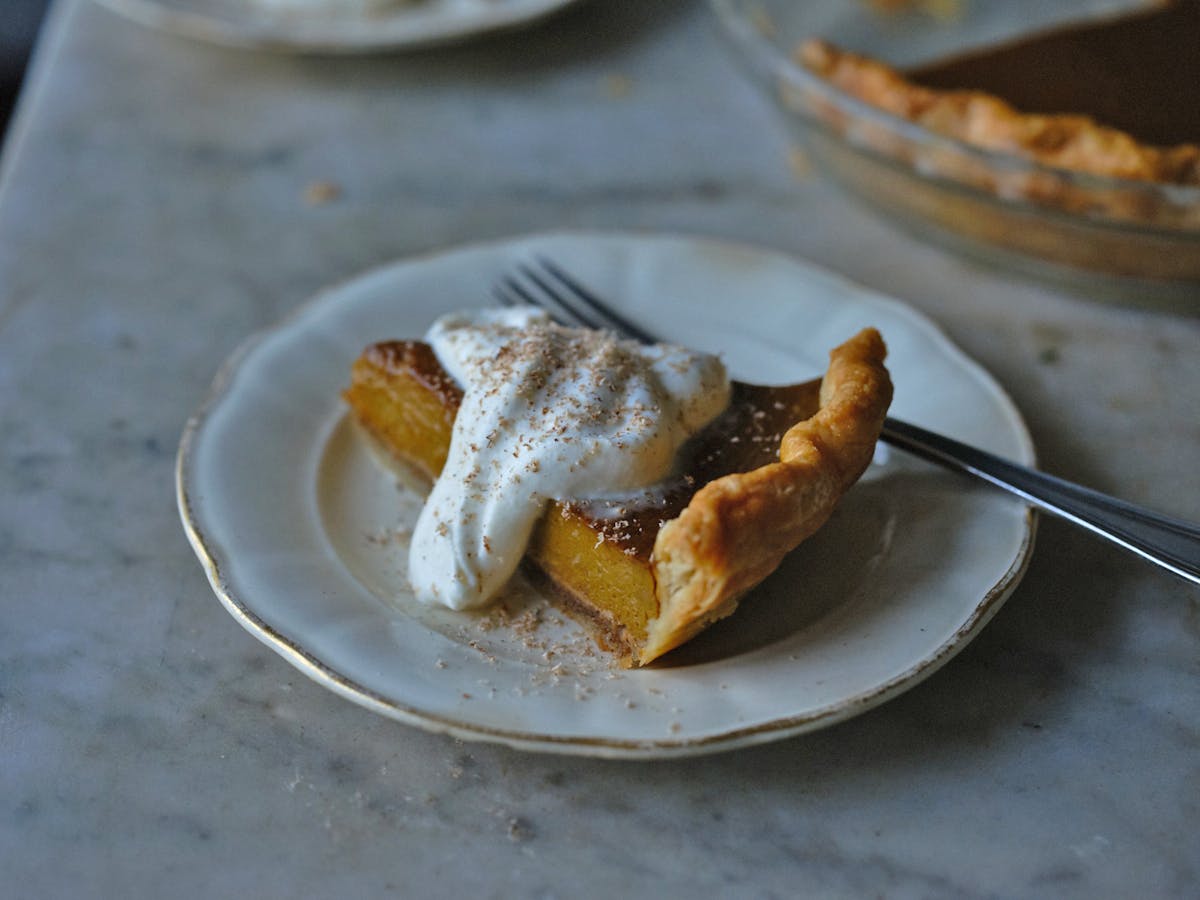 This is my go-to pumpkin pie. It has evolved little by little over years and I'm here to tell you it is in a good place. The creamy pumpkin custard is accented with a beautiful homemade five spice blend and baked in a super flaky, all-butter pie crust. There are a couple other special winks, secrets, and details I'll share below along with a roadmap to a great pie.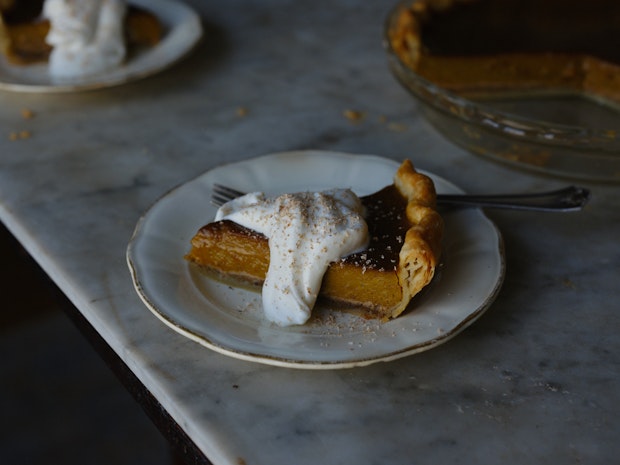 The Details That Make this Pumpkin Pie Special
This pie has many of the hallmarks of a traditional pumpkin pie (flaky pie crust, warming spices, pumpkin custard), along with the following little tweaks to make the pie extra special.
Coconut Milk: While many traditional pumpkin pie recipes use cream, half-and-half, or canned evaporated milk, I like to use full-fat coconut milk. Pumpkin and coconut milk are made for each other. Along with the spice blend, so rich and good.
Toasted Nut Layer: For this pie, a simple slather of pureed walnut or hazelnuts is spread across the pie crust before filling and baking. In addition to adding another layer of flavor, it also helps to keep the crust from getting soggy. It's optional but I rarely bake this pie without it.
Citrus-flecked Pie Crust: Incorporate the zest of an orange into your pie dough here. The orange along with the pumpkin, blend of five spices, and coconut milk is really nice.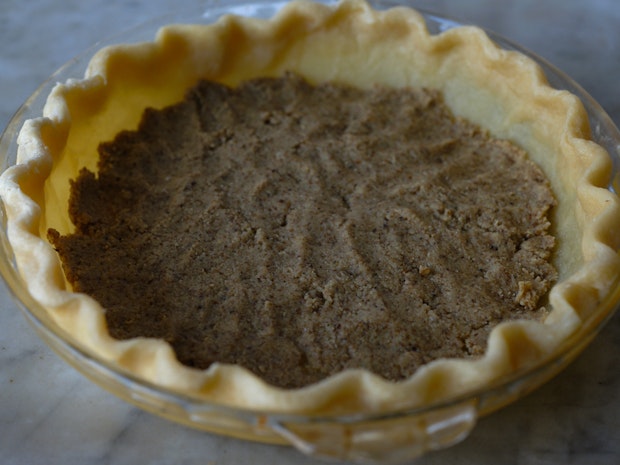 If you want a more traditional pumpkin pie, swap in heavy cream for the coconut milk. Skip the smear of hazelnuts, and keep your pie crust straight.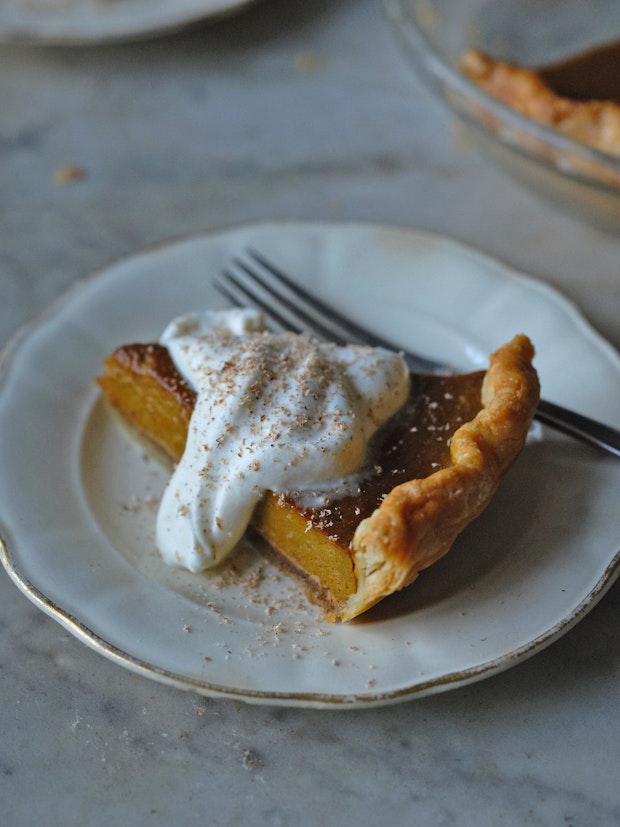 How To Make a Homemade Pumpkin Pie: Step By Step
Here are the broad strokes it takes to bake a proper pumpkin pie.
Roll out pie dough.

Freeze pie crust for 20 minutes.
Pre-bake pie crust.
Make pumpkin pie filling.
Assemble pie.
Bake pie and cool.
What temperature do you bake pumpkin pie?
And how to avoid cracks.
You see people baking pumpkin pies any where from 325°F to 425°F. I'm a fan of the low end of that spectrum. Baking pumpkin pie at a relatively low temperature, 325°F is one factor that can help avoid dreaded cracking later on.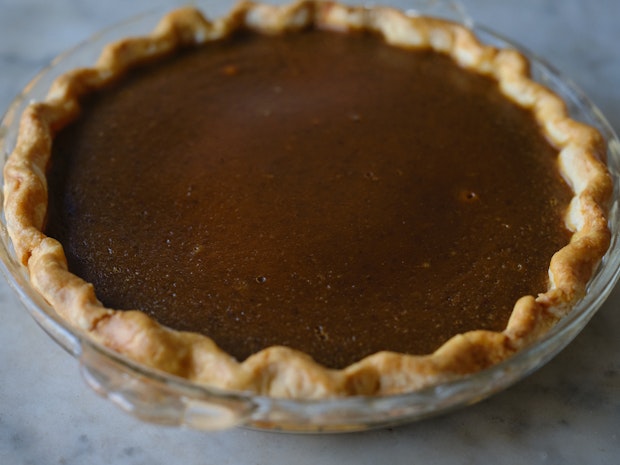 By baking the pie low and slow, you end up with a silky, creamy pumpkin custard (see above). Another tip, allow your pie to cool slowly. And if you do end up with a crack, a strategic dollop of whipped cream always helps!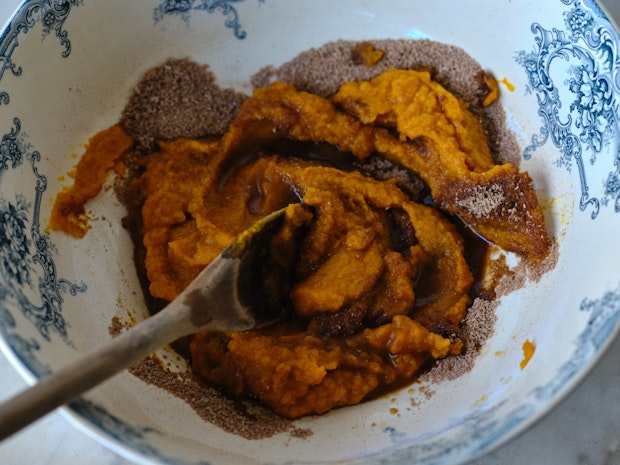 Pumpkin Pie:
Canned pumpkin versus fresh pumpkin - which is better?
I used to be squarely in the make your own pumpkin puree camp. But honestly, you can make really great pumpkin pie filling using canned pumpkin. If you're using canned pumpkin be sure it is 100% pure pumpkin with no added spices or sugar. Libby's brand 100% pure pumpkin is a fan favorite, but I've also had a lot of success using Farmer's Market brand, they have an organic pumpkin puree that works (and tastes) great.
To make your own roasted pumpkin puree start with a 3 pound sugar pie pumpkin, 2 tablespoons of olive oil, and a bit of salt. Carefully cut your pumpkin into four wedges, remove seeds and stem, and rub the wedges generously with the olive oil. Sprinkle with salt and roast in a 400°F oven under very tender, about an hour. Scoop the flesh out of the skins and puree with a hand blender or mash well by hand.
You can also substitute roasted sweet potatoes or other roasted winter squash in place of the pumpkin as a variation. And you can use the filling in tarts, or for individual pies/tarts as well.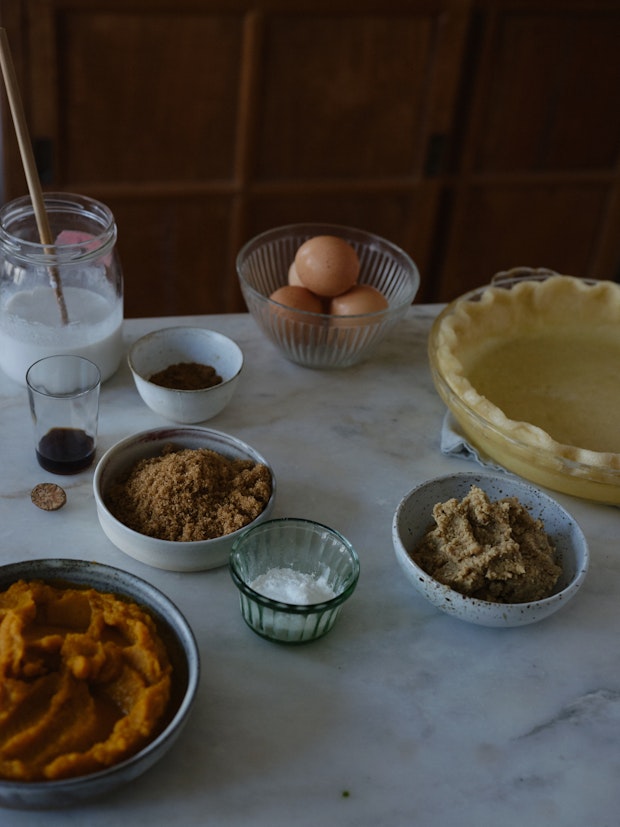 Pumpkin Pie Spice Blend
This pie uses a five spice blend. It is a bit more assertive than your typical pumpkin pie spice blend. It's not shy with the cinnamon, and has a good amount of ginger, cloves, and allspice along with freshly grated nutmeg. A couple tips on this front, if you can get your hands on Vietnamese cinnamon, I love it as part of this blend. It's a little hotter, edgier and assertive. And once you freshly grate nutmeg (use a microplane) you'll never go back. If you only grind one spice in this blend yourself, let it be the nutmeg.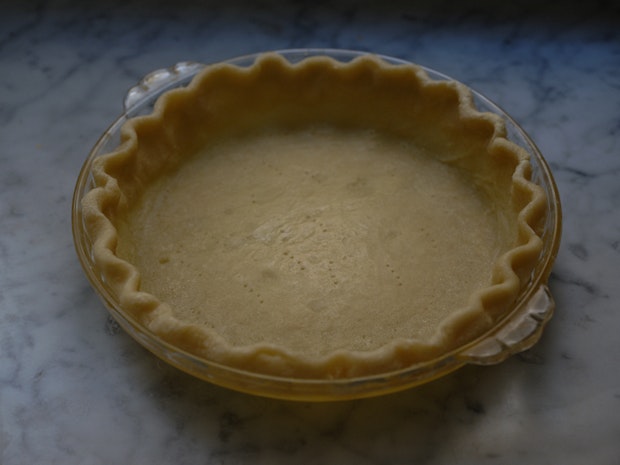 Do you really need to pre-bake the crust for pumpkin pie?
Pre-baking the crust for this pie makes enough of a difference to be worth it. I've tested baking it both ways, and at a range of temperatures. The pumpkin pies made with pre-baked crusts generally had better structure, especially on the bottom. The timing on the overall pie ends up being better as well. The pumpkin custard sets up just about the same time your crust gets nice and golden. So yes, for this pie, I recommend a pre-baked crust. Have a look at how golden and beautiful the crust turns out below.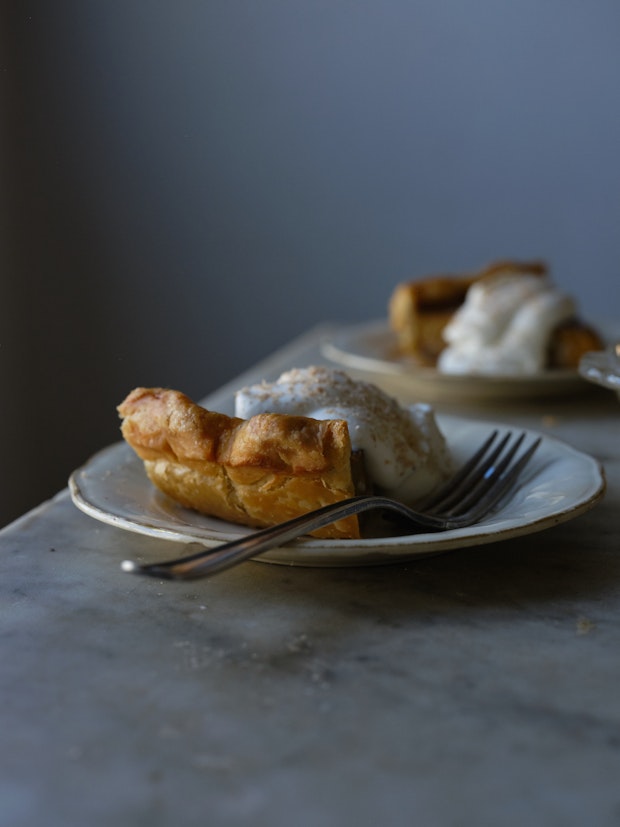 Lastly, my tip on the whipped cream front is to avoid over-whipping it. Floppy peaks is what to aim for. Sweeten it to your liking and spike it, if you like, with a little something boozy towards the end of the whipping process.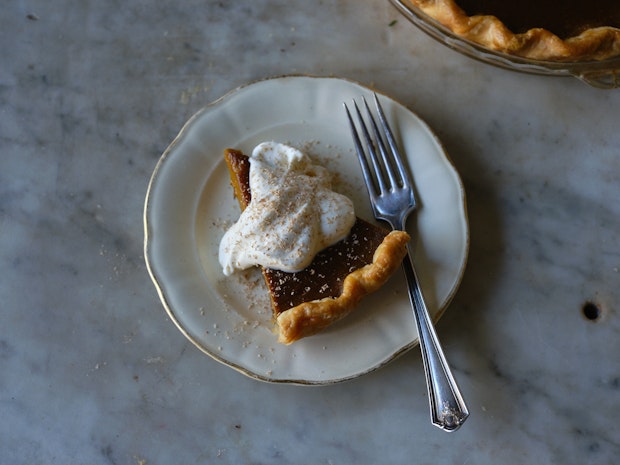 More Pie Recipes
Pumpkin Pie
As I mention above, freshly ground spices make a difference in a recipe like this. That said, I get it, not everyone has a dedicated spice grinder in their kitchen. Good-quality, pre-ground spices are the next best thing and will also yield wonderful results. One last tip, if you use coconut milk, make sure it is uniform and creamy with no coconut fat chunks visible. You can gently warm it (just a bit) in a small saucepan if needed. You can also make this pie in a 10-inch pie dish.
Ingredients
Nut paste:
1 1/2

cups

/ 170g hazelnuts or walnuts, toasted

1

tablespoon

sugar
Pumpkin Pie Filling:
1/2

cup

/ 85g light brown sugar

1 1/2

teaspoons

ground cinnamon

3/4

teaspoon

ground ginger

1/4

teaspoon

allspice

1/4

teaspoon

ground cloves

1/4

teaspoon

freshly grated nutmeg

1

teaspoon

fine grain sea salt

1

tablespoon

arrowroot (or cornstarch), sifted

1 15-

ounce

can 100% pumpkin

2

teaspoons

vanilla extract

4

extra large eggs, room temperature

1

cup

full-fat coconut milk or heavy cream

To serve: freshly whipped cream, lightly sweetened
Instructions
Preheat oven to 375°F / 190°C with a rack in the middle or lower third.
Roll out the pie dough:
If your dough has been chilling overnight allow it to sit at room temperature for a bit before rolling out - 10 - 15 minutes, or so. Lightly flour your work surface, hands, and rolling pin, and roll the pie dough out to 12 inches or so. Large enough to relax into your pie dish with a bit of extra dough beyond the edge. You're going to want to turn the pie dough clockwise after every few passes with the rolling pin to prevent sticking. Flour more as needed as you're rolling.

Transfer the dough into a 9-inch pie plate by gently wrapping it around a rolling pin and unrolling it across your pan. Working quickly, coax the dough into place, fold any extra dough onto itself, and then press confidently into the pan to anchor it. Work quickly so your dough doesn't warm. To make a decorative edge, crimp or pinch around the pie using a fork or pressing your thumb and forefinger of one hand into the forefinger of the other hand. Chill in the freezer for 15-20 minutes.
Pre-bake the pie crust:
Line the crust with parchment paper or aluminum foil and fill with baking weights. Dried beans, rice can be used for this purpose and saved for future use.

Place the pie pan on a large baking sheet. Bake for 20-25 minutes, or until the crust is barely golden at the edges. Remove from the oven, carefully remove weights, prick the base of the crust all over with a fork to prevent puffing. Allow to cool completely on a rack.
Make Pumpkin Pie Filling:
Puree 1 1/2 cups of the toasted walnuts (or hazelnuts) in a food processor with 1 tablespoon of sugar. You want the nuts to turn into a paste, 40-60 seconds, or past the 'crumble' stage. Set aside.

Whisk together the brown sugar, cinnamon, ginger, allspice, cloves, nutmeg, salt, and arrowroot. Stir in the pumpkin puree and vanilla. Now, lightly beat three of the eggs in a small bowl (or pumpkin can). Add the eggs and coconut milk to the pumpkin puree mixture and stir until just combined. Set aside.
Assemble the Pie:
Before filling the pie crust, crumble the hazelnut paste on top of the pie dough into the pie plate. Quickly and gently press it into a thin layer across the bottom creating a layer of walnuts (or hazelnuts) that will sit between the dough and the pumpkin filling. It doesn't have to be perfect.

Use the last egg, lightly beaten, to gently brush the decorative edges of the pie dough.

Use a fork to prick the pie dough a few times to prevent air bubbles, then fill the pie crust with the pumpkin filling.
Bake the Pie:
Reduce the oven temperature to 325F. Bake the pie for about 50 minutes, and then check on it regularly. The pie is baked when the center of the pie just barely jiggles when you move the pie. The edges should be set. This could take another 10 or twenty minutes.

To avoid cracking, avoid over baking your pie, and allow it to cool slowly if possible. You can do this by turning off the oven and opening the door, to allow a more gradual cool down. Allow to cool to room temperature.

Serve straight or with a dollop of sweetened whipped cream, and a bit of freshly grated nutmeg.
Notes
Makes one 9-inch pie.
Related Recipes
More Recipes
Popular Ingredients