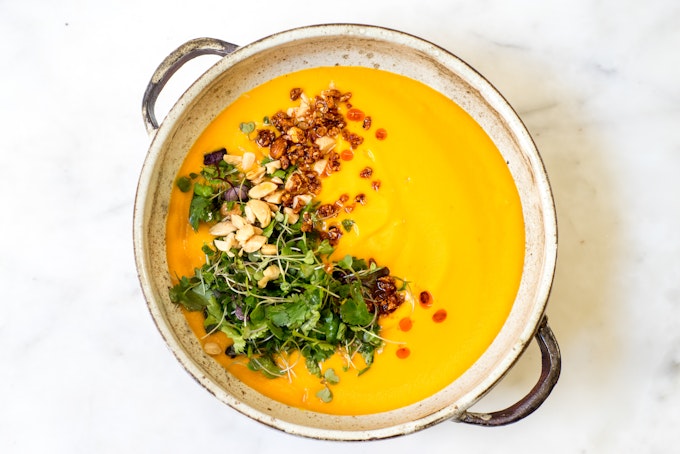 A Simple Carrot Soup Recipe
You are looking at the simplest carrot soup. One I love, in part, because it's an example of how a beautiful meal can come together with a bit of care, and an impossibly short list of ingredients. Carrots and onion form the base. The base is spiked with dollop of red curry paste, and then pureed into silky oblivion. Once pureed, you can flare it out with whatever you have on hand for the toppings.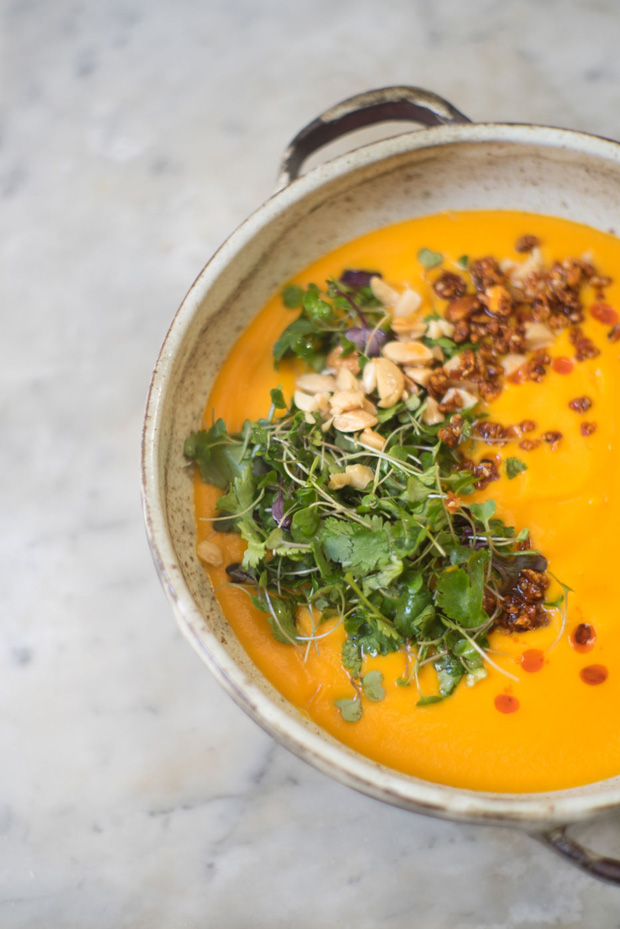 Choose the Best Carrots
Use bushy-topped farmers' market carrots or regular orange carrots, either will work. I personally prefer the heirloom farmers' market varieties, but this soup is delicious with just about any carrot.
Getting that Perfect Silky Texture
Part of what I love about this carrot soup in particular, is the silky mouthfeel. If you take the time to peel your carrots, it smooths things out beautifully. I'm going to argue it's a key component in taking this soup from really good to exceptional. That said, if you don't mind a slightly more rustic version, go for peels on and save yourself a step!
How to Blend Carrot Soup
A quick and easy way to puree this soup is with a simple hand blender. It's how I've made this soup for years. But, if there was ever a time to break out the serious blender, this is it. Recently, I started to use our fancy ultra-powerful juice blender for this soup. Blend for a while, it is completely worth the clean-up effort.
A Simple Carrot Soup
Ingredients
2

tablespoons

unsalted butter or extra-virgin coconut oil

1

onion

chopped

scant 1 tablespoon red curry paste,

or to taste

2

pounds

carrots,

peeled and chopped - 1/2-inch chunks

1 14-

ounce

can full-fat coconut milk

1 1/2

teaspoons

sea salt,

or to taste

1 1/2

cups

/ 360 ml of water,

or to cover

1

lemon or lime
to serve (topping ideas):
micro greens / cilantro, chopped, toasted almonds , chile oil
Instructions
In a large soup pan over medium-high heat add the butter and onion. Stir until the onions are well-coated, and allow to saute until translucent, a few minutes. Add the curry paste, and then stir in the carrots. Allow to cook another minute or two, and then add the coconut milk, salt, and water, adding more water to cover if needed.

Simmer until the carrots are tender, 10 - 15 minutes, then puree using a blender or hand blender until the soup is completely silky smooth. The next part is important, you're going to make any needed adjustments. For example, add more water if the consistency needs to be thinned out a bit. Taste for salt, adding more if needed. I also like to season this soup with a great big squeeze or lemon or lime juice. Serve topped with whatever you have on hand. Something crunchy like almonds is nice. Along with a final touch of something green, like micro greens & cilantro.
Related Recipes
More Recipes
Popular Ingredients