Spicy Sesame Coleslaw
Feathery green and red cabbages along with carrots, apples, and scallions tossed with a spicy, creamy sesame dressing.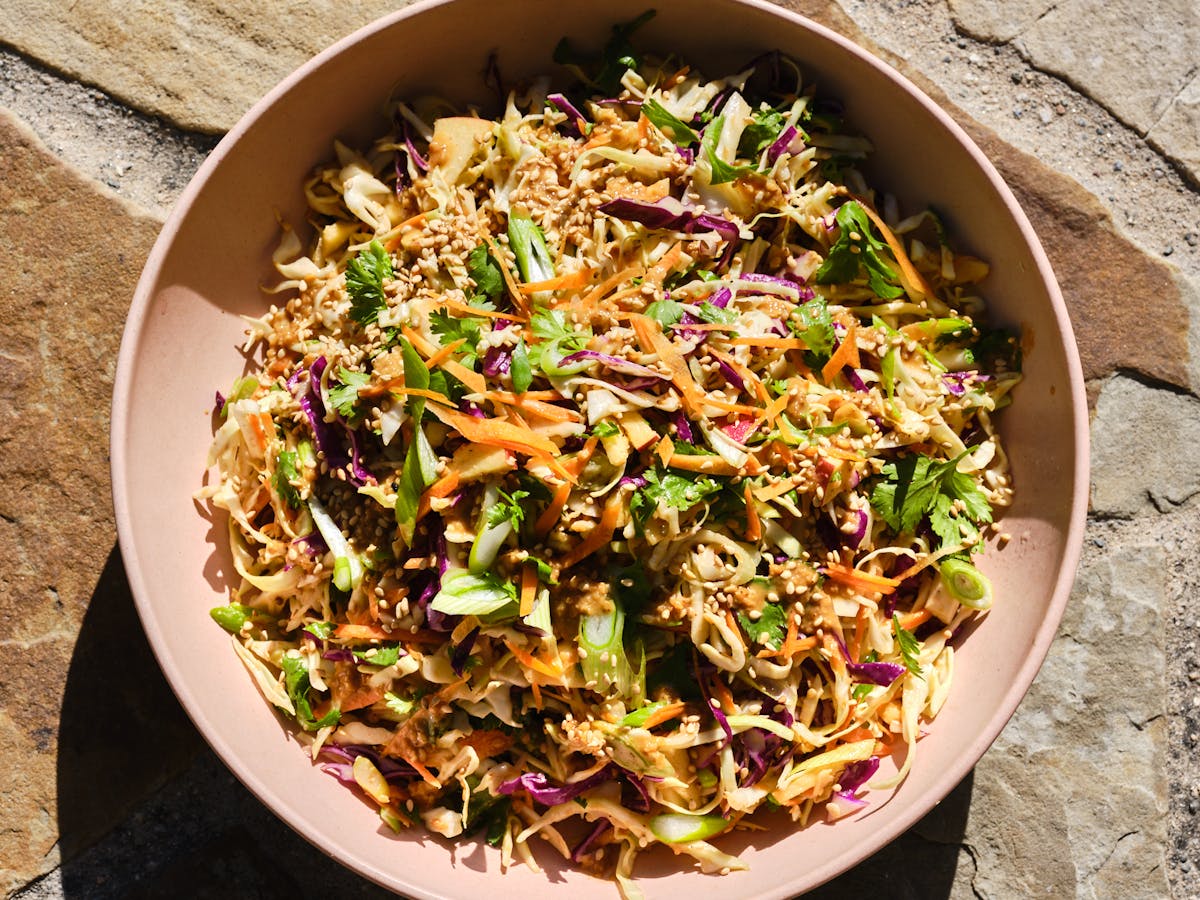 We had a bunch of cabbage come out of the garden this year. I basically made one thing with it, a feathery slaw made from shredded green and red cabbages, apples, carrots, and scallions tossed with a spicy sesame dressing. Hands down, it's my favorite coleslaw recipe. If you've ever had asparagus or spinach goma-ae at a Japanese restaurant you'll recognize the inspiration for the dressing. Toss it all together, and you've got a great slaw on your hands. It's a slaw that is good on its own. This slaw is great on tacos and perfect as a side to soba noodles. I've even thrown a few big scoops in a bowl of short pasta with a few chickpeas and called it lunch. Prep a big bowl and enjoy it for days.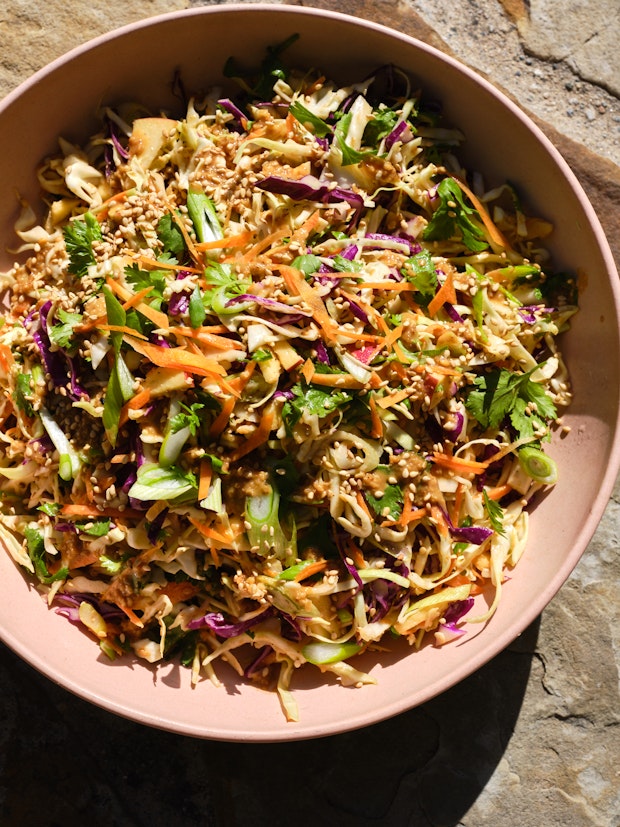 The Key to a Great Coleslaw Recipe
I'm funny about how I like my coleslaw, and it's all about knife skills. I talked about it at length when I posted this Lime & Blistered Peanut Coleslaw years back, and it applies here as well. The cabbage should be chopped thin, whisper thin. I like each bite to be feathery as opposed to coarse or chunky. My feeling that a great coleslaw recipe is created with good knife skills and a short list of easy-to-find ingredients stands all these years later. Equal importance is placed on the ingredients and the cut of the cabbage.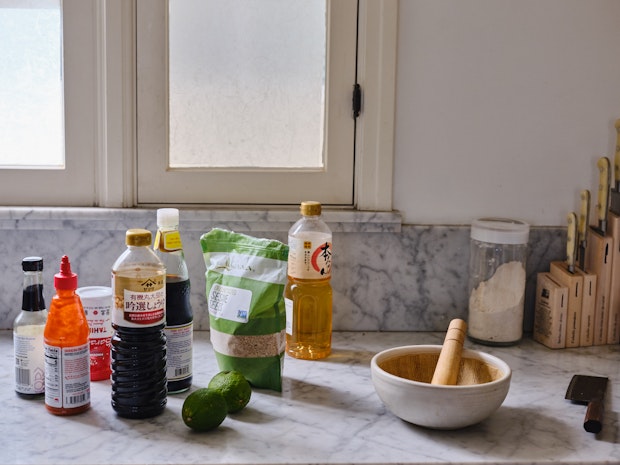 Does Coleslaw Contain Dairy?
It doesn't have to, but it can. This one doesn't and I love it. In fact, it is probably obvious, but this isn't a take on a classic coleslaw recipe. In those recipes you might see spices and accents like celery seed, Dijon mustard, grated onion or apple cider vinegar. Some slaws use mayo as the creamy base. And then, in many non-mayo slaws you'll see Greek yogurt swapped in. Contrastingly, this recipe I like to uses citrus juice for acidity. The sesame dressing is beautifully creamy without dairy or mayo, and a rainbow of shredded crunchy ingredients makes things beautiful.
Spicy Sesame Coleslaw Dressing
The base of this coleslaw is pretty straightforward - cabbage, scallions, carrots, cilantro, and apple. But the dressing is where things get interesting here. The dressing is creamy sesame deliciousness accented with a jolt of sriracha (or whatever spicy component you like), and a balancing squeeze of fresh lime juice. The dressing coats all the slaw ingredients and brings it together into a creamy coleslaw dressing without mayonnaise.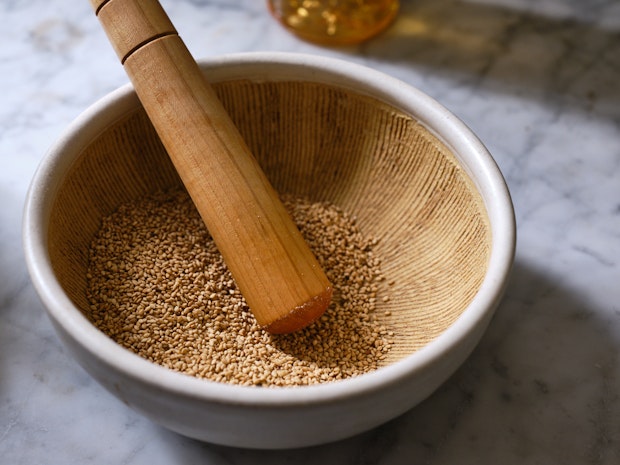 There are a few ways to grind the sesame seeds in this dressing. I tend to use my suribachi, a ridged Japanese grinding bowl. You can also have at it in a traditional mortar and pestle, or a few pulses in a food processor (or blender) will also do the trick. You have options!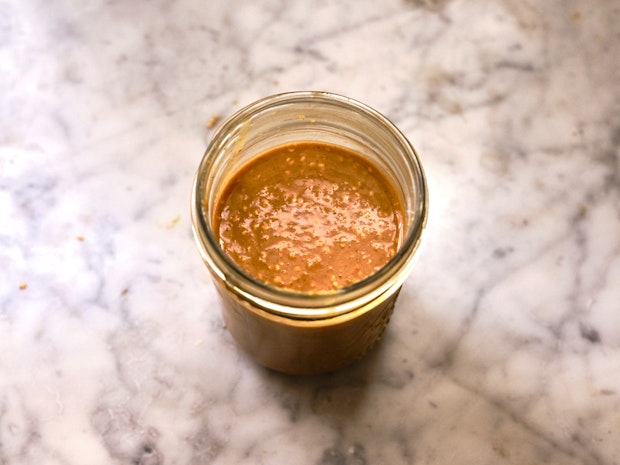 Here's how it looks as the dressing comes together, it's creamy, flavor rich, and the perfect consistency to coat your slaw. You can make it as spicy (or not) as you like. Also, pro tip here, I always make double the dressing and use it throughout the week.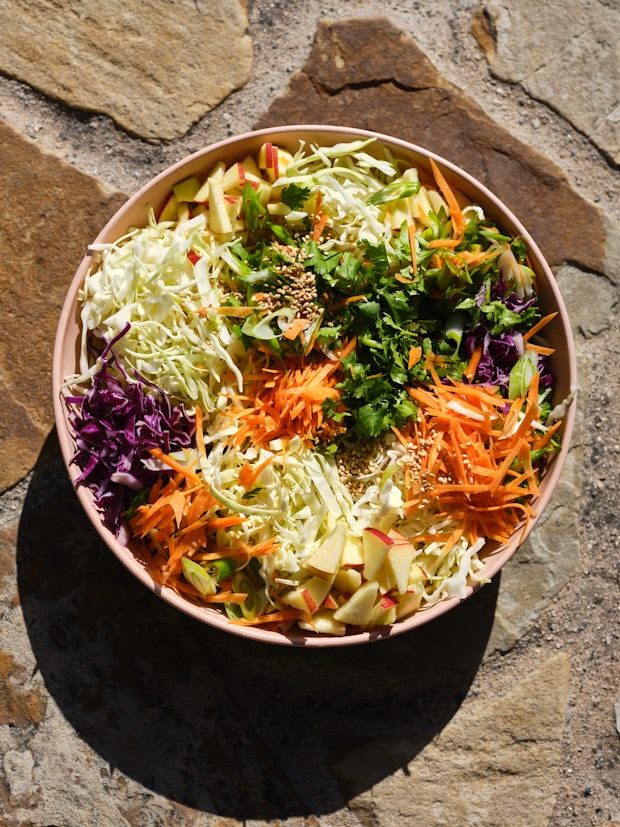 Preparing Spicy Sesame Coleslaw Ingredients
Above you can see the slaw ingredients prior to dressing. Aside from slicing the apple, you can prepare all of the ingredients and the (sesame coleslaw dressing) a day or two before serving. I like to give the sliced apple a bath in lemon or lime juice just before tossing to keep them from discoloring. You'll see that in the recipe instructions so heads up on that front. You can get a jump start on the rest of the shredding and chopping ahead of time.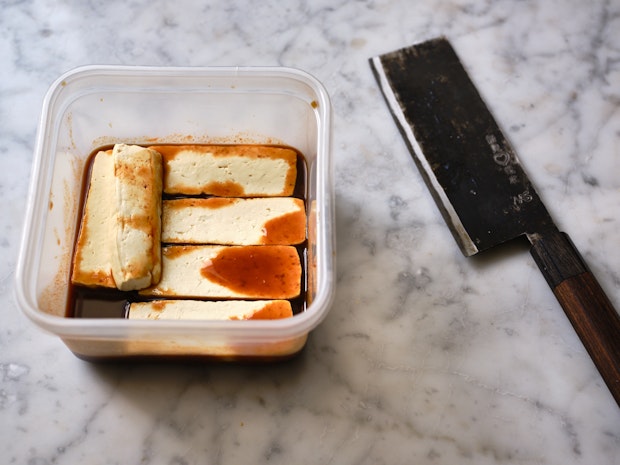 More Ideas
I wanted to highlight a few of the ways I've enjoyed this coleslaw in previous weeks. I literally put in on, in, or under everything around here and it is a bit out of control. The apples and carrots bring a bit of sweet, perfect to counterbalance with something spicy. You can see tofu marinating up above, I like to take that and cook it quickly in a skillet. Serve the tofu over the coleslaw with a side of soba noodles. A lot of the time I have some tofu marinating, so when I have this coleslaw in the refrigerator, boiling some soba turns this into a tasty ten minute meal - see photo below.

Coleslaw and Tacos
Here's the other way I like to enjoy the spicy sesame coleslaw on repeat. You see it pictured below. It's a taco situation. That marinated tofu up above? I treat it "fish taco-style" where it is dusted with a bit of cornstarch and then pan-fried until it gets a crispy crust. Here's how the taco is assembled. Apply a thin layer of smashed avocado on a tortilla. Add a layer of well-cooked tempeh bacon (Wayne buys the Lightlife Smoky Tempeh Bacon), and then some of the cooked tofu. Brown the (filled) tortilla on both sides until golden. Immediately fill with lots of coleslaw. I like a little extra green salsa as well. This is my favorite lunch right now! Get the Vegan Fish Tacos recipe.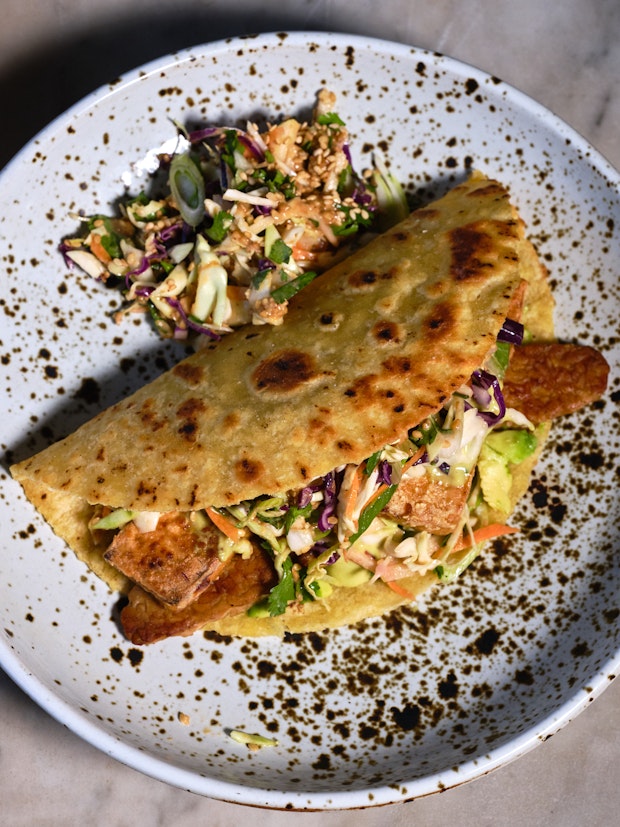 Here's one more view of the taco + coleslaw situation from a slightly different angle so you can really get a sense of what is happening inside. My main advice is don't skip on the coleslaw. I really load it up.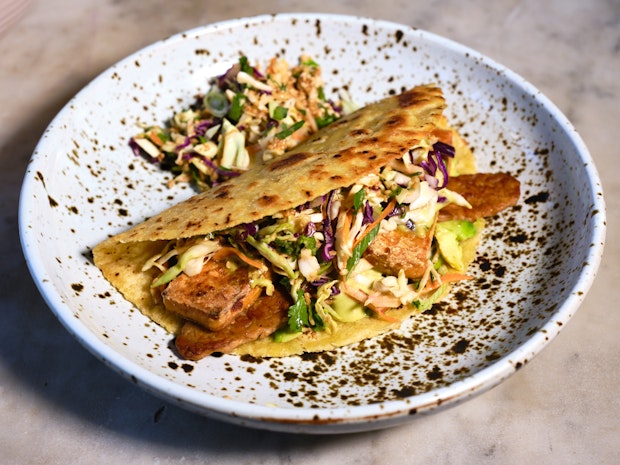 Coleslaw Recipe Shortcuts
I'm going to finish with a few shortcut suggestions here. As I mention up above you can do most of the prep for this recipe whenever you have a moment or two. I typically make a double batch of the dressing so it is ready in the refrigerator for me. Then all you need to do is a bit of chopping, grating, or shredding, and you're good to go. I like to hand cut the cabbages here, so it is just to my liking, but beyond that you have options. If you have a grating attachment for your food processor, you can use that for the carrots, apples, and scallions. It definitely makes quick work things. Alternately you can use the large side of a box grater for the carrots and apples. I typically use a knife for everything (to avoid more dishes lol), but go with whatever you like. 

Wrapping things up, this is a fantastic slaw for everyday meals or to take to a bbq. You can see it here as part of this post about feel-good lunch ideas. Homemade coleslaw is a treat but if this isn't your quite what you're after, browse these other salad recipes, or try this Lime & Blistered Peanut Coleslaw, or this wonderful Cucumber Salad, or this Shredded Egg Salad. 
Spicy Sesame Coleslaw
I like to use toasted sesame seeds for the dressing. If you are toasting your own aim for a medium toastiness - golden but not too dark. And feel free to adjust the spiciness to your liking.
Ingredients
Spicy Sesame Dressing:
1/3

cup

toasted sesame seeds, plus more for serving

3

tablespoons

tahini

1 1/2

tablespoons

freshly squeezed lime juice or lemon juice

2

tablespoons

coco aminos or soy sauce

2

tablespoons

mirin

1

tablespoon

sugar

1

tablespoon

sriracha, or to taste

1-2

tablespoons

warm water
Coleslaw:
1/2

large apple, grated or thinly sliced

juice of one lemon or lime

3

cups

finely shredded green cabbage

1

cup

finely shredded red cabbage

2

carrots, grated

4

scallions (~1 cup), very thinly sliced with greens

1

small bunch of cilantro, chopped
Instructions
Make the Spicy Sesame Dressing:
Grind the sesame seeds in a mortar and pestle or by pulsing in a food processor or blender until it is a fine meal. Add the tahini, lime juice, coco aminos or soy sauce, mirin, sugar, and sriracha. Stir until well combined. Stir in the warm water and stir, stir, stir, until creamy and uniform. Taste and add more sriracha of you like.
Assemble the Coleslaw:
Toss the grated apple with the lemon or lime citrus juice and set aside until you're ready to pull the slaw together.

Shred cabbage if you haven't already. Combine the cabbages, carrots, apple, scallions, and cilantro in a large bowl. Drizzle with about half of the spicy sesame dressing. Toss until everything is nicely coated, and then toss a bit more. Decide if you want more dressing and add a bit at a time until it is to your liking.

Serve sprinkled with some extra sesame seeds. Leftover coleslaw will keep covered in the refrigerator for a few days. Simply re-toss and enjoy, reseason with a bit of salt and pepper if needed.
Related Recipes
More Recipes
Popular Ingredients