Wonton Soup
A hearty wonton soup featuring pillows of wontons stuffed with tofu, cream cheese, shredded kale, scallions, and curry powder floating in a spicy miso broth and topped with a peanut-scallion sprinkle.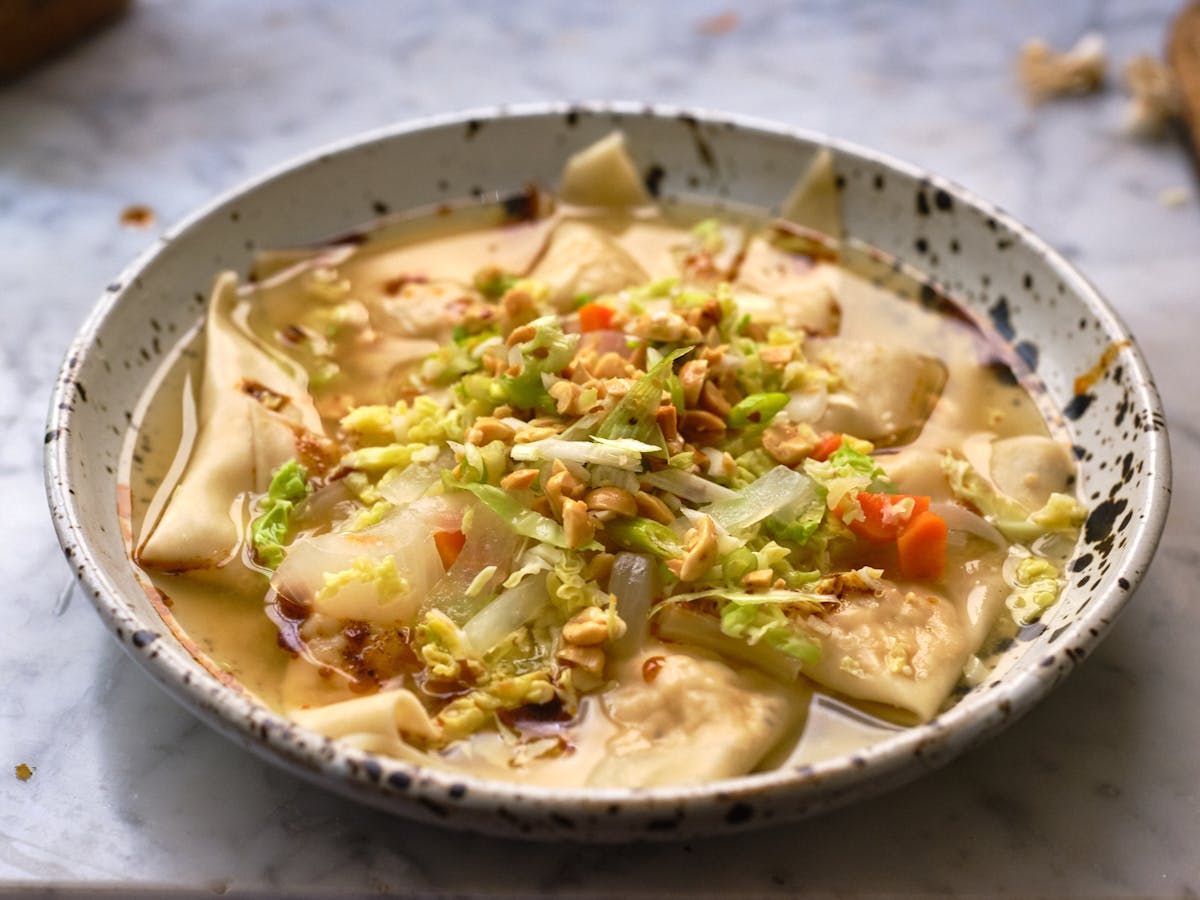 If I look back through my notebook over the past year, one of the things I've cooked most is this wonton soup. Like, weekly. Top three recipe. What I find notable about this is: making wonton soup isn't particularly quick or convenient. Especially if you take as long to shape each wonton as I do. But my enthusiasm for slurping up tender flavor-packed pillows from a spicy miso broth is intense. The wonton soup recipe you see down below has become our "house" wonton with a filling of finely crumbled tofu and a bit of cream cheese to bring it together. I load the base with minced kale, lemon zest, curry powder, black pepper and scallions. The broth is always miso spiked with something spicy, sometimes served simply, other times with with added chopped vegetables and cabbage (as in this version). Little of this is conventional, but oh my god do I love to eat it.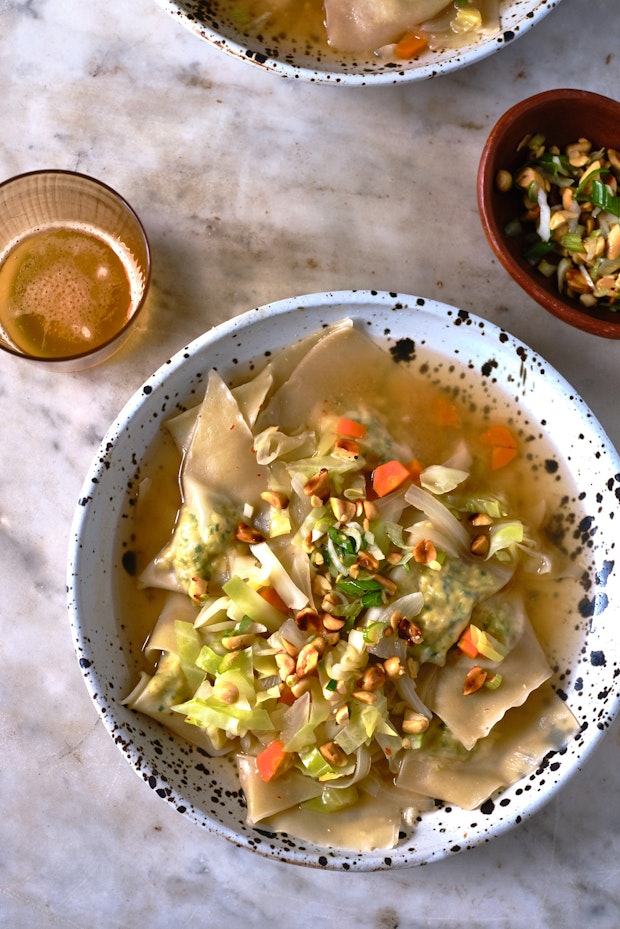 Inspiration
I tend to go through intense periods of dumpling-making or pasta shaping - gyoza, wontons, ravioli, pappardelle, cavatelli - I'm game for all of them. The meditative repetition of the process feels good to me and the payoff is always a series of the kind of meals I love - hand-made, a bit rustic, full of flavor and love. The last year of wonton-making was kicked off after I made the Smoky Tofu-Nori Wontons from a preview of Andrea Nguyen's new book Ever-Green Vietnamese. Andrea has you make nori and smoked paprika-seasoned wontons that are brushed with oil and baked until sizzling, browned, and crispy. They were so amazing I started making double and triple batches of the filling, eventually swapping in other ingredients depending on what was on hand. There was a lot of free-styling going on. To switch things up, instead of baking, I started boiling a handful of these wontons in a quick spicy broth when I wanted a fast meal. And here we are.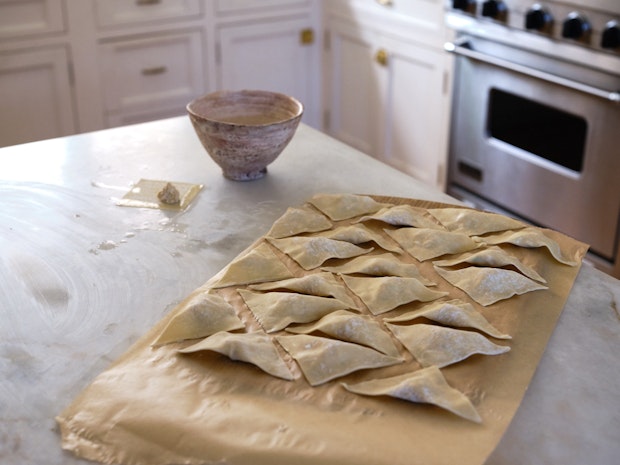 Wonton Soup: Make-ahead Game Plan
I rarely shape my wontons on the same day I make the filling. By making the filling one day, you have a good amount ready for impromptu wonton soup meals. It'll keep for up to five days, refrigerated. Making the wontons from this point becomes an easy lift and can go fast, especially if you have an extra set of hands (or two). The broth always comes together super quickly, so that's no big deal. The wontons freeze well, so after shaping, freeze any that you aren't planning on cooking immediately. I go into more detail on that down below.
So, to clarify the process. I make the filling and refrigerate it until I'm ready to shape wontons. I'll either shape the wontons ahead of each meal, or, if I have a good chunk of time, shape them all at once. Freeze any that aren't going to be cooked immediately.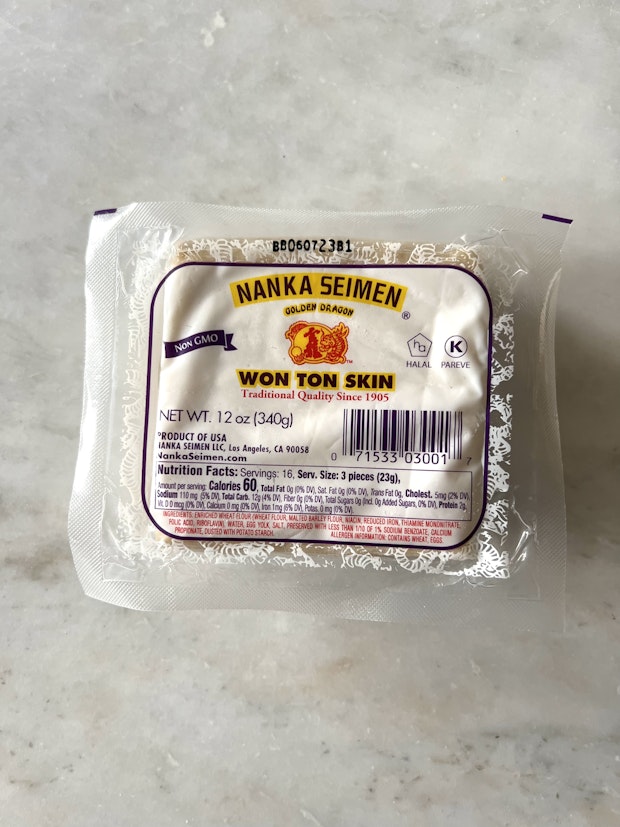 Which wonton wrappers should I buy?
When it comes to making dumplings, wontons, gyoza and the like, your success or failure can be at the hands of the wrappers you choose. I've worked with a wide range of them over the years, both organic and not, and some are thicker or thinner than others. Some tear more easily than others. Some seem to dry out more quickly, etc. It's easy to get frustrated if your wrappers are a problem. The wrapper brand I've had the most consistent success with lately is Nanka Seiman (pictured above). They are supple and tend to work great whether my wontons are bound for a soup, brushed with oil and baked crisp, or are destined to be pan-fried.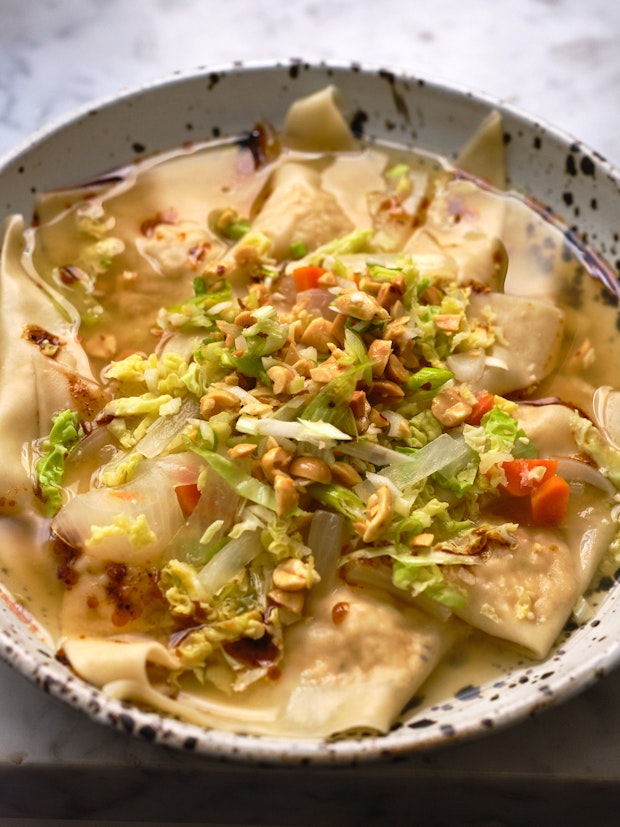 I'm also noticing Andrea wrote this primer on what to look for when buying wonton wrappers. She talks through vegan considerations as well how to check for freshness. Another thing, most of the wrappers have some sort of preservatives and/or additives added, it kind of is what it is, unfortunately. If you have a wrapper brand you love with a more pared-back ingredient list, give a shout in the comments. Or, you can always make your own dumpling wrappers - Andrea has a recipe in her Asian Dumplings book. She made fresh wrappers as part of a dinner at a friend's house (maybe a decade ago?!?) and I still remember how special they were. And she made it look easy.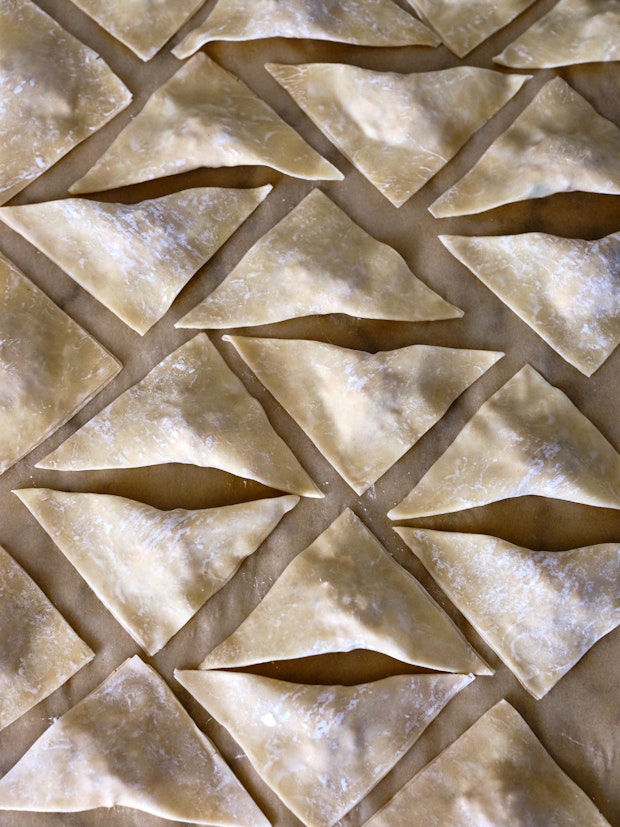 How To Freeze Wontons
The most convenient way to freeze wontons is to arrange them on a parchment-lined baking sheet (see above) before placing in the freezer. Once frozen you can transfer them to a freezer bag. You can boil or bake oil-brushed wontons direct from the freezer.
Substitutions & Variations
Goat cheese vs. cream cheese

: I went to make my wonton filling one night, and realized we were out of cream cheese. I did have goat cheese, so decided to try that instead and it worked out nicely - a bit of tang.

Cream cheese vs. cottage cheese

: Realizing this might sound awful, but it absolutely isn't. Many wonton recipes include cream cheese. I substituted low-fat cottage cheese in the last batch I made, and no one could tell the difference. I only tried it because we forgot to buy cream cheese, and now I'm 100% on board. 

The spicy component

: I like to have a little something spicy in my wonton filling. You'll notice the minced serrano in the recipe below, it's my favorite option. That said, I've made versions substituting everything from habanero jelly (1 tablespoon) to Kashmiri chile (1 teaspoon) with good results.

Something green

: I like the idea of getting a mix of "good stuff" all in one bite. It's the reason I started adding minced kale to my wonton filling. When I don't have kale, I'll add chopped cabbage, or a handful of mixed herbs. Have fun experimenting!
I often use the filling as a lettuce-wrapped component, you can see it here in this post on feel-good lunch ideas.
More Soup Recipes
If you love these types of soups, here's where you can explore all the soup recipes. This rustic cabbage soup has been quite popular lately, and I love this ribollita, this vegan pozole, and this simple tomato soup.
Wonton Soup
I use a Madras style curry powder here, but you can substitute any favorite or go with a curry paste you like.
Ingredients
Wontons:
10

ounces

extra-firm tofu

5

tablespoons

/ 2.5 ounces cream cheese

1/3

cup

chopped scallions

1 1/4

teaspoons

curry powder

1/3

cup

minced kale, de-stemmed

1

seranno pepper, minced

zest of one lemon (optional)

1

teaspoon

soy sauce or tamari

1/2

teaspoon

fine grain sea salt

1/2

teaspoon

freshly ground black pepper

1

packet of square wonton wrappers
Peanut-Scallion Sprinkle:
1/3

cup

of salted peanuts, toasted and cooled

4

scallions, chopped/

1

teaspoon

toasted sesame oil, lemon olive oil, tangerine olive oil, or chile oil
Spicy Miso Broth:
3 1/2

cups

of water

1/2

onion, sliced into thin crescents

1

garlic clove, chopped

1

carrot, peeled

1

cup

shredded green cabbage

1

teaspoon

sriracha, tobanjan, Calabrian chile paste, or curry paste (plus more to taste)

1

tablespoon

miso
Instructions
Start by making the wonton filling:
Crumble the tofu into a medium bowl. Like, really get in there with your hands to turn the tofu into a small, pebble-like, uniform crumble. Add the cream cheese, 1/3 cup scallions, curry powder, kale, serrano pepper, lemon zest, soy sauce, sea salt, and black pepper. Use one hand to squish and smash all the filling ingredients until it looks uniform in appearance. Taste and adjust to your liking. You can store the filling, refrigerated, for up to five days, until you're ready to make wontons.
Prepare the wontons:
To fill the wontons, arrange 8 wrappers on your work surface. Working quickly scoop 1 teaspoon of filling just off-center of each wrapper. Using your finger, paint the edges of a wrapper with warm water. Bring one corner of the wrapper across to meet the other, forming a triangle. Press to seal well, working to press out any air bubbles. Set the wonton on a parchment-lined baking sheet, and repeat in batches of eight until you have the number of desired wontons. For each bowl of this soup, I like to make 10-14 wontons.
Make the peanut-scallion sprinkle:
Combine the peanuts, scallions and oil in a small bowl. Mix well and set aside.
Make the wonton soup broth:
Combine the water, onion and garlic in a medium saucepan over medium heat. Slice the carrot in half lengthwise and then cut into 1/4-inch thick it into half circles. Add this to the pot. When the water comes to a simmer, and once the carrots are tender, stir in the shredded cabbage as well. Allow to come back to a simmer and then remove from heat.

In a small cup combine the sriracha (or other spicy component) and miso with a generous splash of the broth. Stir to combine and then add this to the saucepan. Taste and adjust with more salt or more of your spicy component if you like. It should taste delicious!

As you're working on the broth bring another medium saucepan of water to a boil. You're going to boil your wontons in a separate pot. Salt the water a bit, and drop 10-14 wontons into the boiling water. You're going to work in batches. Boil for a minute or so and use a spider to transfer the wontons to your serving bowl. Pour half the broth over the cooked wontons and top with half of the peanut mixture. Repeat with another 10-14 wontons and enjoy!
Notes
Serves 2 - with extra wontons for future meals. Makes about 50 wontons.
Related Recipes
More Recipes
Popular Ingredients