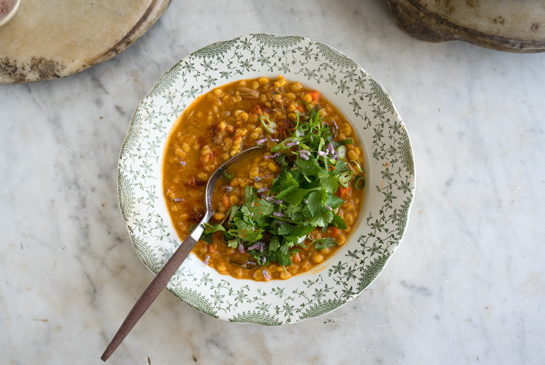 Coconut Red Lentil Soup Recipe
Two of my favorite neighbors hosted a soup party the other night. It was an inspiring affair - winter night, big pots of simmering soups and stews, house full of chatty, friendly people. Part of what I liked was the simple premise. The hosts (David & Holly) made a number of soups, guests were asked to arrive with their drink of choice and one thing to share - salad, appetizer, or something sweet. One of the vegetarian soups was a beautiful shade of yellow-orange. The color I see when I close my eyes and turn my face toward the sun. It was a light-bodied, curry-spiced coconut broth thickened with cooked red lentils and structured with yellow split peas. When I asked Holly to tell me about it, she mentioned it was based on an Ayurvedic dal recipe in the Esalen Cookbook, a favorite of hers. She happened to have an extra copy of the Esalen book, and sent me home with my belly full, a new cookbook tucked under my arm, and a few suggestions related to the soup.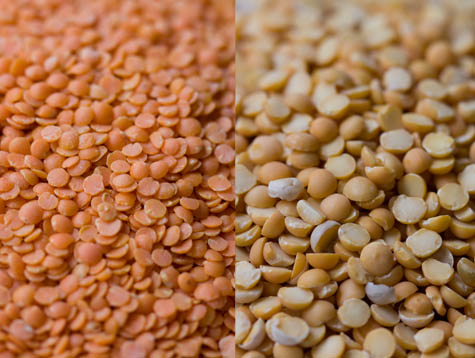 So, I give you the last lentil-based soup of the winter season. The very last. We've had a good run of them this year, and up until soup night at David & Holly's, I was convinced Rebecca's French Lentil soup would be the end of the lentil soup parade. But wouldn't you know it - once I made the this soup in my own kitchen, I couldn't in good conscience hold back. Did I mention, the slivered green onions sauteed in butter? Or the golden raisins that plump up with curry broth? Or the back notes of ginger? I should have. While I'm ready to welcome some spring recipes back to my kitchen, all these things made this particular soup too good not to share. Hope you like it as much as I did.
Coconut Red Lentil Soup
See the photo in the main entry if you aren't sure what type of lentils and split peas to buy. For those of you who are curious, I used the Terre Exotique Madras Curry Powder I picked up in Paris - it looks like it is available here now too (I think I've come across it on Amazon's grocery section). Vegans - you can easily make this vegan by using coconut or olive oil in place of the butter called for.
1 cup / 7 oz / 200g yellow split peas
1 cup 7 oz / 200g red split lentils (masoor dal)
7 cups / 1.6 liters water
1 medium carrot, cut into 1/2-inch dice
2 tablespoons fresh peeled and minced ginger
2 tablespoons curry powder
2 tablespoons butter or ghee
8 green onions (scallions), thinly sliced
1/3 cup / 1.5 oz / 45g golden raisins
1/3 / 80 ml cup tomato paste
1 14-ounce can coconut milk
2 teaspoons fine grain sea salt
one small handful cilantro, chopped

cooked brown rice or farro, for serving (optional)
Give the split peas and lentils a good rinse - until they no longer put off murky water. Place them in an extra-large soup pot, cover with the water, and bring to a boil. Reduce heat to a simmer and add the carrot and 1/4 of the ginger. Cover and simmer for about 30 minutes, or until the split peas are soft.
In the meantime, in a small dry skillet or saucepan over low heat, toast the curry powder until it is quite fragrant. Be careful though, you don't want to burn the curry powder, just toast it. Set aside. Place the butter in a pan over medium heat, add half of the green onions, the remaining ginger, and raisins. Saute for two minutes stirring constantly, then add the tomato paste and saute for another minute or two more.
Add the toasted curry powder to the tomato paste mixture, mix well, and then add this to the simmering soup along with the coconut milk and salt. Simmer, uncovered, for 20 minutes or so. The texture should thicken up, but you can play around with the consistency if you like by adding more water, a bit at a time, if you like. Or simmer longer for a thicker consistency. The thicker this soup got, the more I liked it.
I've been enjoying big ladles of this soup over ~1/2 cup of warm farro (leftover from this Farro & Bean Stew) - brown rice was good as well. Sprinkle each bowl generously with cilantro and the remaining green onions.
Serves 6.
Prep time: 10 min - Cook time: 35 min

Print Recipe
For new recipes & inspirations
Comments