Green Lentil Soup with Curried Brown Butter
A favorite green lentil soup topped with a curried brown butter drizzle, and pan-fried paneer cubes.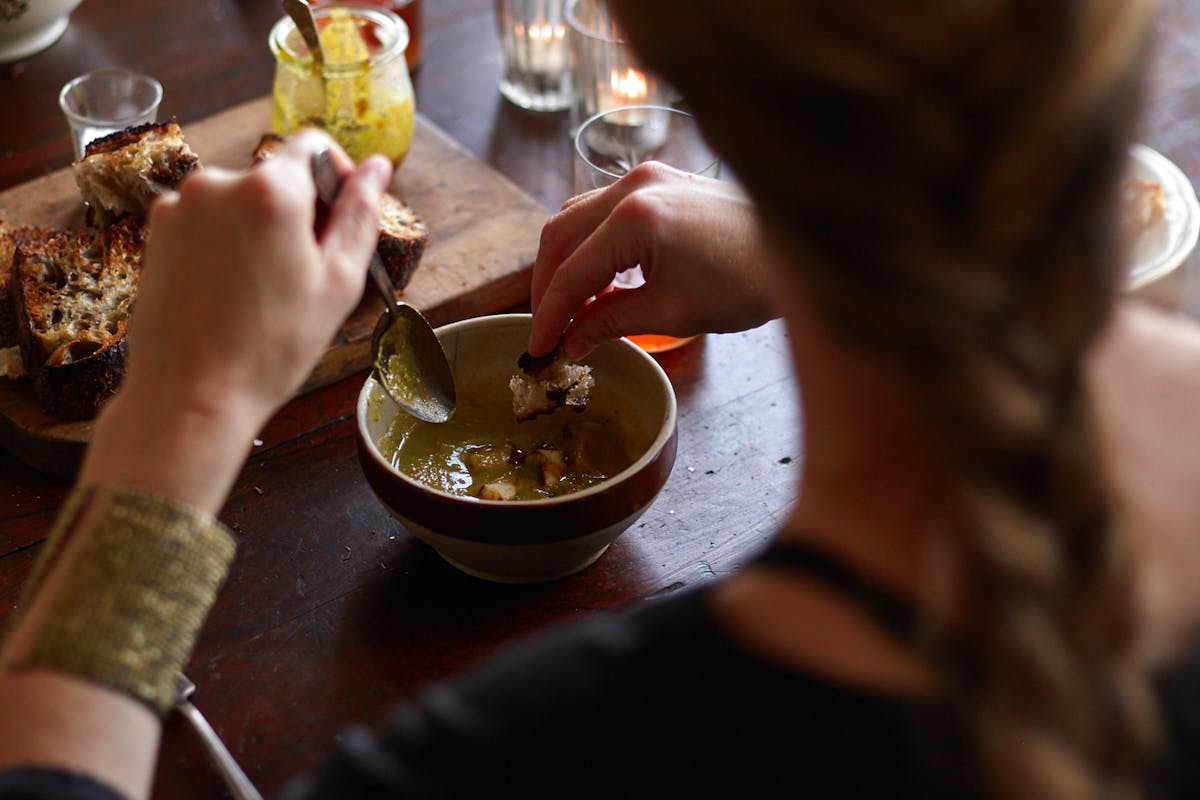 One of my favorite cold-weather soups - green lentils (or split peas), topped with a curried brown butter drizzle, and pan-fried paneer cubes. Some of you might recognize it from Super Natural Every Day.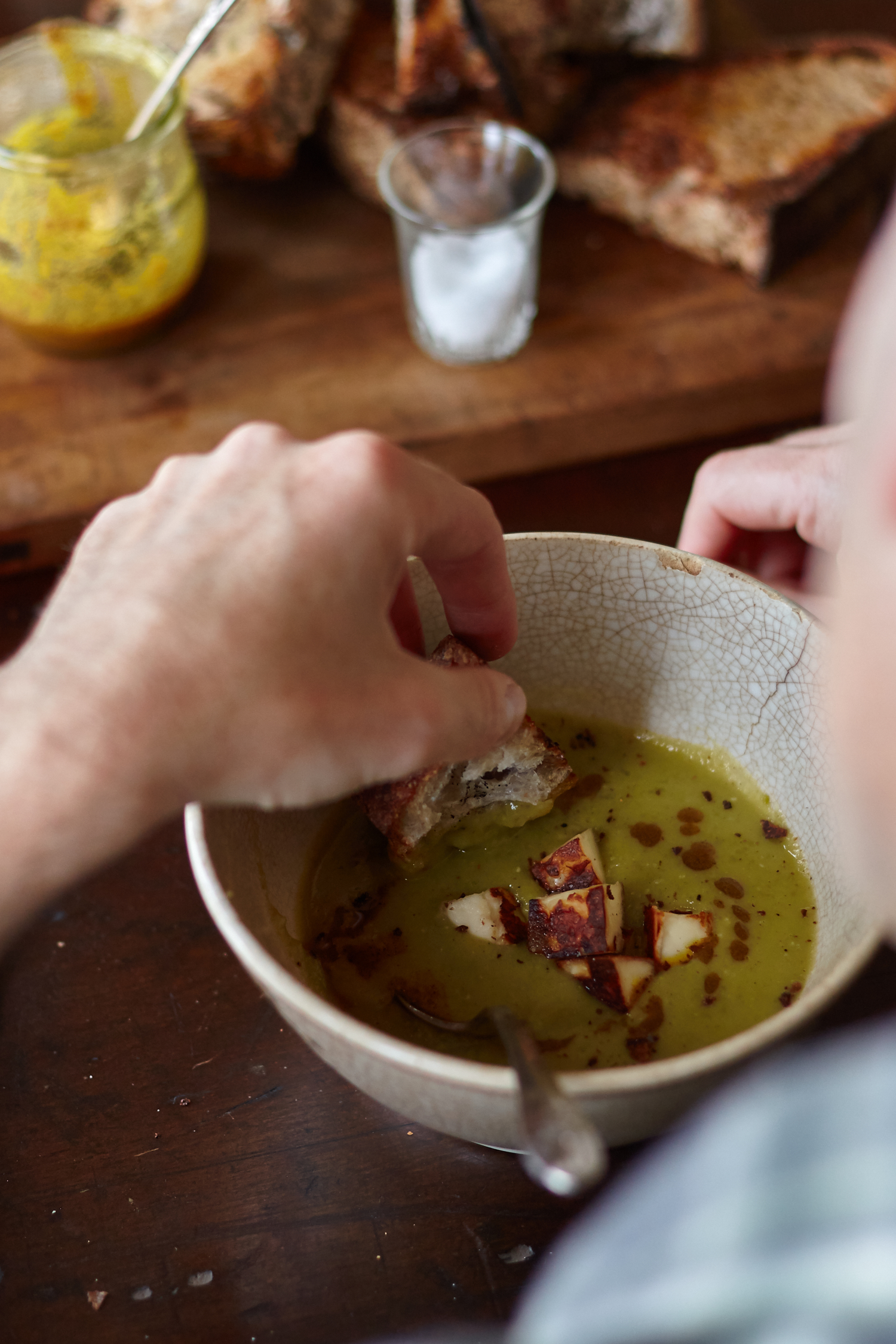 It's a soup I revisit often, and these photos are outtakes of it that ran in an early issue of Kinfolk magazine. I did a short little essay about winter (volume two!), and it ran alongside with some pictures Wayne and I contributed.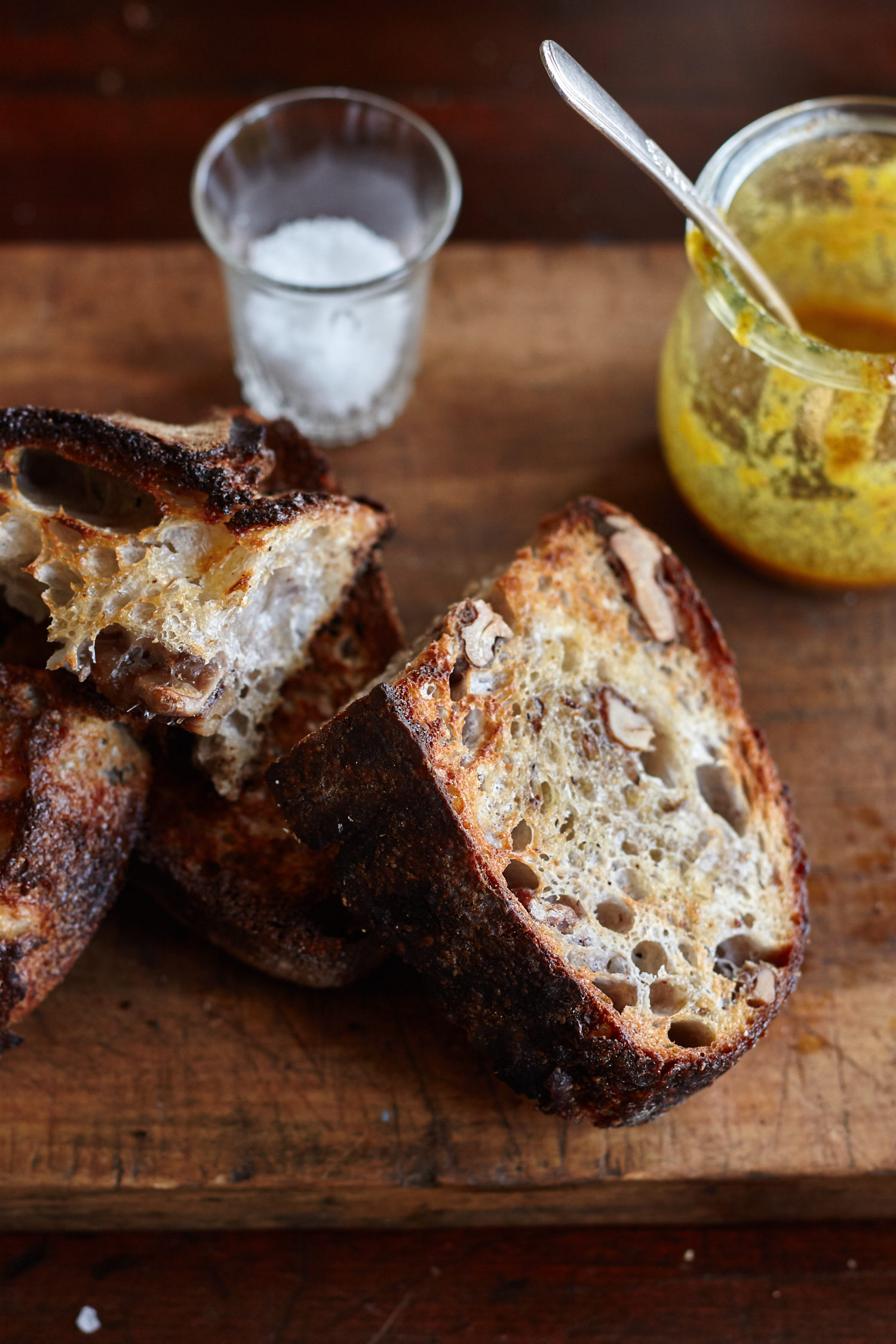 Here's the deal. The magic here is the curried brown butter drizzle. Don't skip it. Also, a good chunk of hearty sourdough really elevates the whole experience. Or! Some good naan or paratha.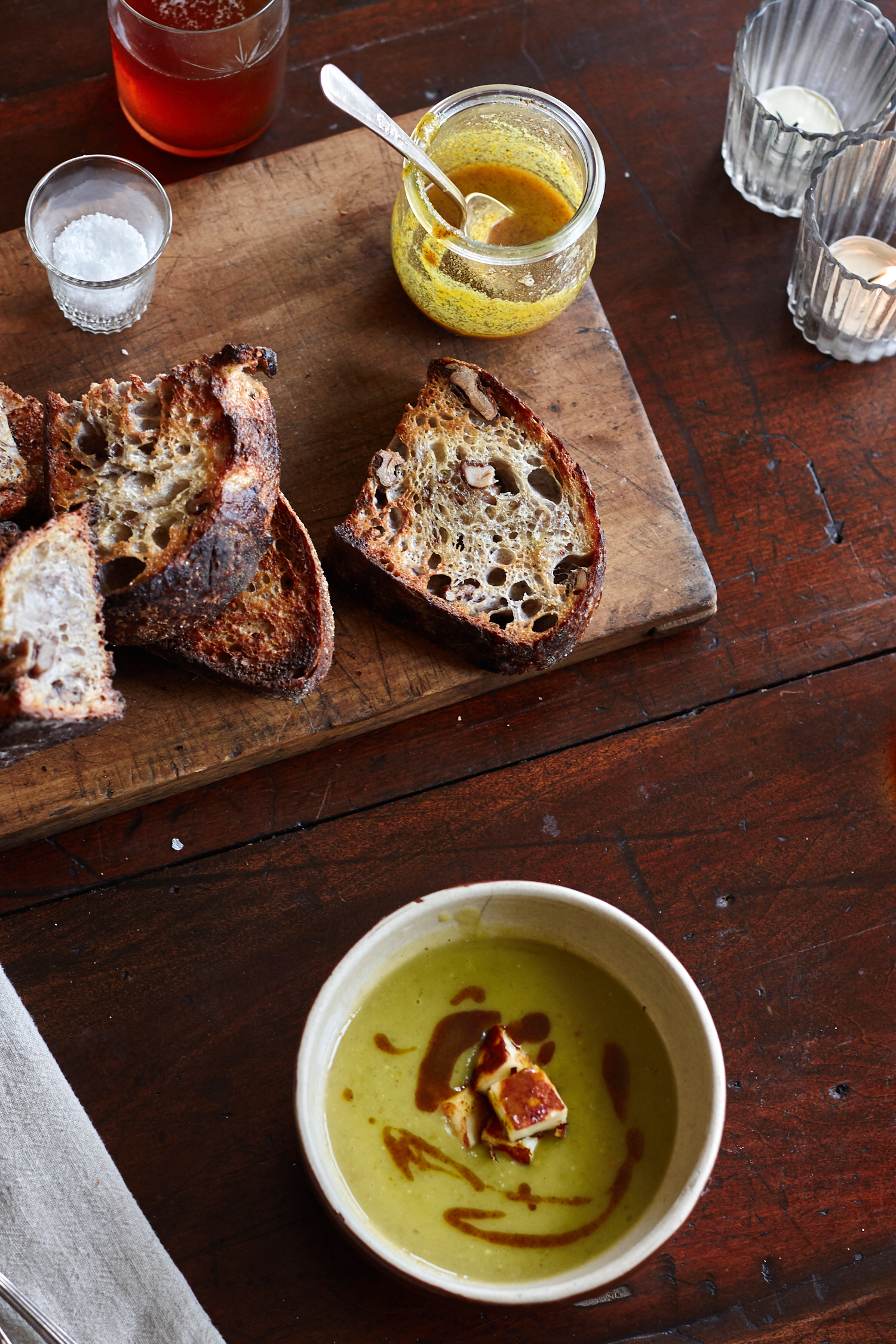 You can certainly explore a vegan version though. You could infuse some olive oil or coconut oil with spices, and brown some tofu in place of paneer. A different beast, but also really good. Not brown butter good on the flavor front, but still good. ;)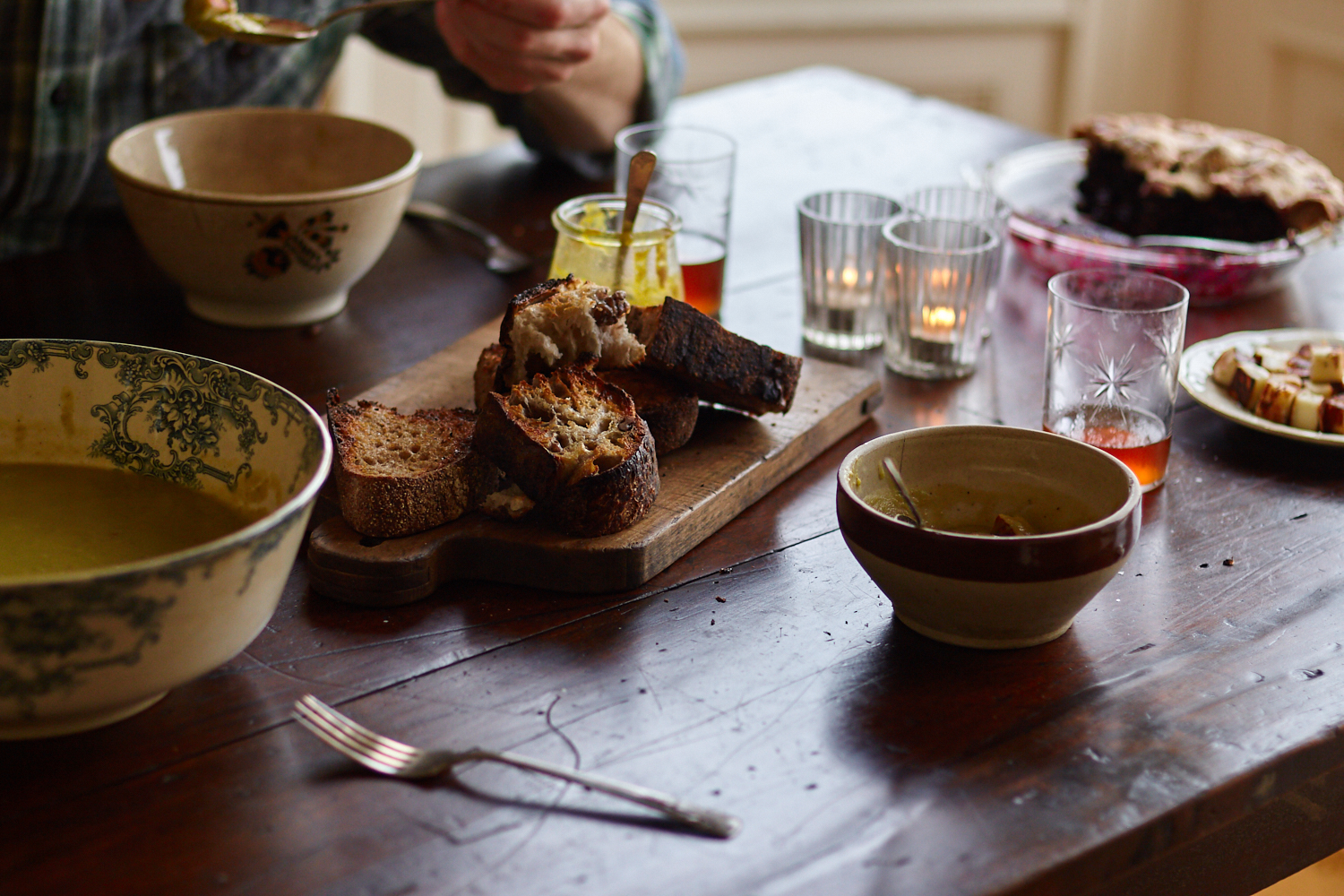 I also want to note there are some great variation ideas down in the comments. 
More Lentil Soup Recipes
Green Lentil Soup with Curried Brown Butter
You can use either green lentils of green split peas here. Both are delicious, but the green split peas tend to lend a brighter green color to the soup.
Ingredients
2

tablespoons

unsalted butter, ghee, or extra-virgin coconut oil

1

large yellow onion, chopped

3

cloves

garlic, chopped

1/2

teaspoon

red pepper flakes

5 1/2

cups

/ 1.3 liters good-tasting vegetable broth or water

1 1/2

cups

/ 10.5 oz / 300 g green lentils or green split peas, picked over and rinsed

3

tablespoons

unsalted butter

1

tablespoon

Indian curry powder

1/2

cup

/ 125 ml coconut milk

Fine-grain sea salt

1

bunch fresh chives, minced

small cubes of pan-fried paneer (optional)
Instructions
Combine the 2 tablespoons butter, onion, garlic, and red pepper flakes in a large soup pot over medium heat, stirring regularly, until the onions soften, a couple minutes. Add the vegetable broth and lentils and simmer, covered, until the lentils are tender. This usually takes 20 to 30 minutes, but can take as long as 50 minutes.

In the meantime, warm the 3 tablespoons butter in a small saucepan over medium heat and let it brown. When it starts to smell nutty and fragrant, stir in the curry powder and sauté until the spices are fragrant, less than a minute.

When the lentils are finished cooking, remove from the heat, stir in the coconut milk and 1/4 teaspoon salt, and puree with an immersion blender. You can leave the soup a bit chunky if you like, or puree until it is perfectly smooth.

Stir in half of the spiced butter, taste, and add more salt, if needed, typically a couple of teaspoons if you used water instead of a salted broth. Serve drizzled with the remaining spice butter and sprinkled with chives, (and paneer cubes if you're using them).
Notes
Serves 4 to 6.
from Super Natural Every Day by Heidi Swanson, copyright © 2011. Published by Ten Speed Press, a division of Random House, Inc.
Related Recipes
More Recipes
Popular Ingredients