Coconut Yellow Split Pea Soup
Yellow split peas incorporated into a ginger-spiked yellow coconut curry broth (lots of turmeric) - cherry tomatoes, chive oil, seeds, micro greens. The best kind of working lunch.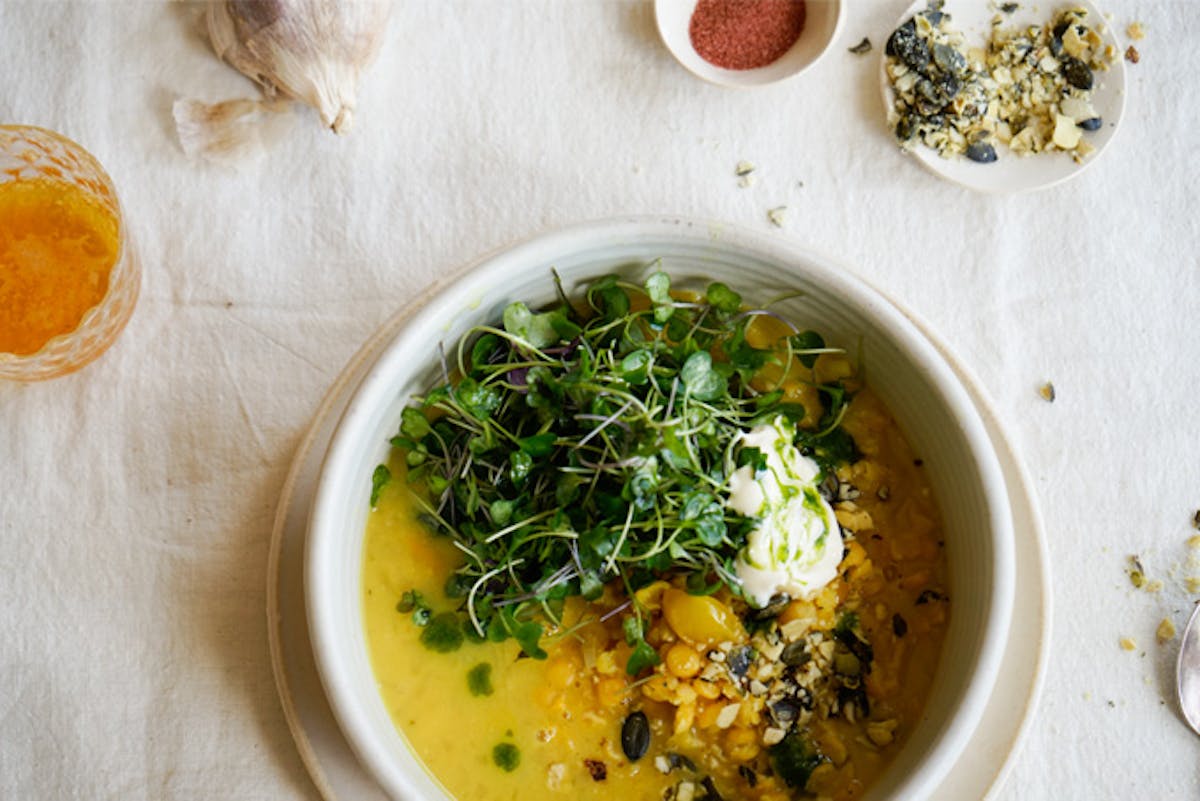 It might be incredibly hot where you live right now, and, if that's the case, I apologize for posting this soup recipe. But its one I love, and it's the sort of thing I like to have on hand for a quick lunch. Also, I live in San Francisco, and it's nearly always sweater weather - 58F. The soup: the base is yellow split peas incorporated into a ginger-spiked yellow coconut curry broth (lots of turmeric). It's filled with flavor, and substance - with a good amount of protein to get you through the afternoon strong. You get an added bit of summer and sweetness from yellow cherry tomatoes, and vibrant chive oil, toasted seeds, and some micro greens take the whole bowl over the top. Give it a try - you can transport the soup in one jar for lunch on the go, and toppings in another.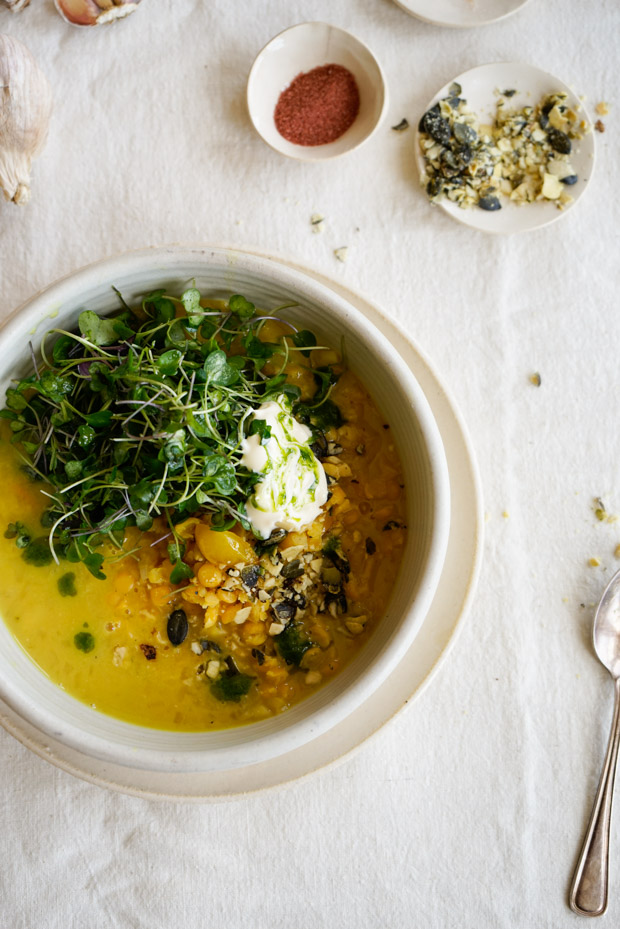 More Lentil Soup Recipes
Coconut Yellow Split Pea Soup
For soup on the go, bring this soup in a Mason jar or Thermos, toppings in another. The perfect easy, nutritious lunch, Use your favorite yellow curry paste here, from scratch or store-bought. Vegans - you can easily make this vegan by using coconut or olive oil in place of the ghee called for. Use yellow cherry tomatoes here when in season, or just omit them. And a dollop of homemade labneh to finish is perfection.
Ingredients
2

cups

/ 14 oz / 400g yellow split peas

7

cups

/ 1.6 liters water

1

medium yellow carrot, cut into 1/2-inch dice

2

tablespoons

fresh peeled and minced ginger

1 1/2

tablespoons

ghee

or coconut oil, butter, olive oil

1

small onion, chopped

2-3

tablespoons

yellow curry paste

10

yellow cherry tomatoes, quartered (optional)

1

cup

full fat coconut milk

1 1/2

teaspoons

fine grain sea salt, or to taste

to serve: micro greens, toasted seeds, chives or chive oil, creme fraiche, labneh, or yogurt.
Instructions
Give the split peas a good rinse, until they no longer put off murky water. Place them in an extra-large soup pot, cover with the water, and bring to a boil. Reduce heat to a simmer and add the carrot and 1/4 of the ginger. Cover and simmer for about 30 minutes, or until the split peas are soft.

In the meantime, in a small skillet or saucepan over low heat, heat the ghee, and saute the onion until translucent. Stir in the curry paste, and cook, stirring constantly, until it is quite fragrant - just a minute or two. Add the remaining ginger, and tomatoes. Saute for a few minutes, until the tomatoes collapse a bit. Add this mixture to the simmering soup along with the coconut milk and salt.

Simmer, uncovered, for 5-10 minutes or so. The texture should thicken up, but you can play around with the consistency if you like by adding more water, a bit at a time, if you like. Then re-season. Ladle into bowls and top with any of the suggested toppings. Or serve over rice or quinoa.
Related Recipes
More Recipes
Popular Ingredients