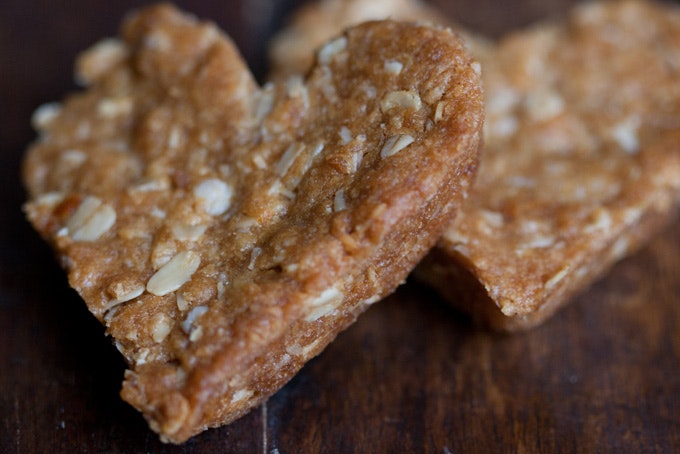 Not overly-sweet, Anzacs are made from oats, coconut, and flour coming together in a butter-kissed dough. You end up with a hearty, sturdy cookie, with little fuss - altogether hard to get wrong. Today's recipe is based on a somewhat traditional Anzac cookie recipe, with a few little twists (and notes) I couldn't help but throw in. In this version I've added a bit of orange zest and a splash of orange blossom water to play off the oats and coconut.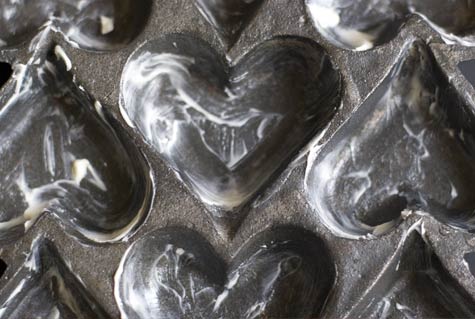 A little context here, ANZAC stands for Australian and New Zealand Army Corps. The legend and lore surrounding the origin of the recipe are murky and contested, many tell the story of these cookies (biscuits) being made by Australian and New Zealand women for soldiers during WWI. This wartime version is famous for being able to withstand overseas travel and oft described as rock hard and barely edible. What we are talking about today is a different beast. How it evolved from the barely edible variety, I'm not entirely sure, but maybe someone will come out of the woodwork in the comments to give us a bit more context.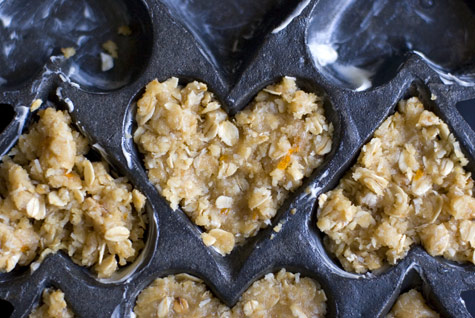 A couple final notes, one of the signature ingredients in this Anzac cookie recipe is golden syrup - tricky to find here in the United States. Don't let this stump you, feel free to substitute honey, it gives the cookies a slightly different flavor profile, but is delicious just the same. And if you come across golden syrup, grab some.
Some people like their Anzac cookies on the thin and crisp side - I, on the other hand, like them thick so they are moist and chewy on the inside, with a golden crust. If you like crisper cookies, pat the dough out into thinner disks and bake for a few minutes longer. Delicious either way.
Anzac Cookies
There are many other things you can do with the tasty Anzac dough. It's great as a cobbler topping, or even a tart base. Leftover cookies keep well in an air-tight container for a few days. Have fun experimenting with other zests or spice additions, anything that pairs nicely with oats and coconut will likely work here. For a more traditional Anzac cookie leave out the orange zest and orange blossom water.
Ingredients
1

cup

flour (all-purpose or whole wheat pastry)

1

cup

rolled oats

1/2

cup

sugar

1/2

cup

fine grain natural cane sugar OR brown sugar

1

cup

finely shredded non-sweetened coconut

scant 1/2 teaspoon fine sea salt

1/2

cup

butter, cut into little cubes

2

tablespoons

golden syrup or honey

zest of one medium orange

1

tablespoon

boiling water

1/2

teaspoon

baking soda

1

tablespoon

orange blossom water*
Instructions
Preheat oven to 325F degrees. Combine the dry ingredients in a large bowl; flour, oats, sugars, and coconut. Mix well.

In a small saucepan over low heat combine the butter syrup (or honey), and orange zest. Stir until melted and remove from heat. In a small bowl whisk together the boiling water and baking soda. Stir it into the butter. Now pour the butter mixture over the big bowl of oats and stir. Add the orange blossom water and stir again. This is a dough I like to mix it with my hands to make sure the butter is evenly distributed and the dough is moist throughout.

I baked this batch of cookies in a well-buttered, heart-shaped cast iron pan, but you can simply drop them by the tablespoonful onto parchment lined baking sheets. Make sure they aren't too flat or they will get crispy. Bake for about 12 minutes or until deeply golden.**
Notes
Makes 18 - 24 medium cookies.
*Orange blossom water is sometimes available on Amazon.com, for example here and here. I also find it regularly at places like Whole Foods Markets and/or other natural food stores.
*Orange blossom water is sometimes available on Amazon.com, for example here and here. I also find it regularly at places like Whole Foods Markets and/or other natural food stores.
Related Recipes
More Recipes
Popular Ingredients