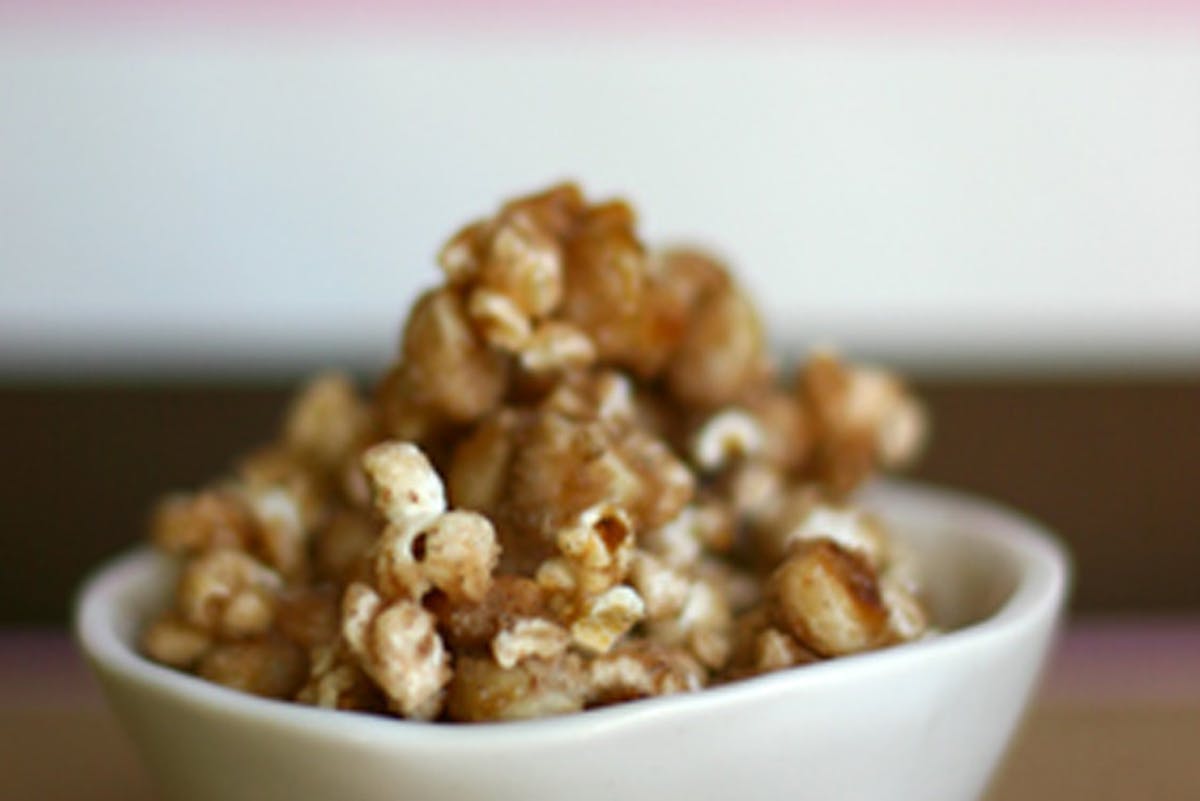 Spiced Caramel Corn Recipe
Give me a finicky souffle recipe over making popcorn any day.
Making popcorn gives me a bigger headache in the kitchen than anything else I attempt. Something so simple, right? Not really. If I'm not busy burning the kernels, then I am standing around staring, waiting for them to pop (often times indefinitely).
This recipe caught my attention because for a long time I have been thinking about how great it would be to be able to request a few extra ingredients or flavors in the kettle corn we always pick up when we go to the farmers market - and while this isn't exactly kettle corn, it is close.
The first step in this recipe was to make a nice fresh fluffy batch of perfect popcorn. Fortunately, I had much better luck this time around. Part of my problem in the past has been that I buy my popcorn kernels from those organic bins, which means it doesn't come with popping instructions. I never know how much or how little oil to use, the strength of the burner, or whether to shake the kernels or just let them sit in the bottom of the pan.
In the past I have burned popcorn over med-low heat. My instinct was to try again using even less heat, but not so! I stumbled onto this gem of a recipe and according to Nancy Silverton, only a drop of oil, and some high heat were between me and a batch of great popcorn. And bless her, she was right. If you follow her instructions, you too can have flawless popcorn.
I toasted up some macadamia nuts, no problem (except they also burn in a flash if you aren't careful). Then I was on to conquering the spicy caramel coating. A ton of sugar and a heavy dose of spiciness makes the magic happen - cinnamon, nutmeg, cloves and cardamon all represent. Making the coating was uneventful if not perilous. Cooking with sugar-sweet molten lava can be a bit unnerving.
I stirred in the popcorn, let it firm up on a baking sheet, and had a huge batch of very spicy caramel corn which was a big hit. Twenty-four hours later there is none left.
Couple notes about this recipe. Don't try to double it. I thought it might not actually make enough (it only calls for 1/3 cup popcorn kernels), but it makes a TON if your popcorn pops up nicely. Flavor wise, I love the spiciness, but I ground up an entire nutmeg for it, and I think that may have been a bit much. I think I eclipsed the other wonderful flavors, next time I'll go a bit lighter.
Tasty. Addictive. A fresh twist on an old favorite.
In some of the early entries on this site I didn't request permission to run the recipe I was writing about from the publisher so it won't appear here. The majority of entries on 101 Cookbooks will have the recipes attached, this just happens to be one of the ones that doesn't.
From: Nancy Silverton's Sandwich Book Page: 193