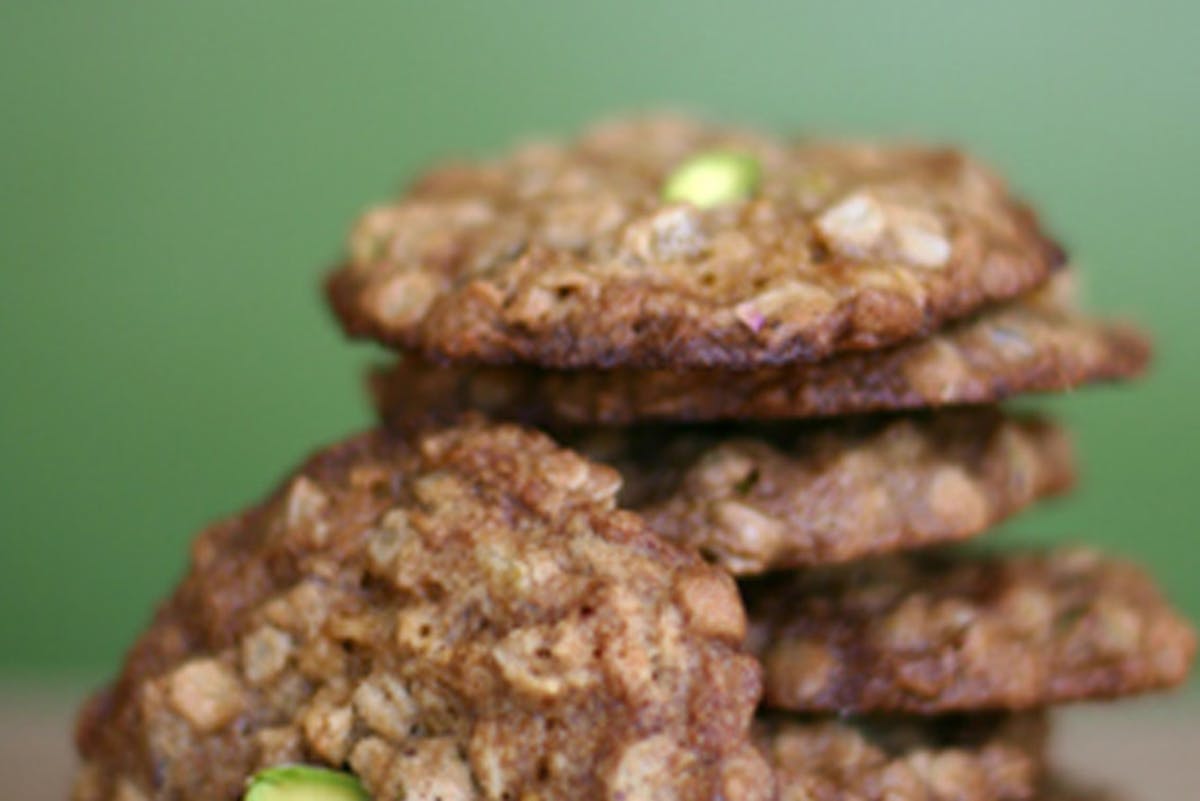 Pistachio Apricot Oatmeal Cookies Recipe
Everyone has a cookie preference.
I prefer straightforward classics; chocolate chunk or chip but not chocolate chocolate chip, peanut butter (no chocolate chips), oatmeal cookies and shortbread. I'll usually take thick over thin, chewy over crispy. I stay clear of flaky, fancy, and/or fruit filled cookies, and as a general rule of thumb -- hold the nuts, hold the sprinkles. I love the way many frosted cookies look, but am weary because they often taste so bad.
I love to share homemade cookies on planes, trips, hikes, picnics, and with friends at parties - I used to bring a favorite Espresso Chocolate Chip cookie to all occasions - I gave a few friends the recipe, and they now carry that torch, and have made the Espresso Chocolate Chip Cookies their own. So, for a while I've been thinking about finding a new signature cookie to share, and this Pistachio Apricot Oatmeal Cookie recipe jumped off the pages of Gourmet at me.
I liked the idea of using something other than raisins and walnuts to complete a fairly standard oatmeal cookie recipe. With their bright green color, pistachios add a pretty accent to food. I thought juicy, vibrant-colored dried apricots would add yet more visual punch, unexpected flavor, and texture.
Expectations were high for these cookies. After baking they cooled and crisped. They baked into a medium-thin cookie but still had some weight and substance to them. The pale green pistachio accents for the most part were hidden within the dough, as were the apricots. The other criticism I have is that they were just too buttery for my tastes - I know most cookies have butter in them, but generally speaking, I don't like to see a shiny, buttery glaze on a cookie. The cookies crisped up for a few hours after baking, but softened up after I put some of them in an airtight plastic bag for the night. I left a few out on the counter, and those too lost their bite.
I liked the crunchy saltiness of the pistachio with the oatmeal, and the sweet voluptuousness of the apricot chunks after they soften up in the oven heat. The takeaway for me here is to explore more creative options and ingredients starting with my favorite basic cookie dough(s) as the foundation, and try the pistachio, apricot combination in future cooking exploration. Note to self: next time you are baking with pistachios, crush some on top of the baked goods before baking (or just after they come out of the oven) for some added visual flair.
In some of the early entries on this site I didn't request permission to run the recipe I was writing about from the publisher so it won't appear here. The majority of entries on 101 Cookbooks will have the recipes attached, this just happens to be one of the ones that doesn't.
From: Gourmet (October 2003)