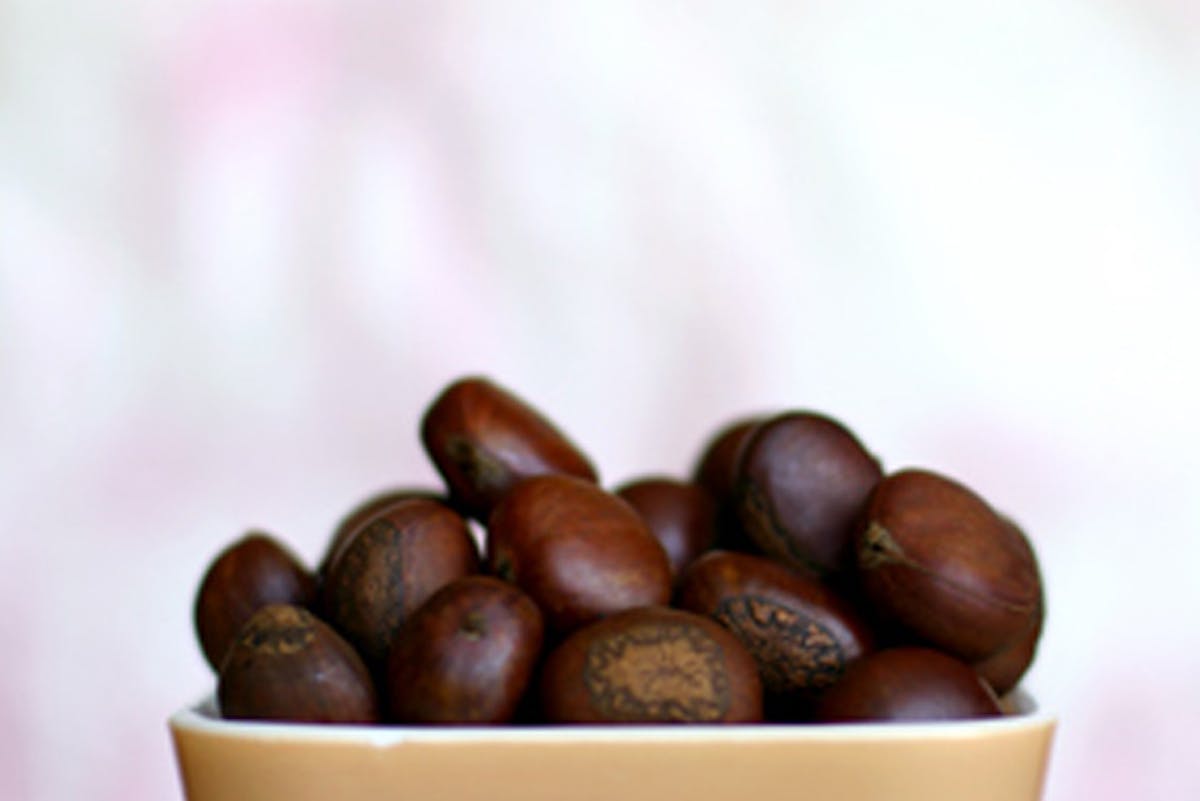 Creamy Chestnut Dressing Recipe
I love the idea of urban foraging. Admittedly, to date, much of my experience of it has been quite pedestrian -- likely because I am quite shy about taking things out of other peoples yards when they aren't around to ask. It is also possible I just like the idea of it more than the actual practice.
There is a plum tree that reaches over into our back yard and generously produces ripe, juicy fruit -- I consider these plums fair game. The neighbors on our block seem to be particularly fond of lavender. They maintain bushes and bushes of it flanking driveways, lining front porches, and circling the bases of trees that the local dogs urinate on relentlessly -- some of the neighbors have become quite protective of their lavender, and have put up small signs asking passers-by not to take it. Hippie kids like to cut pocket-sized bunches of it and sell it on the street for small change.
On the other side of the bay there seems to be no shortage of bounty either. We visited a friends house in Oakland last weekend and were greeted by enormous, yellow pomelos dangling over the driveway on one side of the front yard (not quite ripe enough to pick, or I would have snatched one on the way out), and big, juicy oranges on the other -- knocking impatiently up against the dining room window.
"Wildman" Steve Brill is the author of this 500 page encyclopedia of wild food plants and recipes, The Wild Vegetarian Cookbook. He leads foraging tours and field walks throughout the Greater New York area. You can see him here gnoshing on some Japanese Knotweed. Think of him as the Indiana Jones of wild plants.
Many of the ingredients in his book are hard to find. I guess that is the point. Fortunately Bill offers up a chart of substitutions in the back -- but what fun is that? I combed the book for quite some time looking for a recipe where I could genuinely assemble the ingredients without really cheating (by using substitutions) or poisoning myself. Plums (out of season), no pomelo or orange recipes (but plenty using knotweed, wineberries, milkweed, and wisteria!) I asked two friends in the neighborhood if they thought they had anything edible in their yards -- answer: nothing they would bet my life on. I ended up choosing chestnuts, sorry to disappoint -- I saw a big sack of them at the Asian market and snatched them up knowing there were at least 3 recipes featuring chestnuts in the book. An added bonus was that I could positively identify them by sight, I was 100% sure they were chestnuts.
The recipe du jour is a cultural melting pot of a recipe titled, Creamy Chestnut Dressing. It features chestnuts, coconut milk, miso, all-spice, and olive oil. Strange, but true. I boiled the chestnuts to soften them up, and tossed all the ingredients in the food processor for a good, long chop + spin. The dressing developed a nice, creamy consistency, and turned a pretty, pale tan in color. I dunked a few of those great Oven Baked Sweet Potatoes in the dressing to taste it. Here are my criticisms -- Although the consistency was wonderful from the coconut milk and olive oil, the red wine vinegar really bowled over the rest of the flavors in this dressing, I really couldn't taste much of the chestnut flavor at all. It is entirely possible that my red wine vinegar was on the strong side -- I used some nice cabernet vinegar. I then diluted the vinaigrette with quite a bit more olive oil, and the flavors began to balance out a bit more. I think this dressing just needs a bit more tweaking, and it could be quite nice for everyday use.
For those interested in reading about someone who actually committed to the idea of urban foraging, and unlike me, actually had some success at it, here is a fascinating article written by a student in Santa Barbara, California who foraged for all of his meals over 10-long-weeks.
In some of the early entries on this site I didn't request permission to run the recipe I was writing about from the publisher so it won't appear here. The majority of entries on 101 Cookbooks will have the recipes attached, this just happens to be one of the ones that doesn't.
From: The Wild Vegetarian Cookbook Page: 348